I'm back with another update on my favorites from the month, but this time I'm covering my favorites from the past two months. I missed posting about my August favorites because of a crazy work schedule in the beginning of September, but I wanted to be sure to share some of those things on the blog. Better late than never!
Movie
We didn't watch very many movies this month, but I really enjoyed The Giver! I thought that the acting was great, and I liked the story line. I never did read the book, so I can't compare the two. It was a fun summer movie to see!
Music
Maroon 5
I have been on a huge Maroon 5 kick lately. I don't know what started it. I bought their new CD (V), but I have been obsessing over their old music – not the new stuff. Their Songs About Jane album is basically the soundtrack to my high school years, and I listened to It Won't Be Soon Before Too Long for a good chunk of college. They both bring back a lot of fun memories, and I just love their old sound. Sunday Morning and She Will Be Loved are my absolute favorites.
Paper Products
I was contacted by Treat, a custom card company created by the Shutterfly brand, to see if I would be interested in trying out their card service. I was excited to be given this opportunity because I had actually already planned to send out two cards in August – a thank you card to Daniel's Grandma for hosting us in Florida in August and a "just because" card to one of my best friends. I love sending and receiving snail mail, and I'm trying to send more and more.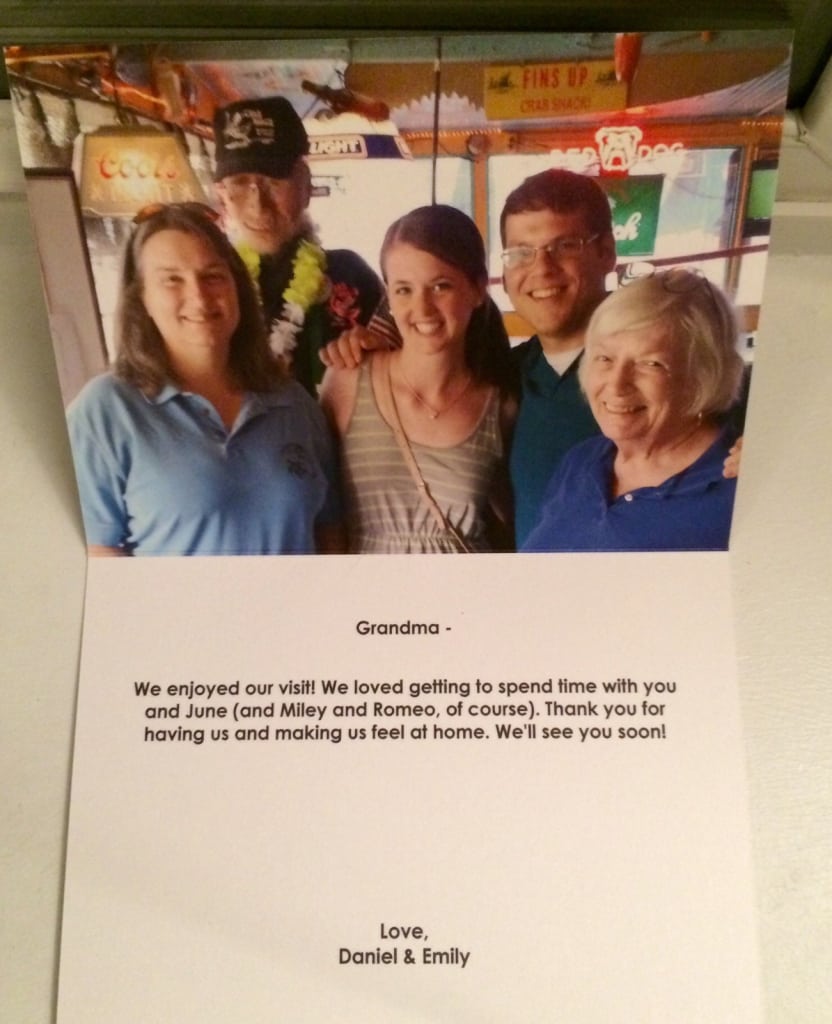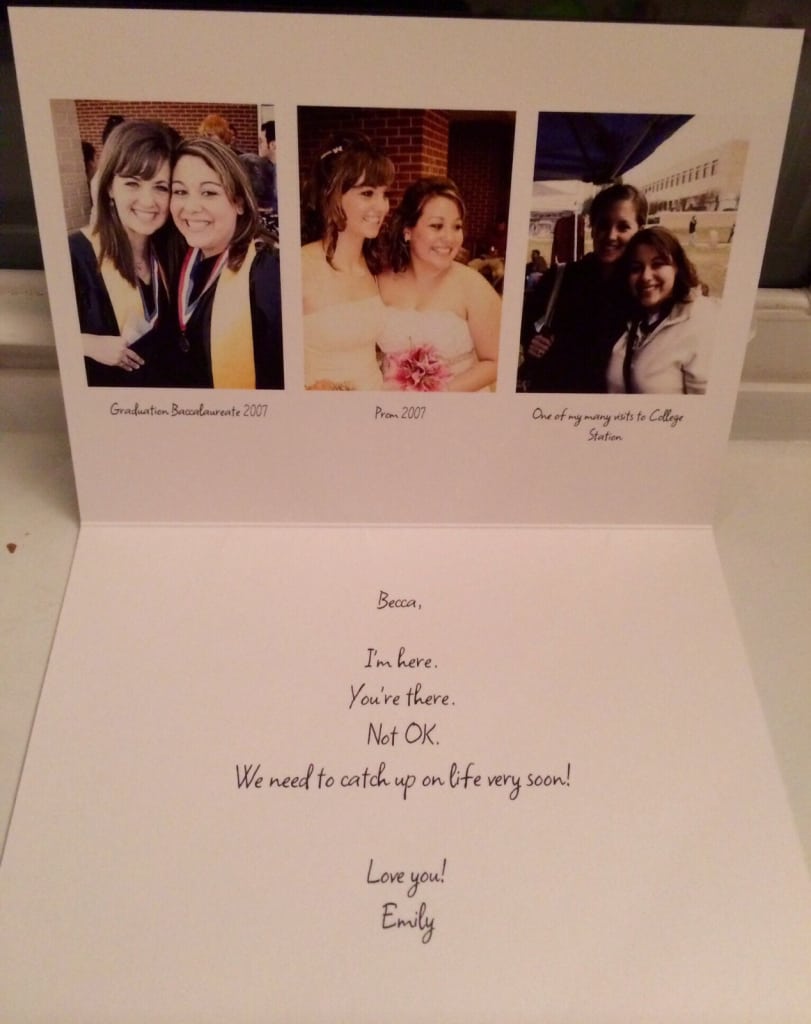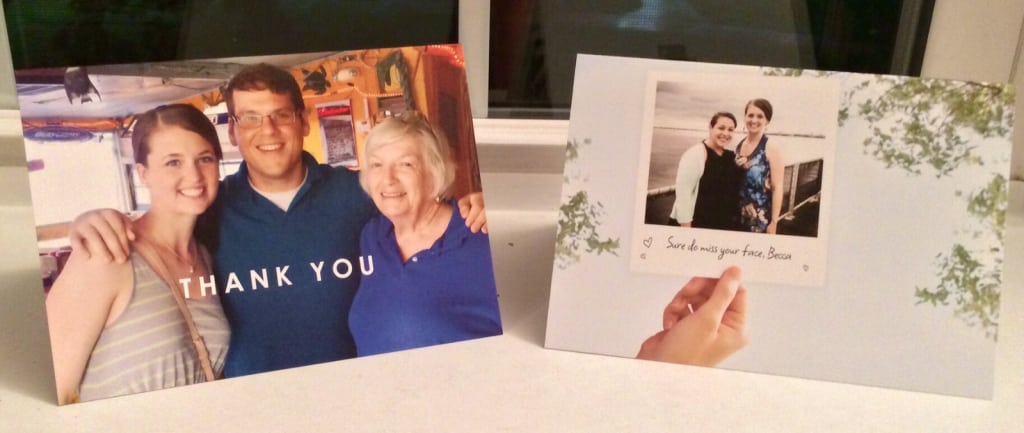 Aren't the cards cute?
I had a great experience with Treat. The online card "building" process was simple – there were many cute designs to choose from, and I was able to easily pull in my own images and customized text. While placing the order for my two cards, I requested that they send the cards to me so that I could look at them and take these pictures. I also requested that they stamp the pre-addressed envelopes for me. Both of these things made the card-sending process very convenient. I definitely plan to use their services in the future. Daniel and I are thinking about hosting a little party around Halloween, so we are considering using Treat to order invitations. They have some very cute fall and Halloween designs to choose from!
Food/Drink
Dunkin' Donuts Cinnamon Coffee Roll Coffee
Apparently I have a thing for cinnamon coffee because I featured some delicious cinnamon k-cups in my July favorites post as well. But this coffee is so good!
White Chocolate Kit-Kat Bars & White Chocolate Reese's Cups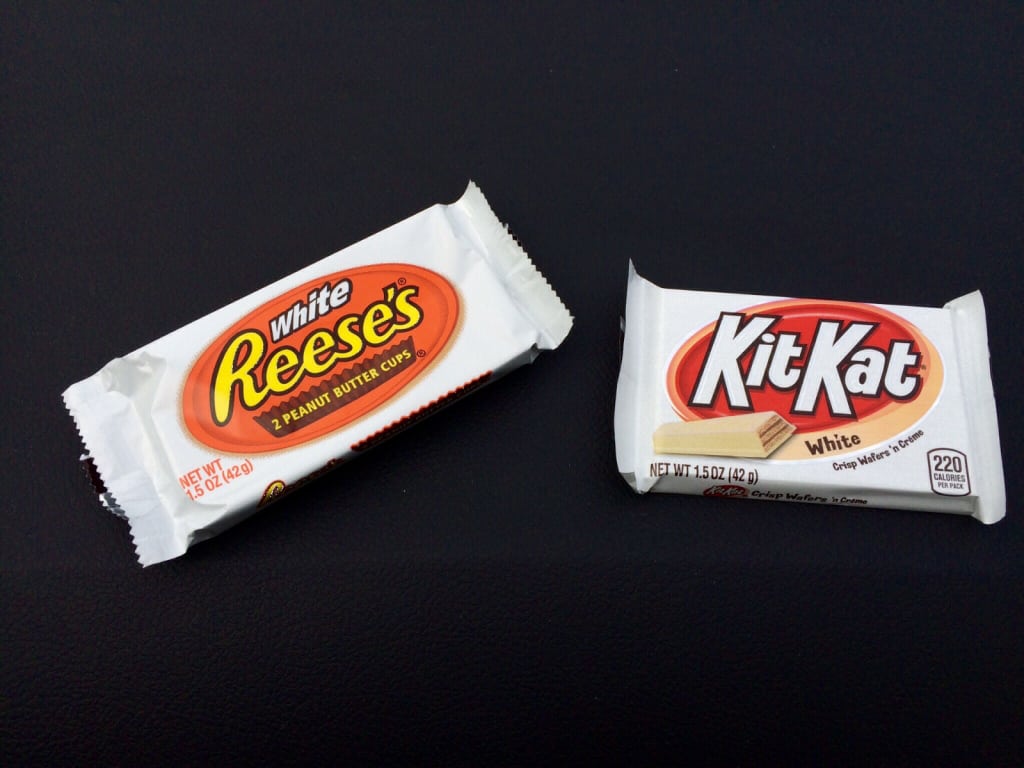 Fun fact: I hate chocolate. I'm not allergic; I just really don't like the taste. Part of me always felt like I have been missing out on something great by not liking chocolate like the rest of the world. When I discovered these white chocolate options (yes, I do like white chocolate, but I'm told it doesn't count), I immediately had to try them. Finally, I have a peanut-butter filled option that I enjoy! I love both of these – especially the Reese's Cups, and I hope to snag some more soon this fall!
Beauty/Skincare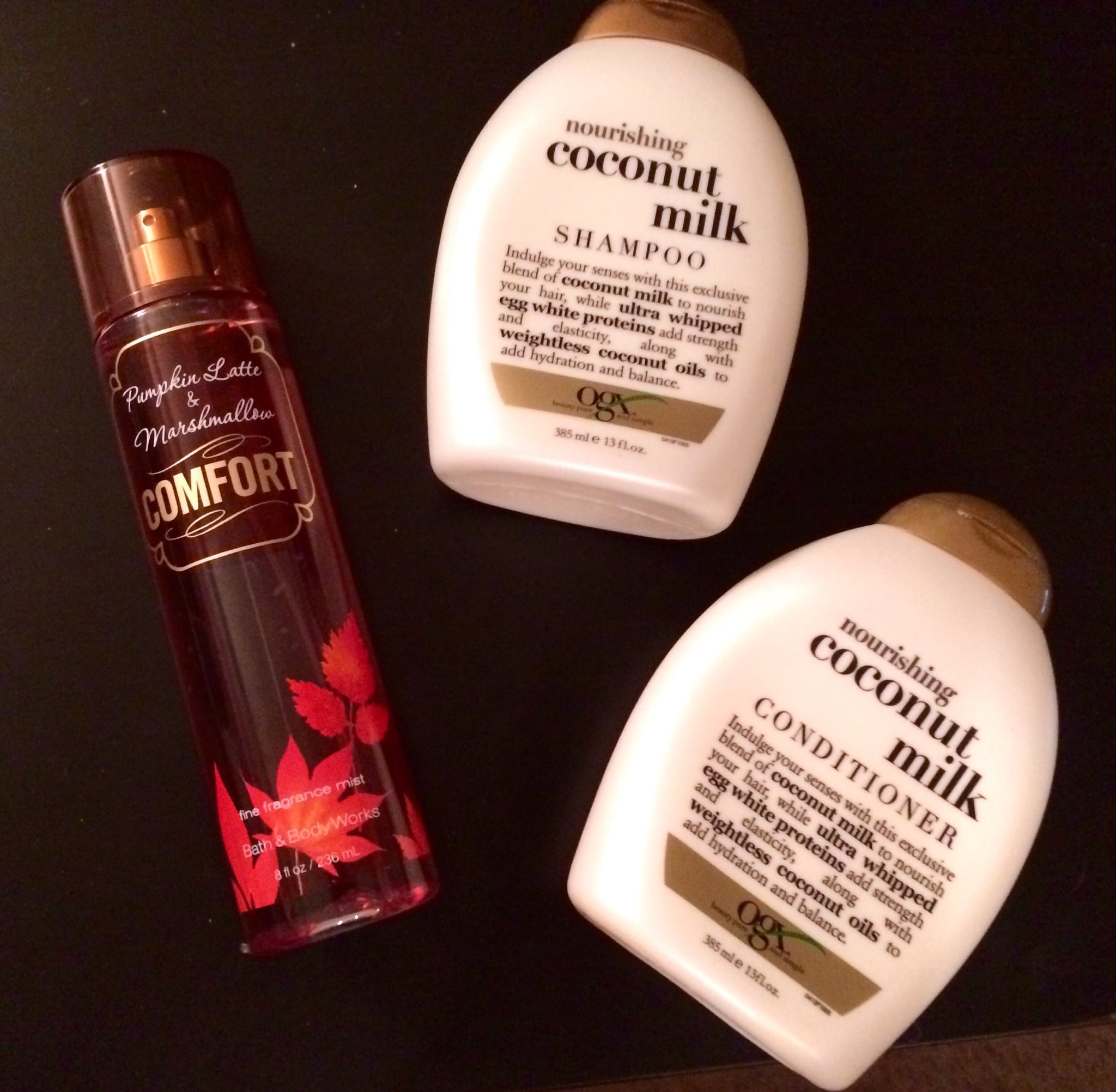 Organix Coconut Milk Shampoo and Conditioner
I found these on sale at CVS in August (buy one, get one free), so I decided to give them a shot. The smell is heavenly! While the scent is more suitable for the summer seasons, I think I will be re-purchasing it throughout the fall. My hair feels so soft when I use it, and I can smell the creamy coconut scent on it for a couple of days (I only wash my hair twice a week).
Bath & Body Works Pumpkin Latte & Marshmallow Comfort Fragrance Mist
This stuff is SO GOOD. I was a little bit hesitant to order it online because I didn't know if I wanted to smell like a marshmallow pumpkin. The reviews were so great online that I couldn't resist. When I got it in the mail and smelled it for the first time, I was in love! It smells more like a musky vanilla to me, and I think it is the perfect fall scent. I get happy every morning when I put it on.
Current Events
There was a time in my life that I loved to read and watch the news. For a couple of years now, I have not kept up very well with current events at all, and I got really tired of never being able to contribute to conversations about what was going on in the world. Recently, I discovered theSkimm, and I feel very well-informed now! theSkimm sends you an email in the mornings five days a week with a summary of current events from the day before. I'm not really sure how they fit everything in, but they cover all of the important things that are happening internationally and in the US. The emails are a perfect length, so I'm able to read it before I start each work day in five minutes or less. If you want to keep up with current events but get overwhelmed by news websites, I definitely recommend this resource. It has made a huge difference for me.
What are you loving these days?
[Linking up with Treat Yo' Self Thursday.]