After nearly four months of constant travel, I am happy to say we are home in Austin! I have loved every minute of our travels (starting with our Christmas markets trip to Austria and Germany at the end of November and then traveling around more of Western Europe for 2.5 months after spending Christmas with family). But I've always cherished the feeling of coming home to the familiar, and it has been a long time on the road!
Over the next couple of weeks before I return to the office, I'm going to attempt to get my life back on track, and that includes getting back to regular posting on the blog! I'm starting to get more inspired this morning, so I figured it was a good day to start regularly posting. In addition to a ton of travel content coming your way as I catch up on our big trip recaps, I've decided to also bring back my Scenes From the Week series. Here we go!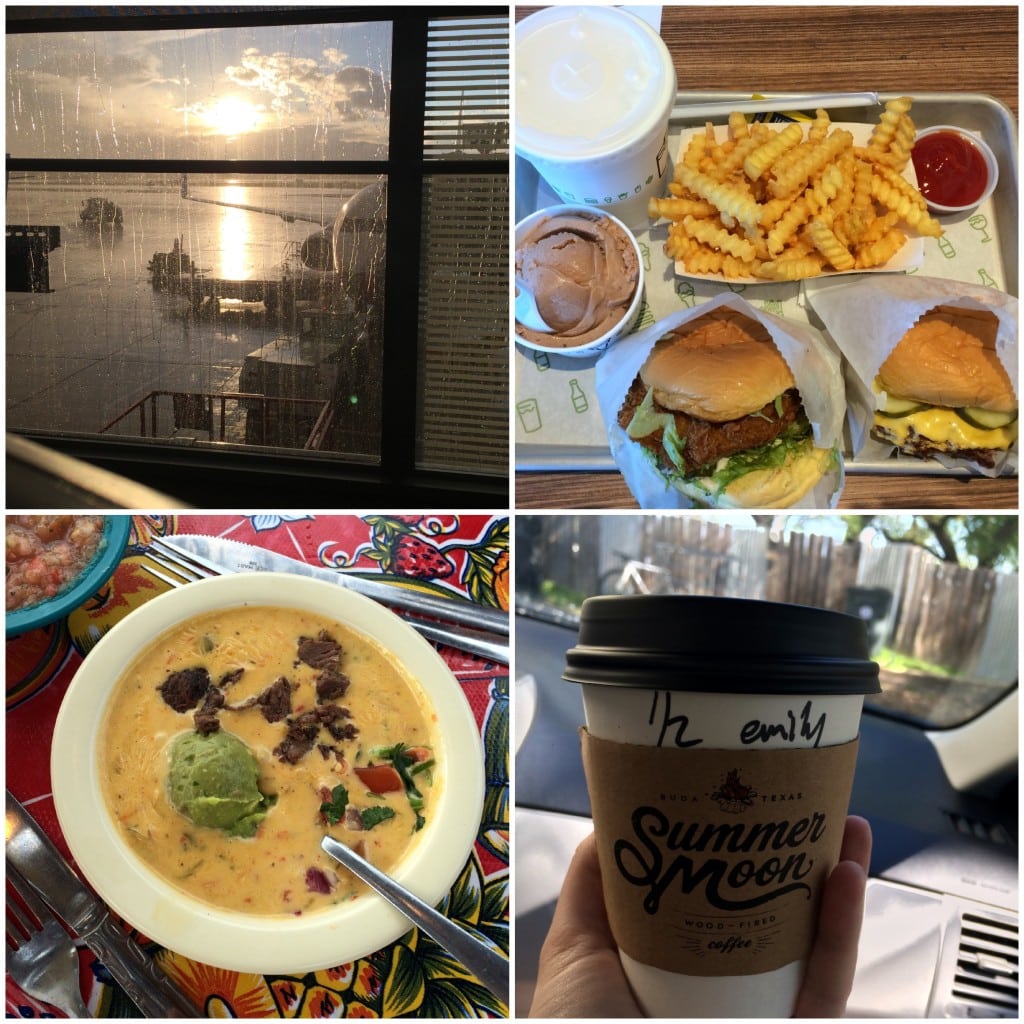 Welcome to my Scenes From the Week series. In these posts, I share the highlights from my previous week ranging from the simple, everyday things to the more memorable events. One of the primary reasons that I blog is to keep a journal that I can look back on in the future, and these posts help serve that purpose.
(1) After starting the week off with a fabulous four days in Rome (recap to come in the future!), it was time to go home. During one of our layovers, I caught this beautiful moment of sunshine and pouring rain at the same time.
(2) One major problem with living in Austin is that we cannot convince ourselves to eat healthy once returning home from a trip. There are too many delicious things that we craved while we were gone! We made Shake Shack across the street one of our first stops and didn't hold back – we ordered burgers, fries, and dessert…. It was just as delicious as it looks.
(3) My #1 craving while we were gone was a delicious bowl of queso, and I satisfied that craving with a bowl from one of our favorite local Tex-Mex places, Hula Hut!
(4) And, of course, we've already hit up several of our favorite coffee places. Summer Moon makes the best lattes with their secret Moon Milk!
Not pictured:
Visit with my sister and her boyfriend and ramen from Ramen Tatsu-Ya
Ice cream from Lick
Visit with good friends and Indian food at The Clay Pit
Visit with good friends in town for SXSW and brunch at Kerbey Lane
Afternoon trip to Fredericksburg and the surrounding Hill Country, including a stop at Pieous for Neopolitan pizza (which, I must say, is very close to the real thing from Naples!)
Have a great week, and a very Happy Easter!
Click here to see all of my Scenes From the Week posts.
{Linking up with B Loved Boston for the Weekending link-up}