Welcome to my Scenes From the Week series! In these posts, I share the highlights from my previous week ranging from the simple, everyday things to the more memorable events. One of the primary reasons that I blog is to keep a scrapbook that I can look back on in the future, and these posts help serve that purpose.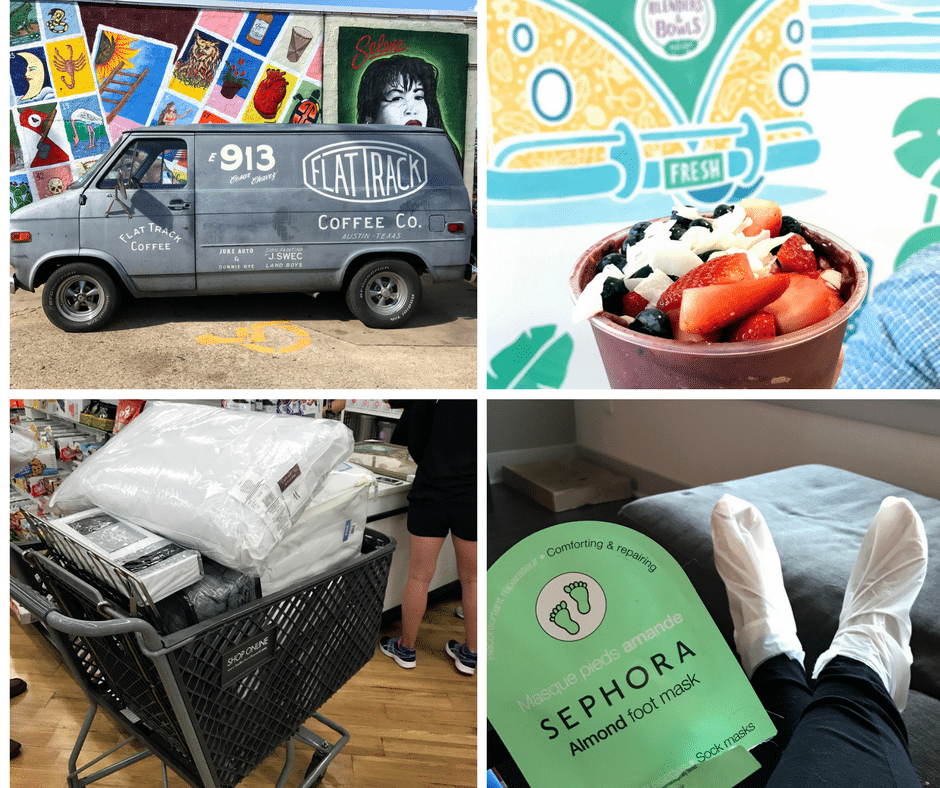 Photos from the week, top left to bottom right:
(1) We found yet another great coffee shop in Austin, Flat Track Coffee. The coffee shop shares a space with a bike repair store which makes for a pretty unique atmosphere. They had this cool branded van sitting outside!
(2) We are still going strong on Whole30 (8 days left….), but we got sick of cooking and cleaning every single day, so we have found a few options for eating out. One of my favorites we've found is an acai bowl from Blenders and Bowls. We had to make several substitutes and skip the honey and granola, but it was easy to do! Also, I'm really learning to love almond butter, and it was especially tasty in this acai bowl!
(3) Saturday we took a trip to Bed Bath & Beyond to pick up a bunch of things for our guest bedroom/office! Let's just say, we were pumped to have the 20% off your WHOLE ORDER coupon because we spent quite a chunk of change. Our guest bed and mattresses should be coming in this week, so I can't wait to put the bedroom together next weekend! We really look forward to having a comfortable space for guests to stay (that's not in the middle of the living room in a 700 sq. ft. apartment!).
(4) I had some time on Sunday to just chill, so I did this almond foot mask I've had on hand for a few months while reading a book (currently reading The Last Anniversary) and sipping some tea. This is what Sunday afternoons are made for!
Not Pictured:
Starting to work later into the evenings – Busy season is beginning again, and I'm just not ready!
Watching some of our favorite episodes of Friends yet (end of Season 4, beginning of Season 5)
Enjoying another Whole30 meal out with my sister and her boyfriend on Saturday
Dodging lots of traffic this weekend from the Women's March downtown
Calling my grandmother and wishing her a happy 83rd birthday. I love her so much!
Picking up a few candles at the Bath & Body Works Semi-Annual Sale
On the Blog:
My husband wrote his first guest post for the blog on his packing strategy and advice as well as his packing list from our big Europe backpacking trip in early 2016! Check it out and feel free to share your own packing advice in the comments.
Have a great week!
Click here to see all of my Scenes From the Week posts. I'm linking up with Biana at B Loved Boston for the Weekending link-up!
{Thanks for reading! Want to know a little more about me? I'm a CPA learning how to balance a career with frequent travel while planting roots at home in Austin, TX. When I'm not exploring my home city with my husband Daniel or cuddling with our chubby orange cat Banana, I'm probably planning, packing, traveling to, or daydreaming about our next adventure. After all, my travel mug collection is never complete. If you have wanderlust too, be sure to follow me on Instagram, Pinterest, Snapchat (emilya89), or subscribe to my blog!}