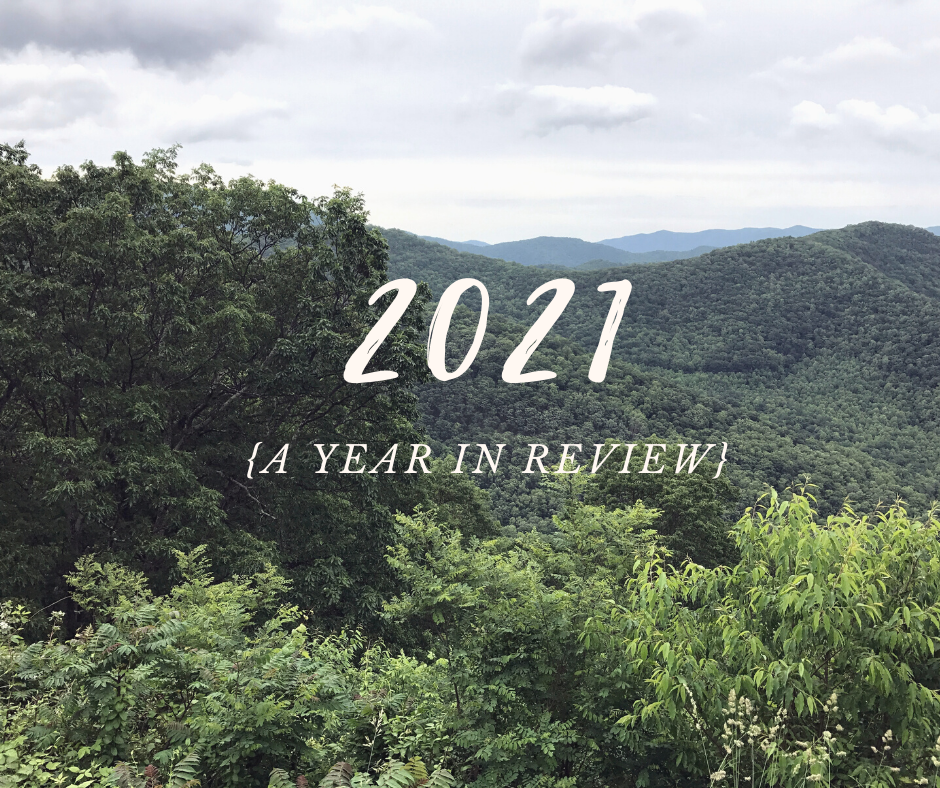 I know this post is super late, but I'm posting it for my personal documentation. I've only missed one of these posts since I started blogging years ago, and I'm still frustrated I missed that one year!
2021 was heartbreaking. The world was still dealing with the huge impact of COVID, we experienced tremendous loss within our family and friends, and I was diagnosed with a little-understood condition (PPPD) that has led to many days of sickness and discomfort. But there were some beautiful moments, and writing these posts always reminds me of how much I have to be thankful for.  And now that we have already made it through about a quarter of 2022, the world has seen such tragedy again. World events like these remind me to pray for peace, cling to Jesus, snuggle our babies, and be incredibly grateful for the blessings of freedom, comfort, and peace we have at home.
January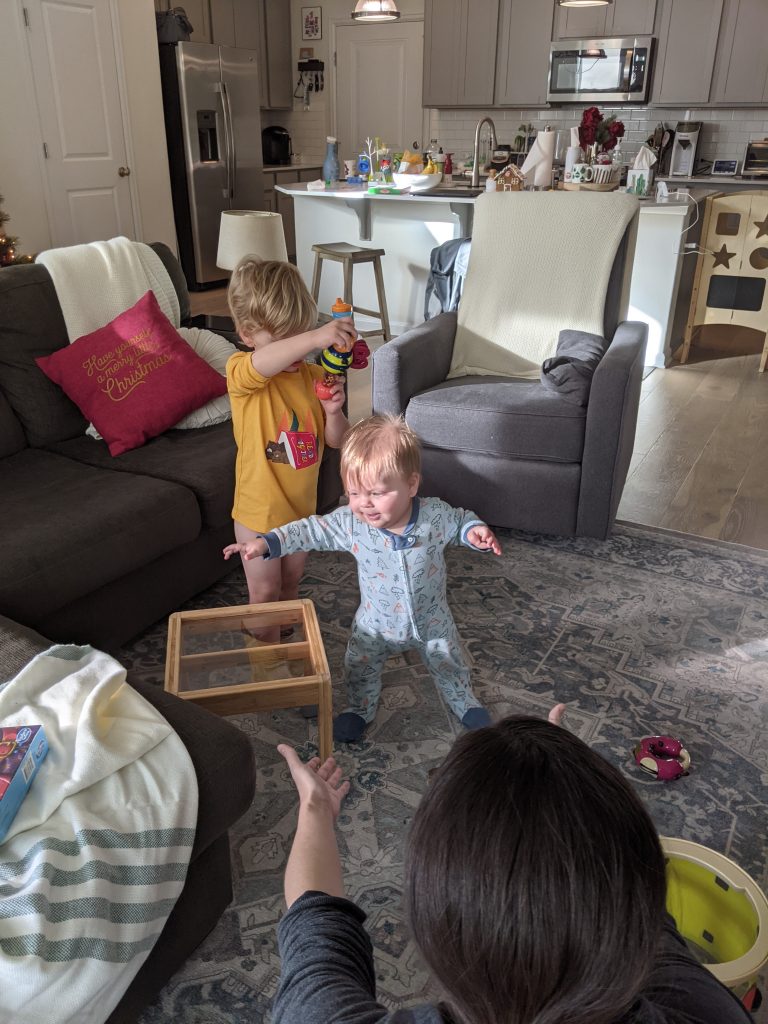 We started the year with potty training bootcamp (round one) for Carson and first steps for Caden!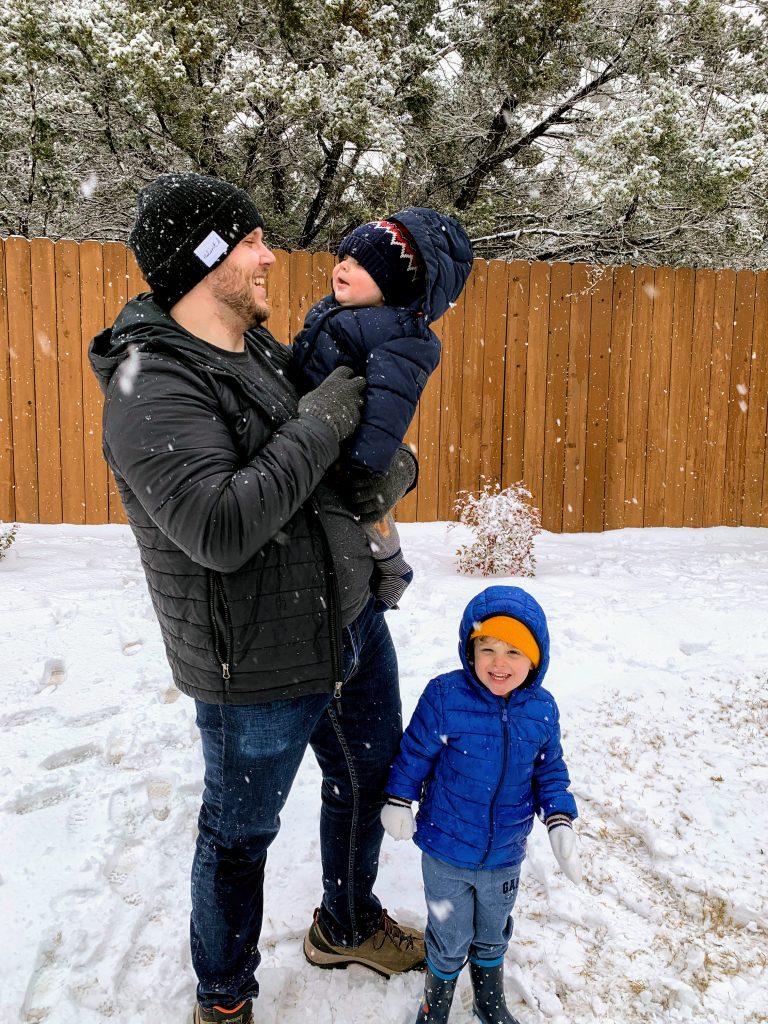 The first big snow of 2021 was so much fun, so we got the boys outside to play in it, even though we didn't have the right cold weather clothing. Caden LOVED the snow. Carson enjoyed it at first but quickly realized how "messy" it was.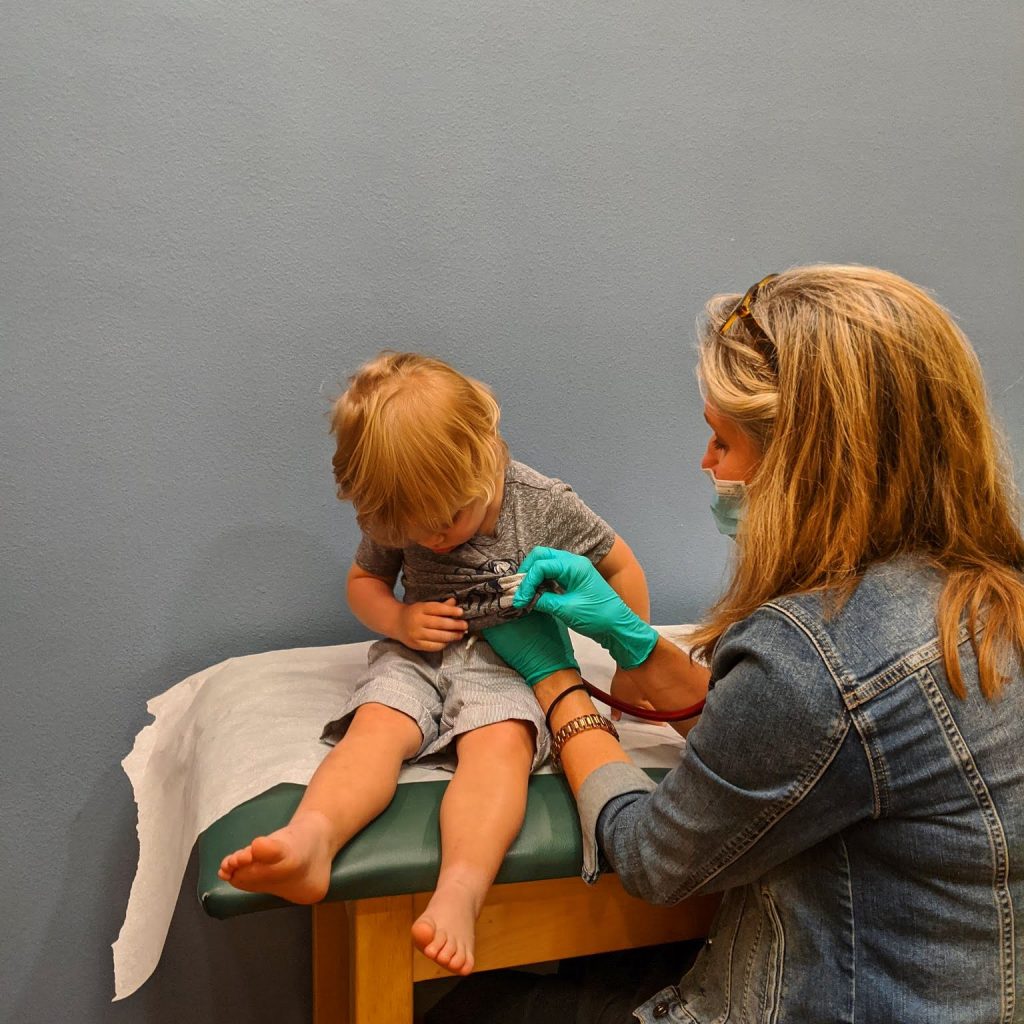 We lost our sweet pediatrician at the end of January. She was so special to us. My heart still hurts thinking about her, and I'm honestly still at a loss for words. This photo wasn't taken in January, but it's the only one I have of Carson with Dr. Dodson.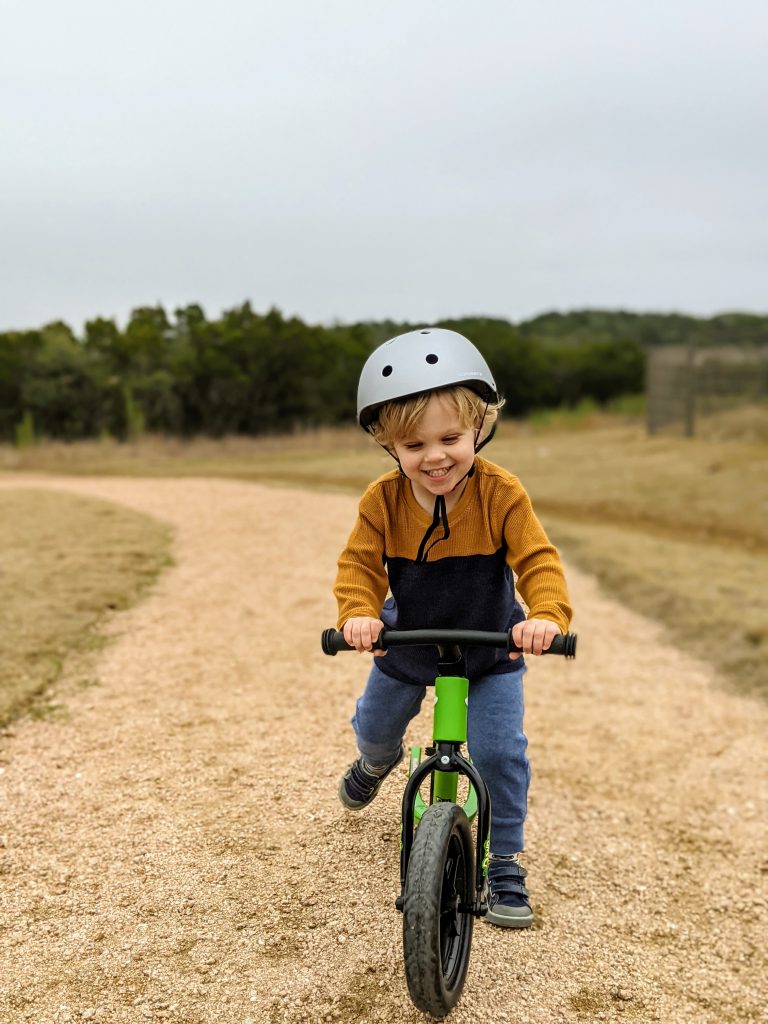 We enjoyed lots of bike rides on Carson's new balance bike that he got for Christmas!
February
We had so much fun planned for February, but it feels like the entire month was cancelled due to Snowmaggedon.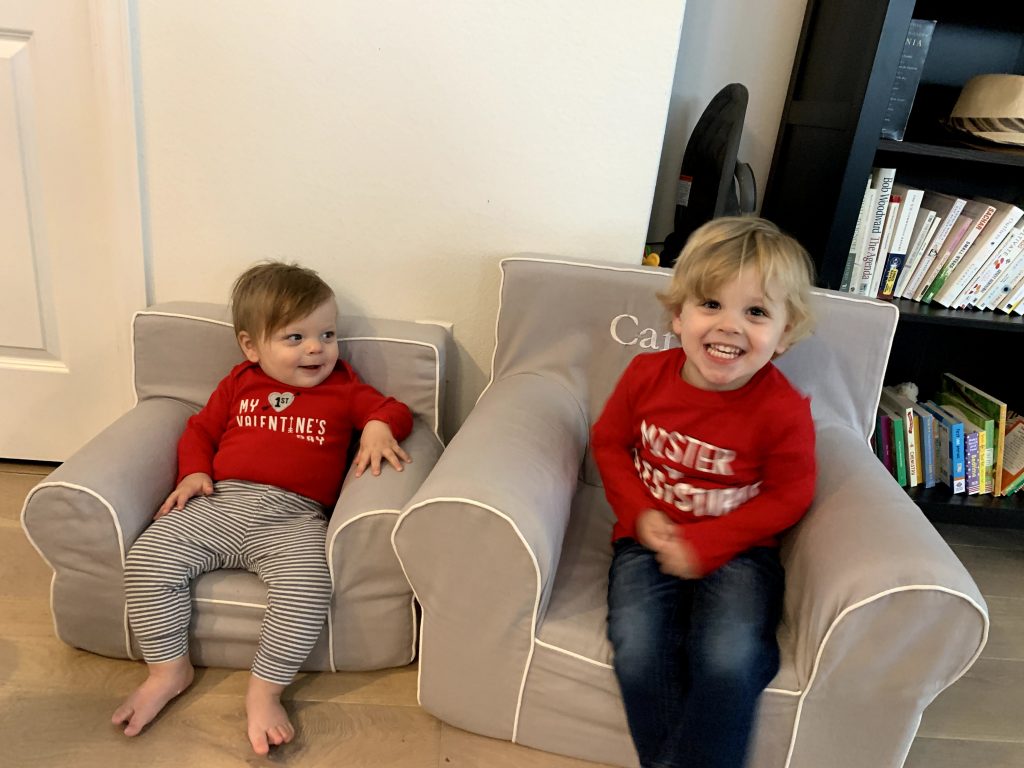 I got these shirts for the boys' Valentine's party at school. That was obviously canceled, but we still wore them to celebrate on a VERY chilly Valentine's Day.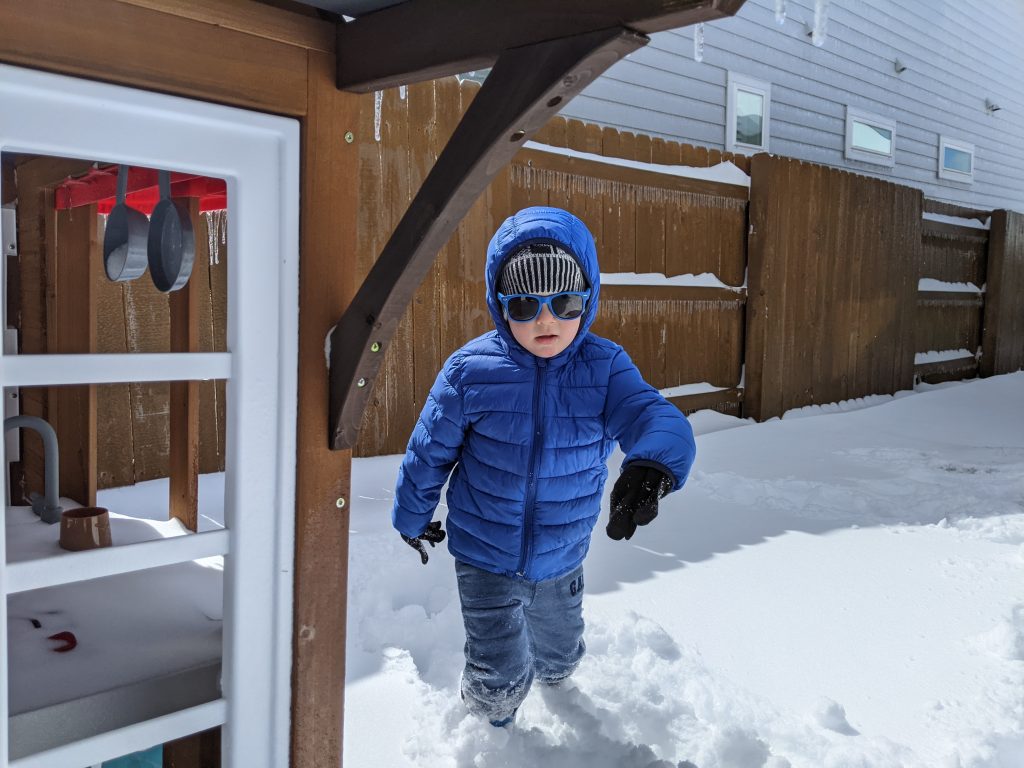 This snowstorm was a lot less fun than January's. Like many Texans, we were trapped at home for over a week. Carson tried to brave the snow again, but decided he still didn't like the "mess". Some highlights: a neighbor took Carson for a ride on his Bobcat front loader ("just like Rubble!"), we set up our giant tent in the middle of our living space, and we memorized the soundtrack to Moana.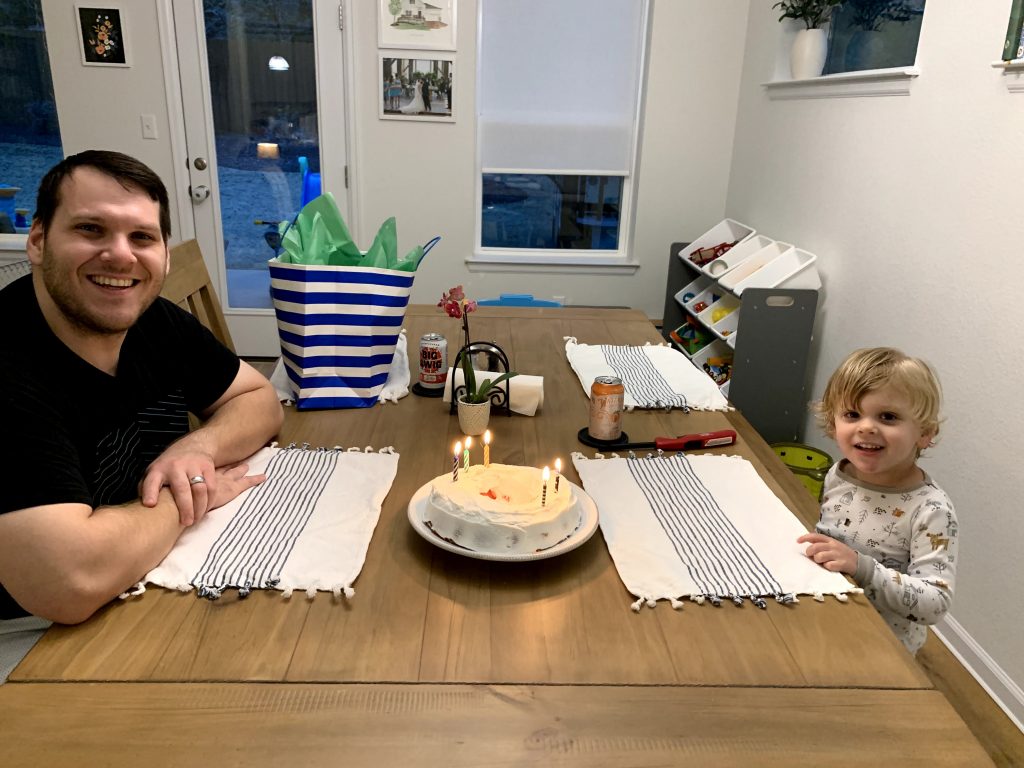 This storm not only ran into Valentine's Day, but also Daniel's birthday. Carson and I made a strawberry cake and tried to make the most of celebrating Daniel!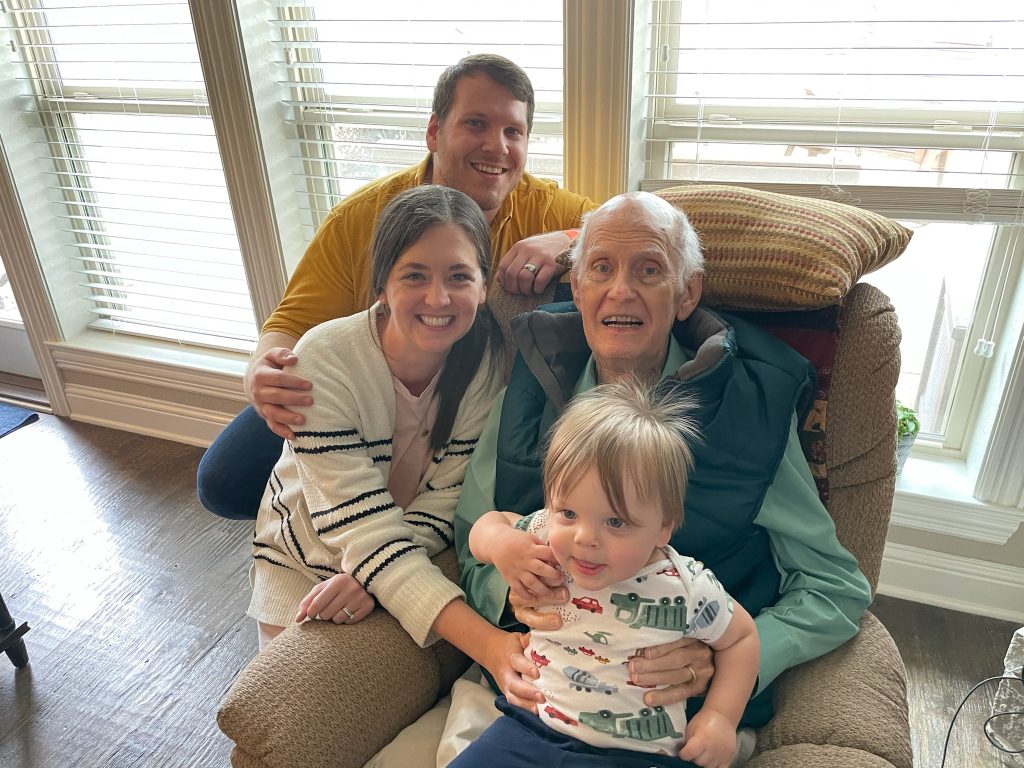 We lost my precious Mimi at the end of February. This was my first loss of a grandparent, and it hurt so so much. But being with family during that time was so special and comforting. This is a photo of us with Papa, Mimi's husband.
March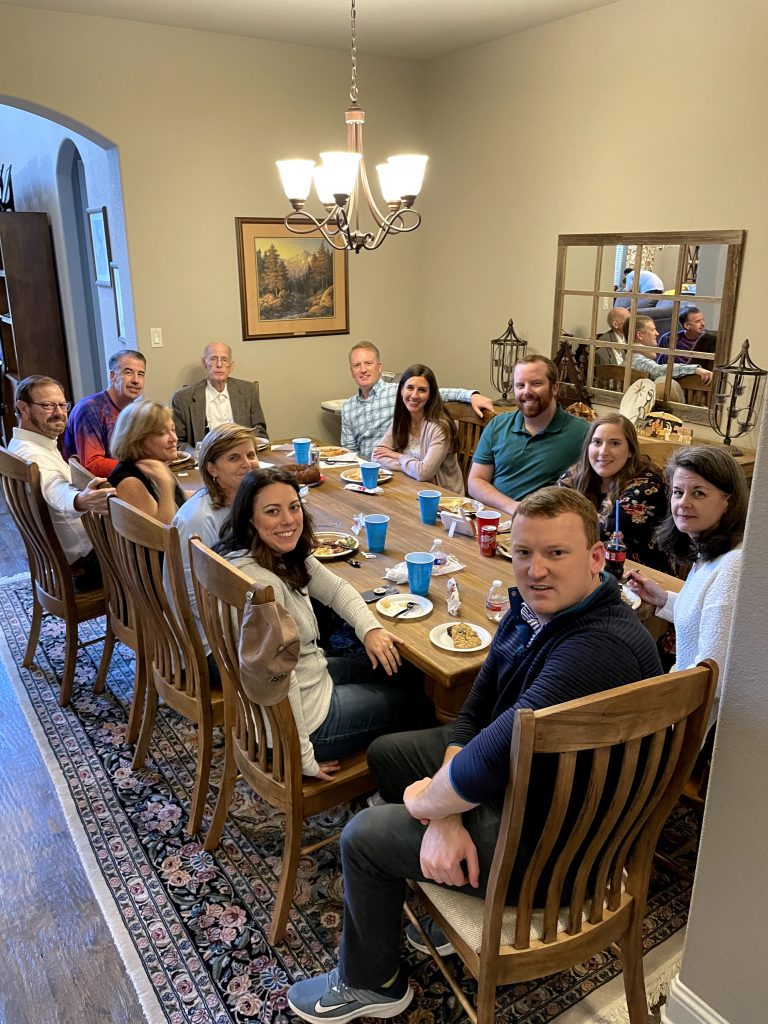 March started off with Mimi's celebration of life in Waco with lots of family. It was so wonderful to gather together, comfort Papa and each other with stories of Mimi, and celebrate her home-going.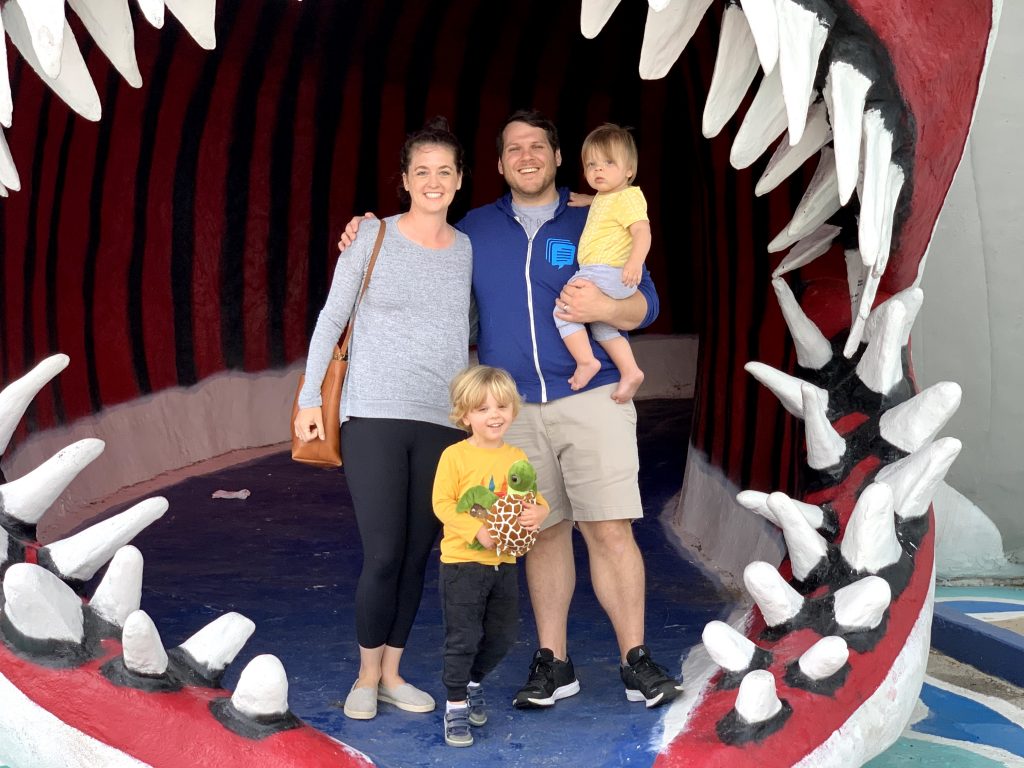 We took a family trip to Port Aransas – both boys' first beach trip! It was a little cold and gloomy, but we had the best time exploring a new place and spending lots of time at the beach!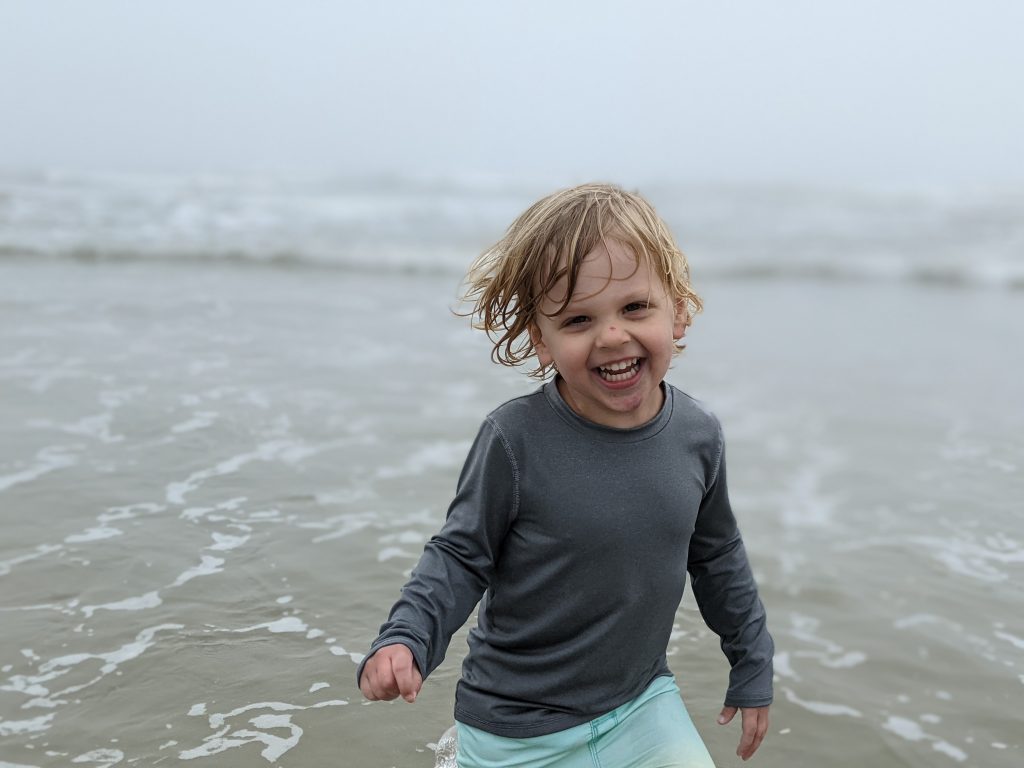 Carson much prefers the "mess" of a sandy beach to a snowy yard!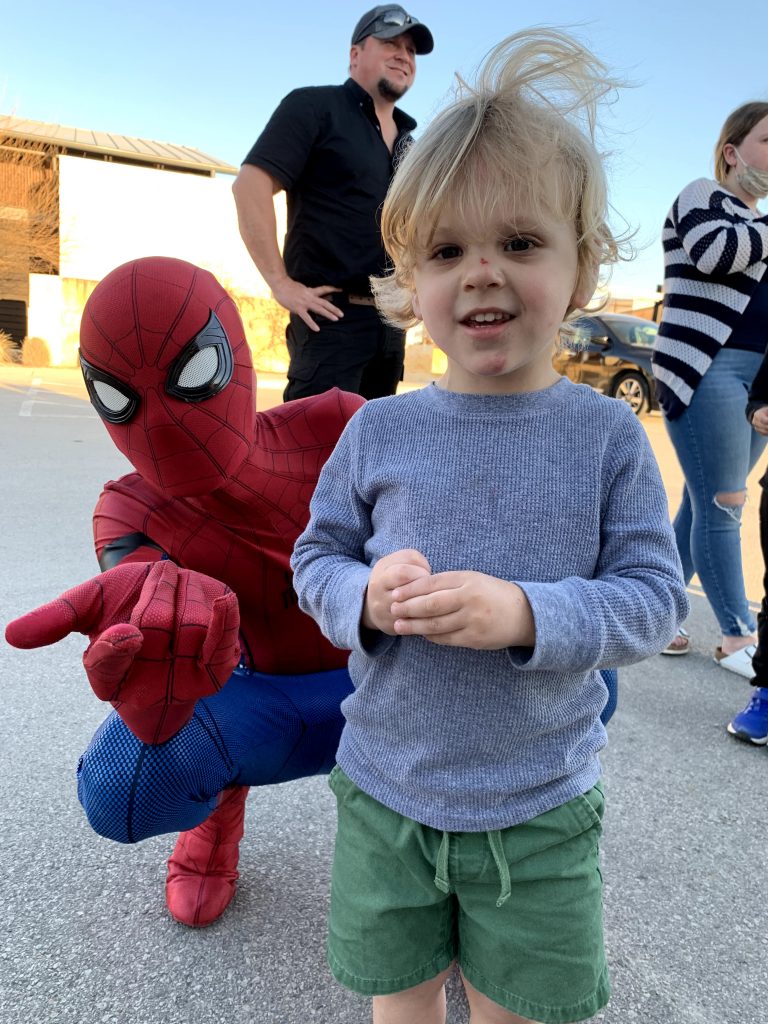 Spiderman came to one of our neighborhood's spring events!
April
April is a big birthday month in our house!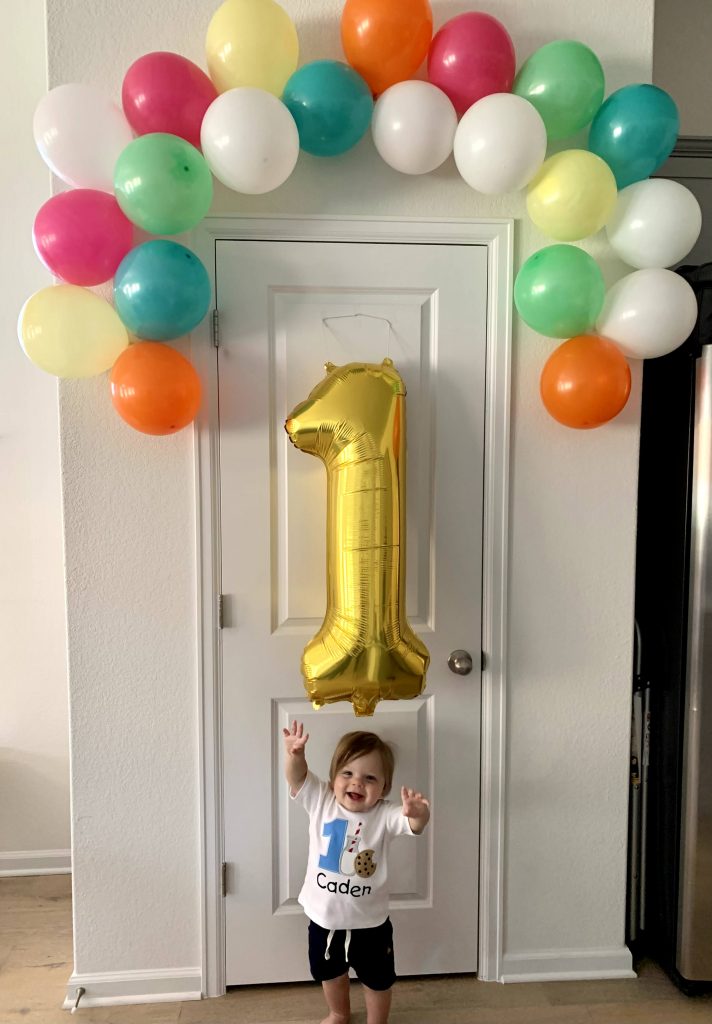 Caden turned one! We had to postpone his birthday party because we all ended up with a terrible stomach bug the night of his birthday, but we still had a fun day of celebrating Caden before getting sick.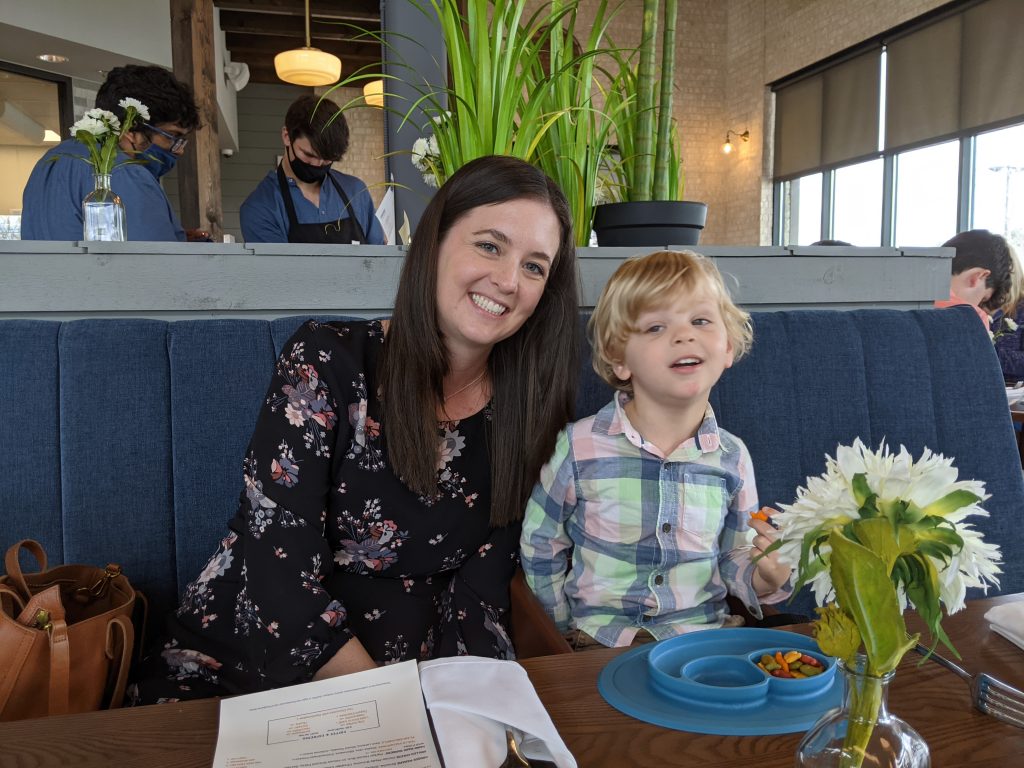 For Easter we stayed in town, went to church, and headed to brunch at a cute restaurant near our neighborhood. After naps, we had a fun Easter egg hunt in our backyard.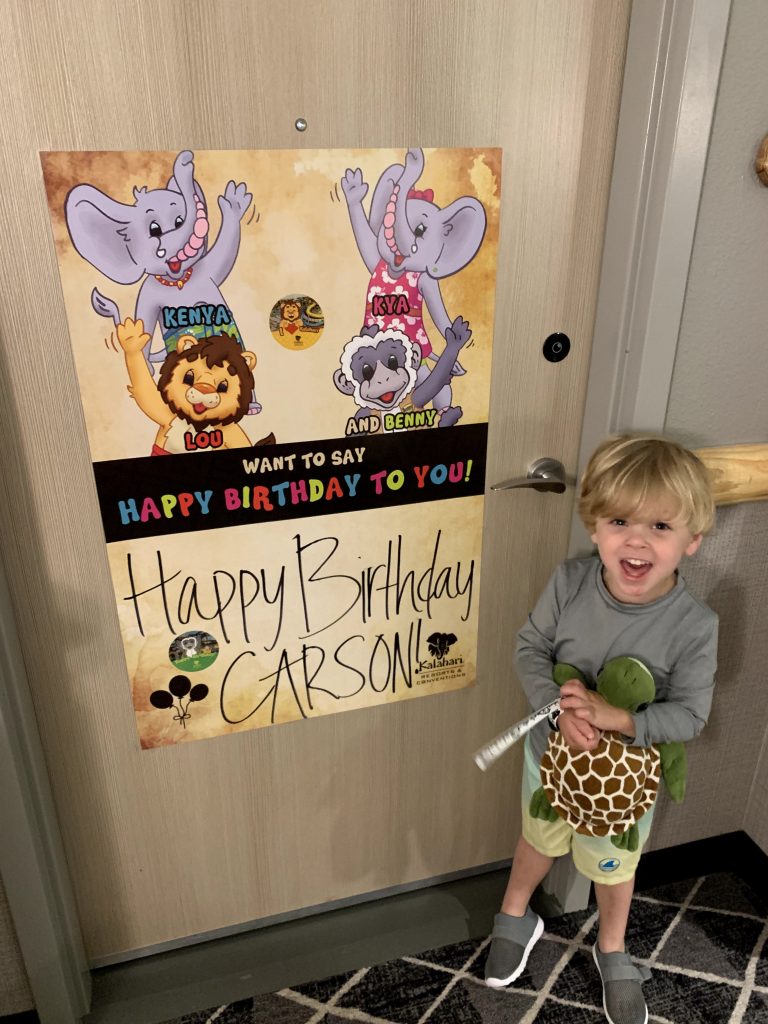 For Carson's third birthday, we had a family party at Kalahari waterpark in Round Rock! I think this was the highlight of Carson's life up to this point. He still talks about it all the time and watches YouTube videos of people riding water slides to re-live those memories!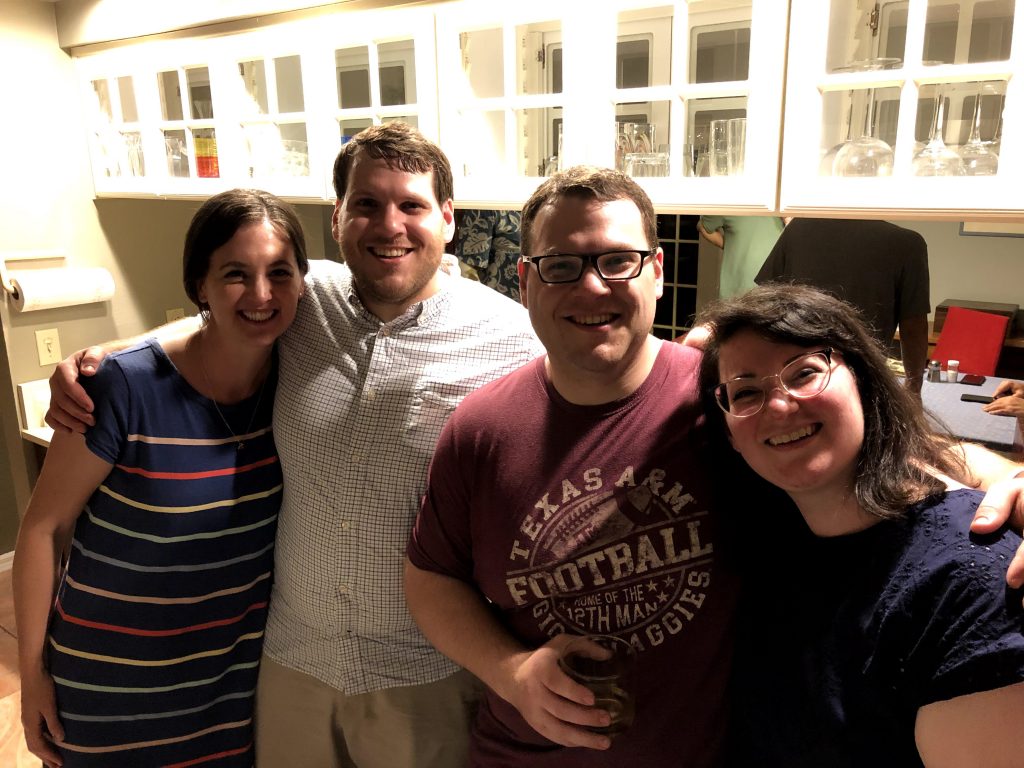 We lost Daniel's Grandma on Easter, so we flew to Florida for her celebration of life. It was really special to be with the Abernathys and to hear all of the wonderful (and quite funny!) things that Carol had done throughout her life.
May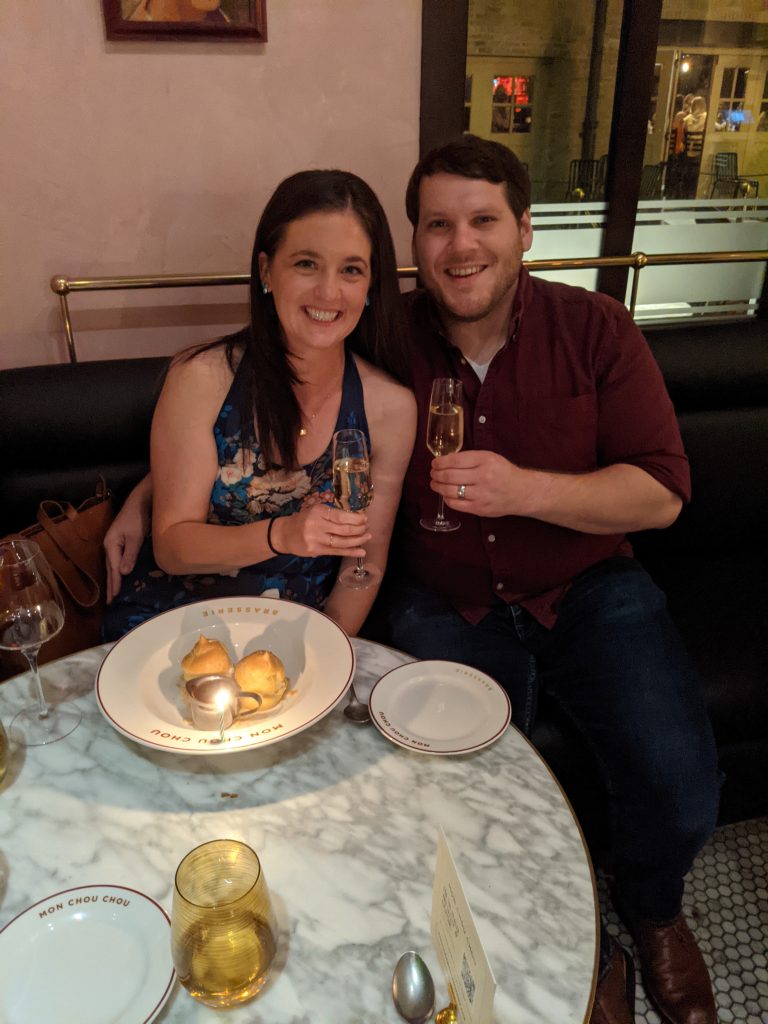 We celebrated our ten year anniversary with a little weekend trip to San Antonio. We stayed at The Hotel Emma, ate lots of wonderful food in the Pearl District, watched movies, and just relaxed. I'm not sure how it's possible that we have already been married ten years….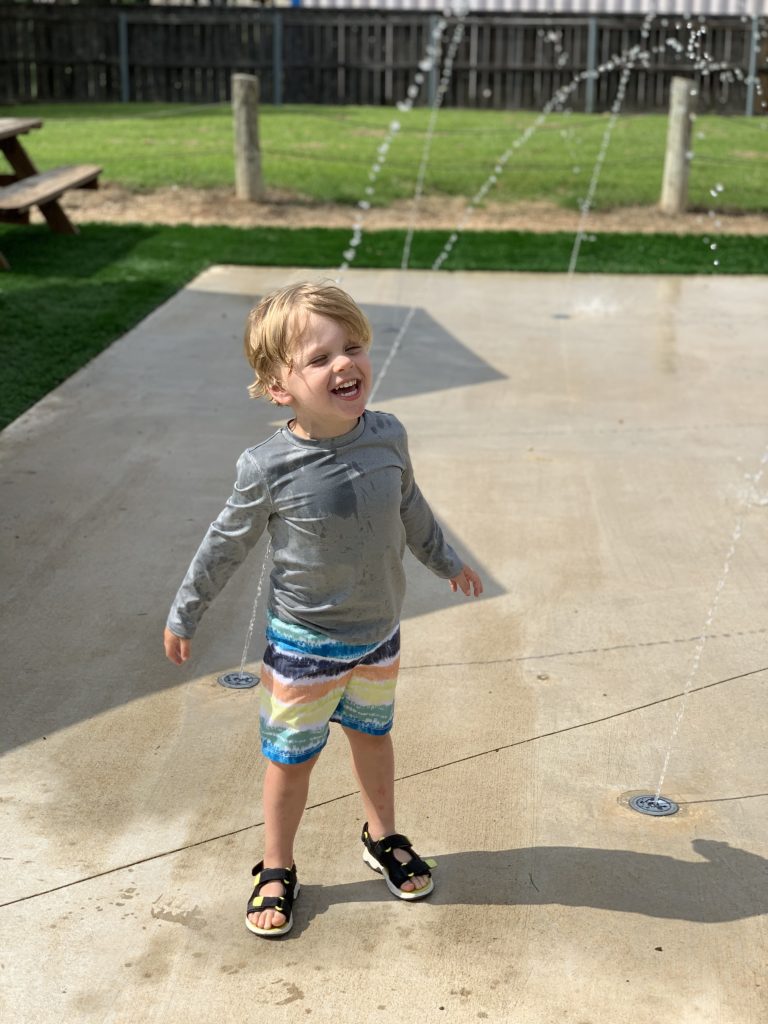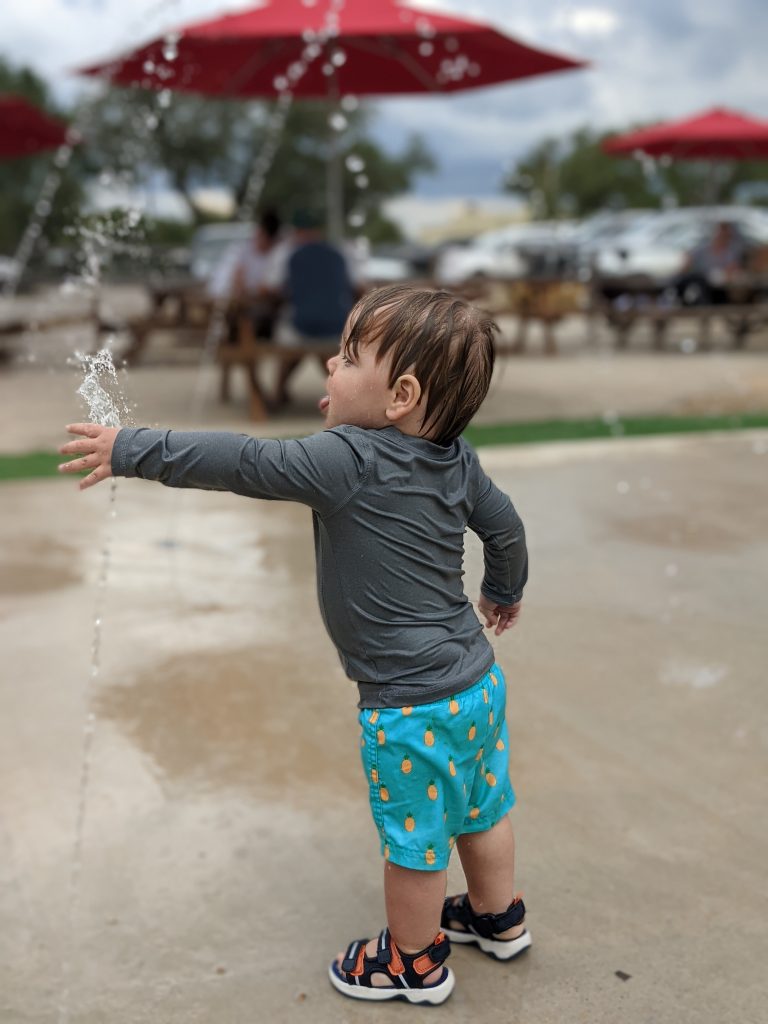 May brought the beginning of splash pad season!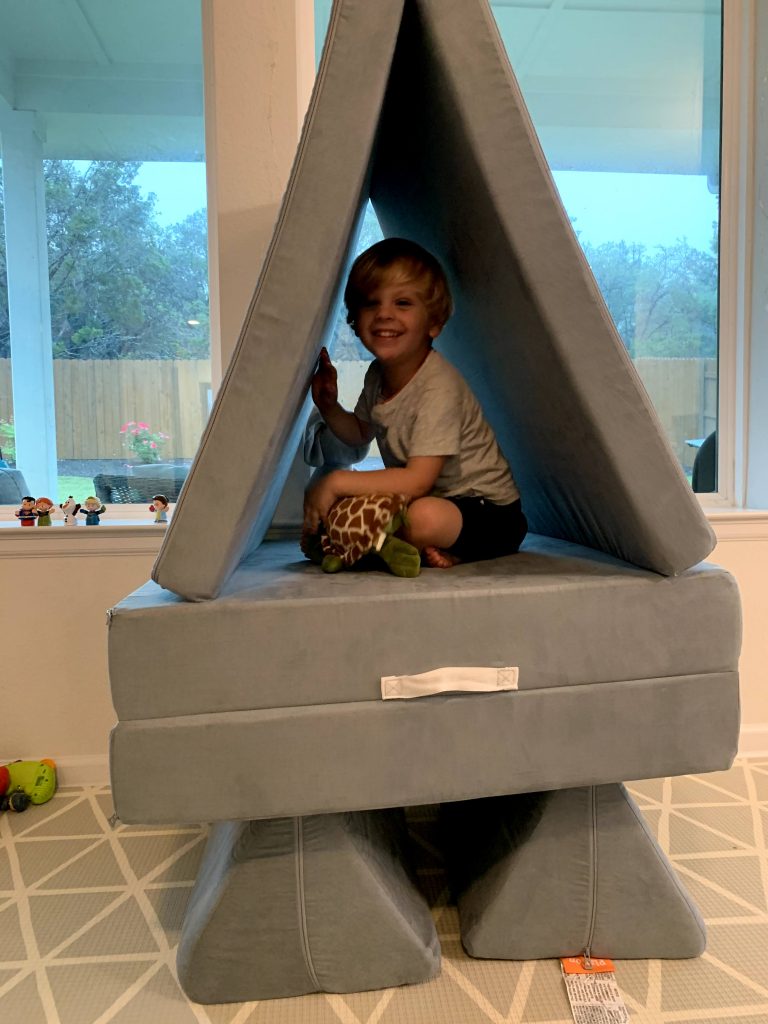 The boys got a Nugget for their birthdays in April, so we spent a lot of time playing with it in May! Such a fantastic toy for energetic little boys!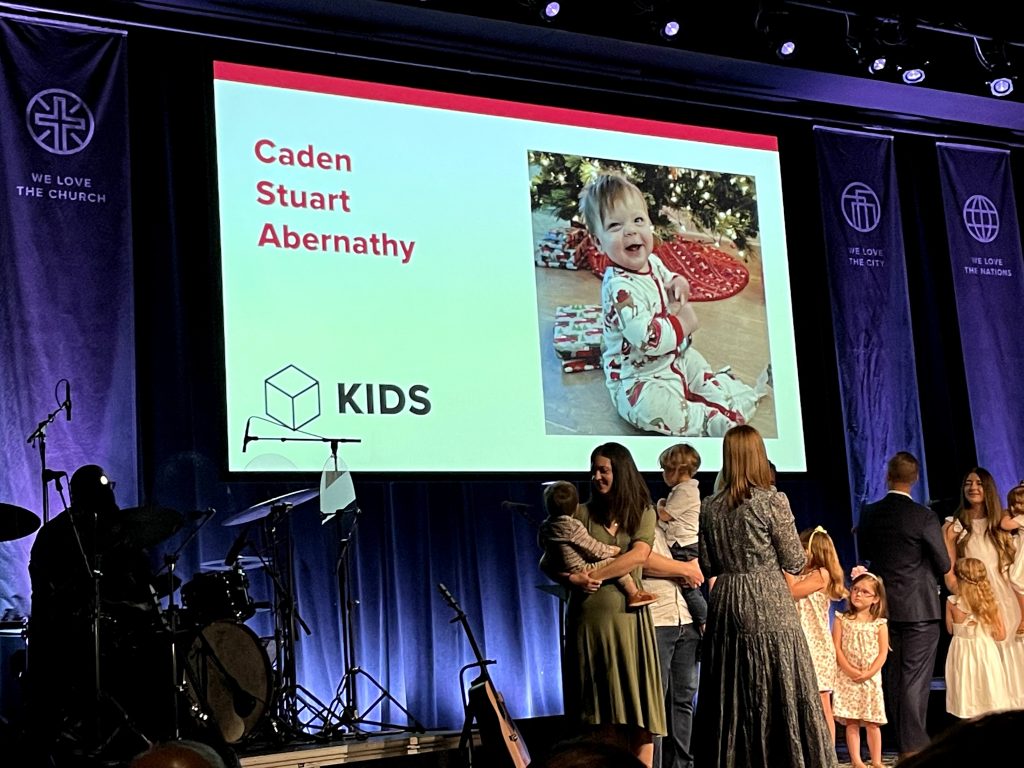 We dedicated Caden at church in front of our friends and family this month. And right after the dedication service, everyone headed to Caden's belated birthday party!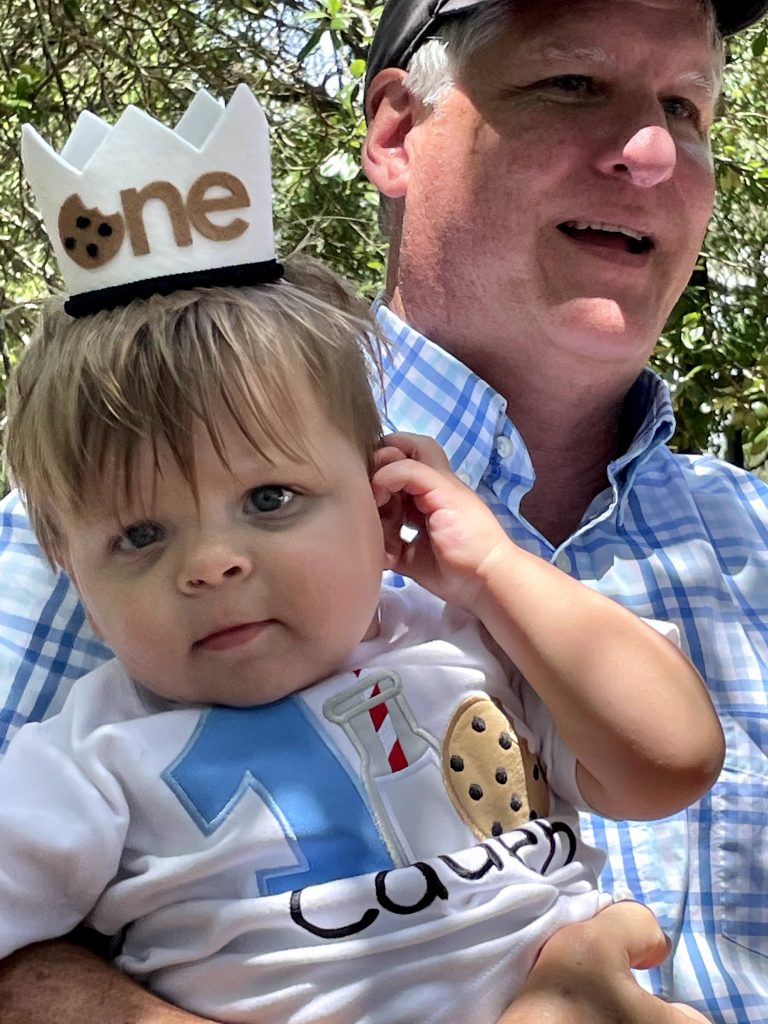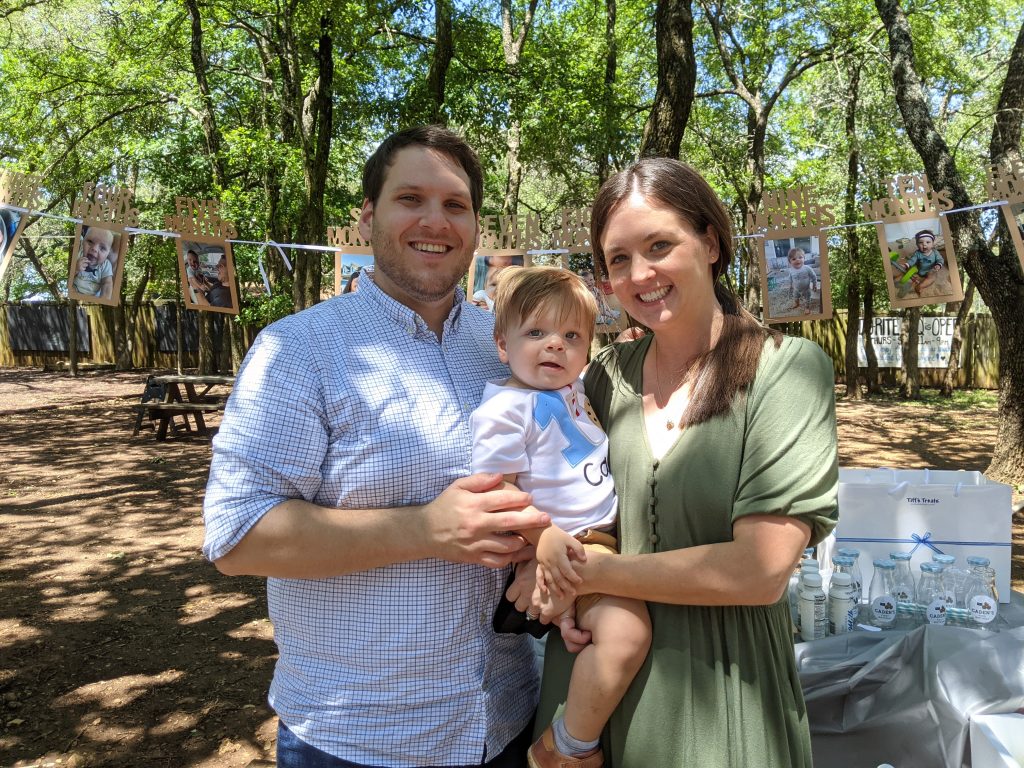 Caden finally started enjoying books, even when they are upside down!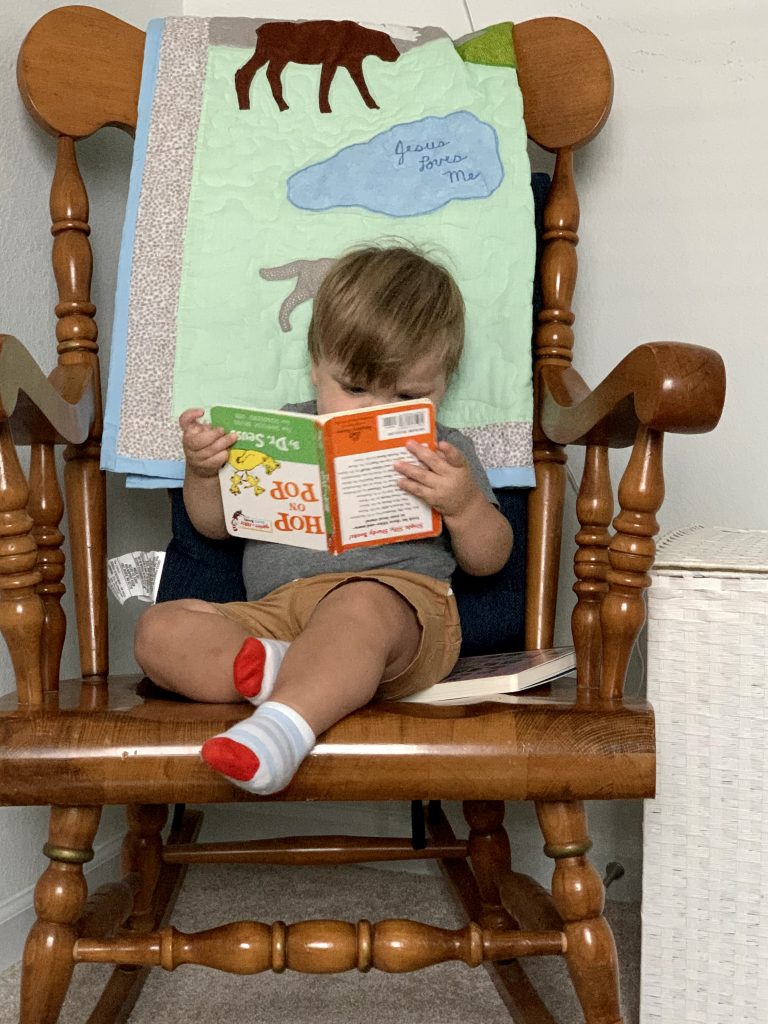 June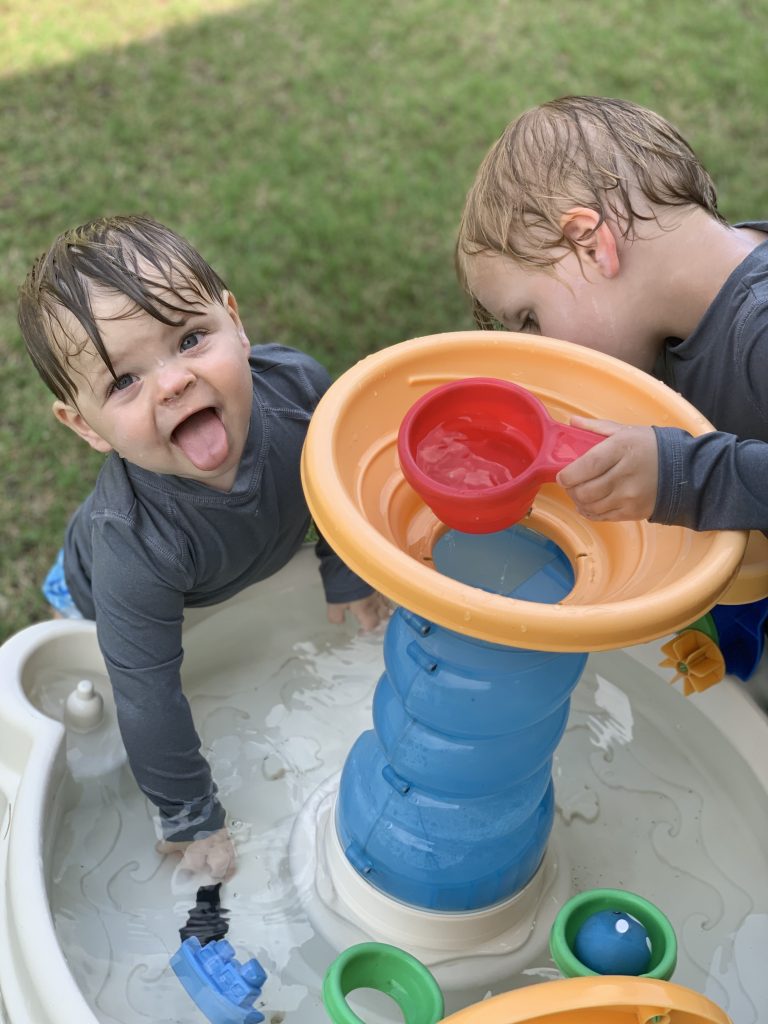 More water play in June!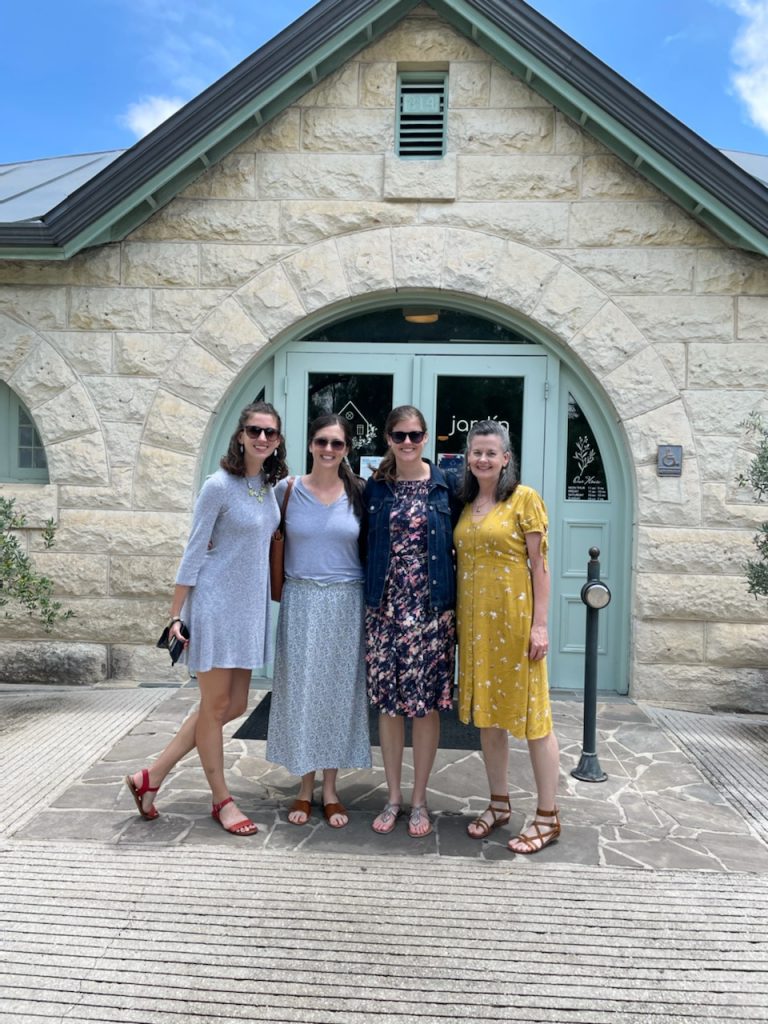 My mom treated me and my sisters to a girls' weekend in San Antonio. We had so much fun running around town, getting manicures, and catching up.
And the biggest event for the month was my sister Ellen and her husband Lane's wedding party! They were married in 2020, but, for obvious reasons, the big party was delayed to their first anniversary in 2021!
I will treasure this photo forever. It's my sister (the bride!), me, and Papa, who went to be with Mimi in heaven the following month. It is so special that Papa was able to make one last family party. I look forward to seeing him at many, many parties in Heaven!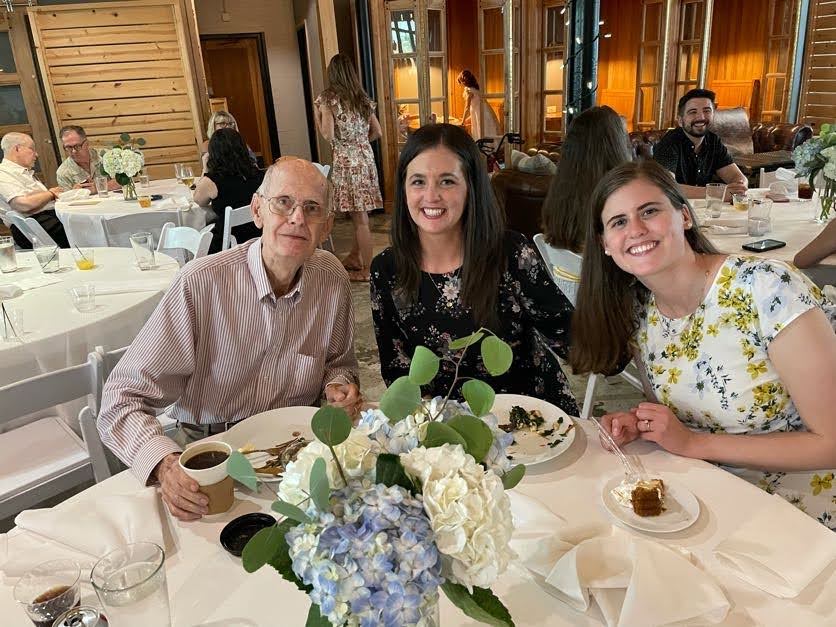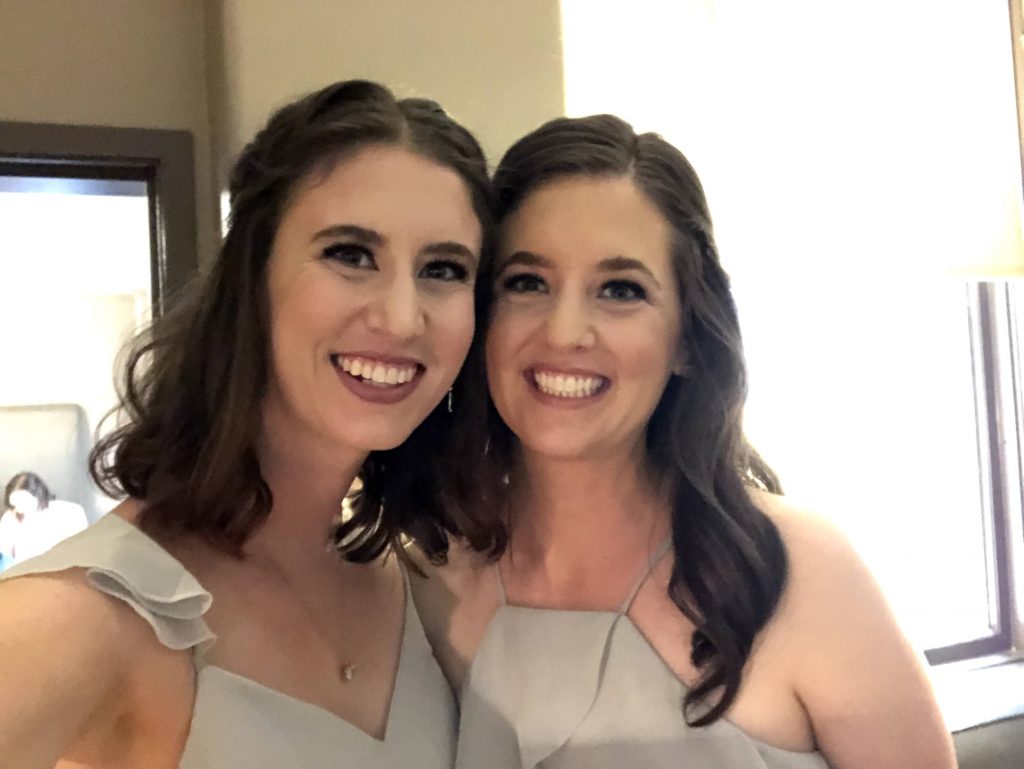 My sister Elizabeth and I, ready to be bridesmaids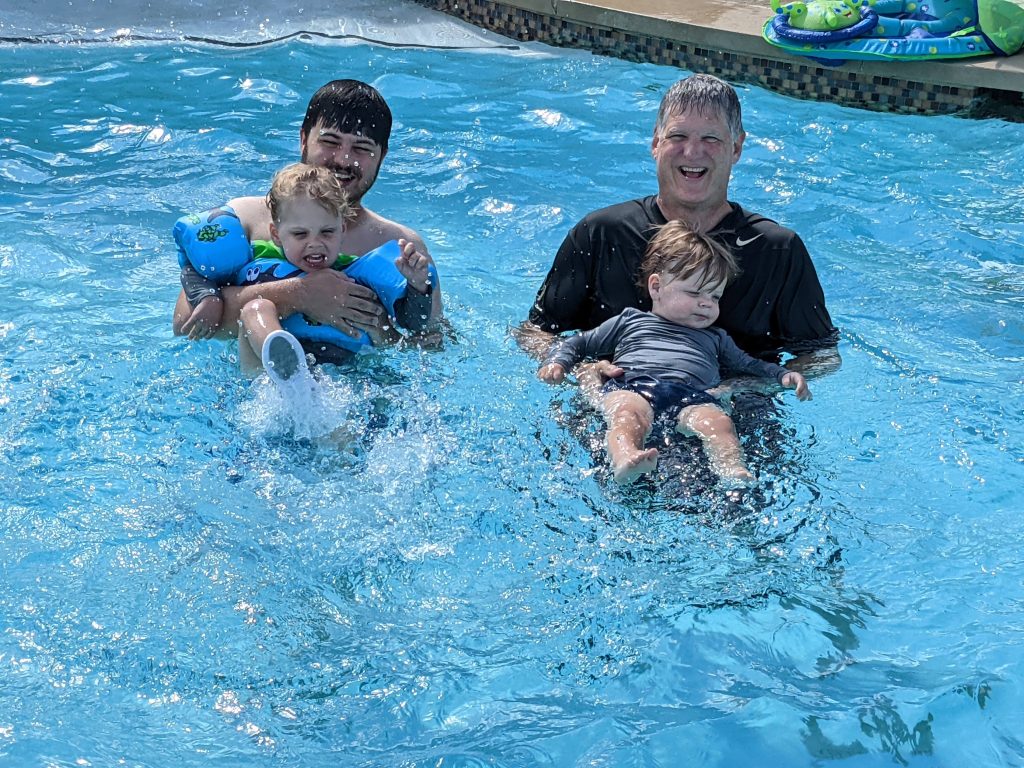 Pool party with Uncle Ben and Grampa!
July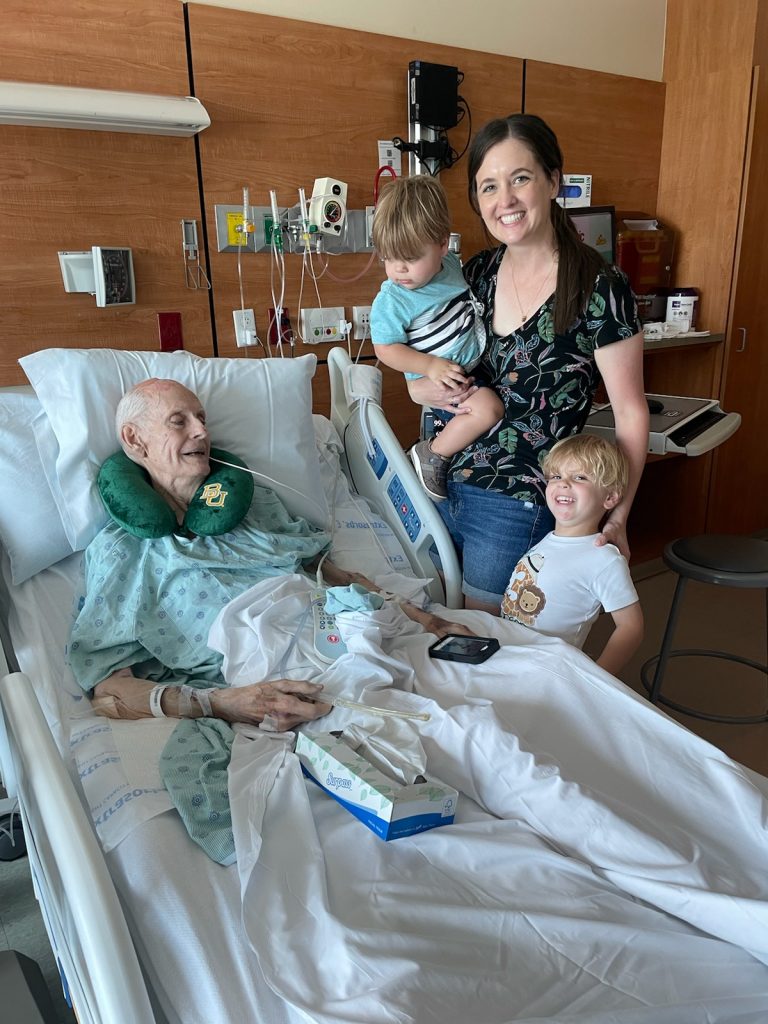 I took the boys to visit Papa in the hospital in Waco a few days before he passed away. This was a special time where the boys were able to sing to him, laugh with him, and give him hugs.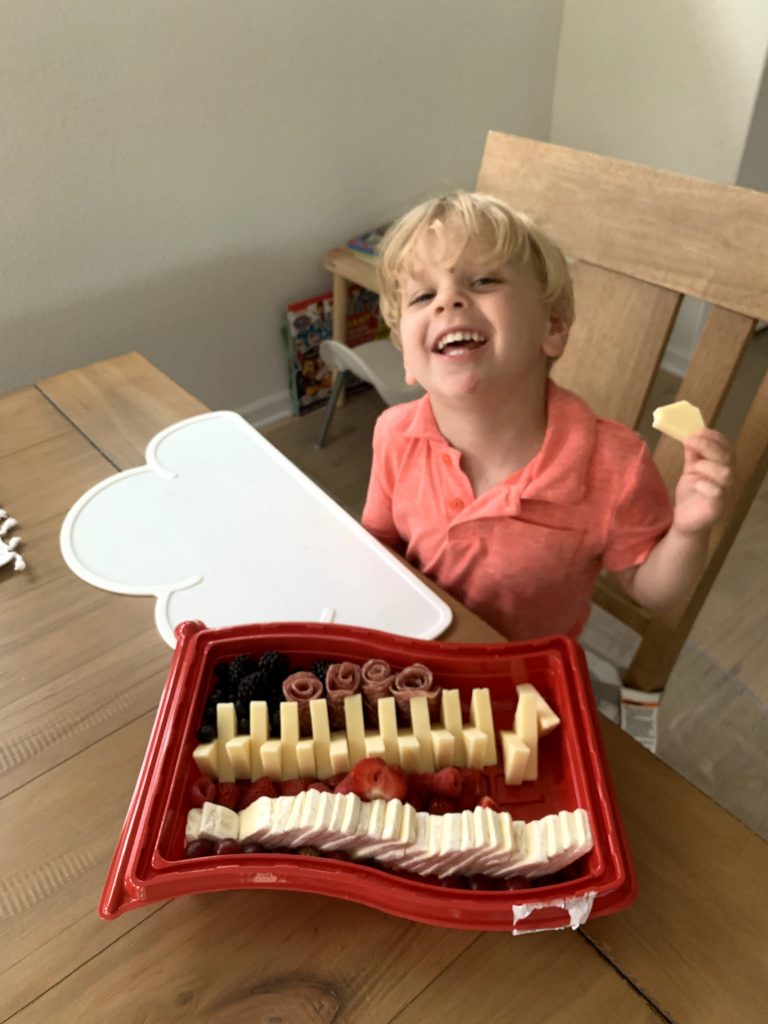 We didn't do much for 4th of July, but we did have an American flag cheese and fruit board from HEB!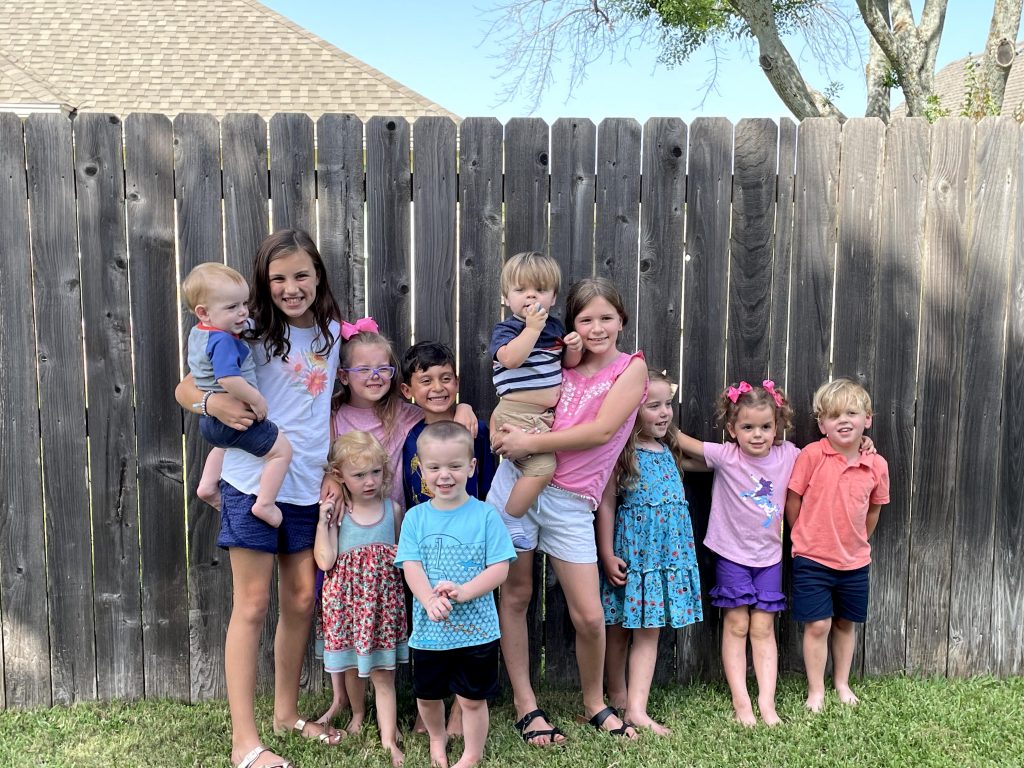 My mom's side of the family got together in Waco again for Papa's celebration of life. It was precious to see all the "cousins" running around and playing together.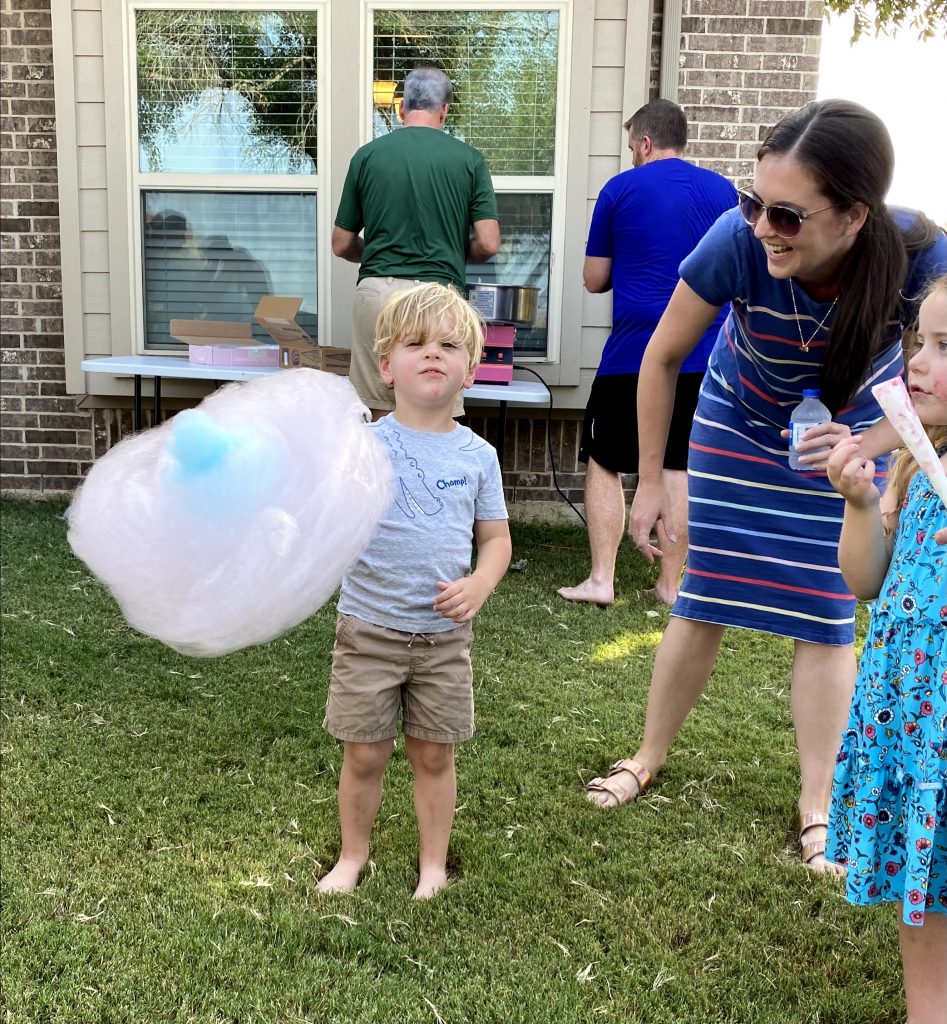 August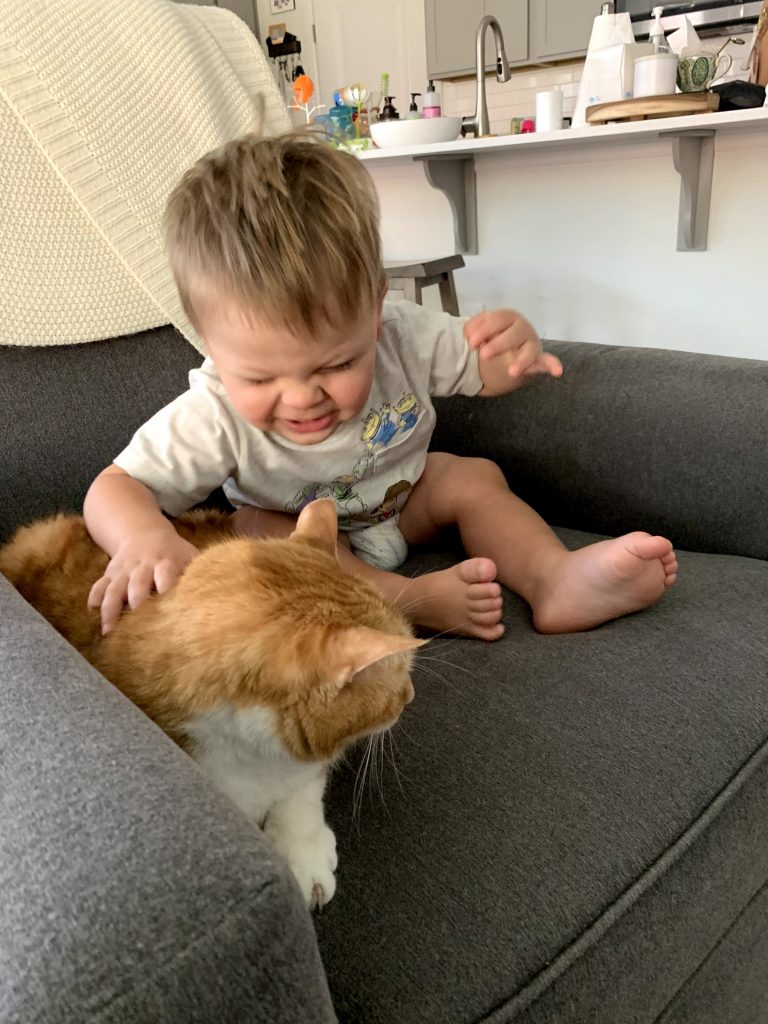 Caden LOVES Banana! Banana is unsure about Caden, ha!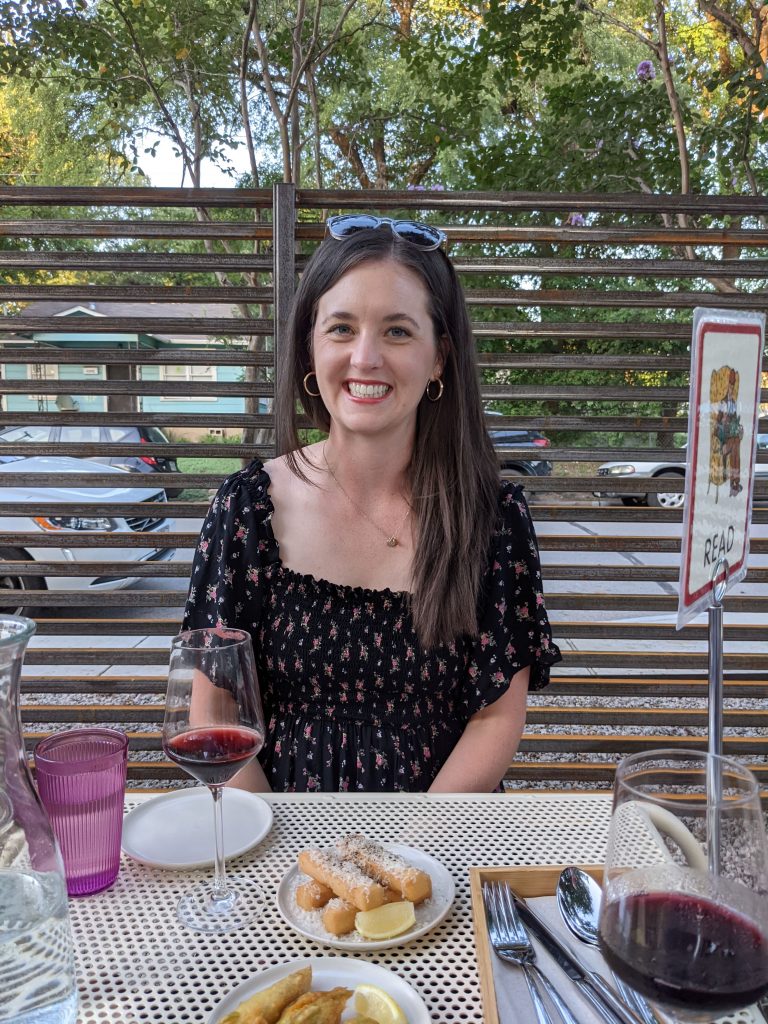 We got in a fun date night at a new Austin hot spot.
September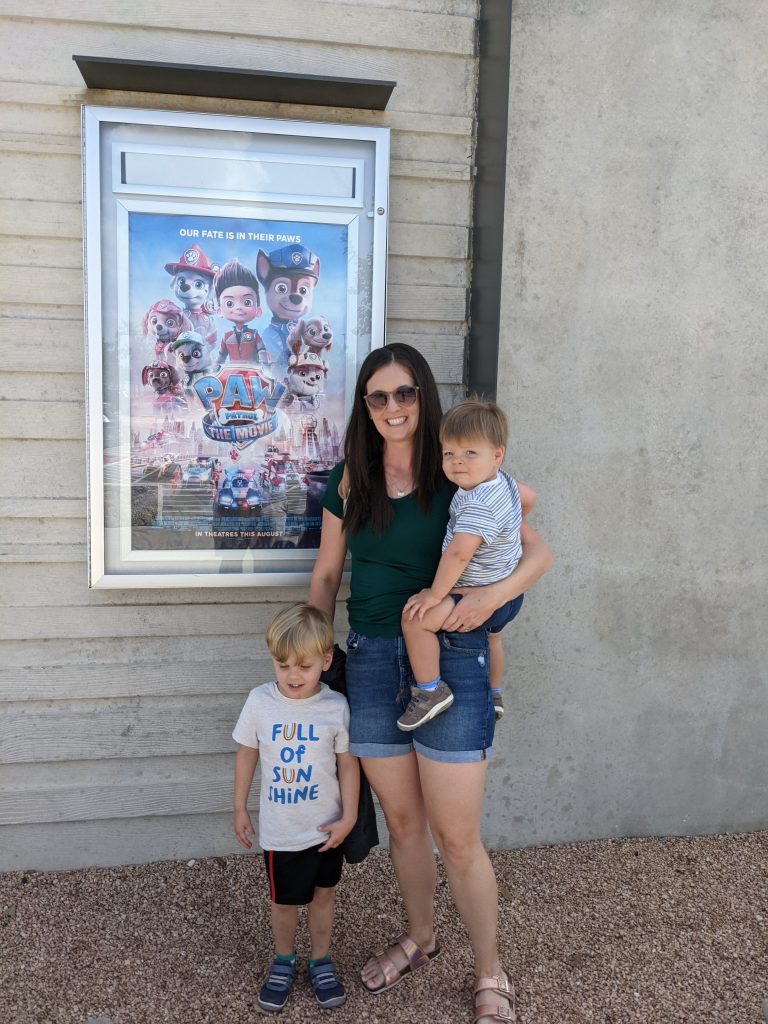 The boys had a blast at their first movie, Paw Patrol!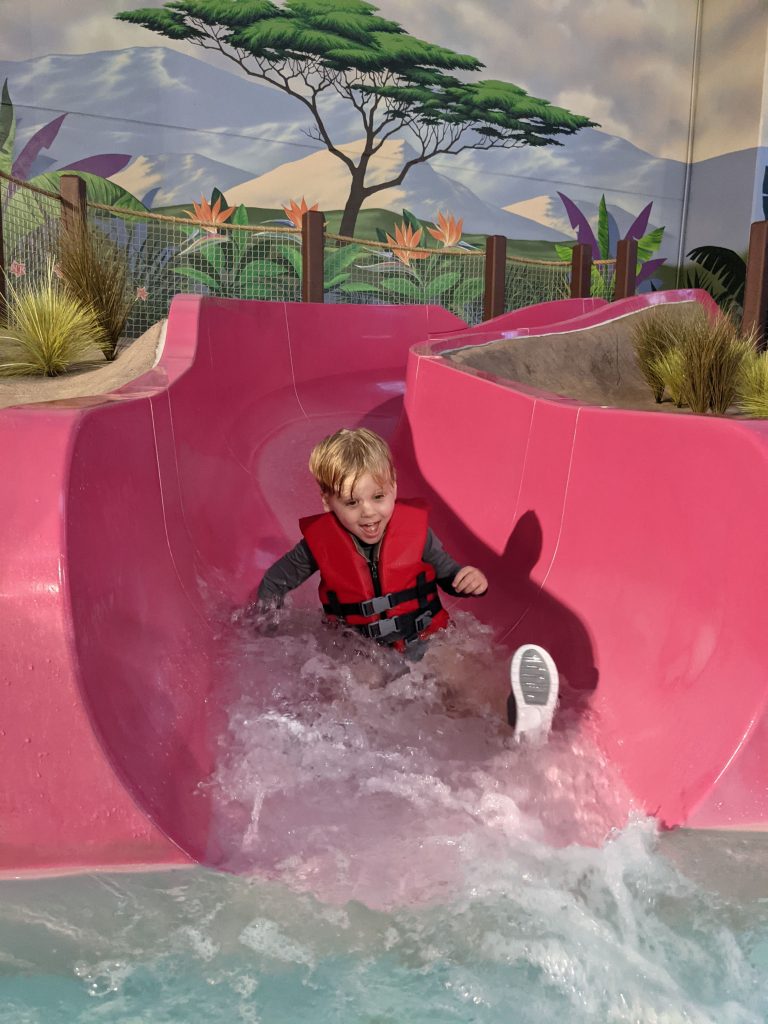 Carson was treated to a day trip back to Kalahari with Daddy! He had an absolute blast.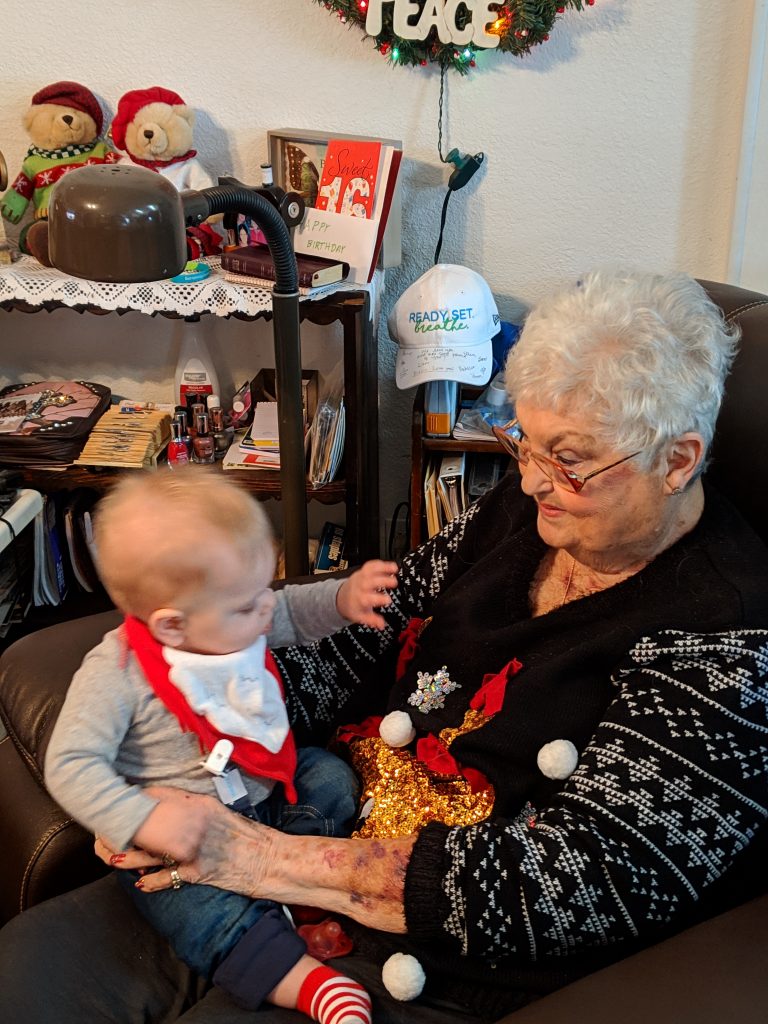 My precious Mama Dee (grandmother) went home to Jesus this month too. I previously wrote some thoughts about Mimi and Papa's life in some Scenes From the Month posts, but I took a break from posting those starting last September, so I hadn't shared Mama Dee's yet.  Here it is:
Mama Dee had such a beautiful passion for life. She loved using her skills to help others – in her final years she spent much of her time making baby blankets for foster babies, continuing to write cards for every occasion, sewing quilts for family, and, in her final months, coloring pictures for loved ones. I will always remember her love for holidays (especially Christmas), her church, square dancing, grandkid trips, sewing beautiful quilts and dresses, her friends, and most of all, her family and Jesus. I will treasure my memories with her forever. I know she is joyfully square dancing for Eternity now. I love you so much, Mama Dee. We will be together again in Heaven one day.
This was the fourth loss of a grandparent between Daniel and me that year. While the grieving continued, we clung close to family and to Jesus. This is one of my favorite photos of Mama Dee with Carson.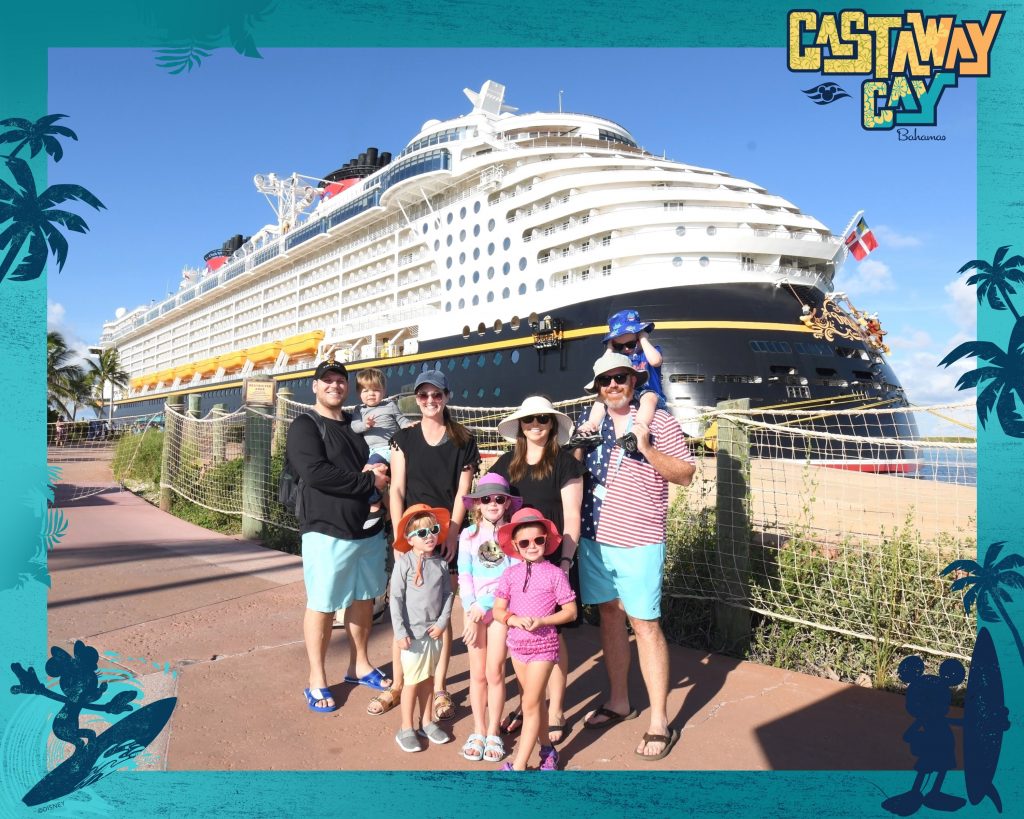 September also brought our big trip of the year – our Bahamas Disney Cruise! We had so much fun. My cousin and his family of five came with us. It was the perfect amount of yummy food (date night at Remy, amazing!), entertainment, shows, the private island, pools, water slide, splash pads, kids' room drop off, and relaxation… just kidding! – Traveling with littles is not relaxing, but it is certainly a whole lot of fun.
We dressed up as Toy Story characters for the Halloween party.
October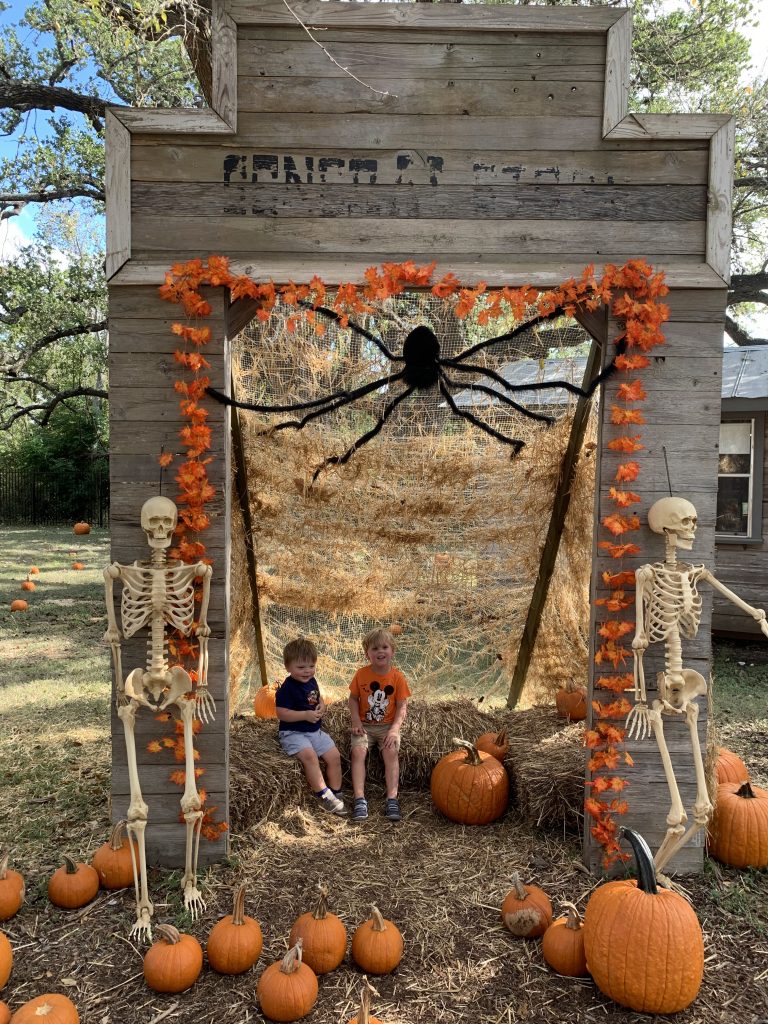 October brought pumpkin season and a trip to the new Dripping Springs Pumpkin Patch.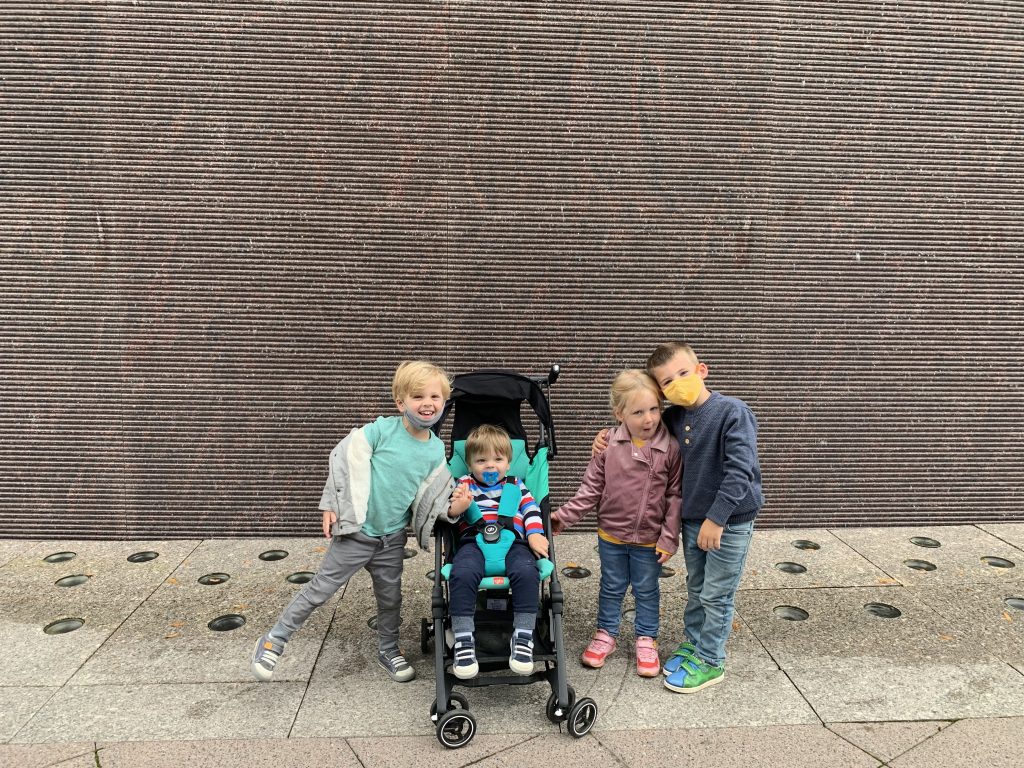 All four of us went to visit our good friends and Daniel's twin brother and sister-in-law in DC, and the kiddos had so much fun!  In addition to hanging out and playing with our friends, we went to the Mall downtown, ate brunch at our favorite Founding Farmers, went to a fall festival at Mount Vernon, rode the metro "trains", and explored the Air and Space Museum.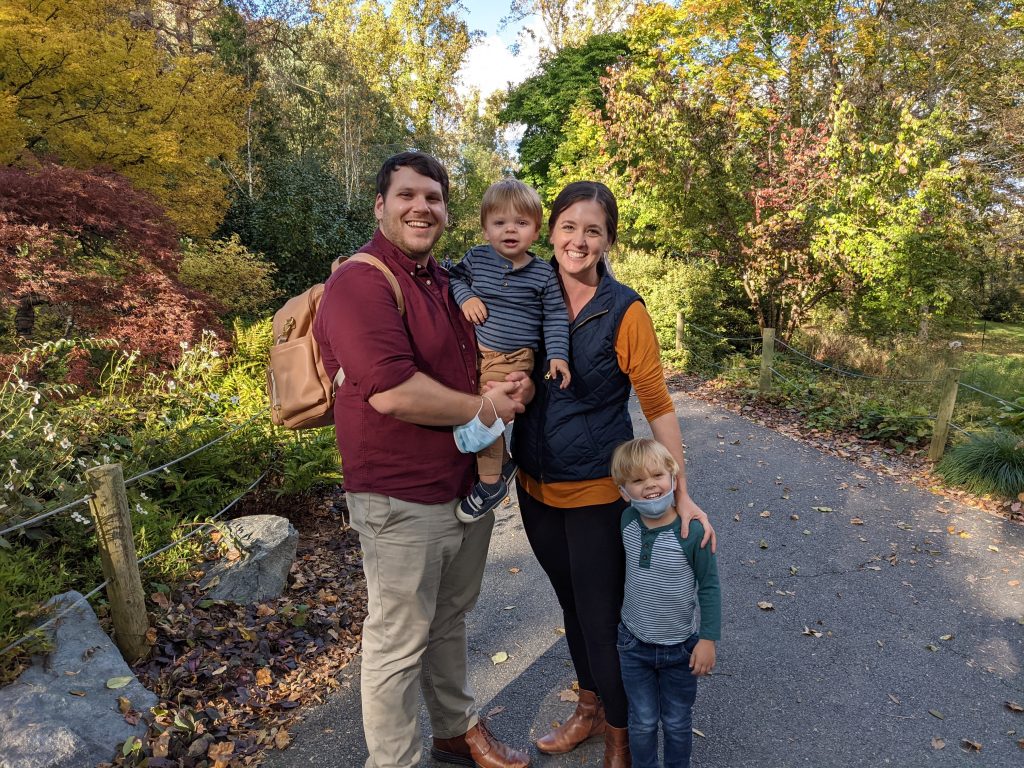 For Halloween the boys were both the cutest little dinosaurs! Aunt Liz went trick or treating with us!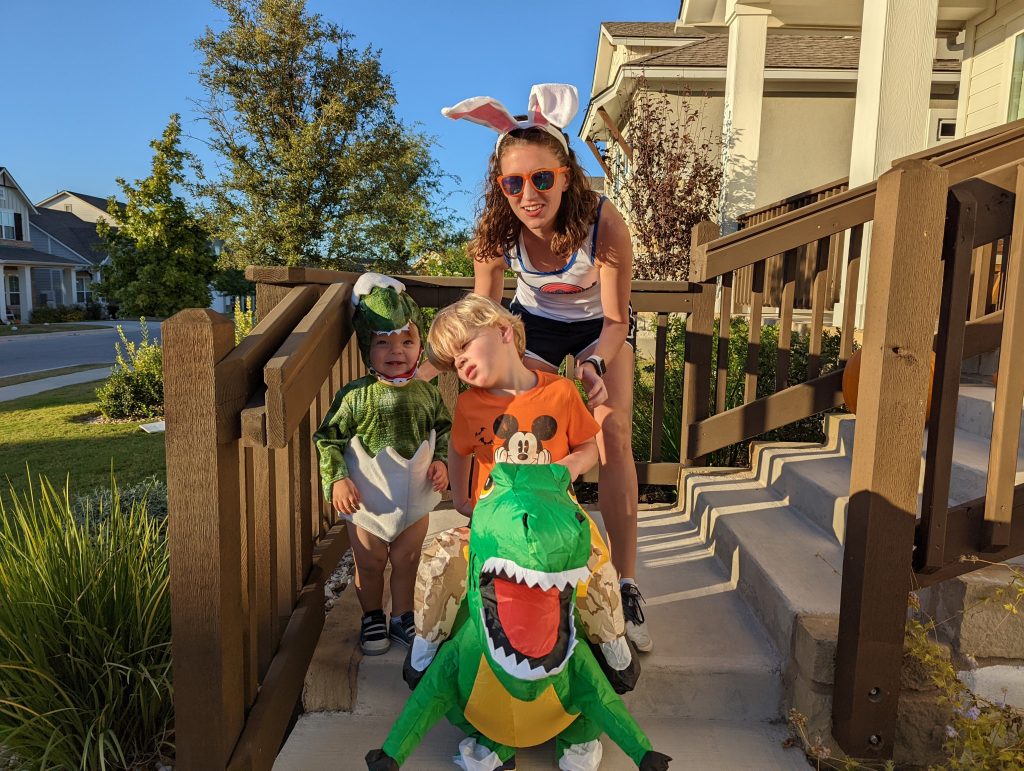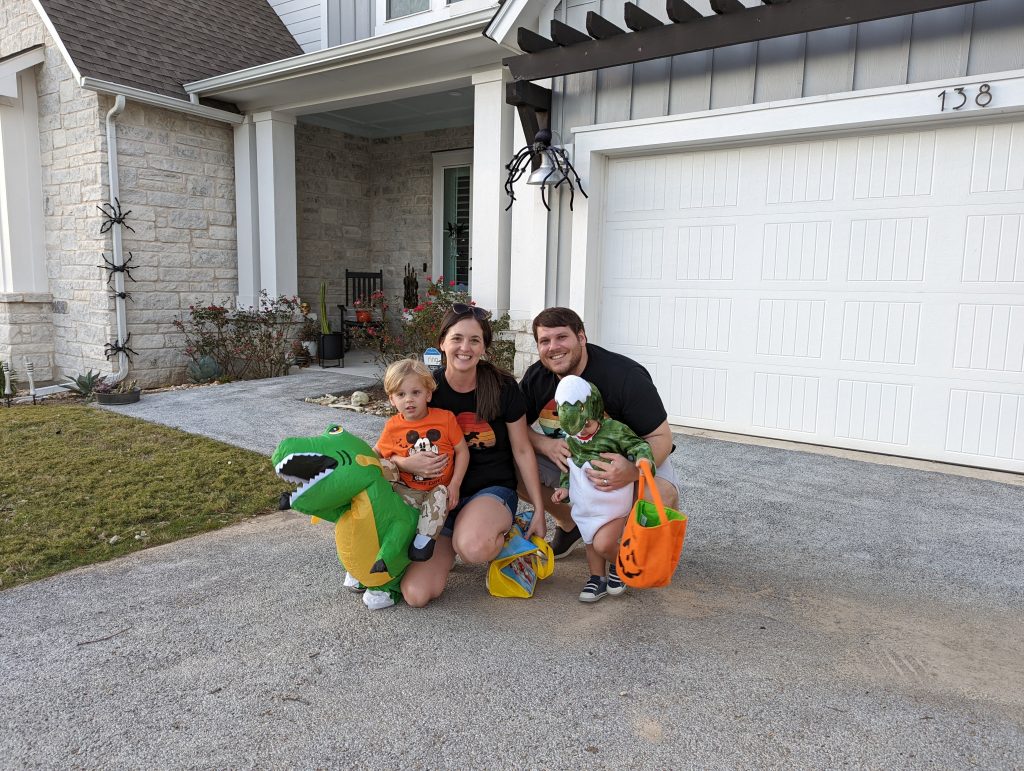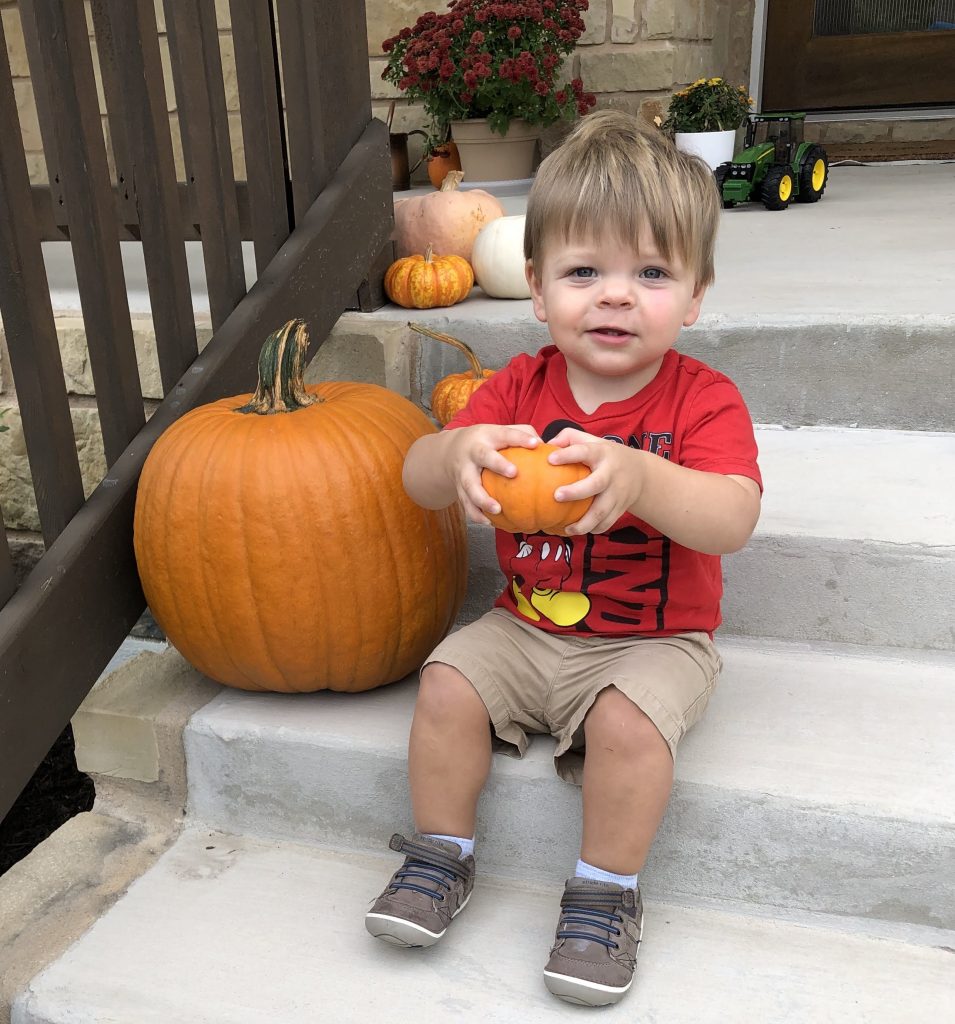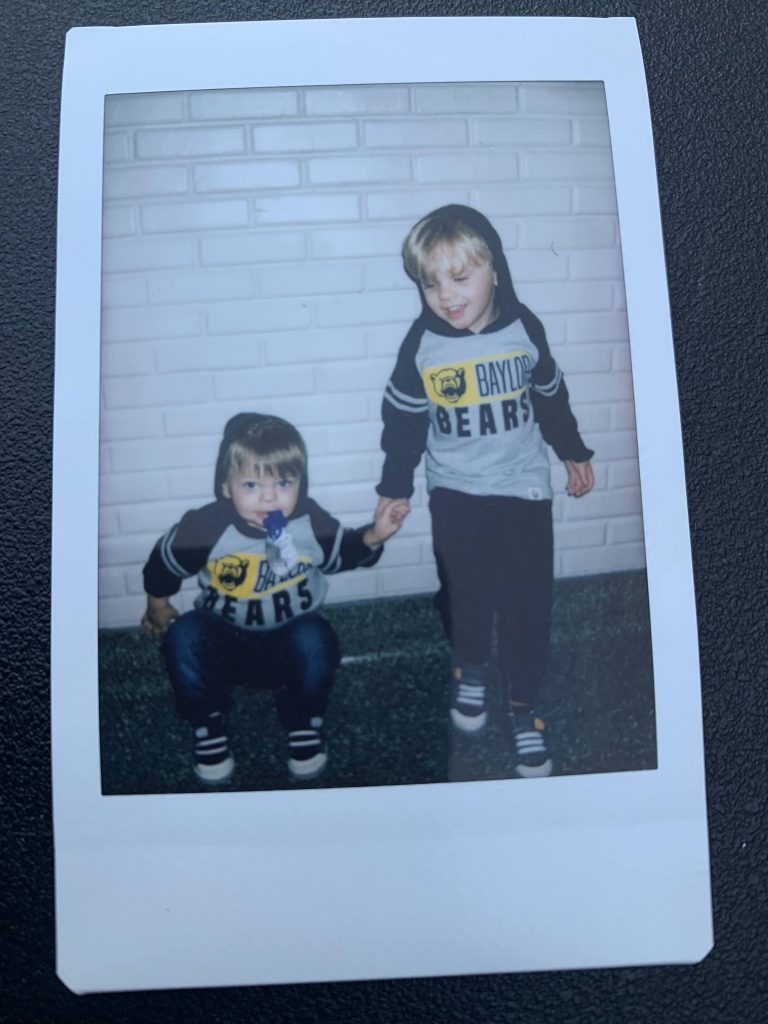 To end the month, we went to Baylor Homecoming with my family. Daniel held his annual tech conference in Austin that weekend, but still managed to surprise me by driving to Waco Saturday night so that we could hang out with our college friends together.
November
Elizabeth threw a hibachi party for her husband Jason's 30th birthday party! It was great to get out and enjoy a delicious meal made in front of us in their backyard.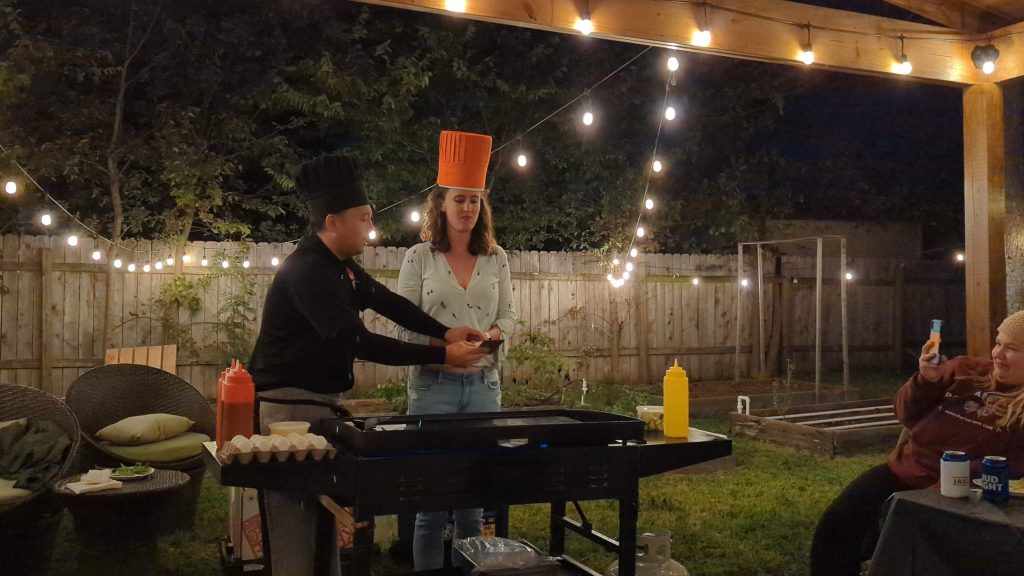 And I ended up being super spontaneous and getting a tattoo matching my sister's that night at the tattoo parlor around the corner. It's four dots representing my three siblings and me. As the oldest, I have an open dot on the top of the four, and as the second child, Elizabeth has the open dot in the second of the four. Surprisingly, I didn't think it hurt at all!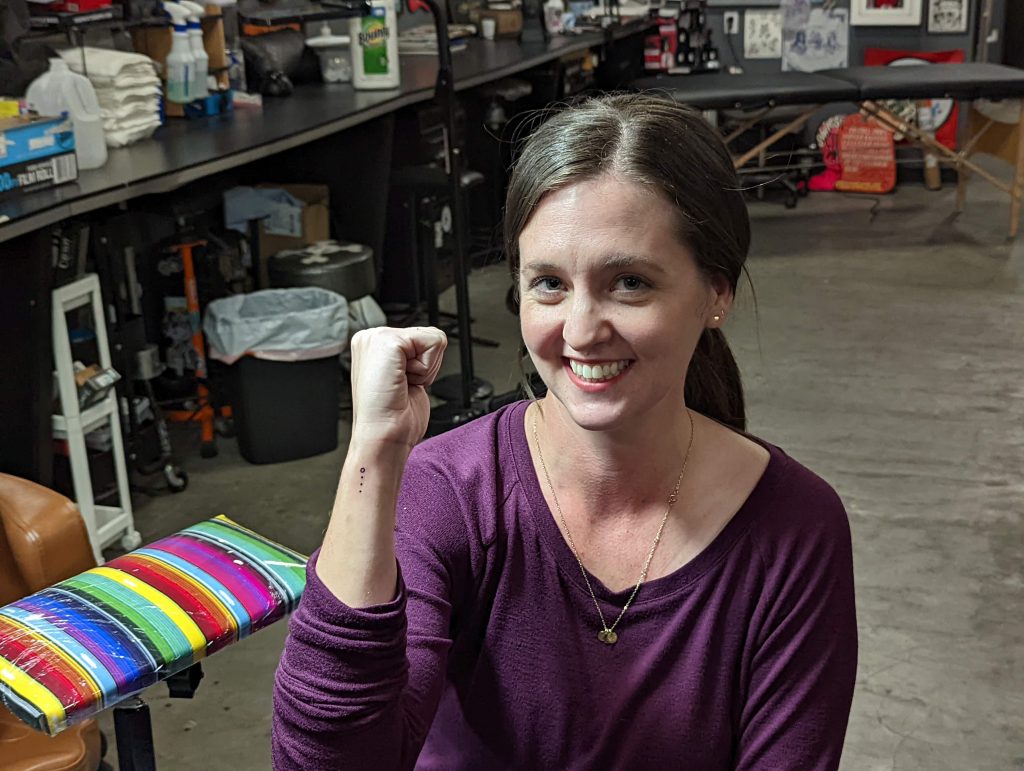 We took a family trip to Broken Bow, Oklahoma. We rented a gorgeous cabin and had the best time. Daniel worked a little while we were there, and there was plenty of time for playing, exploring, eating, crafting, and enjoying the fantastic fall weather.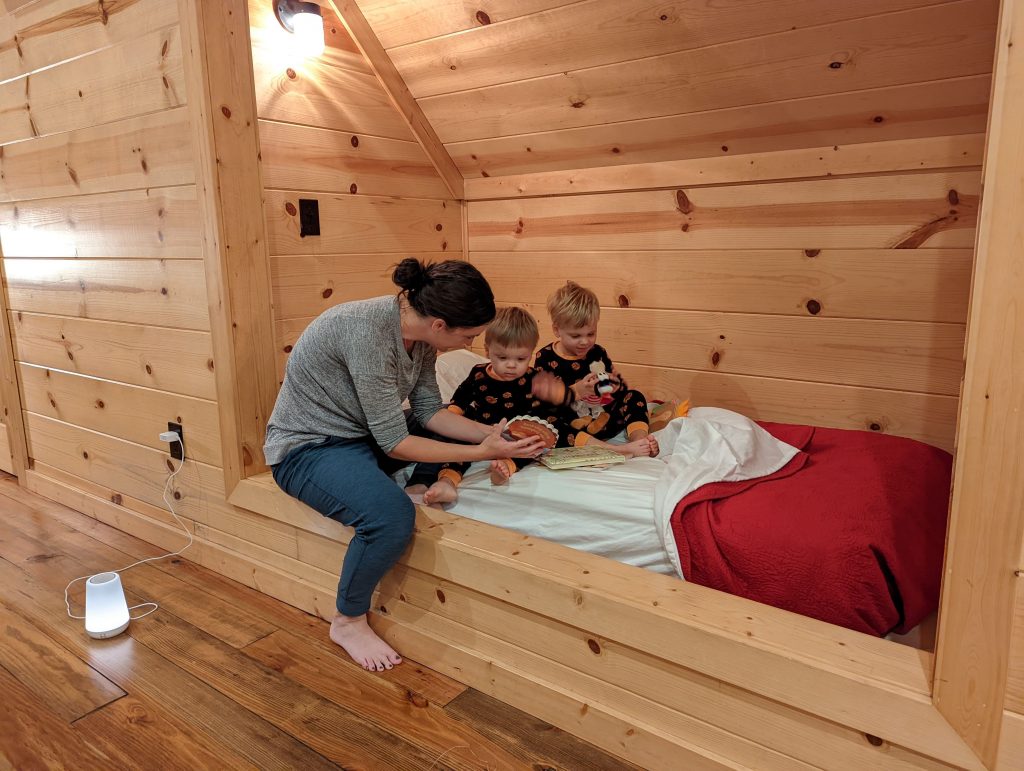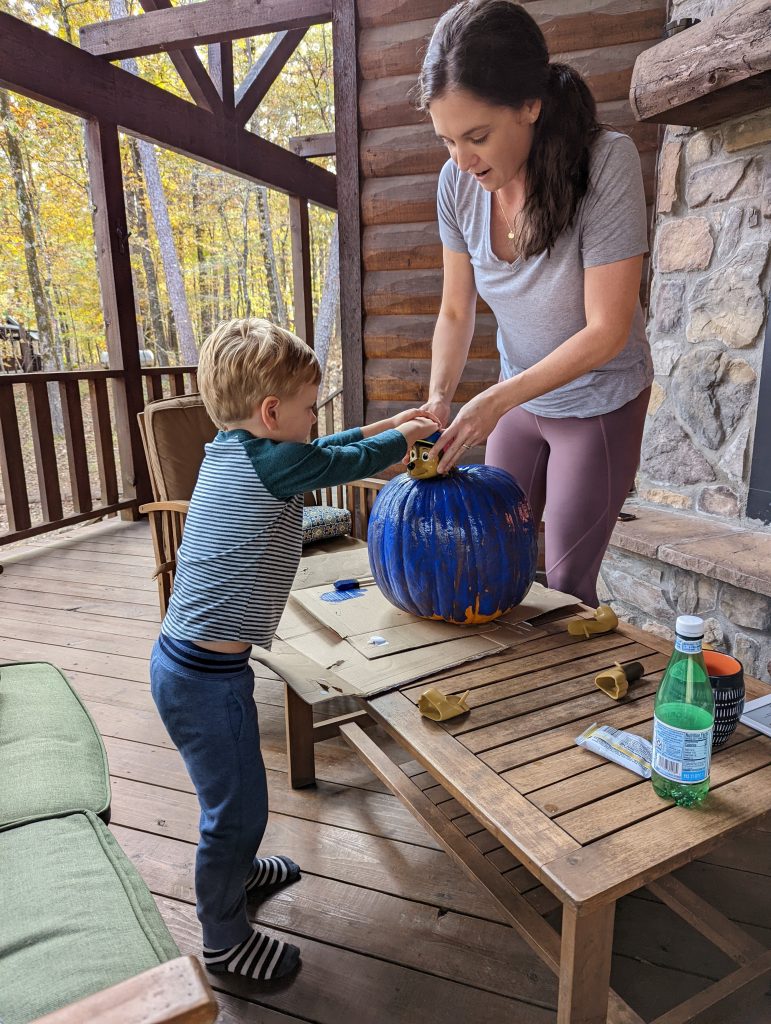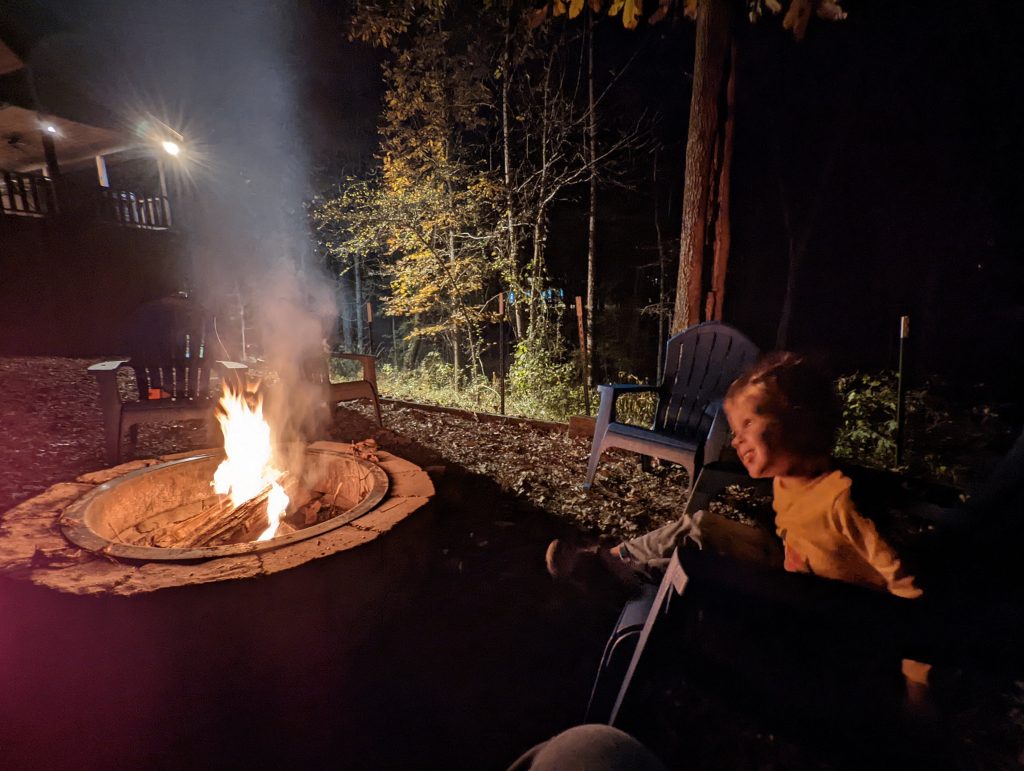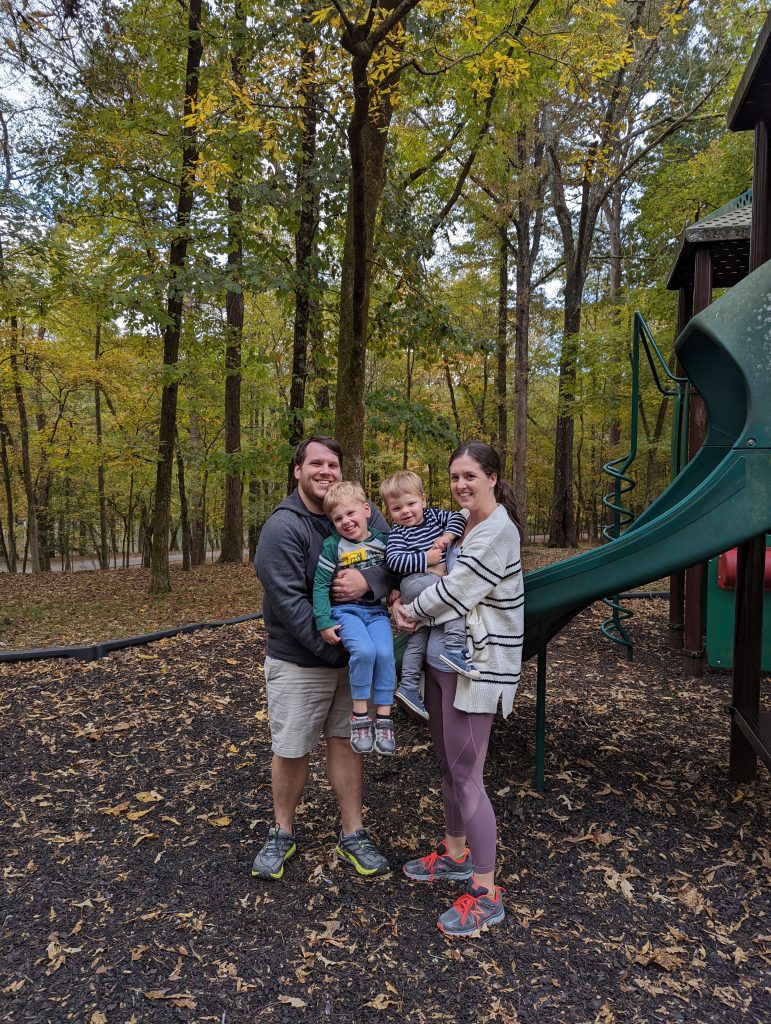 And we started bringing out the Christmas decor mid-November – the most wonderful time of the year was beginning!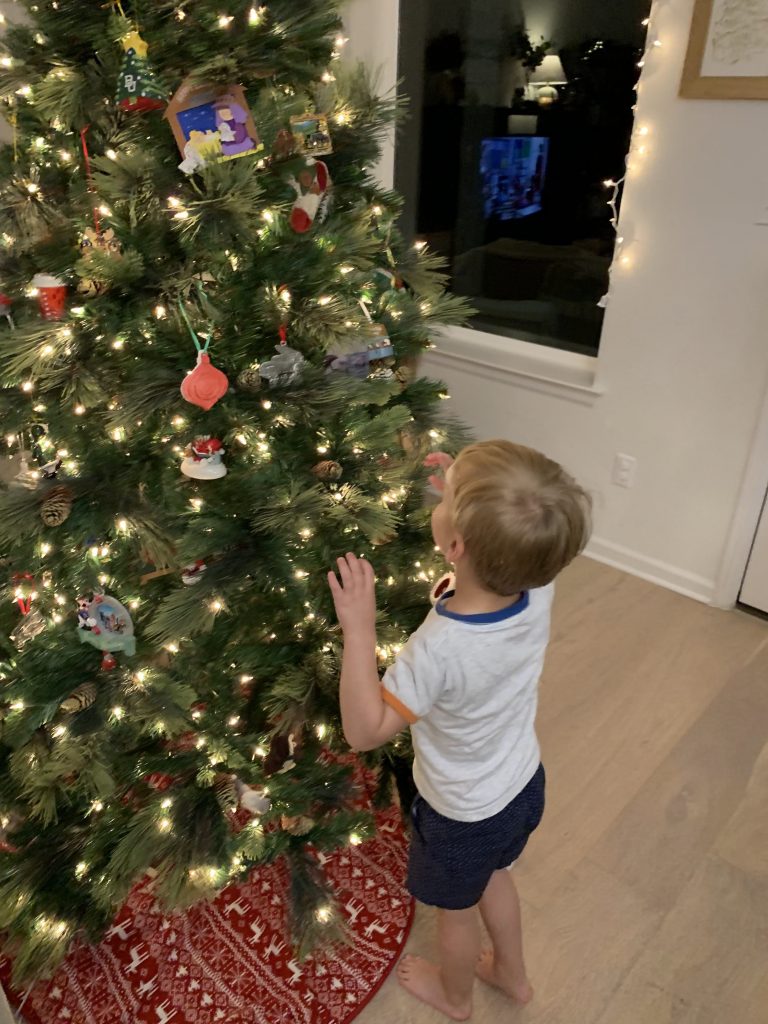 My parents rented a house for all of us to get together for Thanksgiving. My grandpa "Papa Dee" was there, which was truly special. He is my last remaining grandparent, and it was special to spend this chunk of time with him after so many years of only seeing him briefly while he was caring for my Mama Dee.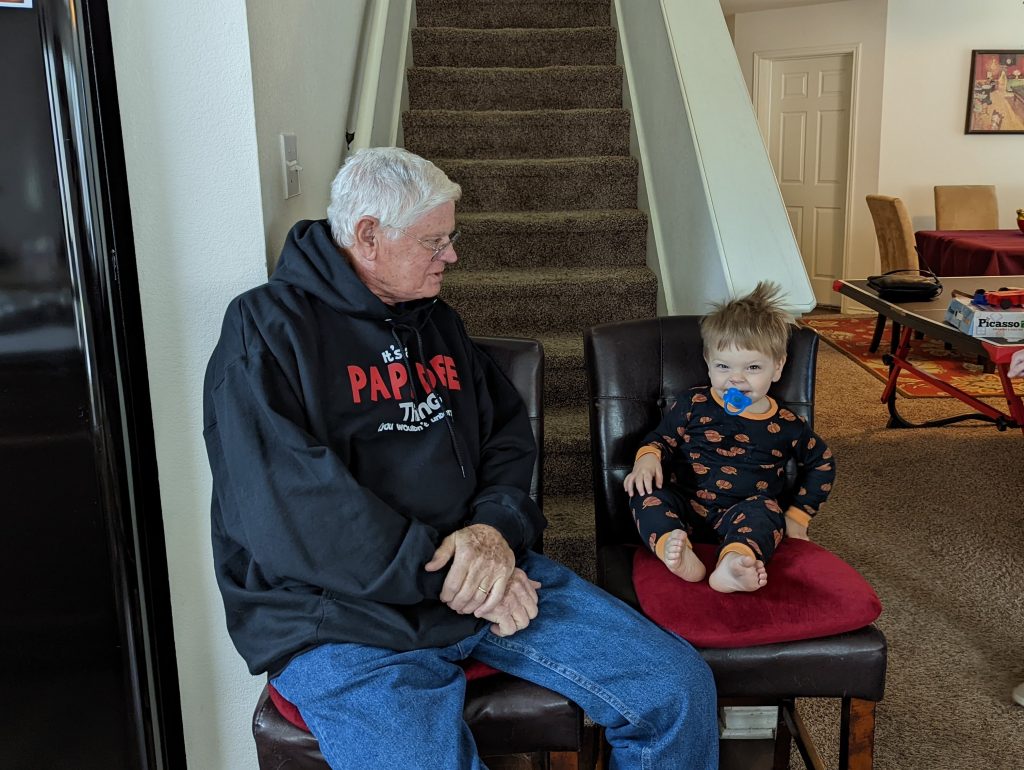 December
We filled December to the brim with goodness. We did an early Christmas celebration with my family in Waco and had a special meal out…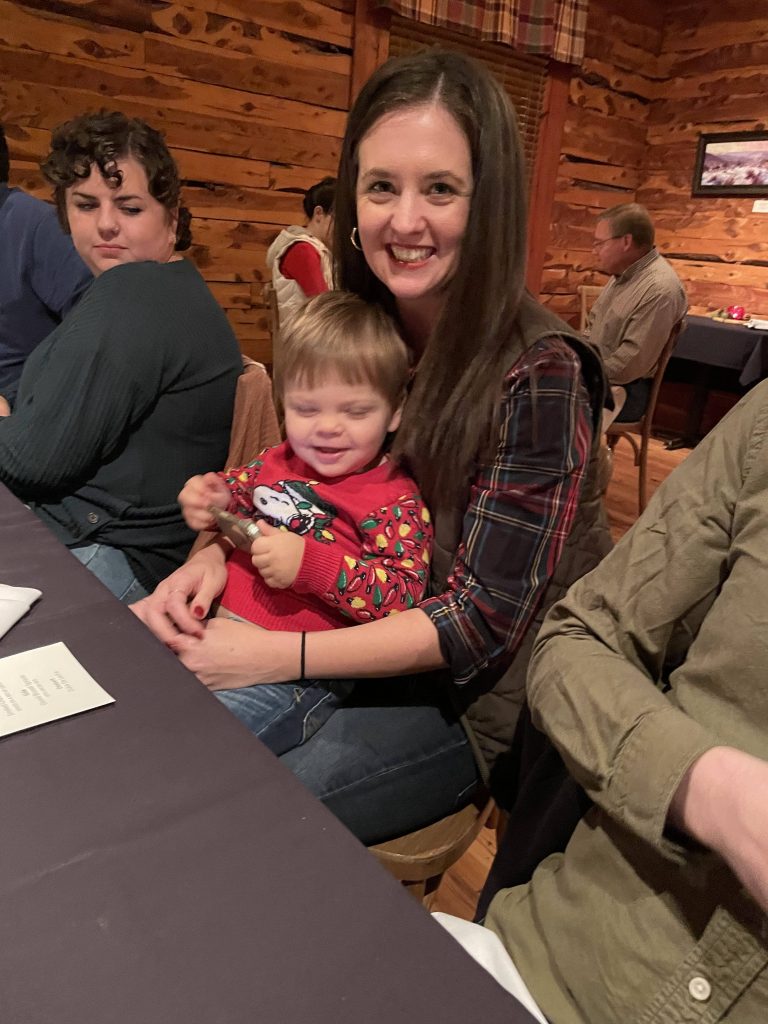 We did lots of holiday baking!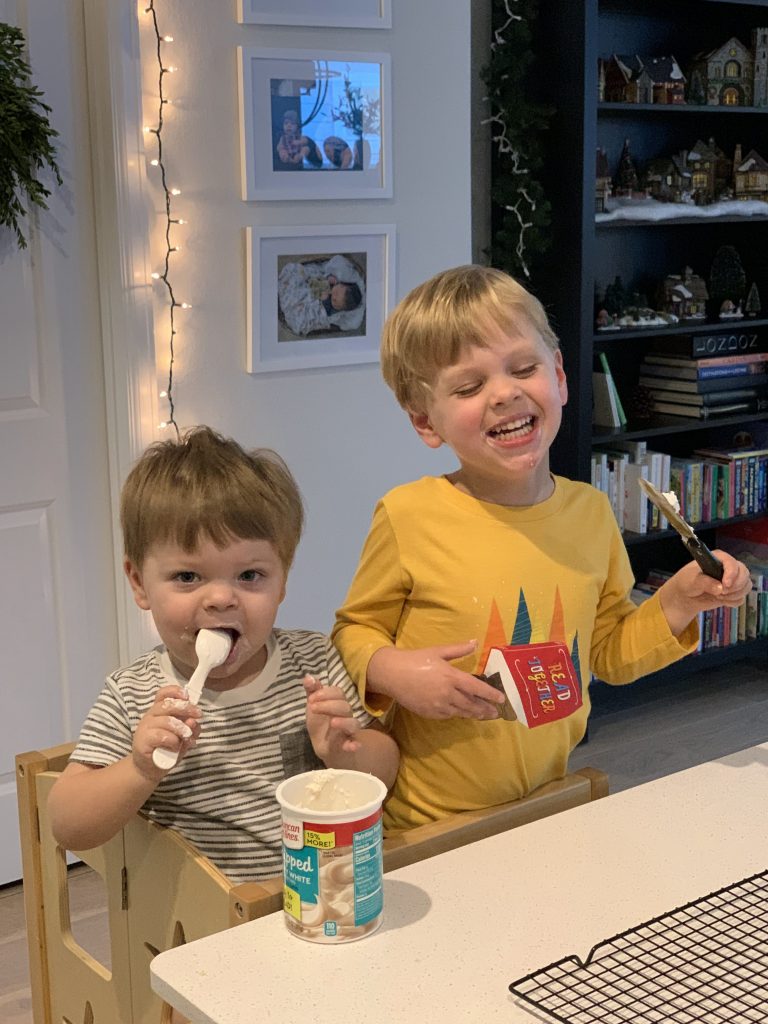 Our home was decked out, Christmas village included…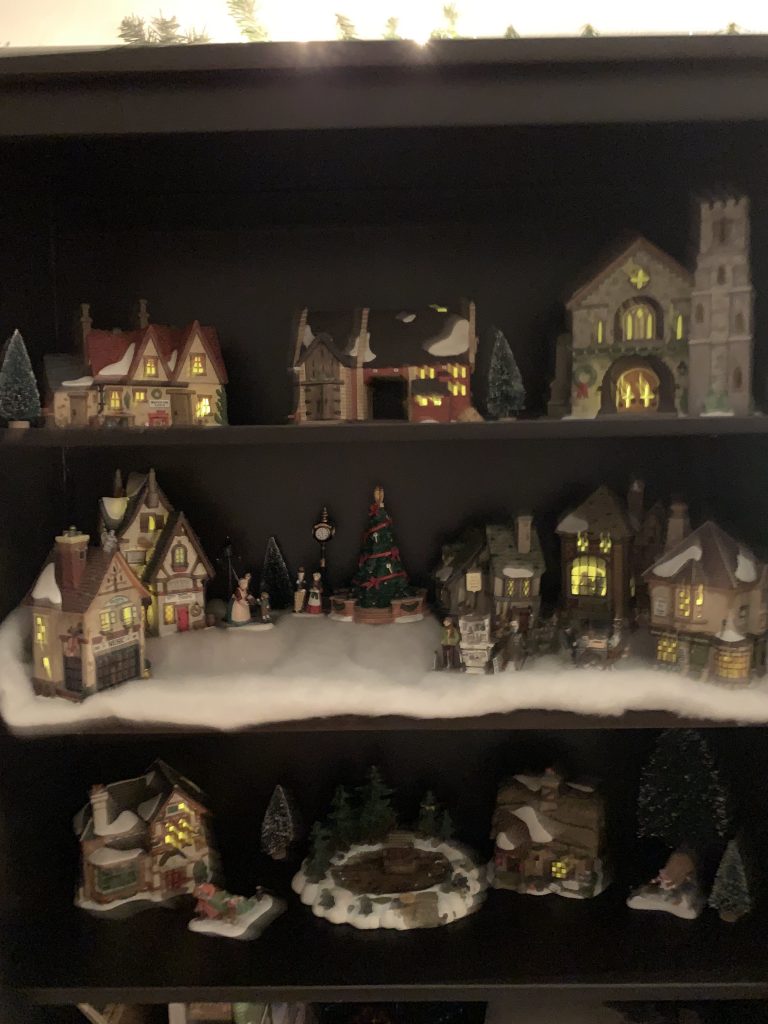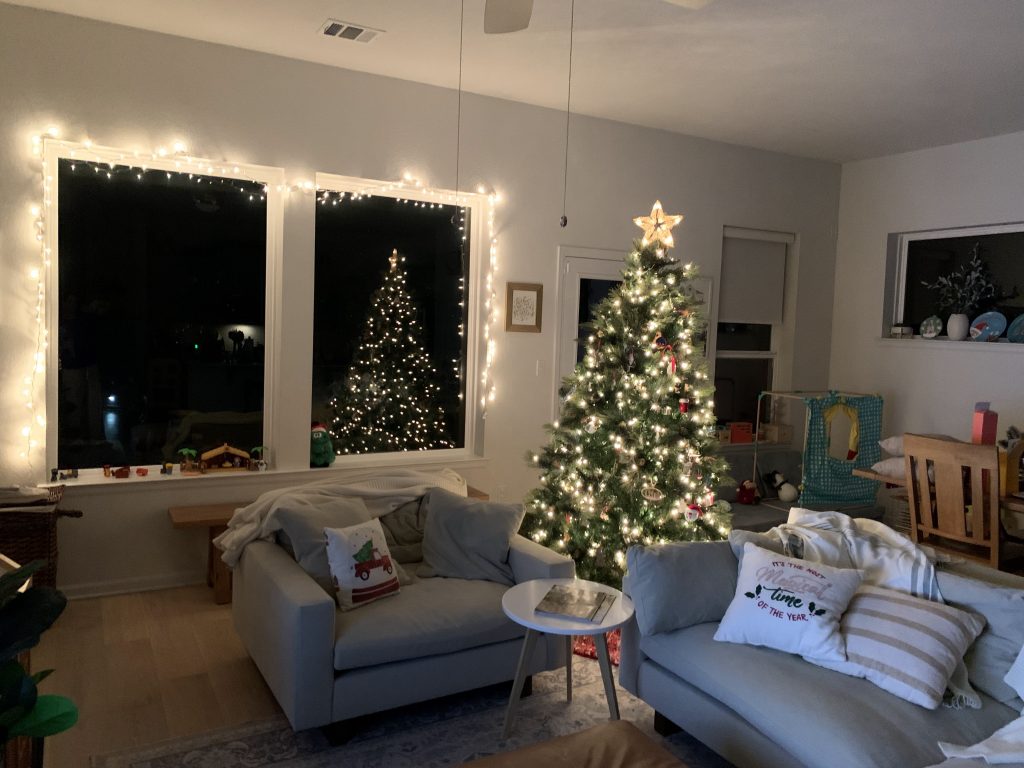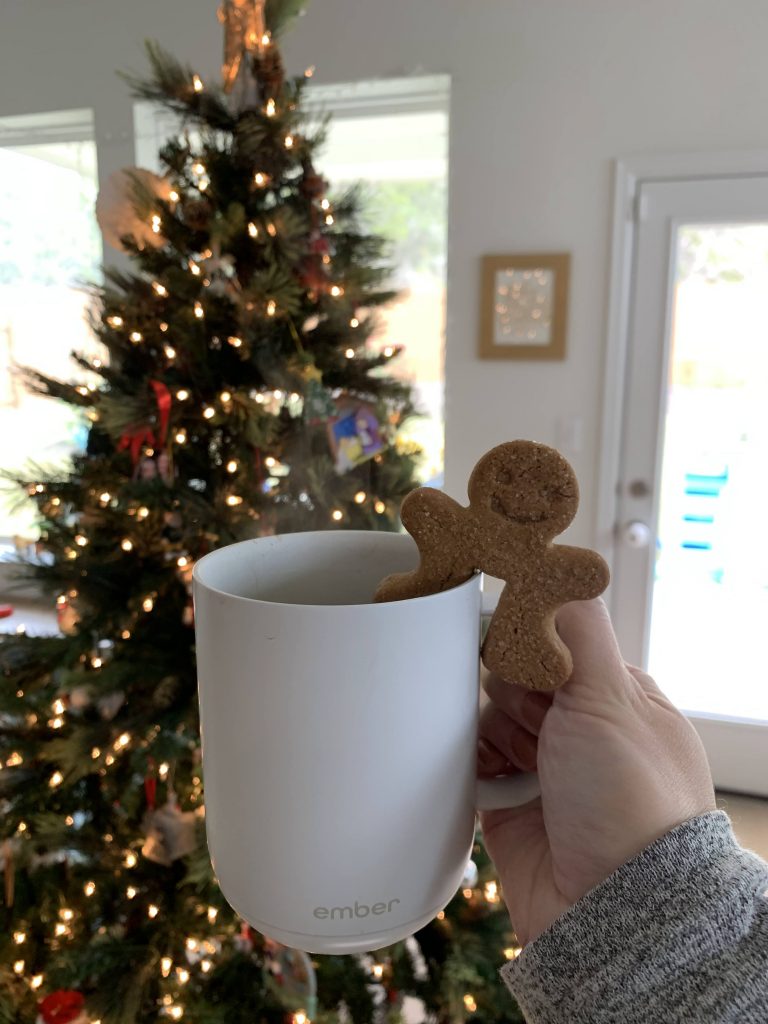 We spent time with friends at their annual Christmas Music Party…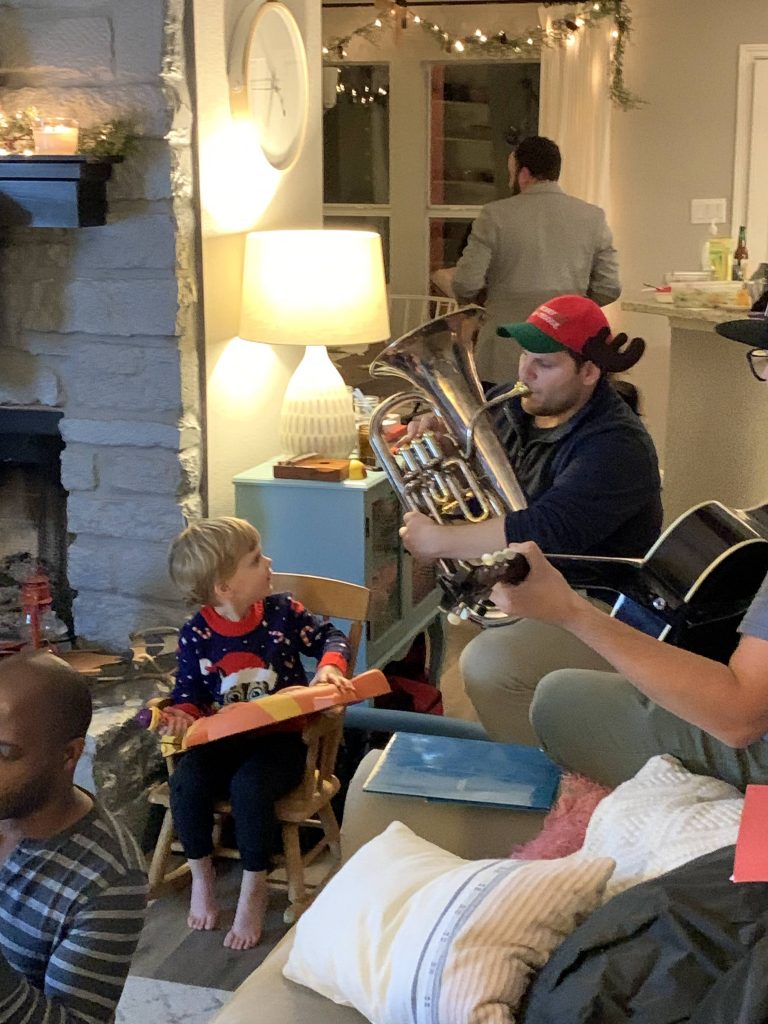 We went to visit Santa a couple of times…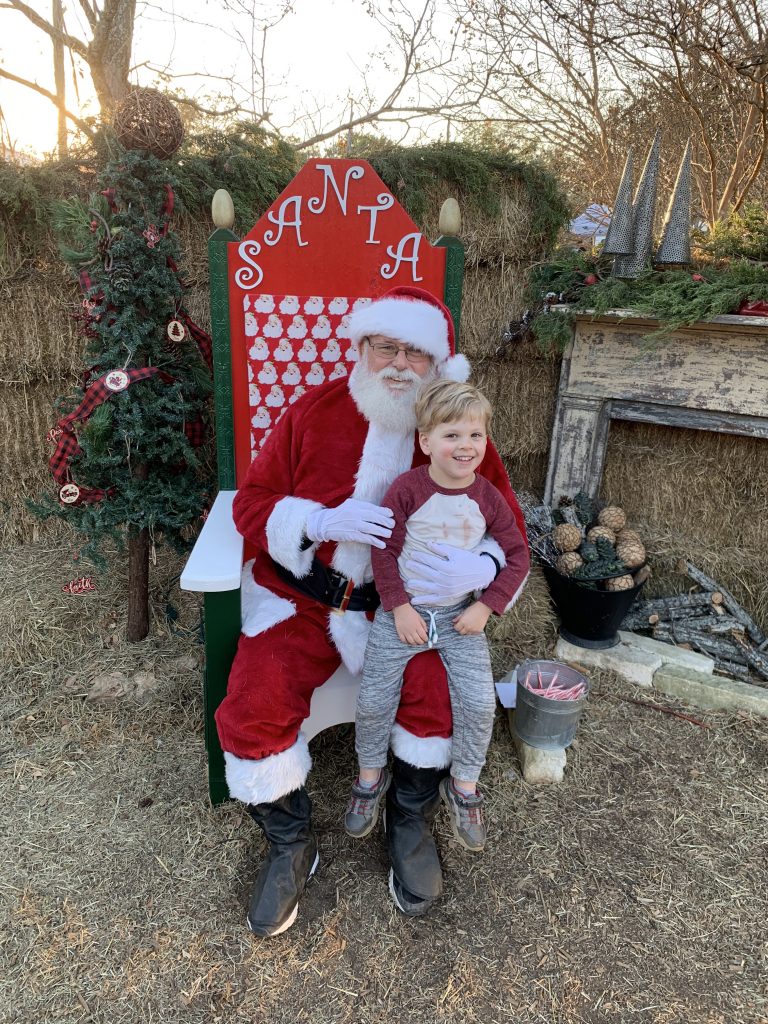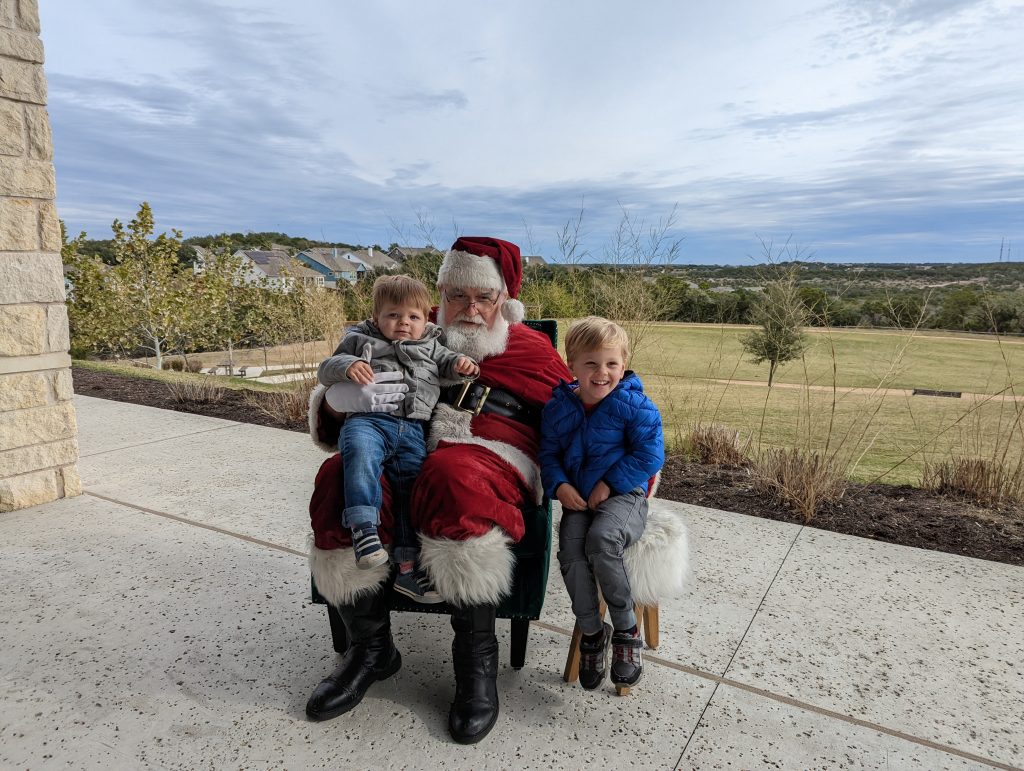 We went to lots of local lights shows and exhibits…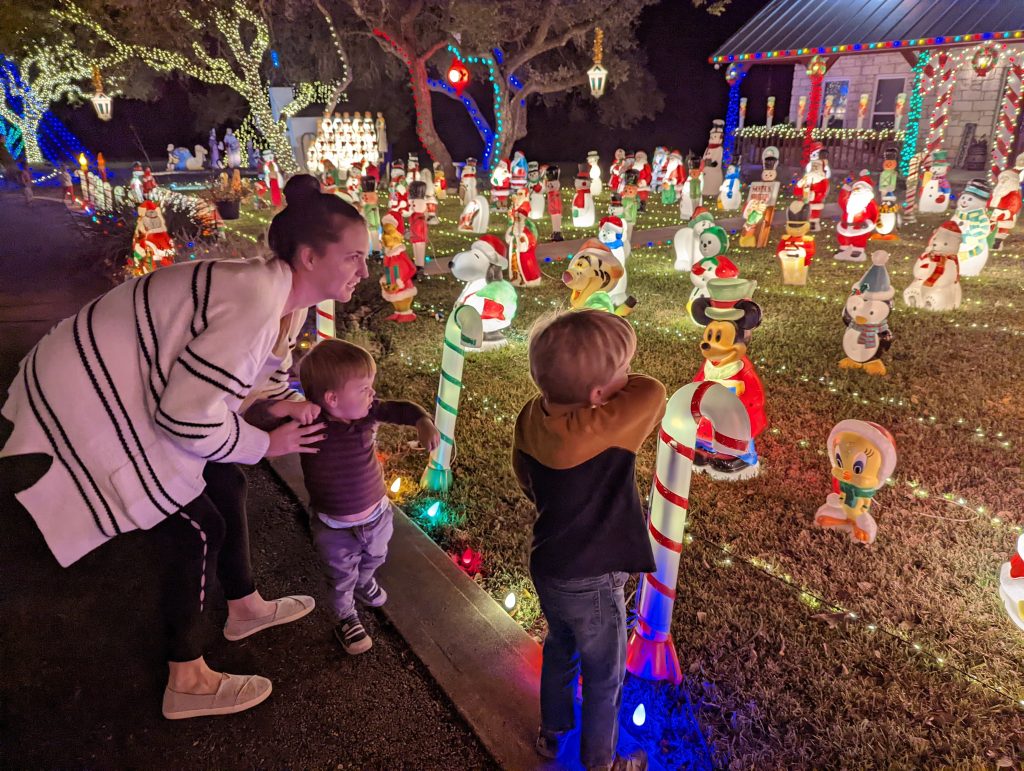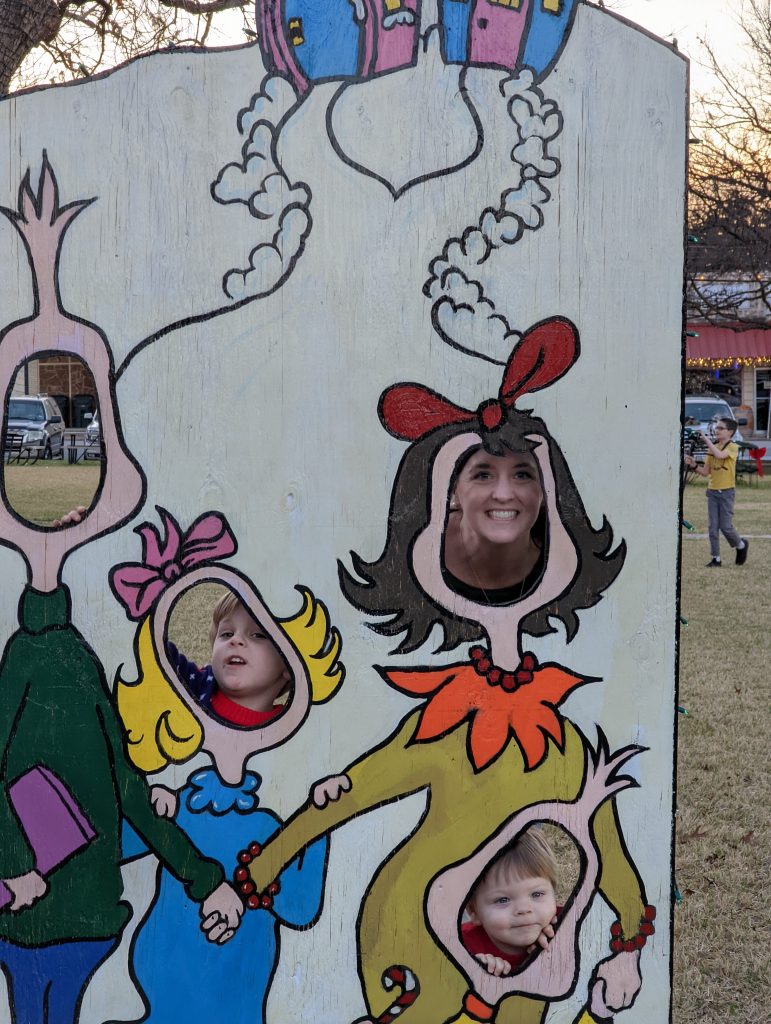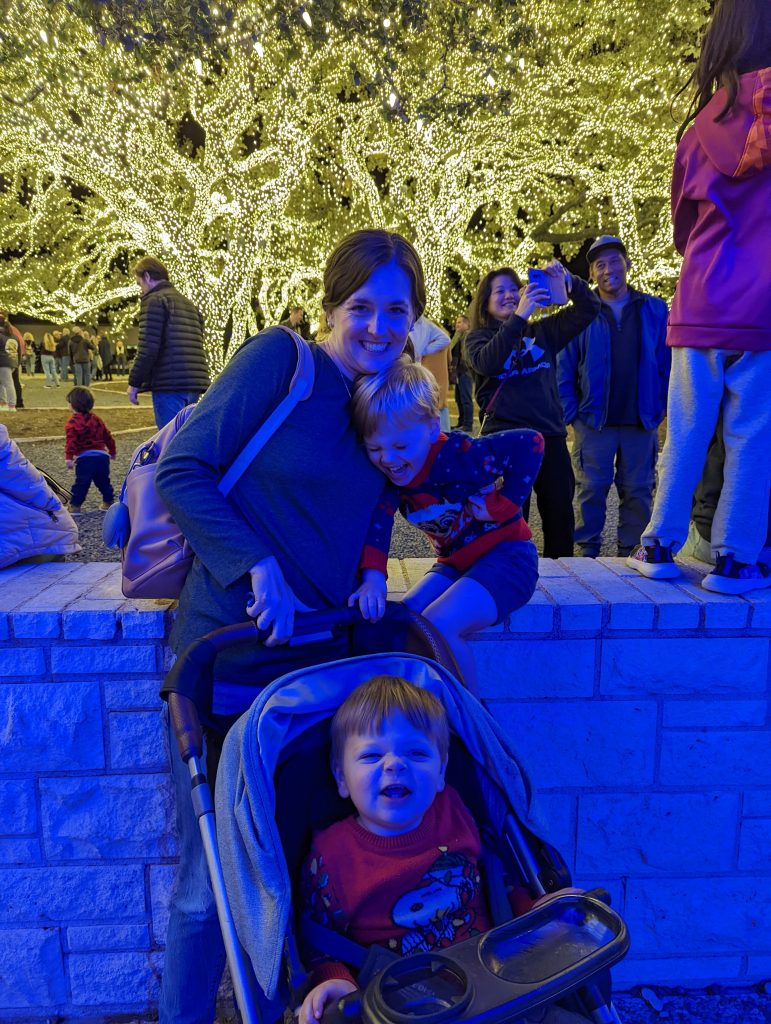 We did fun activities each day with the cutest scratch-off Advent calendar…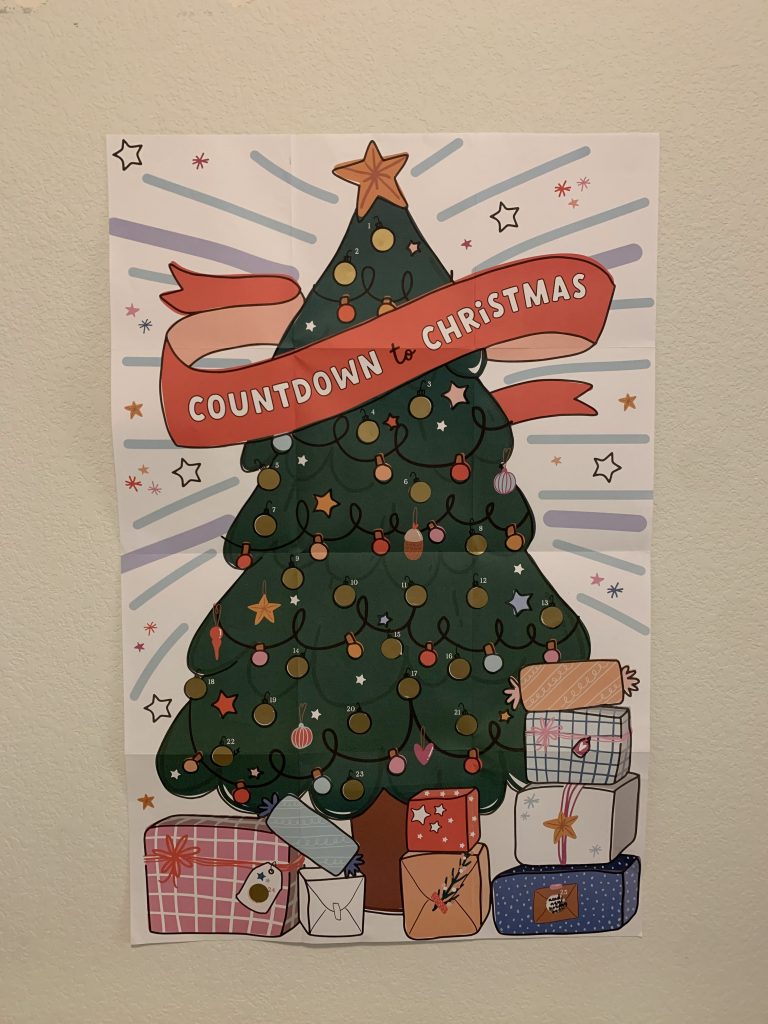 We hosted Christmas Eve brunch at our house, our first family holiday hosting event!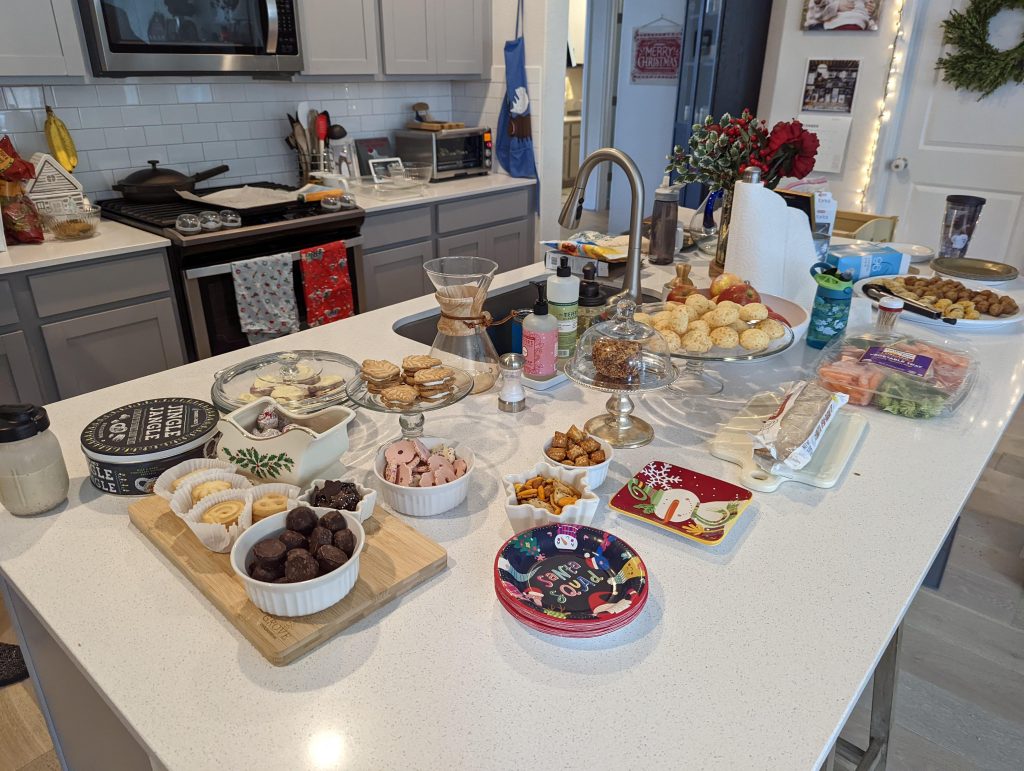 We spent Christmas Eve and Christmas Day in our own home for the first time… Pure magic!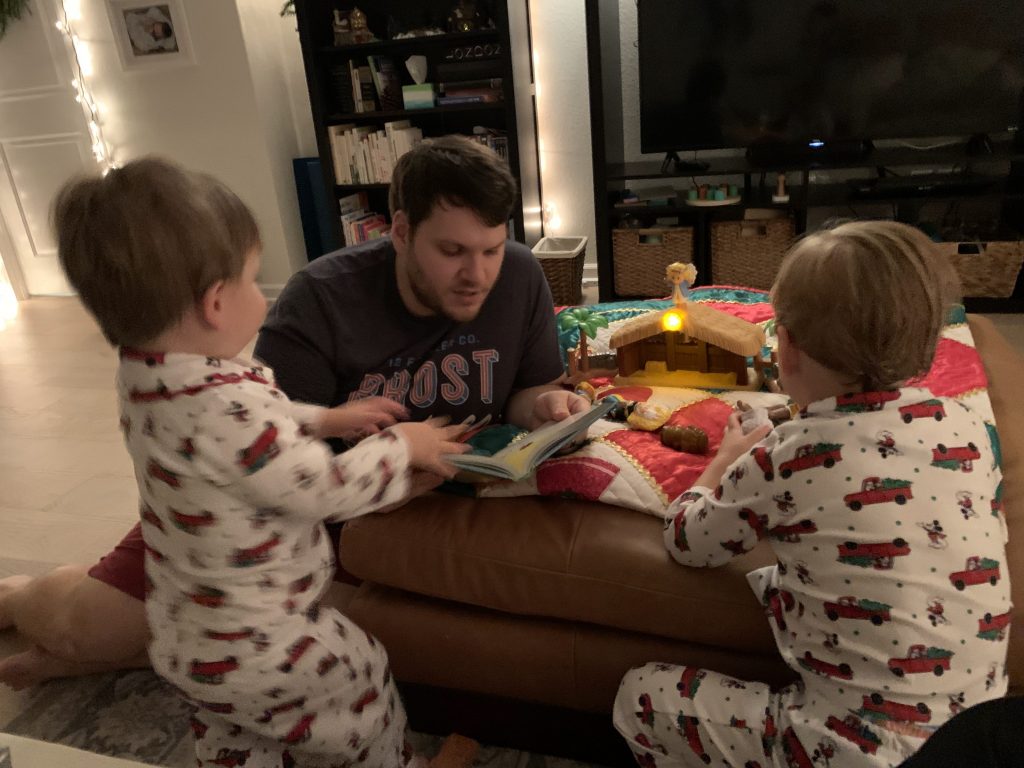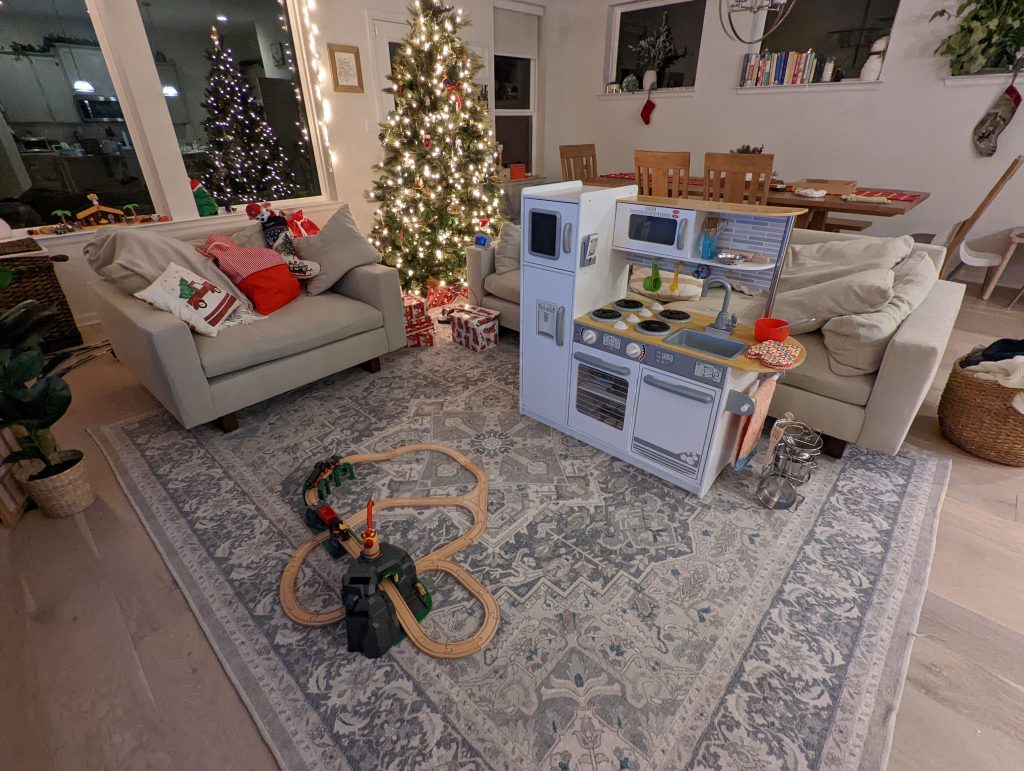 My in-laws rented a beautiful big home in nearby Wimberley, so we spent a lot of Christmas week there together.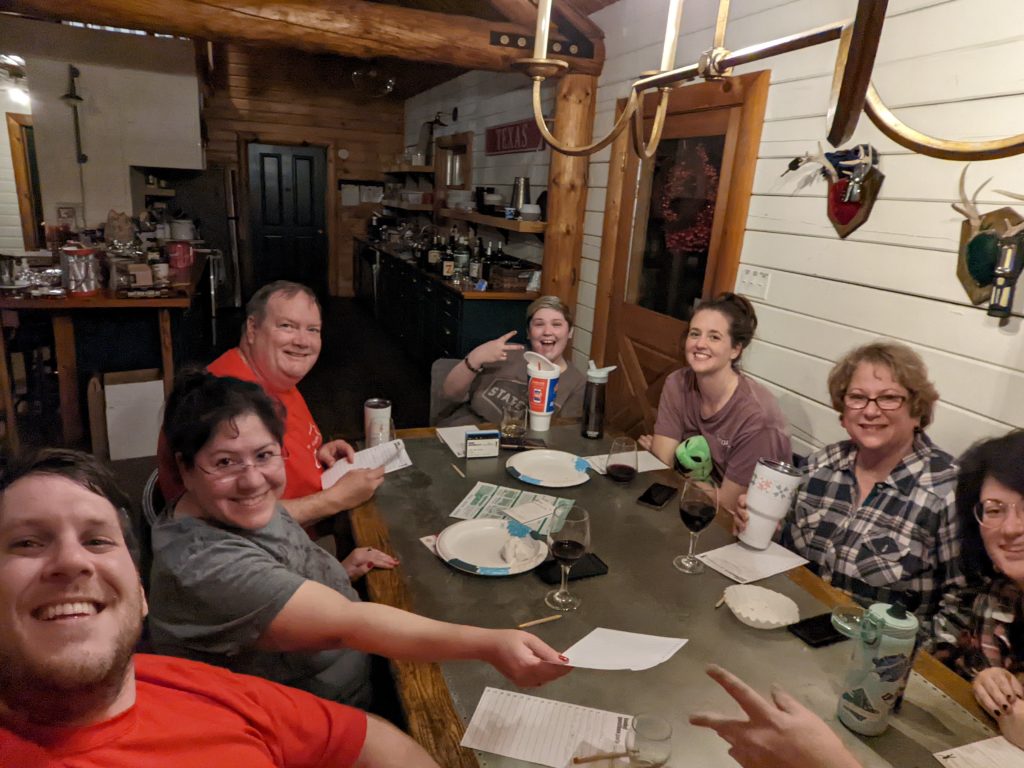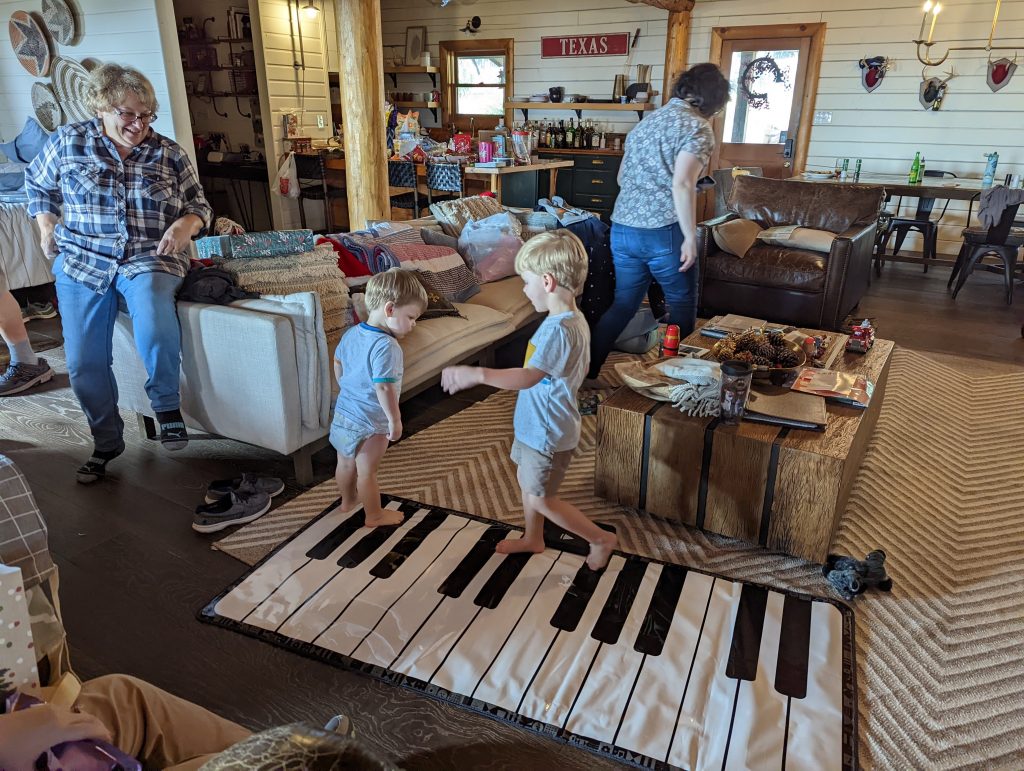 The day after Christmas we went to Peppermint Parkway for a holiday-themed amusement park…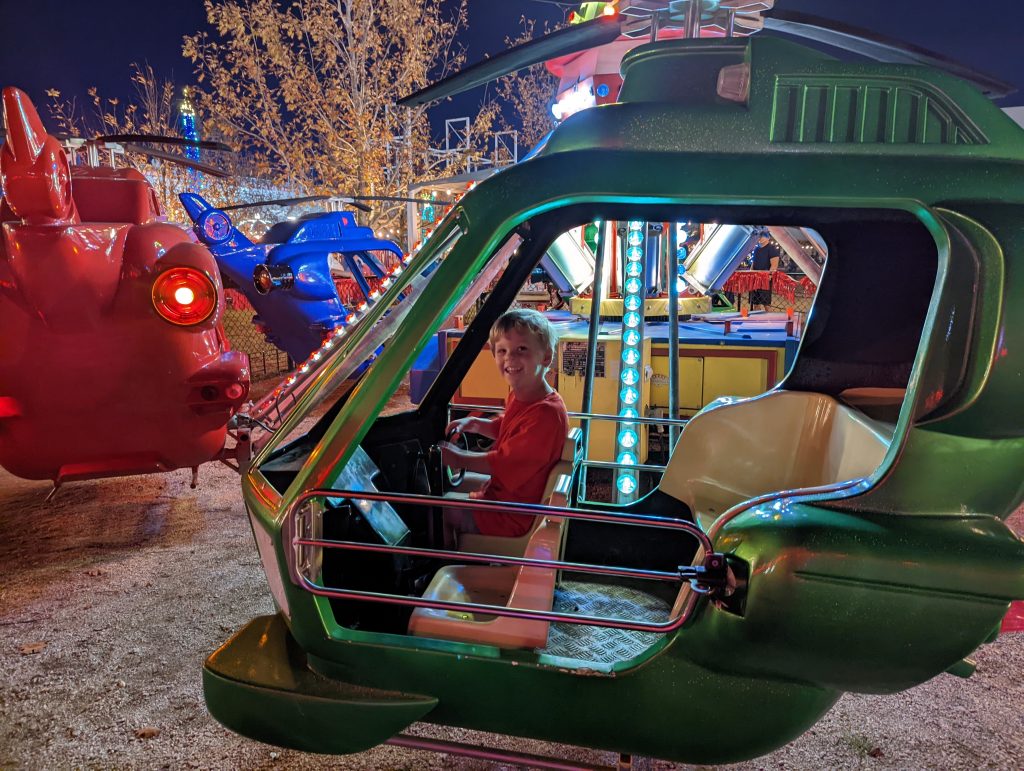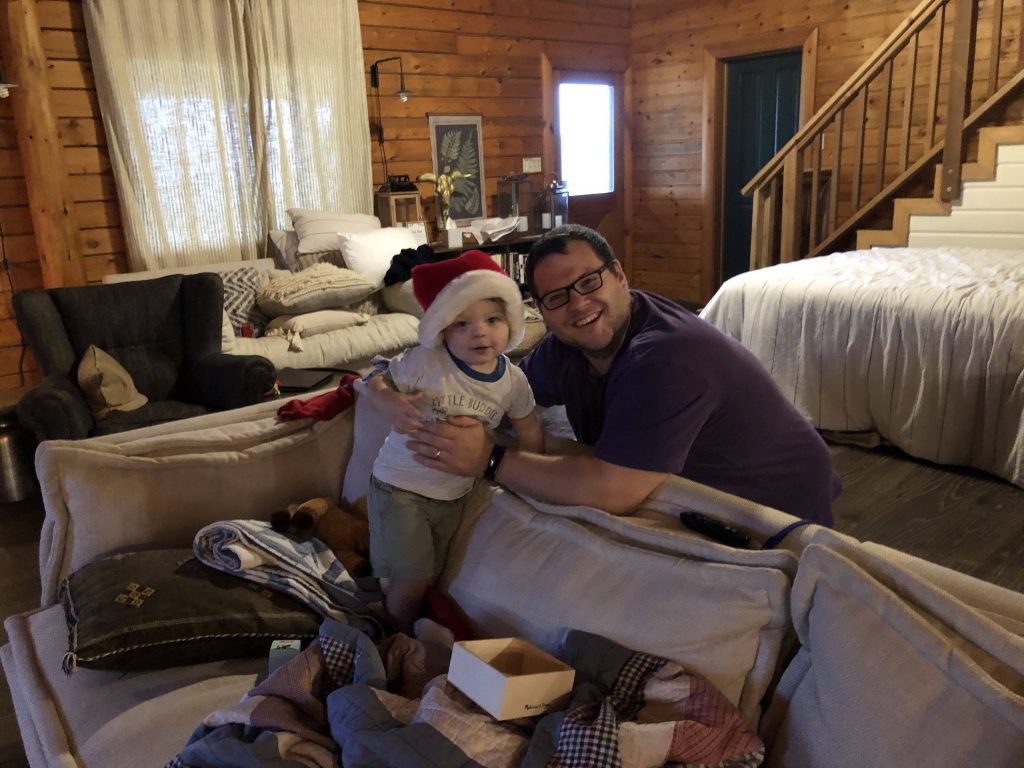 And a few days after Christmas, we hosted another family gathering, this time in matching shirts made by Abuela!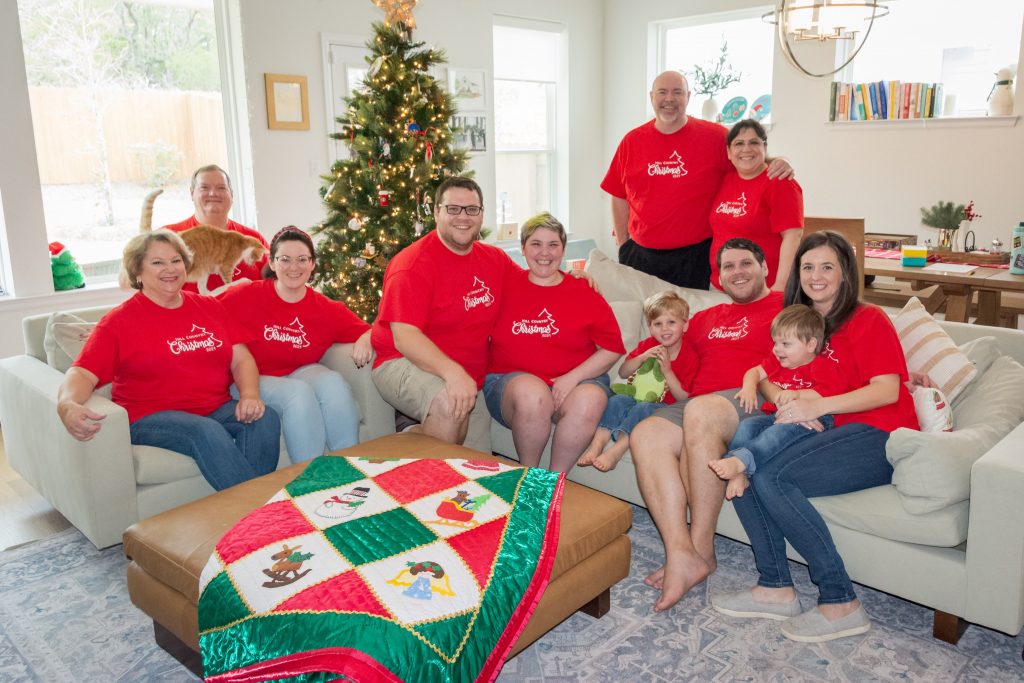 These posts always make me emotional and grateful for our life filled with loved ones and precious memories. It was certainly a hard year, but it drew us closer to our families. I am so very grateful for the five loved ones we lost this year and our time that we had with them. I am comforted knowing that we will see all five again one day when we reach Eternity.
I look forward to posting more here soon. Lots of love!
{Thanks for reading! Want to know a little more about me? I'm a CPA learning how to balance a career with motherhood and regular travel while planting roots at home in the Austin, TX area. When I'm not exploring my home city with my husband Daniel and baby boys Carson and Caden or cuddling with my chubby orange cat Banana, I'm probably either out on a playdate with my son or planning, packing for, traveling to, or daydreaming about our next adventure. After all, my travel mug collection is never complete. If you have wanderlust too, be sure to follow me on Instagram (and InstaStories!), Pinterest, and Facebook, or subscribe to my blog!}