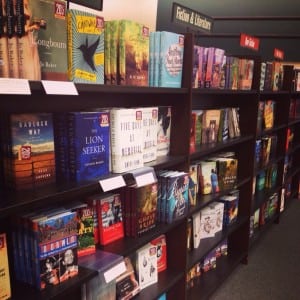 Back in February, I posted a list of books I wanted to read in the upcoming months. I didn't read everything on the list, but I did read most of them. Having a written list of books really motivated me to read more quickly – even though I was knee deep in busy season at work. I love to read, but at times I'm guilty of wasting away after work in front of the TV, so when I'm really tired, I need that extra push to pick a book over a screen. Now that the Semi-Charmed Summer Book Challenge is winding down, I wanted to come up with my own list again. Here is a list of books I am planning to read in the near future, including books that I'm on the waiting list for at my library, are sitting on my nightstand, or are just on my mind to read in the next few months. The books are in no particular order.
Paper Towns by John Green (currently reading)
The Husband's Secret by Liane Moriarty
Unbroken: A World War II Story of Survival, Resilience, and Redemption by Laura Hillenbrand
The Happiness of Pursuit: Finding the Quest That Will Bring Purpose to Your Life by Chris Guillebeau
The Selection (The Selection Series, Book 1) by Kiera Cass
The Elite (The Selection Series, Book 2) by Kiera Cass
The One (The Selection Series, Book 3) by Kiera Cass
The Giver by Lois Lowry
The Night Circus by Erin Morgenstern
The Paris Wife by Paula McLain
Cartwheel: A Novel by Jennifer duBois
Wild: From Lost to Found on the Pacific Crest Trail by Cheryl Strayed
I have definitely been gravitating toward fiction for a while now. Have you read any of these books? Or is there anything that you have read that I should add to my list?