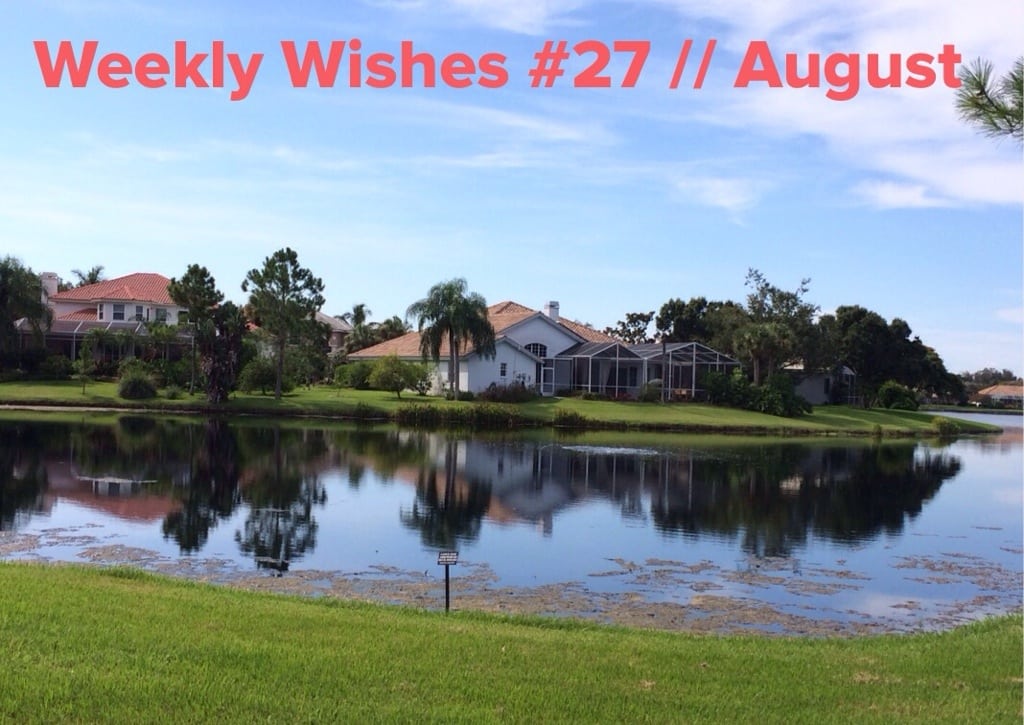 Twice a month I link up with The Nectar Collective to join the community of bloggers who share their goals for the week in the Weekly Wishes link-up. I'm continuing to update my goals for the entire month twice a month rather than having a new set of goals each week. Right now, thinking about my to-dos in this big picture format has been working the best for me.
First I'll recap my July goals and report my progress on them Then I'll share my list of August goals.
 July Goals
1. Read three books. I didn't quite finish three books. I'm working on my third one right now.
2. Organize my jewelry. Done! My jewelry is all nice and organized now. And I have a huge sack of jewelry I don't want anymore. I just have to decide what to do with it now. Most of it is in good condition, so I'll want to give it away rather than throw it out.
3. Revamp my blog design and layout!! I finished this mid-July. I still have some updates to make, but overall, it's complete, and I'm really happy with the result!
4. Write all of my posts about our Europe trip that I have planned… and post them! I got through my London posts, but I still need to write my Paris posts.
5. Explore SkillShare classes and start working on one. I began a class earlier in the month but didn't make very much progress.
August Goals
1. Get as far as  I can in the summer reading challenge I'm participating in. I don't think that I can complete it, but I do want to read as much as  I can before the challenge ends at the end of the month.
2. Organize our linen closet. It is in our bathroom, so it has quickly become a closet full of unorganized chaos. Nothing in the closet really has a home – everything just sits on the shelves. I have really been enjoying tackling one organization project each month, so I'm looking forward to continuing with this one!
3. Write and post all of my Paris Travel With Me posts. Let's try this again.
4. Start and complete a SkillShare class (or two). Now that I have weekends at home for a while, I'd really like to get into these classes. It's such a great opportunity to learn new things outside of work.
5. Starting today, post a daily photo on Instagram. I'm not sure why this has been so difficult for me to do. Maybe it's because I'm afraid of looking like a crazy cat lady because I like to take a lot of pictures of Banana. But I want to make this a habit because it not only provides images for blog posts and my Project Life album, but it will also be fun to look back on at the end of the year and later on in the future.
It's going to be a good month!