Happy Sunday! It has been a very relaxed weekend for us. I'm noticing that all of my TSC posts should probably be called "What We Ate This Weekend" posts since I'm always taking pictures of my food and sharing that here! What can I say? We love to eat and we love to go out to restaurants on the weekend. 🙂
Friday we went to one of our favorite Mexican places around here – El Guapo. It was delicious as always.
Saturday morning I spent the first hour doing two of my favorite things – cuddling with Banana and reading a book (with a hot mug of coffee, of course).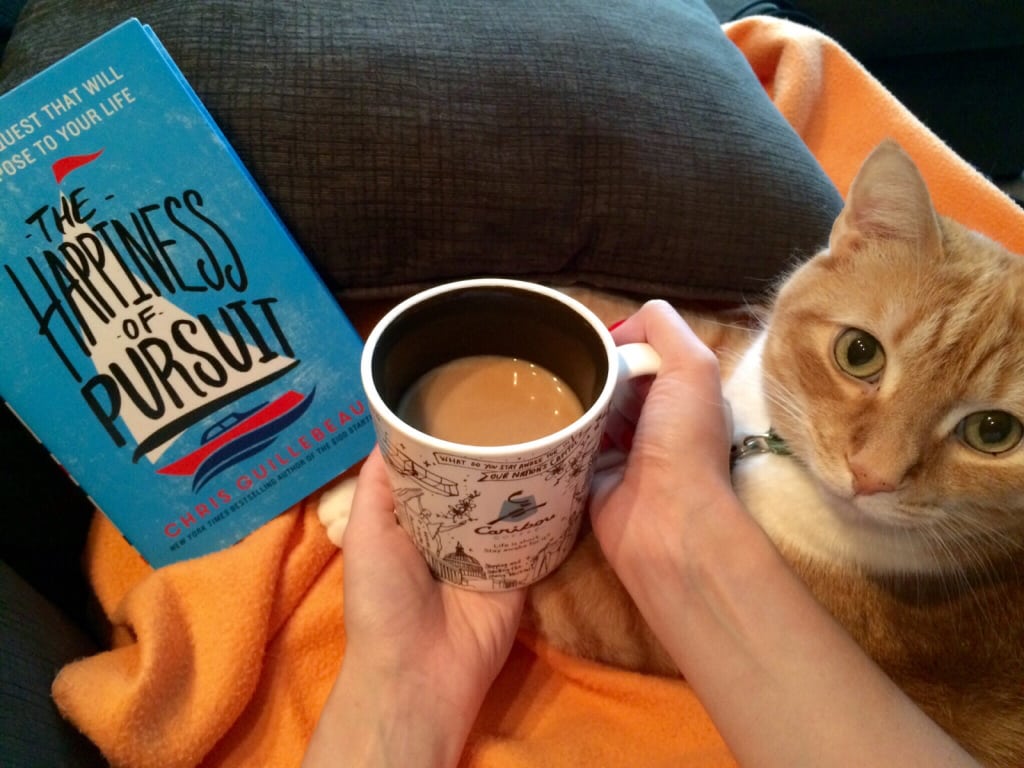 After that, I made it to Body Pump. I'm going to be really sore soon because it has been awhile since I made it to that class, and I have never felt soreness like I do when I resume going back to Body Pump…. But it was so nice to get in a workout before the day really got started. After showering, we cleaned up around the apartment and got a few things done before heading into DC to have dinner at Hill Country! This is a Texas BBQ restuarant with a really fun atmosphere. Daniel found a Travelzoo deal that got us a whole lot of food for a significant discount.  It was so good!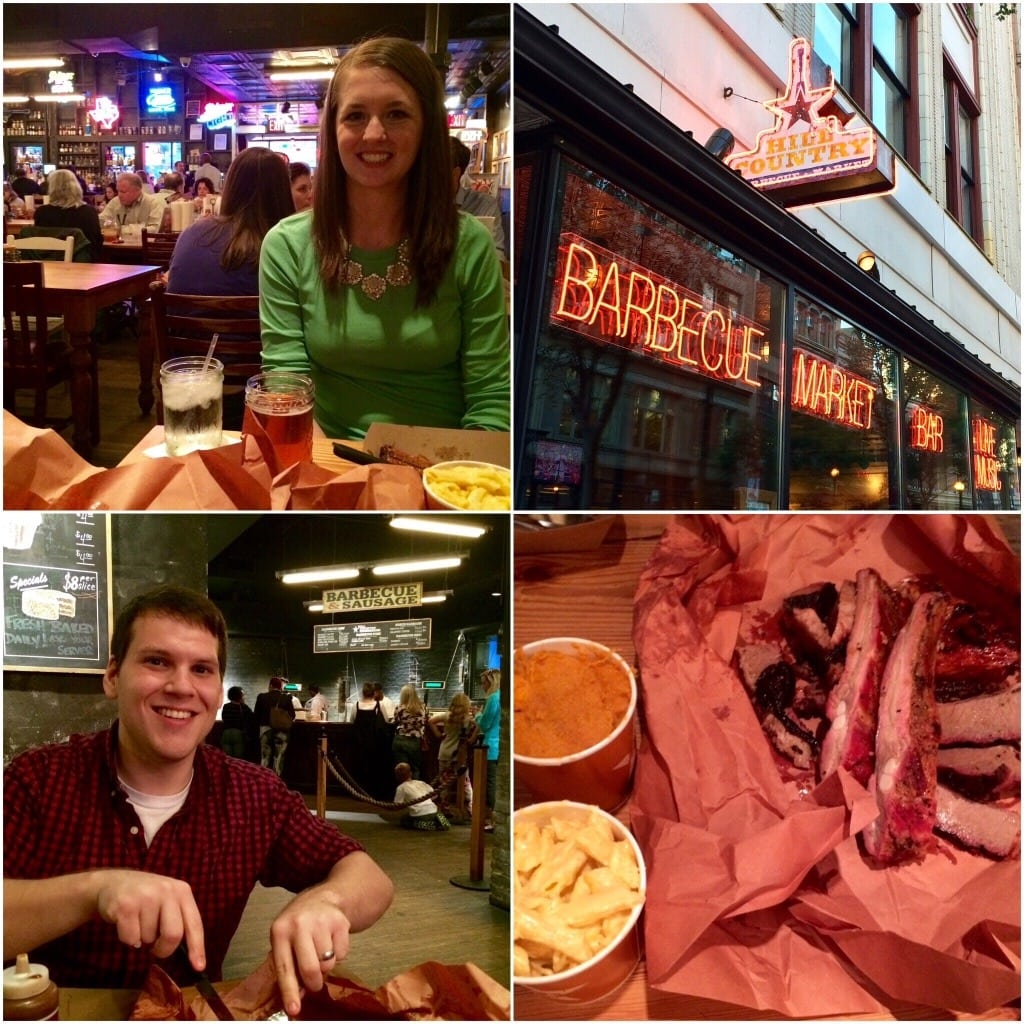 After dinner we decided to cross one thing off of our DC Bucket List – visiting the Politics & Prose bookstore! We had never been before because it is a bit of a drive from where we live, but we have wanted to ever since we heard about it. It was a great little shop full of all kinds of books. There was a heavy emphasis on political and history books as well as biographies – while I don't typically read books like that (I wish I did!), those are Daniel's books of choice, so he was in paradise. After making a few selections (an early start to Christmas shopping), we headed to the bookstore coffee shop to read for an hour.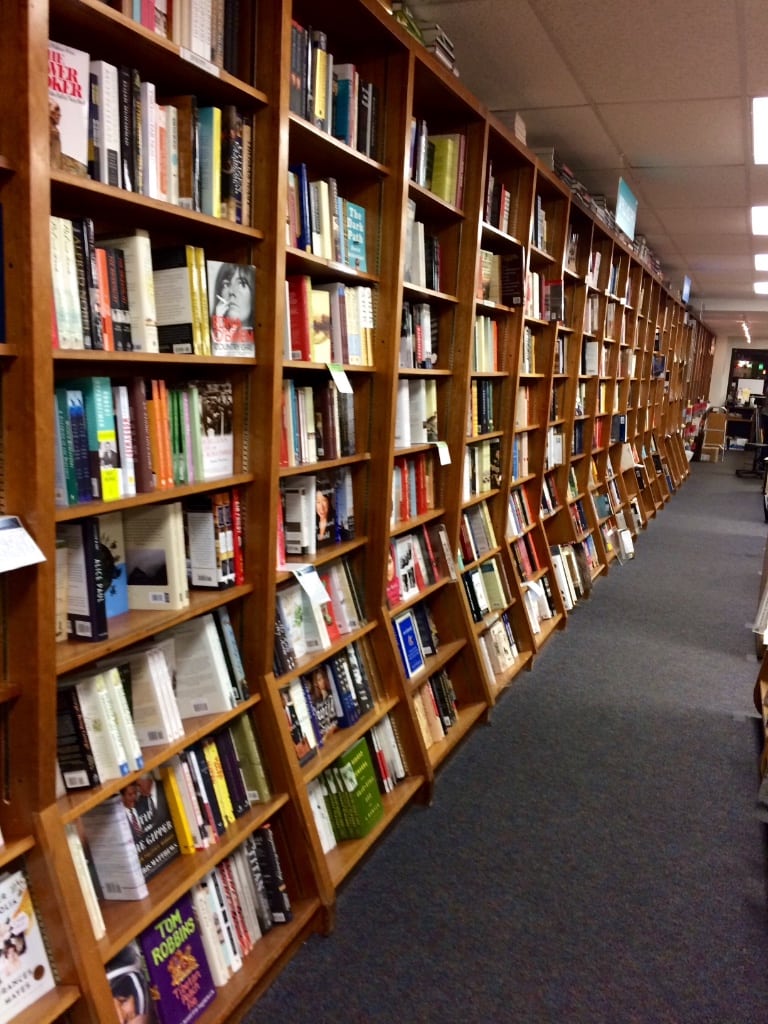 This morning we went to church and had leftover BBQ for lunch. I baked some Pumpkin Pie Snickerdoodle bars for our small group dinner tonight. They smell delicious, but I'll have to get back to you on the verdict once we try them! Now we are working on some things at Barnes & Noble, and then we will head one to our small group dinner.
Now onto what The Sunday Currently is meant to be, a glimpse into the current moment on the best day of the week.
Currently… 
Reading   The Happiness of Pursuit by Chris Guillebeau still, but I'm almost done. I'm also listening to The Night Circus by Erin Morgenstern on my commute to and from work. That book is a great fall read! I love the magic and the mystery and the beautiful descriptions.
Writing  in my journal and posts for the blog. Earlier I wrote some very powerful sermon notes this morning while listening to our pastor that I hope to reference later. Also, I recently wrote out our meal plan for the week.
Listening  to general coffee shop sounds – coffee brewing, lattes and cappucinos being made, people having conversations, keyboards clacking, pages turning
Thinking  that I'm having another one of those days where I'm really missing family. Good thing we are heading to Texas in two weeks!
Smelling  coffee and books, my favorites scents
Hoping  that we are doing what we are called to be doing. A lot is going to be happening in the coming months, and I'm a bit nervous about the future.
Wearing  jeans and one of my new favorite long-sleeve t-shirts from Target
Loving  this slow Sunday afternoon
Wanting  to re-paint my nails. I'm new to painting my finger nails. I really like it because it keeps me from biting my nails (a terrible habit I've always had), but it requires a little more maintenance than I had expected.
Needing  to get in a few morning workouts this week
Feeling  ready to conquer a busy week. I know I talk about being busy with work a lot (sorry about that), but I have another deadline coming up on October 15th. It's not nearly as bad as the last one, and thankfully, once this one is over I won't be too busy until after December.
Clicking around the Artifact Uprising website making our photo book for our trip we took in May
Have a great week!
View the rest of my The Sunday Currently posts here.
[Linking up with Challenge Accepted, Oak & Oats, B Loved Boston, and Joyful Life.]