I'm back with a Travel with Me: Weekend Edition post, a shortened version of my Travel With Me posts. These posts are for trips that are just a day or a weekend – I share what we did, what we ate, and where we stayed with short descriptions. I hope that these posts can help you plan a short trip yourself or at least inspire you to visit a new place!
For this post, I'm sharing our long weekend trip to the Outer Banks the weekend of September 25 – 28 this year. We spent most of our time in the Nags Head and Kitty Hawk area. The Outer Banks is gigantic, so keep that in mind if you planning a trip there.
Where We Stayed:
We rented an apartment in Nags Head that I found on HomeAway.com. I forgot to take pictures inside of the apartment. Click here to see the rental along with some pictures. The apartment is on top of a t-shirt shop (T-Shirt Whirl pictured below) that is owned by the owners of the apartment. It was the perfect size for four people who are very comfortable with each other. There was only one bedroom, but Daniel and I slept on the pull-out couch and were perfectly fine. The kitchen was fully stocked (even included coffee!), and there were two large TVs (one in the bedroom and one in the living room). There was a balcony facing the street, and you can see the ocean between the houses in front of the beach. The best part about the apartment was the location. It is a five minute walk from the beach, Nags Head Fishing Pier, and Jockey's Ridge State Park! I give the rental a 4 out of 5.
What We Did:
Nags Head Beach
During most of our stay, the weather was too chilly to actually spend much time out on the beach, but that didn't keep us from walking along it and soaking in the beauty of the coast! I love the beach, and I was thrilled to be able to take these pictures.
Jockey's Ridge is home to the largest natural sand dune on the East Coast. I had never seen a sand dune before, so I was definitely curious. It was a neat experience! We took off our shoes to walk around on the sand. On top of the dune, there was a really great view of the ocean and the town.
One afternoon we drove over to Kitty Hawk to check out the Wright Brother Memorial. The museum/ visitors' center was a little bit of a let down because it looked like it hadn't been updated since the 80s. However, the full-scale reproduction of the flying machine was really cool (see picture below). Outside there were markers that showed how far the first few flights went. It was such a short distance! It's amazing how far we have come.
My favorite stop of the trip was the Bodie Lighthouse. I love lighthouses, and while I didn't think that this lighthouse in particular was the most beautiful I have seen, the surrounding area was GORGEOUS. It was exactly what I picture while reading a Nicholas Sparks book. Take a look for yourself in the pictures below….
After breakfast on our last day and before heading back home, we decided to quickly check out the Nags Head Fishing Pier. The weather was beautiful that day, so people were out enjoying the beach. I was definitely jealous! I love a good beach day. It was very pretty out on the pier – a great way to end our time in OBX!
Where We Ate:
I did not keep track of where we ate very well. Our meals were very unplanned – we ate what we wanted when we wanted. But here are a few of my favorite meals out from the weekend:
Apparently Duck Donuts is a fairly well-known place in the Outer Banks. I was so excited to try it out! It is not your typical donut shop; the donuts are made-to-order with your toppings of choice. There are a lot of icing and sprinkle options. As a Fall special, they were offering a pumpkin spice donut that has the pumpkin and spices baked right in with glaze on top. You MUST go here if you go to OBX!
During our first afternoon there, Daniel and I searched around on TripAdvisor for good lunch options nearby. We found the Outer Banks Brewing Station, and I'm so glad we did! I was craving some seafood, so I ordered fried fish with a cup of lobster bisque. It was delicious! The atmosphere of the restaurant was very laid back and a lot of fun. I would definitely recommend it.
While we were in Kitty Hawk, we stopped for lunch at Hurricane Mo's. Again, it was a very laid back atmosphere. I didn't like it as much as much as the Outer Banks Brewing Station, but I thought that my meal was so unique and delicious that I had to share. I had a caesar salad with a fried seafood patty in a tortilla bowl. The patty had shrimp, scallops, and crab. It may be a weird combination, but it was very good.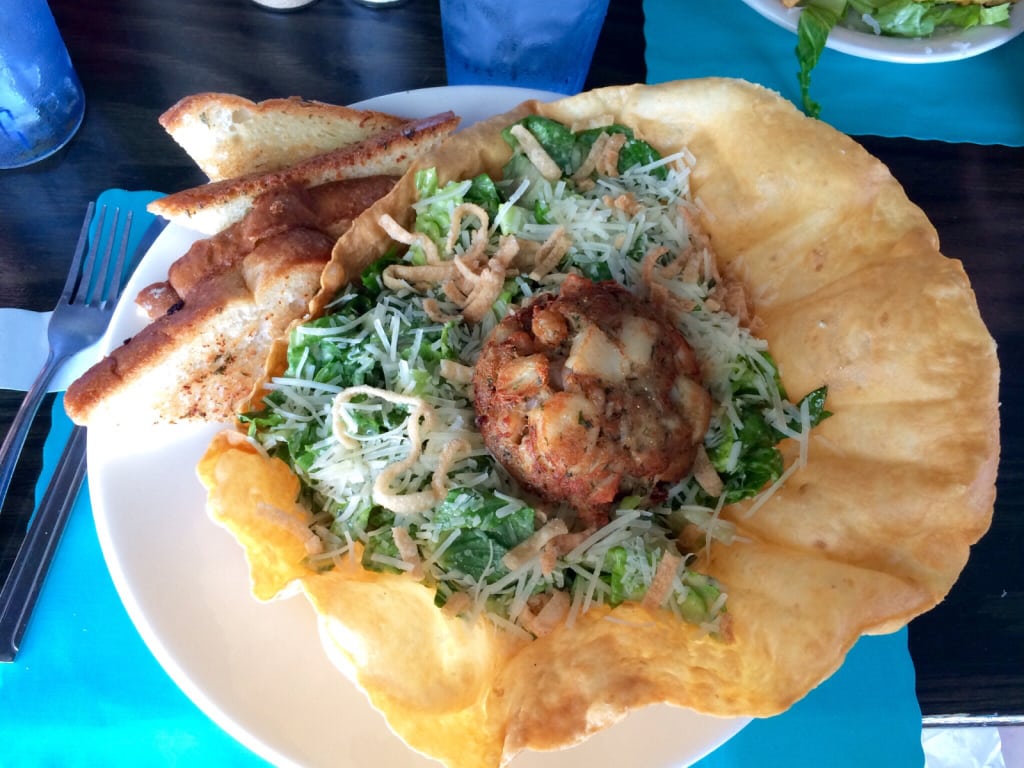 I didn't get any pictures of our final meal in the OBX, but I wanted to share anyway because it was a fun experience! We went to Stack 'Em High Pancakes for Sunday breakfast before heading back home. It was another very laid back restaurant. You order your meal at the counter, and the waiters bring it to your table. I had a stack of pancakes (of course!) with bananas mixed in. There were lots of topping options to go on either pancakes or french toast.
As I said, we were only able to see a very small part of the Outer Banks. I hope to go back one day and visit a few of the other areas! Have you been to OBX before? What was your favorite thing that you did or saw?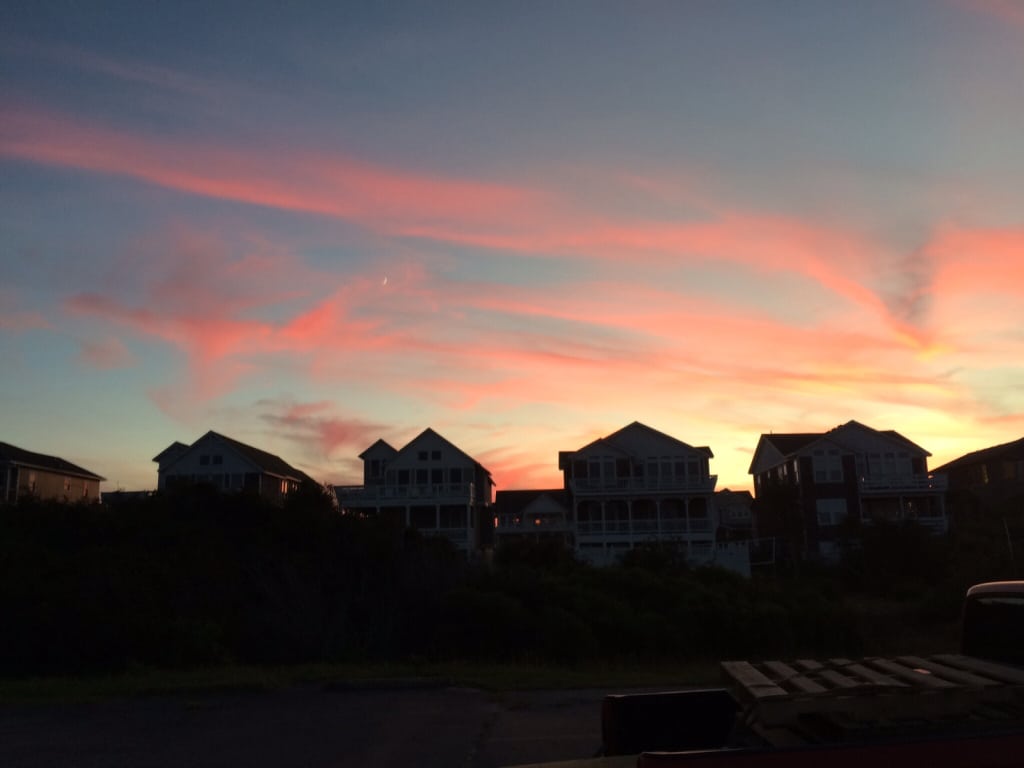 [Linking up with Treasure Tromp.]