After several months of planning and preparing, I'm excited to share that my husband and I are moving back to Texas! We have lived in DC for three great years now, and we have loved it, but it is time for us to get back to the South, our families, and Tex-Mex. 🙂 We will be living in Austin, so it will still be a fun new city for us to make our own, but we will be much closer to our families. I will be transferring offices within my current company, and Daniel will be leading a web development team at a digital strategy firm. We have no idea where in Austin we will be living, so any suggestions or tips from any of you who may know would be great! We leave DC mid-December, and we both start our jobs there in January.
Now, onto my weekend re-cap….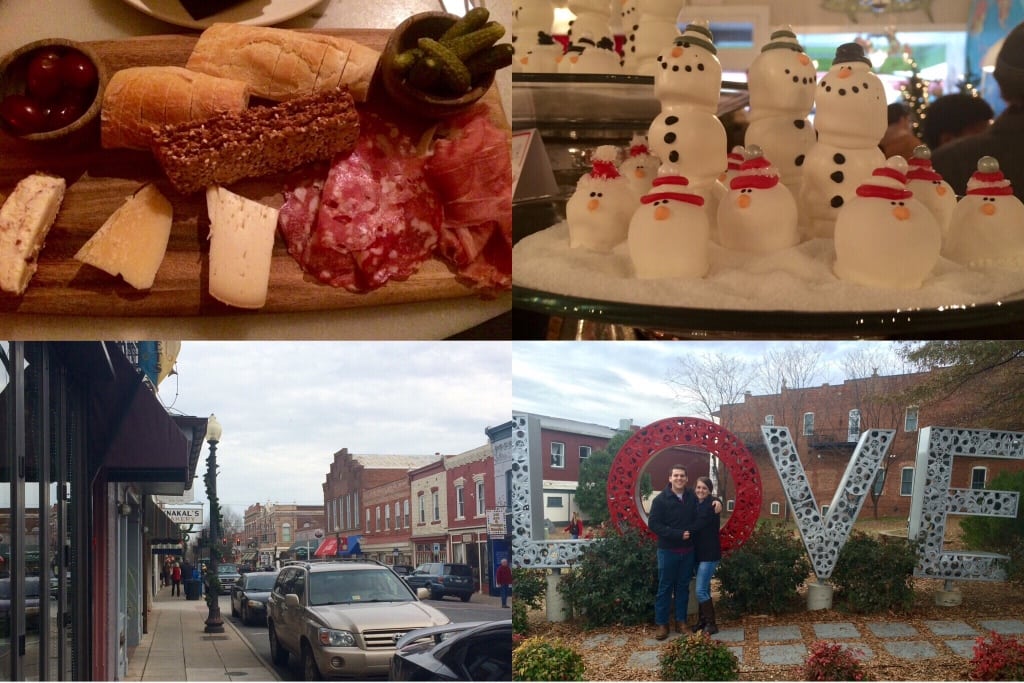 This weekend we started putting our moving plans into motion by ordering packing supplies, going over the details for our shipping crates, pre-scheduling our utilities cancellations, etc. It may seem a bit early, but we are traveling two more times before we move, so we don't really have a single free day left to focus on packing. I'm nervous that we haven't started putting anything in boxes yet, but our moving supplies should arrive in the mail on Saturday, and then we will need to seriously hit the ground running!
In addition to preparing for the move, we did a few fun things over the weekend.
(1) Dinner at Cheesetique (one of our local favorites) began with a cheeseboard
(2) A Sunday afternoon trip with Kaitlin & Erik to Culpeper, VA for the Christmas festival and window shopping. I saw these cute snowmen candies at the local candy shop.
(3) A walk around Culpeper
(4) The Virginia LOVE sign in Culpeper
What were you up to this weekend?
[Linking up with Oak & Oats.]