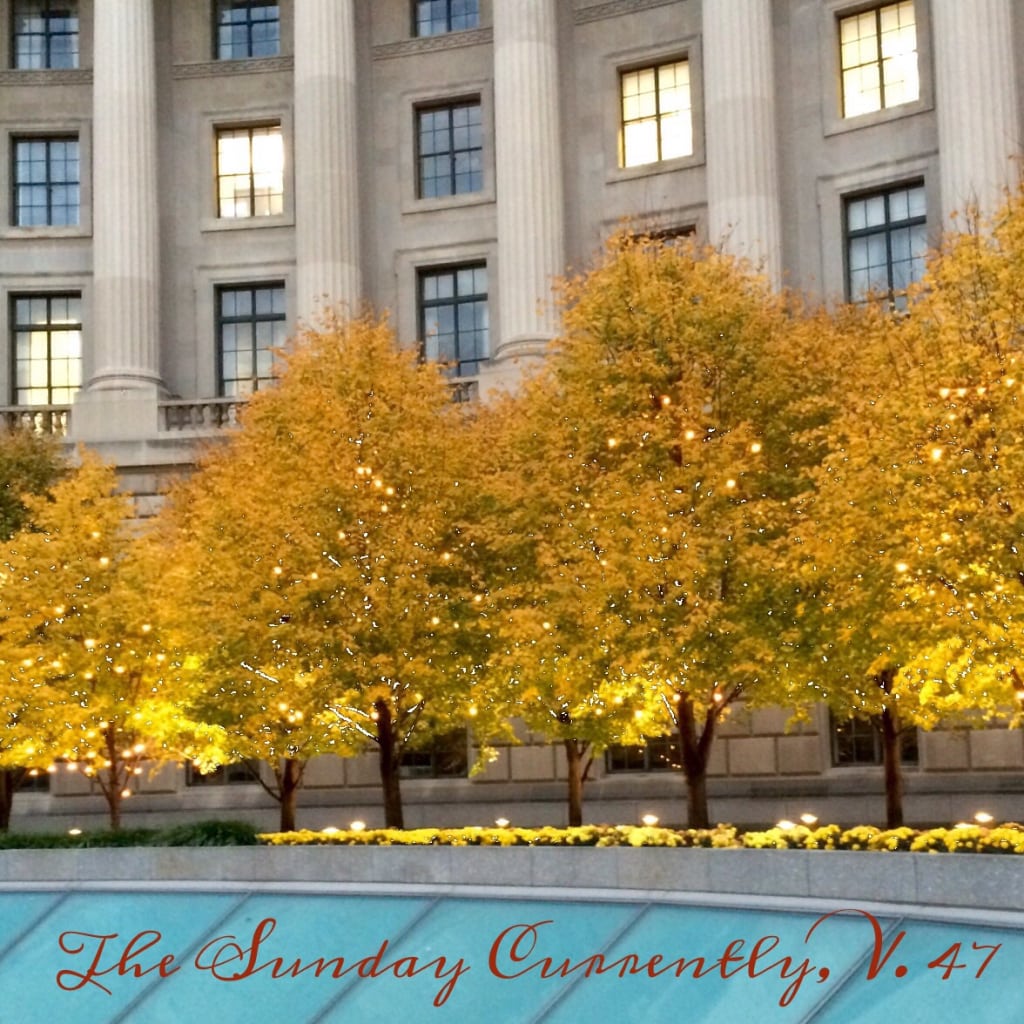 To me, the holiday season started yesterday. Try not to judge! I saw a favorite blog of mine put it this way, "Some people would say November 1st is too early and I would say two months of Christmas is better than one!" I am just SO HAPPY!! I love how we still have a whole month left of fall, Thanksgiving is just around the corner, and little glimpses of the holiday season are already showing up everywhere. This weekend, I have seen it in my Starbucks red cup, the Christmas decorations at Target, and throughout different blog posts that I have been reading. Is anyone else excited with me?
Currently… 
Reading   a lot of different things actually. I started and finished the We Were Liars audio book this week, and I really really enjoyed the story. I am just now starting Big Little Lies. And  I'm about to begin the audio book for Imaginary Girls, the book selection for the blogger's book club hosted by Crystal over at Dreams, etc.!
Writing  a few blog posts as well as outlining plans for our time in Chicago next weekend! I'm headed to the suburbs of Chicago tomorrow morning for work training, and Daniel will be joining me on Friday for a touristy weekend in The Windy City! We are very excited, even though it is supposed to be extremely cold.
Listening  ……to Pandora Christmas. Just a little Christmas music here and there, nothing too much yet!
Thinking  that I really need to get most of my packing for the week done soon. We have a full schedule this evening with small group and a concert right afterward in the city.
Smelling  the fun Christmas candle options in Target. Well, I'm not right now, but I was while we were at Target this morning.
Hoping  for a good week at work training – I'm really just looking froward to getting out of the office for a bit
Wearing  jeans and a long sleeved t-shirt and my favorite new cozy scarf
Loving  my grandparents. I've been trying to be much better about calling them regularly. I love them so much and want to show that to them by calling and hearing how they are doing. One of my grandma's is not able to leave the house much, but she is making the most of her situation by quilting baby quilts for children without families.
Wanting  to be able to read 100x more quickly than I currently do. I want to read all the books, but there are so many!!
Needing  to try out this new Revlon Gel Envy polish I picked up at Target. No, this is not a real need, but I feel like I need to find a polish that won't chip as quickly as normal polish, so this is my first experiment in do-it-yourself gel manicures.
Feeling  excited about lots of fun things coming up soon
Clicking through my favorite blogs, of course
Have a great week!
[Linking up with No Reservations.]