Happy Monday! Welcome to my Scenes From the Week series. In these quick posts, I share the highlights from my previous week ranging from the simple, everyday things to the more memorable events.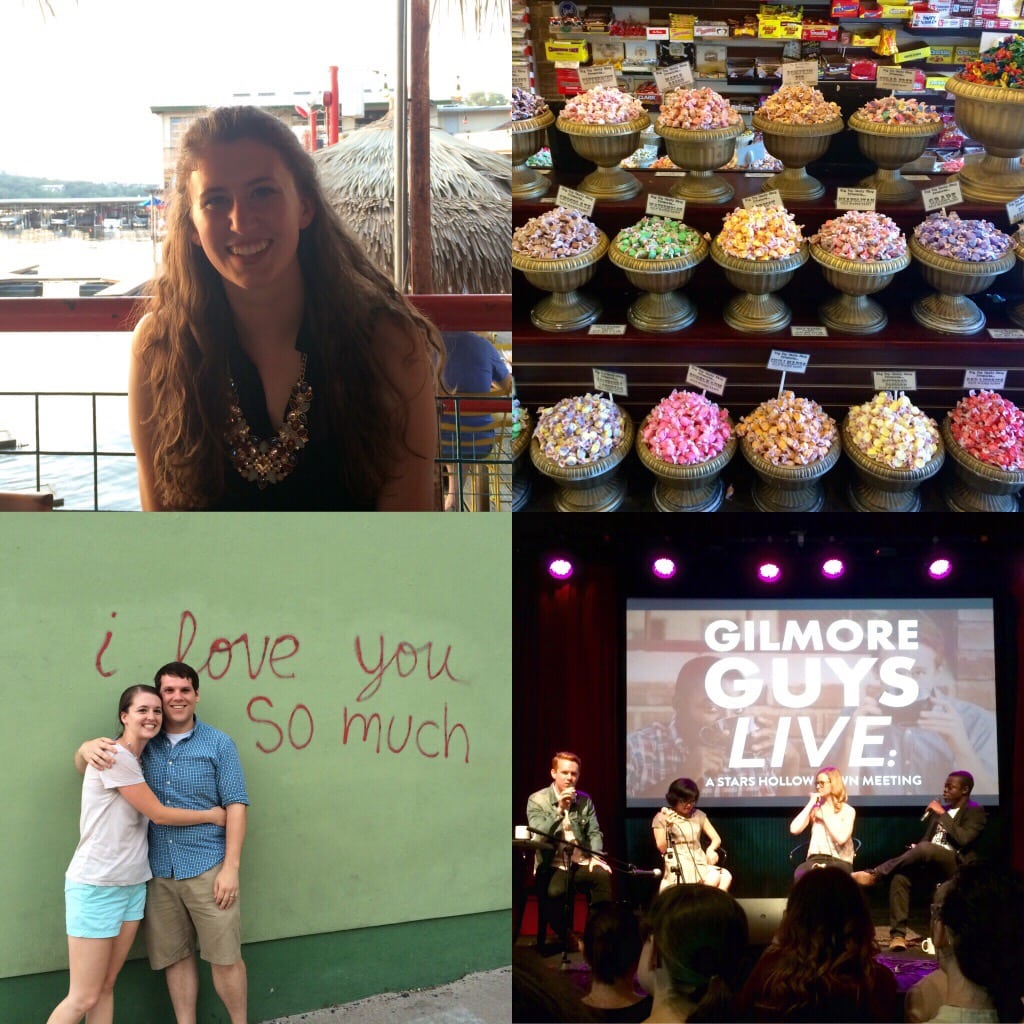 Clockwise starting at the top left:
(1) Wednesday was my sister Elizabeth's  birthday, so we celebrated with a delicious Mexican food dinner at Hula Hut. It was a beautiful evening on the water!
(2) We spent most of this weekend hanging out with my sister-in-law Sarah. Saturday evening we walked around some of the fun shops on South Congress for the first time and discovered this super cute old-fashioned candy shop!
(3) One of the touristy things to do here in Austin is a take a picture by this spray-painted "I Love You So Much" sign. We don't get the hype, but since Sarah wanted to stop and take a picture by it anyway, we thought we might as well!
(4) Sunday afternoon we got to see the Gilmore Guys show live. If you aren't familiar, this is a hilarious podcast with two guys who chat about Gilmore Girls. They are working through each and every episode of the show and talking about the pop culture references, the fashion, the dialogue, and everything about the episode. As a huge Gilmore Girls fan, I had a great time! Keiko Agena, the actress who plays Rory's best friend Lane Kim on the show, and Sarah Ramos, the actress who plays Haddie Braverman on Parenthood, made guest appearances and chatted with the guys about the episode for over an hour.
Not pictured:
The rest of Daniel's family along with his aunt and cousin came to Austin for the afternoon on Saturday. We showed them Mount Bonnell, ate BBQ, and walked around various Austin spots while catching up.
We tried out a new Mexican seafood restaurant Friday night and really enjoyed our dishes!
I'm having a lot of fun getting back into the world of blogging.
Happy Monday! Have a great week!