It's so nice to be back with another The Sunday Currently post. 🙂 At first, I didn't plan to participate every week, but I am remembering how much I enjoyed the routine of this link-up in the past, so I think that I just might make this a weekly thing again. I think I am going to combine these posts with my Scenes From the Week posts, something that I used to do in the past. I enjoy sharing weekly re-caps as well as the peaceful moments on a Sunday afternoon.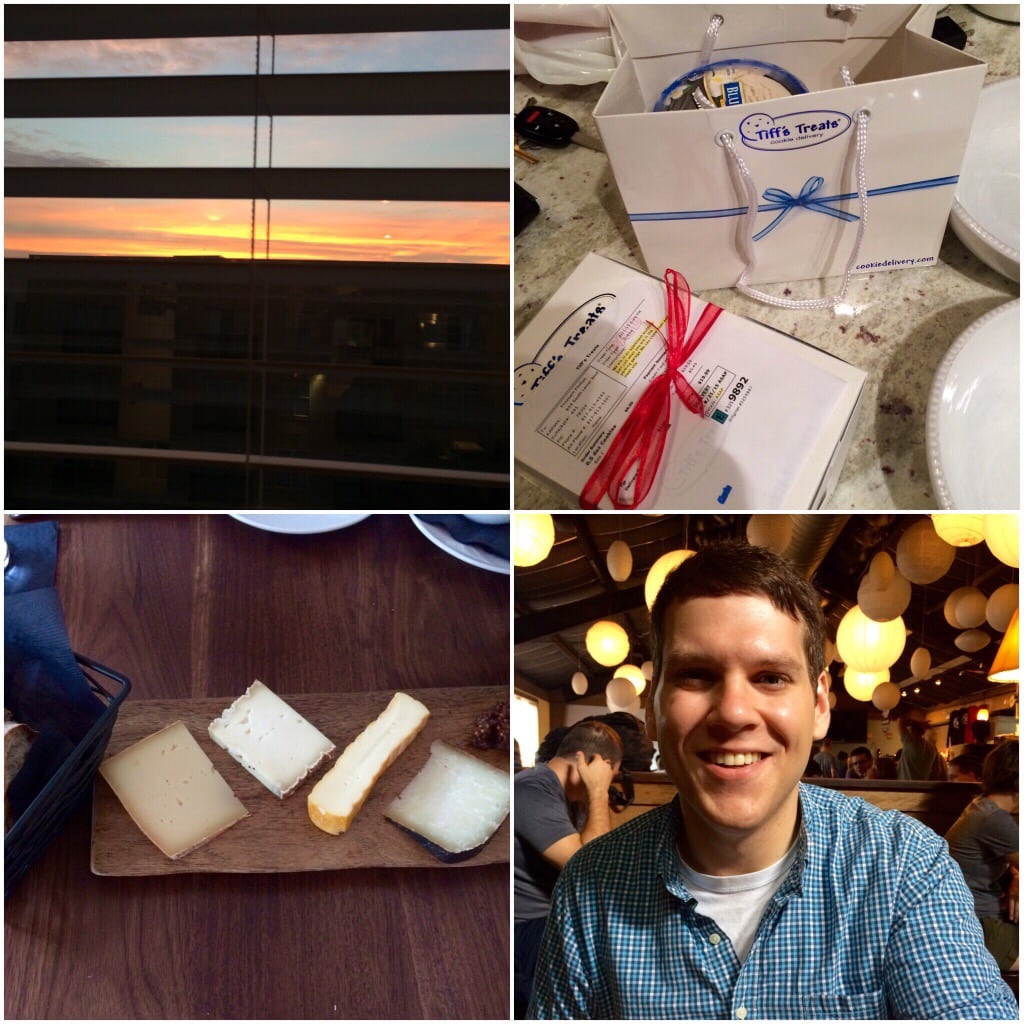 Clockwise from top left:
(1) One weeknight while I was working late at home, I peeked out my window and saw this beautiful sunset. It brightened up the whole evening. Daniel was out of town hiking the Appalachian Trail all week, so I kept my evenings busy with work, phone calls with friends and family, and fun little moments like this.
(2) My sister Elizabeth and I had a girls' night Friday night. We went out for ramen and then watched a movie and a show at my place. Liz treated us to some Tiff's Treats (cookies for delivery!) and ice cream.
(3) Sunday after church we visited a local coffee shop we hadn't been to before in the Hyde Park area of Austin. This coffee shop serves Sunday brunch, so we had a quick meal there before exploring the Hyde Park area a little bit.
(4) Daniel came home Saturday afternoon! It was great to have him back. The rest of the weekend we ate and relaxed. Saturday night we had reservations at a new modern Italian place walking distance from us. It did not disappoint! And, in typical Abernathy fashion, we started the meal with a delicious cheese board.
Currently… 
Reading  Everything I Never Told You still. I'm getting into it more, so I'll hopefully be listing a new book here next week.
Writing  a lot of plans in my planner. In fact, the rest of our year, starting in September, is really full. I'm very excited yet I'm also nervous about the lack of free upcoming weekends. But, it means we are going to get to see lots of friends, family, and new places, and those are all things I hold dear. I'm just going to have to get in lots of relaxation the next couple of free weekends!
Listening  to coffee shop conversation and beverages being made. We are at another new coffee shop here in Austin, and I think we love it. It has 22 different coffee beans to choose from as well as options for pour overs and French press coffees.
Thinking  I need to re-paint my nails tonight. I'm going to use my bright pastel colors for a couple more weeks, and then I'm going to switch into the darker hues in my collection in honor of my favorite season coming soon. I have to remind myself that it will be a couple of months before this intense Texas heat goes away, but I can pretend….
Smelling  the wonderful aroma of a full coffee shop on a Sunday afternoon
Hoping  to get out to the pool later this afternoon to cool off and flip through some of my new travel magazines
Wearing  a cozy maxi dress
Loving  having my husband back home!
Wanting  a simple, healthy dinner
Watching  The Following. Daniel and I wanted to start a new Netflix show yesterday, and that's what we chose. Two episodes in, and we are already hooked!
Needing  (see wanting above)
Feeling  excited about this current phase of life
Clicking  through Peru pictures. Lots of Peru posts coming soon!
This post is for the TSC blog link up at siddathornton. Share yours and link it up!
Click here to see all of my Scenes From the Week posts.