Happy Sunday! Welcome to my Scenes From the Week series. In these posts, I share the highlights from my previous week ranging from the simple, everyday things to the more memorable events. One of the primary reasons that I blog is to keep a journal that I can look back on in the future, and these posts help serve that purpose. I also link up with Lauren for The Sunday Currently each week to share snippets from my Sunday afternoon which you'll find at the bottom of this post.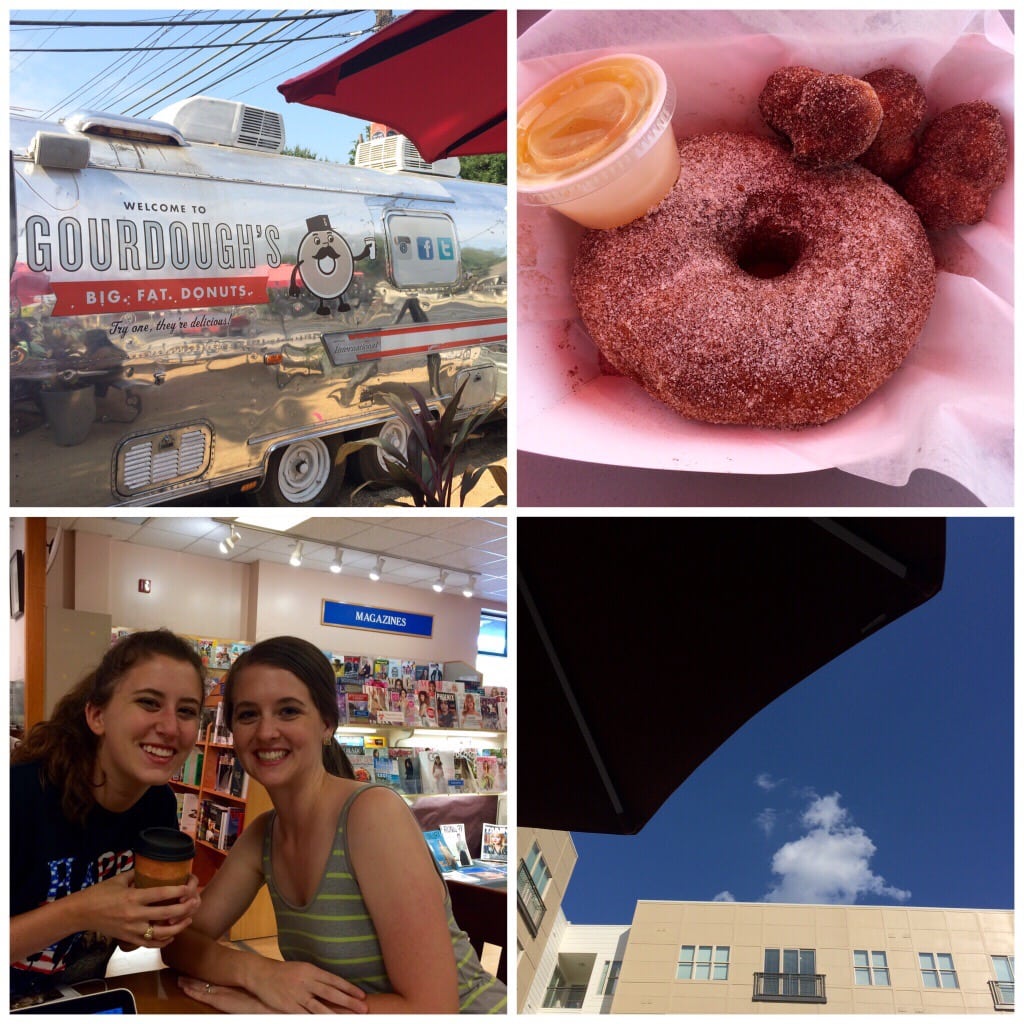 Clockwise from top left:
(1) and (2) We went to the Gourdough's food truck for the first time this morning! Talk about amazing, sugary goodness! Gourdoughs offers incredible gourmet donuts. Just check out the menu. Daniel got the South First Hipster (not shown on the menu), and I got the Naughty & Nice (pictured here).
(3) The skies are nice and blue this weekend in Austin!
(4) This is my sister and I hanging out at the local bookstore coffee shop (mentioned in The Sunday Currently below).
Not pictured:
I spent most of Saturday working, but we met a college friend and her boyfriend for a bowl of ramen for lunch and tried out a new Mexican place for dinner. After dinner, we watch The Age of Adaline which I had seen in theaters but was really excited to show Daniel. To my surprise, he really enjoyed the movie! It's got Blake Lively, Harrison Ford, history, romance, beautiful shots of San Francisco and the surrounding California forest area, etc. I loved it just as much the second time!
Currently… 
Reading  Everything I Never Told You still. Nope, I didn't finish it this week. Maybe I will tonight! I'm also still listening to Me Before You on audiobook, and I really am enjoying it. Have any of y'all read that one?
Writing  a lengthy to-do list for the week. Lots to do!
Listening  to Pandora and coffee-making again. Today we are working in BookPeople, a local Austin bookstore. My sister Elizabeth is here with us today, so we are chatting about the show Nashville in between doing work. She just started the show last week, and I'm glad to have someone to chat about it with!
Thinking  about all the wonderful things that are coming with the changing of the seasons. It's definitely not cooling down one bit here in Texas, but I can still dream about it. 🙂
Smelling  my delicious Pecan Pie latte!
Hoping  for a quick and productive next couple of weeks as our huge deadline at work approaches
Wearing  another cozy cotton dress – this seems to be my Sunday uniform
Loving  a relaxing Sunday afternoon after an incredibly busy and full week. It's easy to forget the  simple joys of a day off.
Wanting  pizza, for some reason. I'm thinking that will be dinner tonight, and then we will break out the salads again tomorrow.
Watching  The Following still. And The Age of Adeline as mentioned above. Also, I'm really looking forward to several of my favorite shows coming back in the coming weeks!
Needing  some water. I'm going to get up and get some now.
Feeling  happy 🙂
Clicking  through the European adventures of one of my favorite bloggers – Check the posts out here! It will have you dreaming of days spent wandering the streets of all kinds of European cities….
This post is for the TSC blog link up at siddathornton. Share yours and link it up!
Click here to see all of my Scenes From the Week posts.