Happy Sunday! Welcome to my Scenes From the Week series. In these posts, I share the highlights from my previous week ranging from the simple, everyday things to the more memorable events. One of the primary reasons that I blog is to keep a journal that I can look back on in the future, and these posts help serve that purpose. I also link up with Lauren for The Sunday Currently each week to share snippets from my Sunday afternoon which you'll find at the bottom of this post.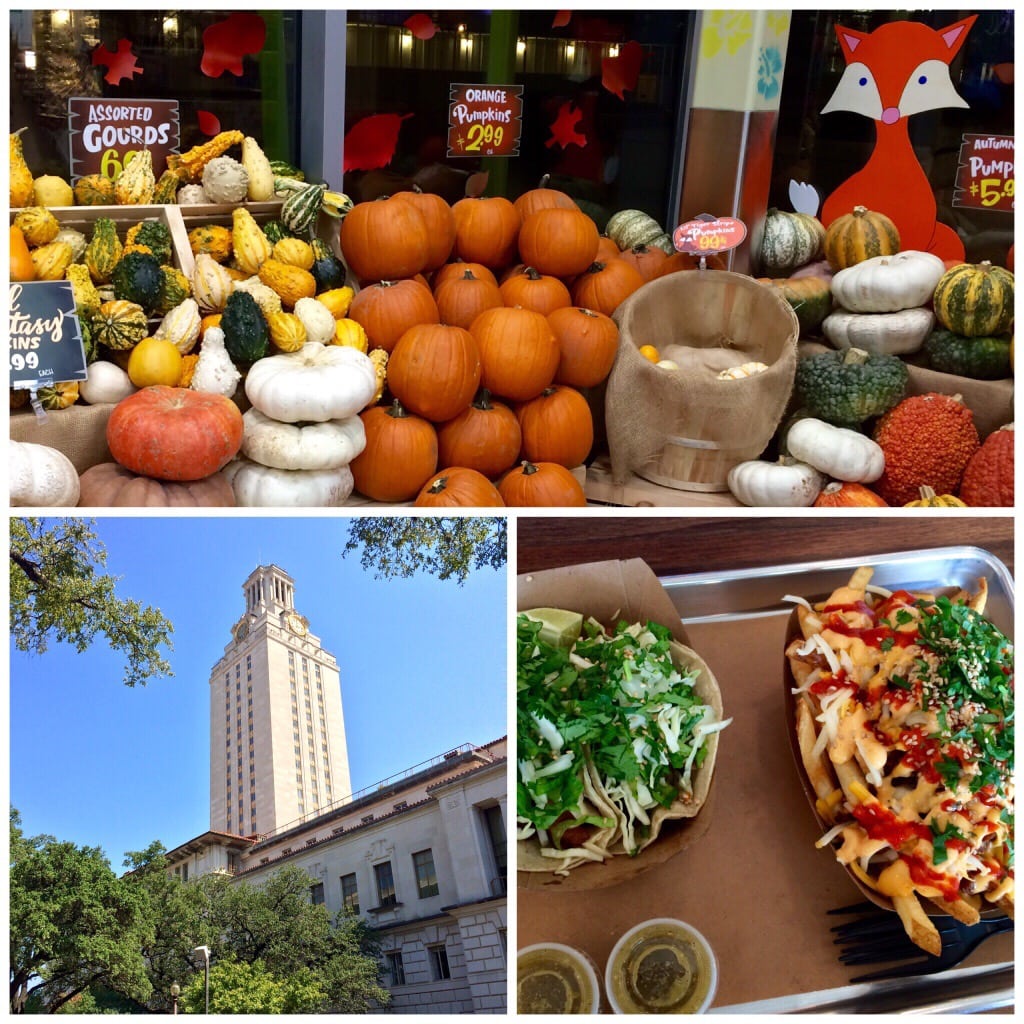 (1) Trader Joe's has exploded with pumpkin everything. It is probably a bit much for those who are tired of the pumpkin thing during the fall season, but I was in my happy place! We came home with real pumpkins (for decorating), pumpkin tea, pumpkin coffee, etc…. So fun!
(2) Our friends Claire and Christiaan came into town this weekend from DC, and one of the main things they wanted to do was walk around the UT campus. We also ate lots of Austin-y food (Gourdough's donuts and Torchy's tacos included).
(3) For one lunch this week, Daniel and I split kimchi fries and Korean tacos at Chi'lantro. Delicious!
Not pictured:
It was a great weekend with friends. As mentioned above, we had some friends in town from DC. We also met up with some other friends Sunday morning for breakfast. It was a great weekend! Also, while Claire and Christiaan went to a wedding Saturday night, we went to see Everest. I was honestly nervous to see it because I knew it would be really sad. Well, of course it was really sad, but it was a beautifully done movie about a real historical event. I highly recommend!
Currently… 
Reading  The Martian. Hopefully I can finish it this week because we will probably see the movie next weekend.
Writing  blog posts. I'm hoping to get back into posting more than once a week soon. I've been having a little trouble with inspiration regarding the blog latey.
Listening  the sound of YouTube videos in the background. Loving how more and more Youtubers are doing daily/weekly vlogging!
Thinking  about how it has been so good to see so many friends and family lately. This is why we moved back to Texas!
Smelling  my new Leaves candle from Bath and Body Works. Now I know what all the hype is about!
Hoping  for a nice and easy-going week. That's what I'm hoping for all fall long…. I'm kind of over the late nights and weekend work.
Wearing  pajamas. It's been a nap and stay home kind of day for the most part. It's almost time to change though because we are going to go check out the Pecan Street Festival downtown today!
Loving  how the #TGIT shows (Grey's Anatomy, Scandal, and How to Get Away With Murder) are looking this fall. I loved all three of the season premieres last week!
Wanting  some fun festival snacks tonight!
Watching  Banana watch videos of cute kittens. Any time we put on a video with meowing cats, he runs up and looks all around the screen for the cats and sometimes paws the screen and meows back. It's so cute, but at the same time I feel like I'm teasing Banana and making him think we brought friends home…. However, he doesn't like meeting other cats, so maybe he is okay with it?
Needing  to get back into pilates tomorrow morning. I gave myself too long of a break, and now it's time to get back to it!
Feeling  content and relaxed
Clicking  Instagram and Snapchat
This post is for the TSC blog link up at siddathornton. Share yours and link it up!
Click here to see all of my Scenes From the Week posts.