Happy Sunday! Welcome to my Scenes From the Week series. In these posts, I share the highlights from my previous week ranging from the simple, everyday things to the more memorable events. One of the primary reasons that I blog is to keep a journal that I can look back on in the future, and these posts help serve that purpose. I also link up with Lauren for The Sunday Currently each week to share snippets from my Sunday afternoon which you'll find at the bottom of this post.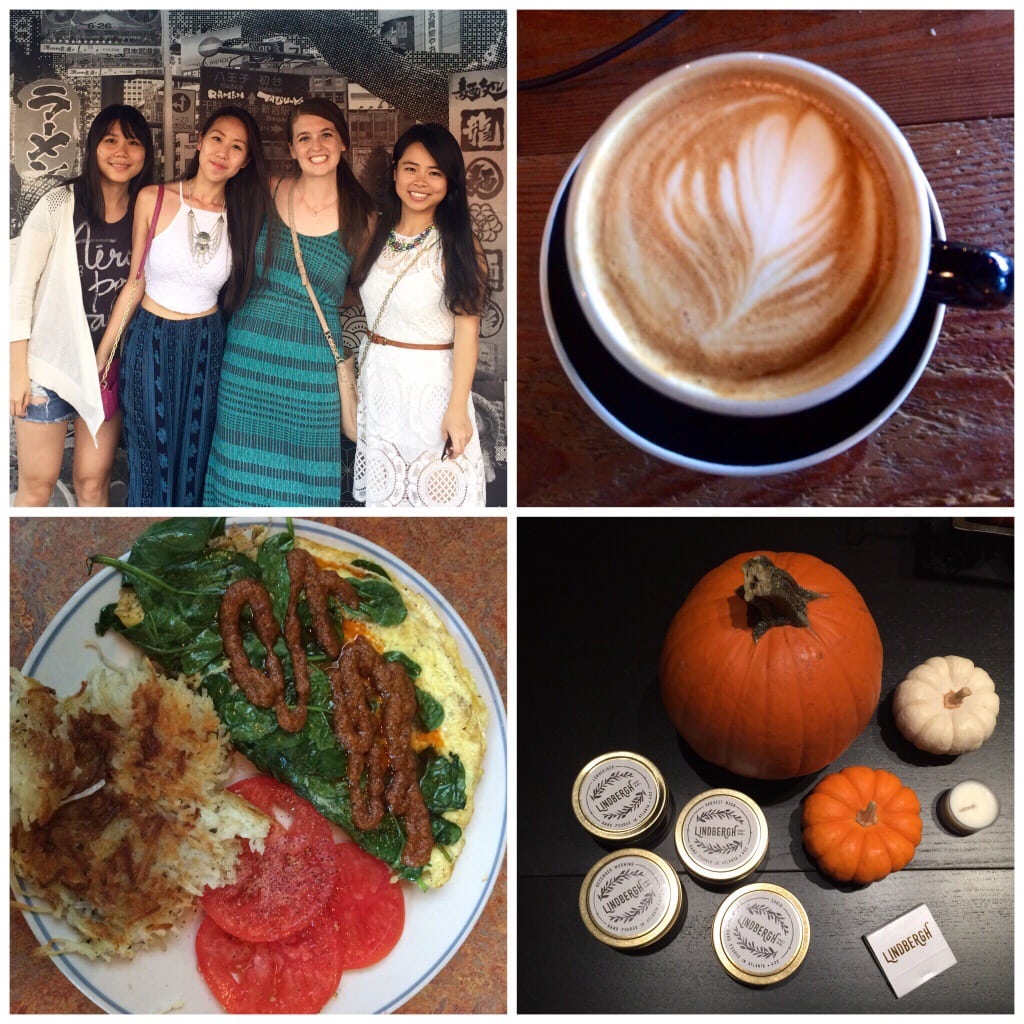 (1) I had some friends from my previous office in DC come to Austin for a wedding, so we had a couple of meals together. It was fun to catch up!  I introduced them to Tex-Mex for dinner Friday, and we met at my favorite ramen place for dinner Saturday.
(2) What is a weekend at home without time spent at a coffee shop? Pictured here is a delicious fall-spiced latte at one of my favorite coffee shops in Austin.
(3) Sunday brunch at a local favorite. Enough said.
(4) I did not have plans to order more fall candles since I already picked up too many at Bath and Body Works, but I placed a quick order when I saw that one of my favorite YouTubers (Savannah K Wallace) opened up a candle shop. The descriptions for the candles are incredible, and they smell just like they're described! I ordered the holiday pack which came with Lumberjack, December Morning, Cabin, and Harvest Moon.
Not pictured:
I had plans to spend this weekend with another friend, but they fell through. This meant an unplanned weekend with time to clean the apartment, linger over coffee, finish my book, see a movie with Daniel, and take naps.
I sped through the end of The Martian. I had been reading that book for too long, and to motivate myself to finish, we pre-ordered movie tickets to see the movie adaptation Saturday night. I finished about an hour before we went to the movie. Both the book and the movie are great!
Currently… 
Reading  Still Life, book one of the Chief Inspector Gamache series that has been highly recommended to me. I finished listening to the Me Before You audiobook last week, and I loved it. I immediately downloaded the audiobook for the sequel, After You, which just came out last month.
Writing  more Peru posts. I've got three posts left before I've finished that series. I'm moving through them slowly but surely! I enjoy sharing our adventures.
Listening  to the jazz music playing here in the cafe at BookPeople and the sound of coffee drinks being made
Thinking  about which magazine I want to flip through once I've written this post. BookPeople has a great selection!
Smelling  books and coffee. The best.
Hoping  to start attending classes at the gym opening up in our apartment building soon. I think it is opening within the next couple of weeks!
Wearing  jeans and a t-shirt
Loving  that our great friends Kaitlin and Erik are coming to visit this weekend! We can't wait to show them Austin and to just catch up on life. We have missed them so much since we left DC.
Wanting  to be kind and serve others. It is too easy to let life go by without thinking about how we are impacting those around us.
Watching  episode one of Homeland, season three whenever we get home tonight. We are a bit wary because we've heard that season three is not very good…. We shall see.
Needing  to hang up things on our walls. For some reason whenever we move, it takes us months and months to get around to hanging up things on the walls. I plan to fix that today.
Feeling  sleepy. Perhaps it's time for another nap?
Clicking  Pinterest and Etsy. Trying to find some wall art to go in the empty wall space above our couch. We are thinking about going with something travel-themed.
Happy Sunday!
This post is for the TSC blog link up at siddathornton. Share yours and link it up!
Click here to see all of my Scenes From the Week posts.
I'm also linking up with B Loved Boston.