Welcome to my Scenes From the Week series. In these posts, I share the highlights from my previous week ranging from the simple, everyday things to the more memorable events. One of the primary reasons that I blog is to keep a journal that I can look back on in the future, and these posts help serve that purpose.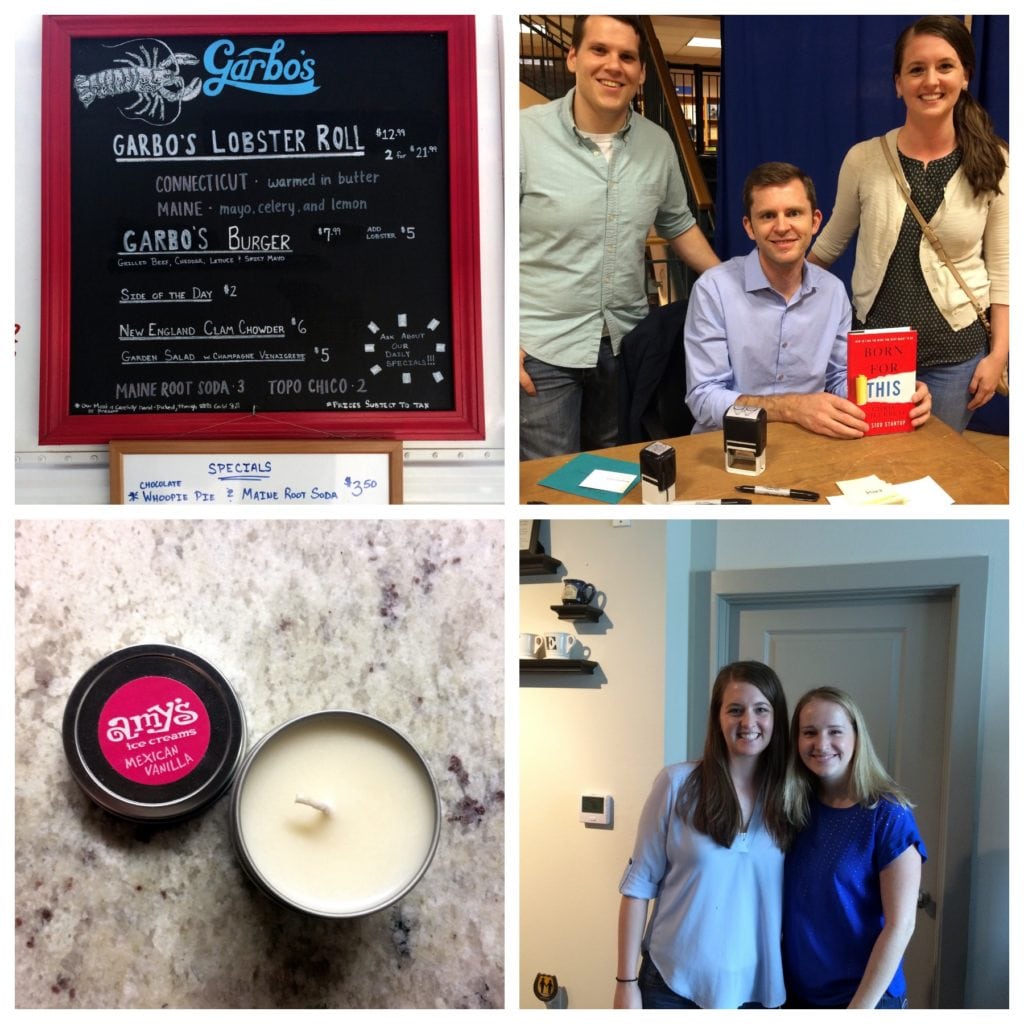 (1) I got to try out Austin's famous Garbo's food truck this week! It was parked outside one of my client's buildings. I ordered a delicious Connecticut-style lobster roll. I'd had a cold lobster roll in Maine before, but I didn't know that the Connecticut-style came warmed with butter. It was delicious!
(2) Friday night I went to Chris Guillebeau's Austin stop for his book tour. I've been reading Chris's books and blog for a long time. His writing has inspired a lot of the big steps I've taken in my life over the past few years (blogging, traveling, taking time off from work, going on a reduced work schedule, etc). I also learned about travel hacking from him, and took his Creating Your Dream Trip a Reality course last year. I can't recommend his work enough! It was great to get to meet him and hear him give a talk at a local bookstore here in Austin.
(3) We went out for Amy's Ice Cream this weekend (one of my favorite places in Austin!), and I always order something with the Mexican Vanilla flavor. After Daniel placed our ice cream order, he came back to the table with an Amy's Mexican Vanilla candle! What a fun treat!
(4) For the first time, I met one of my blogging friends in real life! We met for lunch this weekend and had a great time visiting during her time in Austin. Mandy is just as kind and fun in person as she is online. Check out her blog here!
Not pictured:
It was mostly a normal week of working, so I don't have much more to report. But I am very proud to say that I made it to classes at the gym five times this week! I did a mix of spin, yoga, and pilates. Let's hope I can keep it up!
Have a great week!
Click here to see all of my Scenes From the Week posts.
{Linking up with B Loved Boston for the Weekending link-up}