Welcome to my Scenes From the Week series. In these posts, I share the highlights from my previous week ranging from the simple, everyday things to the more memorable events. One of the primary reasons that I blog is to keep a journal that I can look back on in the future, and these posts help serve that purpose.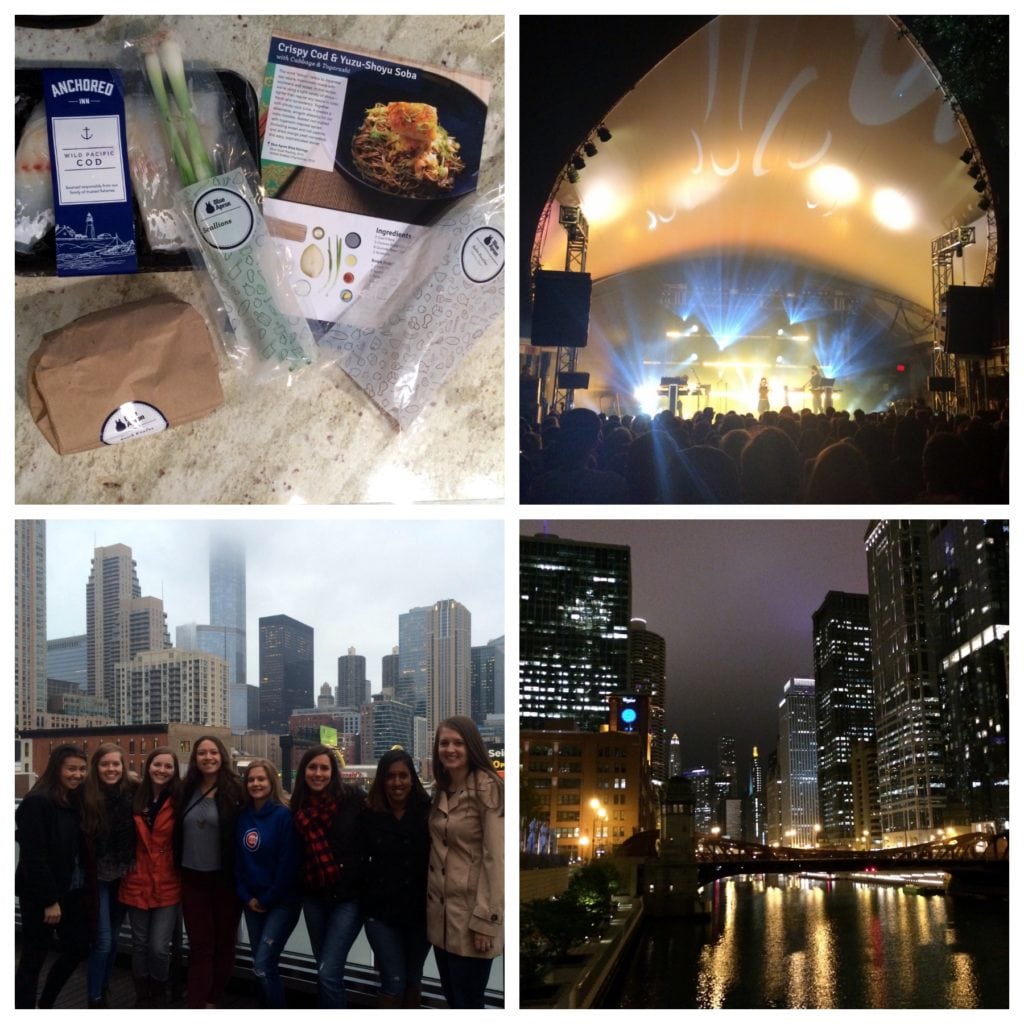 (1) We got a free week of Blue Apron meals using a promotion code from my friend. This was our first time using Blue Apron, and we loved it! I will say that it is not good for a night that you want to whip something together really fast. It always took me longer to make than the recipe suggested (usually about an hour total). But the food was DELICIOUS, and I loved that we didn't have to go to the store for the ingredients and especially that we didn't have any leftover ingredients that would just go bad in our fridge and pantry.
(2) For Daniel's birthday back in February, I got him tickets to the CHVRCHES concert in Austin. It was last Thursday, and we had a great time! They are quickly becoming one of my favorite new bands. If you have not heard them before, I recommend you look up their songs Clearest Blue, The Mother We Share, or Under the Tide to start.
(3) Friday afternoon I flew to Chicago for my friend Lauren's bachelorette party! We had such a good time celebrating her last month of singlehood in one of my favorite cities. It was great to see several of my other friends from DC too!
(4) I took this picture walking in the city with my friends after a scrumptious dinner of deep dish pizza at Lou Malnati's!  I love this picture because it was one of the few moments that it wasn't pouring rain over the weekend. Such good memories in a beautiful city.
Not Pictured:
I'm learning how to use Tailwind for scheduling Pinterest posts as part of the Pinterest 4 Bloggers course I'm taking. I haven't used it much yet, but I'm getting excited about using it and learning more about it.
I'm proud to say I'm still making it to the gym fairly consistently. Loving my new spinning shoes for spin class!
I finished the book Fates and Furies, and I could not stand it. I haven't disliked a book that much in a long time.  I just did not find it interesting, and the characters were some of the most unlikeable I have come across. Have any of you read it? What was your opinion?
On the Blog:
Have a great week!
Click here to see all of my Scenes From the Week posts.
{Linking up with B Loved Boston for the Weekending link-up}