Welcome to my Scenes From the Week series. In these posts, I share the highlights from my previous week ranging from the simple, everyday things to the more memorable events. One of the primary reasons that I blog is to keep a journal that I can look back on in the future, and these posts help serve that purpose.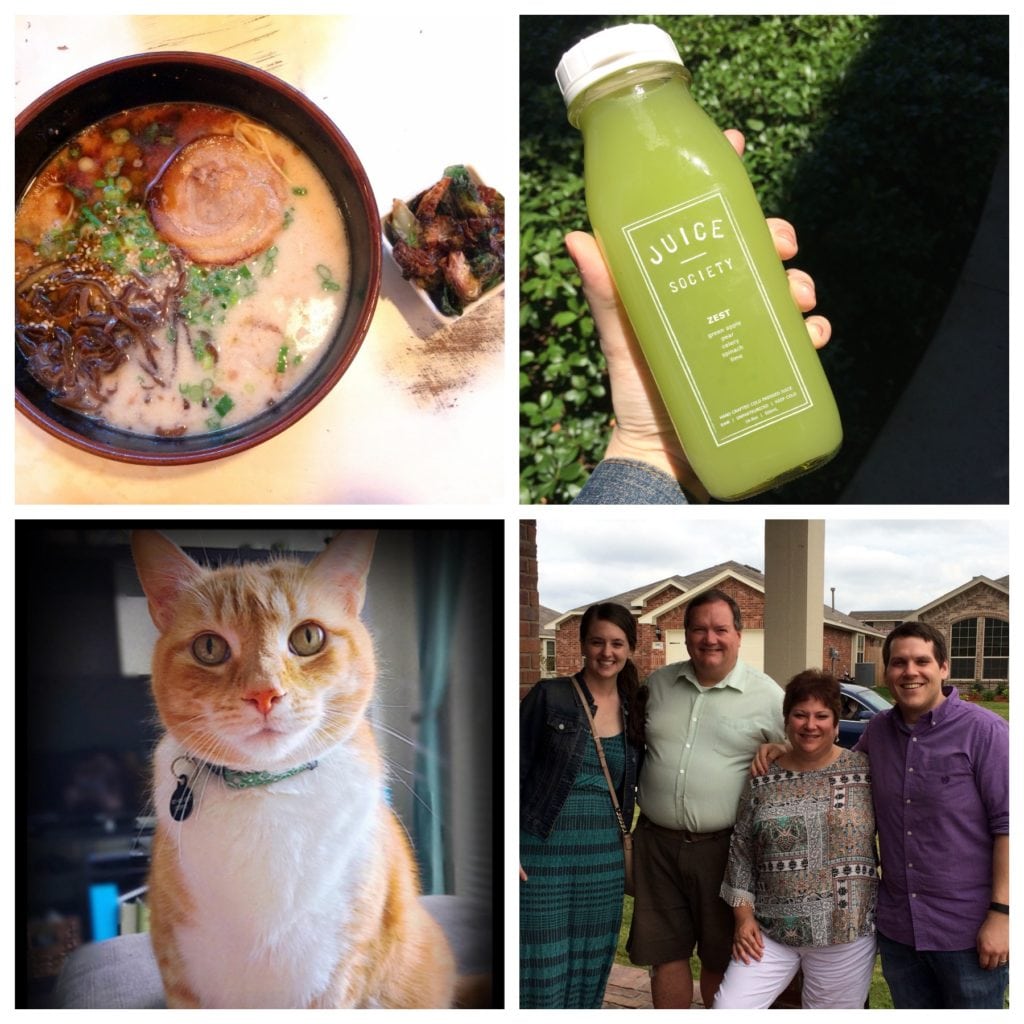 (1) This isn't the first time this beautiful bowl of ramen has been featured on the blog, but I can't help myself! A bowl of The Original with brussel sprouts at Ramen Tatsu-ya in Austin just can't be beat.
(2) Friday we decided to go try out the new juice shop across the street, Juice Society. I chose the Zest flavor. It tasted really good and healthy! I'm not sure how often we will be going there because it's pretty pricey, but it was fun to try.
(3) We spent the weekend with Daniel's family in Fort Worth celebrating Mothers' Day. Our cat sitter sent this adorable picture of Banana when she went to feed him Saturday. I thought it was cute! I love my handsome boy. 🙂
(4) We had a fabulous weekend with Daniel's family. On Friday, we went to a live music event at the winery where they are members, and on Saturday, we went to see The Jungle Book (really great movie!) and had dinner at Abuelo's. Sunday we went to church and had a wonderful Mothers' Day lunch at the Abernathy's house that involved shrimp and avocado salad with salmon. Yes, my eyes are almost closed in this picture, but everyone else looks great, so I thought I'd still share!
Not Pictured:
I said this weekend was fabulous, and it was, except for the 3am trip to the emergency room early Saturday morning. Daniel woke up with severe stomach pain, so we found the nearest urgent care center and ran over. He was taken care of and we were back home around 5:30am. He's doing fine now, but we are glad we went and got medication to help with the pain.
Now that I've been back to work for just over a month, I can officially say that my reduced schedule has been a success. My client load is much more manageable, and I'm happier and more productive at work.
I'm so close to finishing up After You on Audible. Any recommendations for what I should listen to next? I listen to my Audible books VERY slowly because the only time I usually listen to them is on my short bus rides home from work, and I only ride the bus home three afternoons a week.
On the Blog:
Have a great week!
Click here to see all of my Scenes From the Week posts.
{Linking up with B Loved Boston for the Weekending link-up}