Welcome to my Scenes From the Week series. In these posts, I share the highlights from my previous week ranging from the simple, everyday things to the more memorable events. One of the primary reasons that I blog is to keep a journal that I can look back on in the future, and these posts help serve that purpose.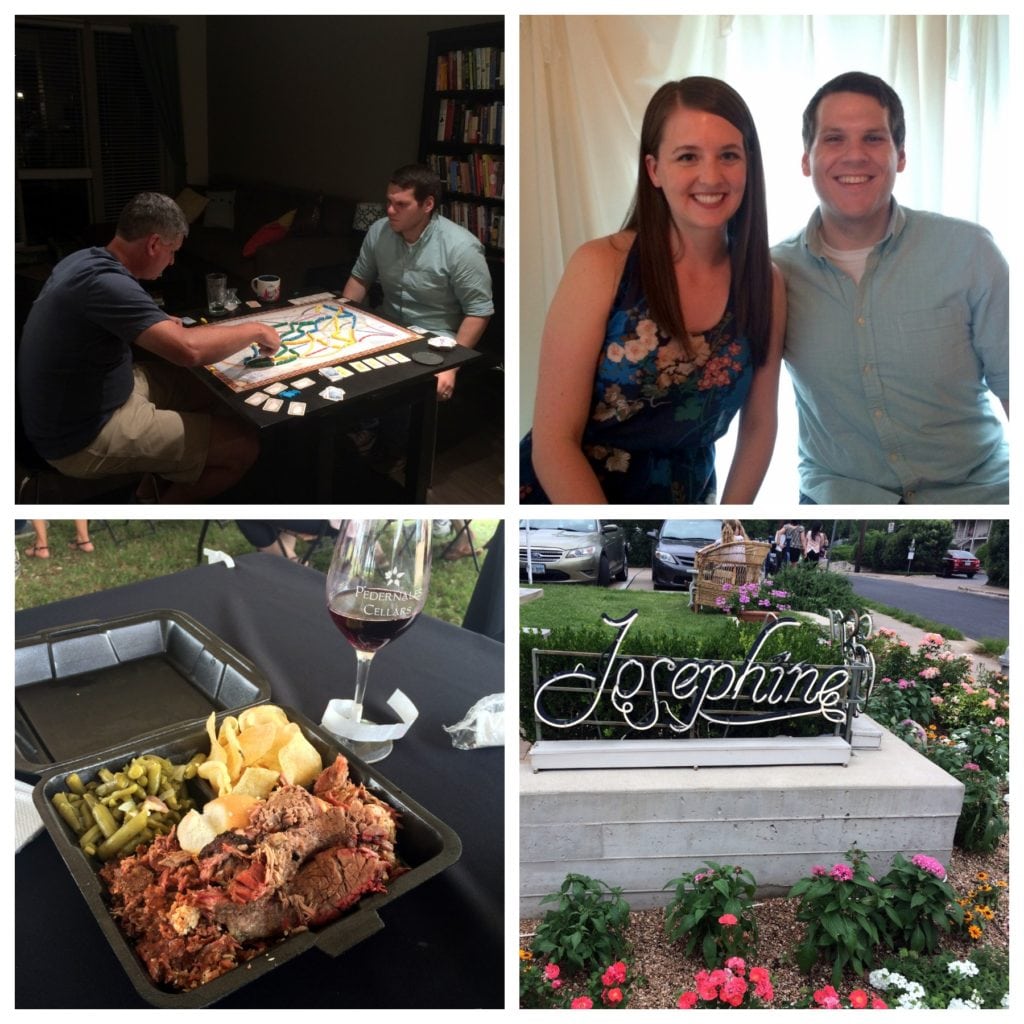 This was a very special week. Not only did we get to see family and friends, but also my birthday was Friday and our five year anniversary was Sunday!
(1) My dad was in town for a conference, so we had him over for dinner and a game Tuesday evening. We had a great time eating crockpot BBQ chicken tacos and playing Ticket to Ride.
(2) Friday we went to a restaurant here in Austin called Lenoir that we had been saving for a special occasion. The restaurant is beautiful, and the food was delicious!
(3) Saturday we went to the Hill Country and visited a winery. They were having a special event that included a BBQ food truck and live music. It was a beautiful day in the Hill Country while it was pouring in Austin. I'm not sure how we got so lucky!
(4) On our anniversary we went to brunch at Josephine House (which is basically the cutest restaurant I've ever seen). This picture of the flowers in the front is just a little snippet of how tasteful this place is. Also, I ate the best pancakes I've ever had (think lemon ricotta and melt-in-your-mouth). We will definitely be back.
Not Pictured:
We got to spend time with a good friend from DC who was here visiting with a group of her friends.
After dinner on Friday, we met up with friends to continue the celebration!
We had our anniversary dinner at Launderette, a former laundromat-turned gourmet restaurant. It was (hands-down) fantastic! Of course, we ended with dessert. I had the birthday cake ice cream sandwich, and it was divine.
On the Blog:
I shared our day trip driving the Ring of Kerry during our Irish road trip. It was a beautiful day despite the cold and rainy weather.
Have a great week!
Click here to see all of my Scenes From the Week posts.
{Linking up with B Loved Boston for the Weekending link-up}