Welcome to my Scenes From the Week series. In these posts, I share the highlights from my previous week ranging from the simple, everyday things to the more memorable events. One of the primary reasons that I blog is to keep a journal that I can look back on in the future, and these posts help serve that purpose.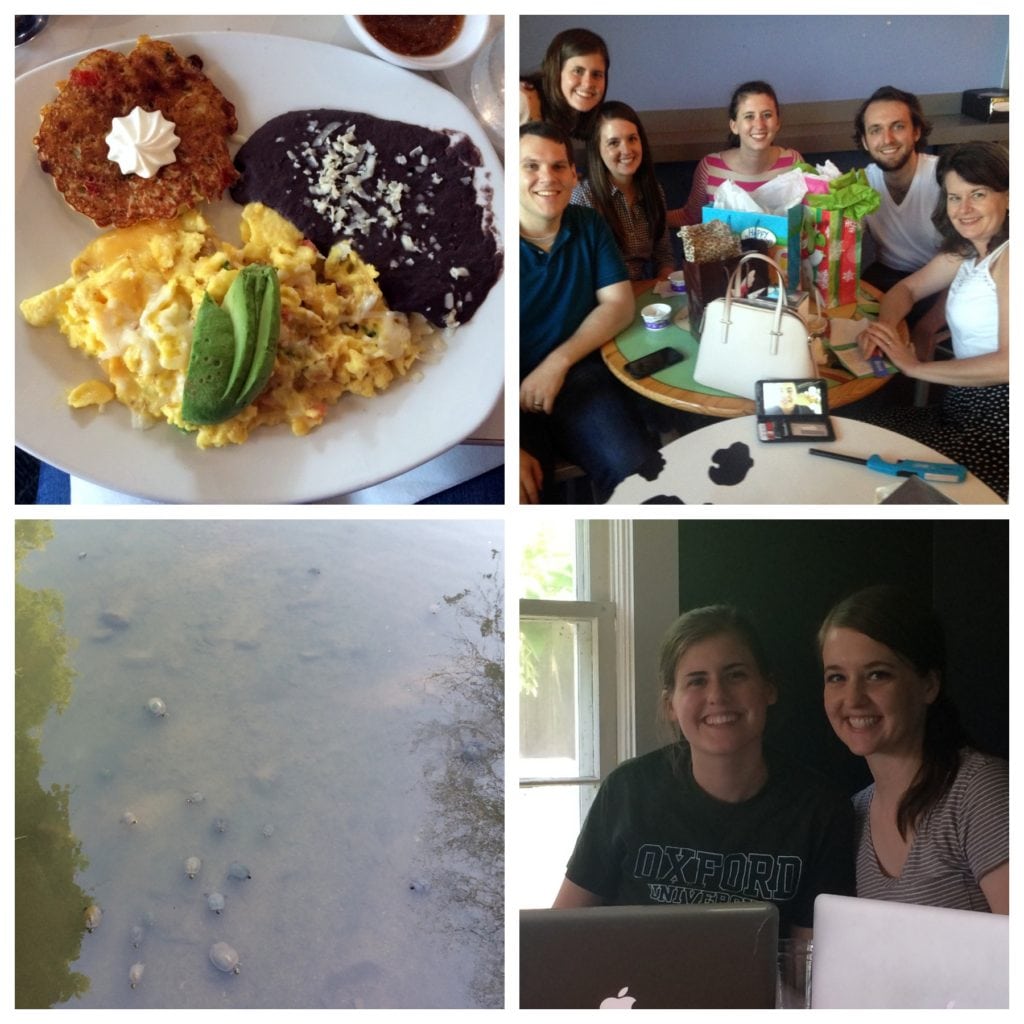 (1) To kick off the holiday weekend, Daniel and I had brunch at South Congress Cafe. We hadn't eaten there since the day we came to Austin to look for apartments back in December 2014. It's a great place to go if you want a combination of tex-mex and breakfast food!
(2) We celebrated my mom's birthday as a family this weekend. We had a fun-filled weekend of good food, ice cream, movies, the outdoors, and relaxing.
(3) We enjoyed the sunshine this weekend by walking around some park areas near downtown. We saw a group of turtles legitimately begging for food in the creek! Have you ever seen turtles beg? I haven't, and I thought it was really cute. They were just sitting there patiently waiting….
(4) My sisters and Daniel and I spent time at a local coffee shop on Monday getting various work/projects done. It was fun to hang out together and be productive at the same time. This is me and my little sister Ellen!
Not Pictured:
Did you know Tom's does coffee roasting? We visited the Tom's coffee shop in Austin. It is a combined coffee shop and retail store. It is really neat to see a brand with such a good purpose expanding and growing.
We saw the new X-Men movie which I actually thought was pretty entertaining.
We went to Bath and Body Works and picked up some summer candles. I've forced myself to not buy any candles since we got back from Europe until now, so I was so excited to pick up a few. I'm currently burning the New York: Beautiful Day candle, and it smells just like a sunny day at a park. 🙂
On the Blog:
I shared our day spent driving around the Dingle Peninsula in Ireland here! I took some of my favorite Ireland pictures that day.
Have a great week!
Click here to see all of my Scenes From the Week posts.
{Linking up with B Loved Boston for the Weekending link-up}