Welcome to my Scenes From the Week series. In these posts, I share the highlights from my previous week ranging from the simple, everyday things to the more memorable events. One of the primary reasons that I blog is to keep a journal that I can look back on in the future, and these posts help serve that purpose.
This past week was all about getting things ready to take a couple days off work so we could take our quick four-day trip to Costa Rica! We found a great deal on points (free flights and mostly free hotel stay), so we thought, why not?
We stayed at Hyatt's Andaz Papagayo Peninsula Resort, and it is the perfect place to get away and "do nothing". Some of you may know that I have a little hobby called "travel hacking", and here is a quick tip that I just have to share. With the Hyatt credit card, you get one free night annually at any Hyatt hotel category 4 or below (out of 7 categories), and somehow the Andaz in Costa Rica is only a category 4, which makes this a travel hacker's paradise! We actually met several other people at the resort who were using their free nights as well. Daniel and I each have the Hyatt credit card which got us two free nights. (Actually, the best deal this credit card gives you is the two free nights in the first year at ANY of the Hyatt properties around the world. I haven't written about our stays with these free nights yet, but one day I will. We got two free nights at the Park Hyatt Vienna and two free nights at the Park Hyatt Milan, both VERY fancy hotels in fantastic locations.)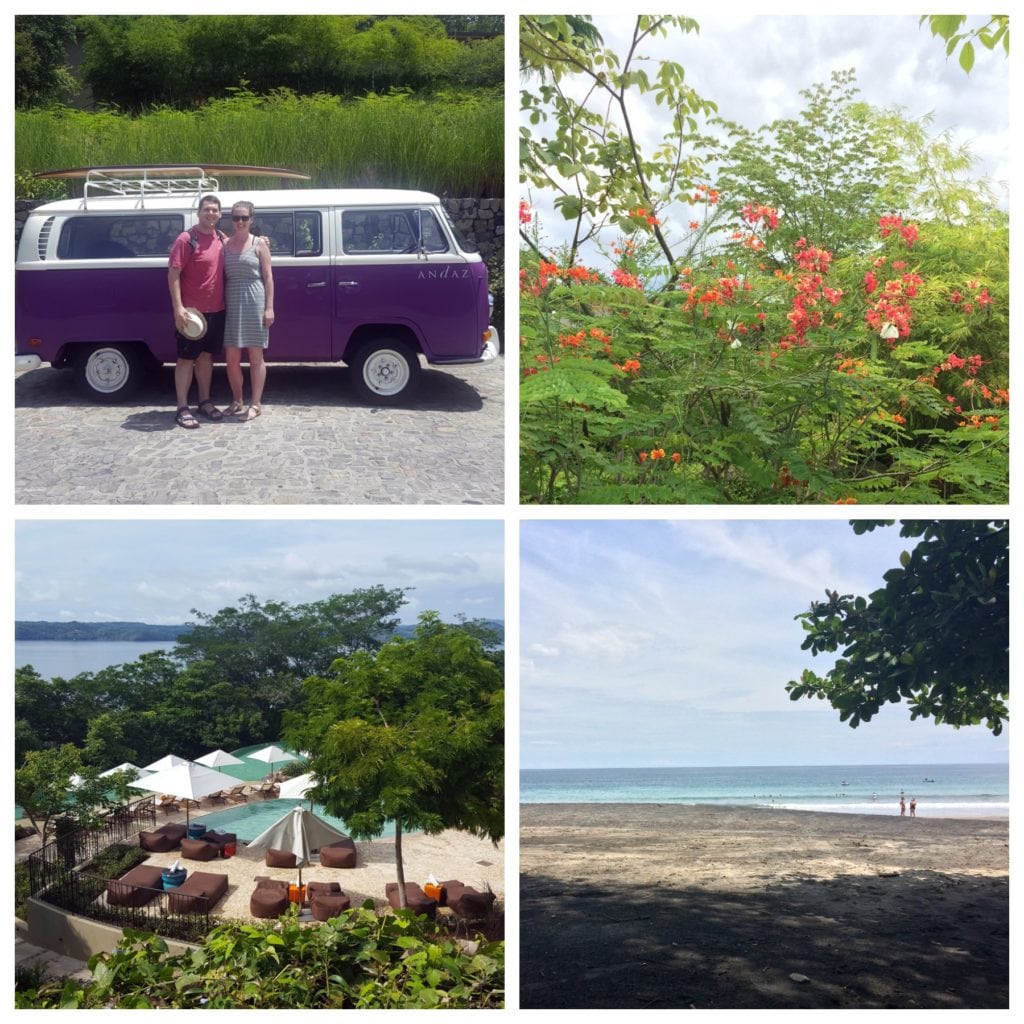 Here are some quick highlights from our time in Costa Rica, top left to bottom right:
(1) This is us posing in front of the cute Andaz VW van at the front of the resort. Ready to spend time in the sun!
(2) The wildlife and plant life on this resort were my favorite part of our getaway. We couldn't get great pictures, but we saw so many iguanas and monkeys by the pool! This picture is of the cute white butterflies we saw all over the beautiful flowers.
(3) This is a view of one of the pools tucked right into the rainforest. I'm going to miss this!
(4) One of our excursions off of the resort was to a nearby beach. Not a bad view!
Not Pictured:
Lots of time by the pool
Several delicious Costa Rican meals at the Andaz restaurants (ceviche! plantain chips!)
Two books read!
The resort offered many activities on the property. One of the activities we did was a barista class where we met with the resort's head barista and learned about Costa Rican coffee and six different ways of making coffee. It was so educational and fun!
A fantastic dinner at the nearby Four Seasons Costa Rica
On the Blog:
I shared the last segment of our Irish road trip: our drive around the stunning Connemara region! Click here to read it.
Have a great week!
Click here to see all of my Scenes From the Week posts.
{Linking up with B Loved Boston for the Weekending link-up}