Welcome to my Scenes From the Week series. In these posts, I share the highlights from my previous week ranging from the simple, everyday things to the more memorable events. One of the primary reasons that I blog is to keep a scrapbook that I can look back on in the future, and these posts help serve that purpose.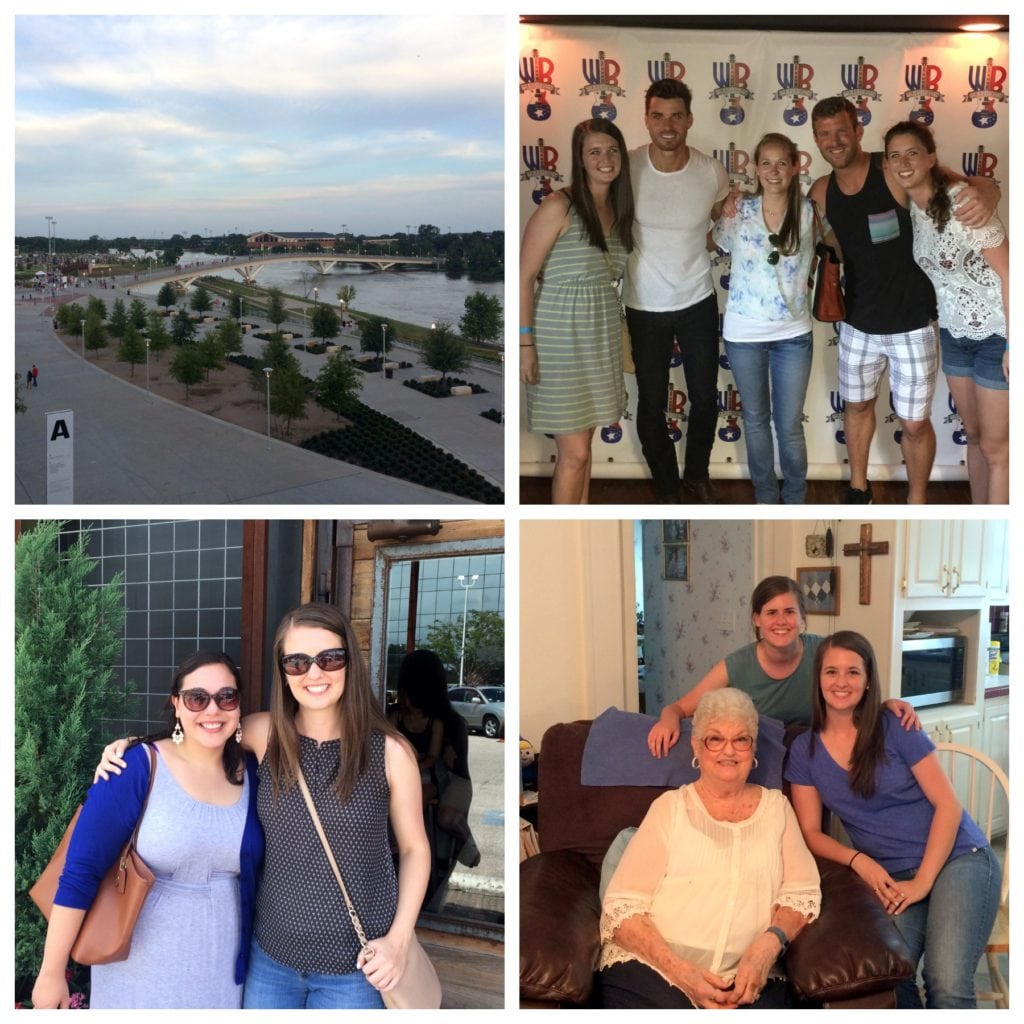 Photos from the week, top left to bottom right:
(1) This was quite the eventful week! We kicked it off with a day off for the 4th of July on Monday. We spent the morning getting a few things done at home, and then we hit the road to Waco to join my family for the fireworks show at Baylor. We got to Waco a few hours before the show, so we were able to see my aunt and uncle's new house that they are building in Waco and say hi to my grandparents. This picture is our view from where we set up to watch the fireworks. It was a lovely evening!
(2) As I mentioned in my Currently post last week, my sister, one of my friends, and I went to a fun meet and greet event and concert for the two Texas boys on The Bachelorette on Wednesday. James and Luke from the show both performed concerts, but before the concerts began, we got to meet them! They are both very nice in person, and you can tell that they really appreciate their fans and are still very new to having fans. 
(3) When the short work week ended, we hit the road again, but this time we headed all the way to Dallas. We had such a fun weekend seeing family and friends. We hung out with my great friend from high school and her fiancé on Friday night. We spent a lot of time having dinner and hanging out in the new Greenville area of Dallas. Dallas has really been growing on us over the past couple years. There are so many fun places and things to do now!
(4) On Sunday, we headed to my grandparents' house about an hour east of Dallas and spent lunch and most of Sunday afternoon there. It's always great to see my grandparents, but this time was especially nice because we talked a lot about our family's history and flipped through lots of photo books. Oh, and I also taught my grandma how to use Snapchat!
Not Pictured:
While Daniel spent time with his good college friend Saturday night, I joined my sister and cousin for Greek food and a movie and a generally low-key evening. We had a great girls' night!
We stopped by Sonic at a gas station on the way home from Dallas on Sunday, and I discovered their new line of milkshakes with very unique flavors. I tried the Brown Sugar Bourbon one, and it was delicious!
I had the wonderful opportunity to "meet" Blair from Blair Blogs via Skype Friday. I'm starting her new Blog Mentorship Program, and I'm already learning so much! I can't wait to continue to learn more about blogging and to get to know Blair more throughout the program.
On the Blog:
Have a great week!
Click here to see all of my Scenes From the Week posts.
{Linking up with B Loved Boston for the Weekending link-up}