Welcome to my Scenes From the Week series. In these posts, I share the highlights from my previous week ranging from the simple, everyday things to the more memorable events. One of the primary reasons that I blog is to keep a scrapbook that I can look back on in the future, and these posts help serve that purpose.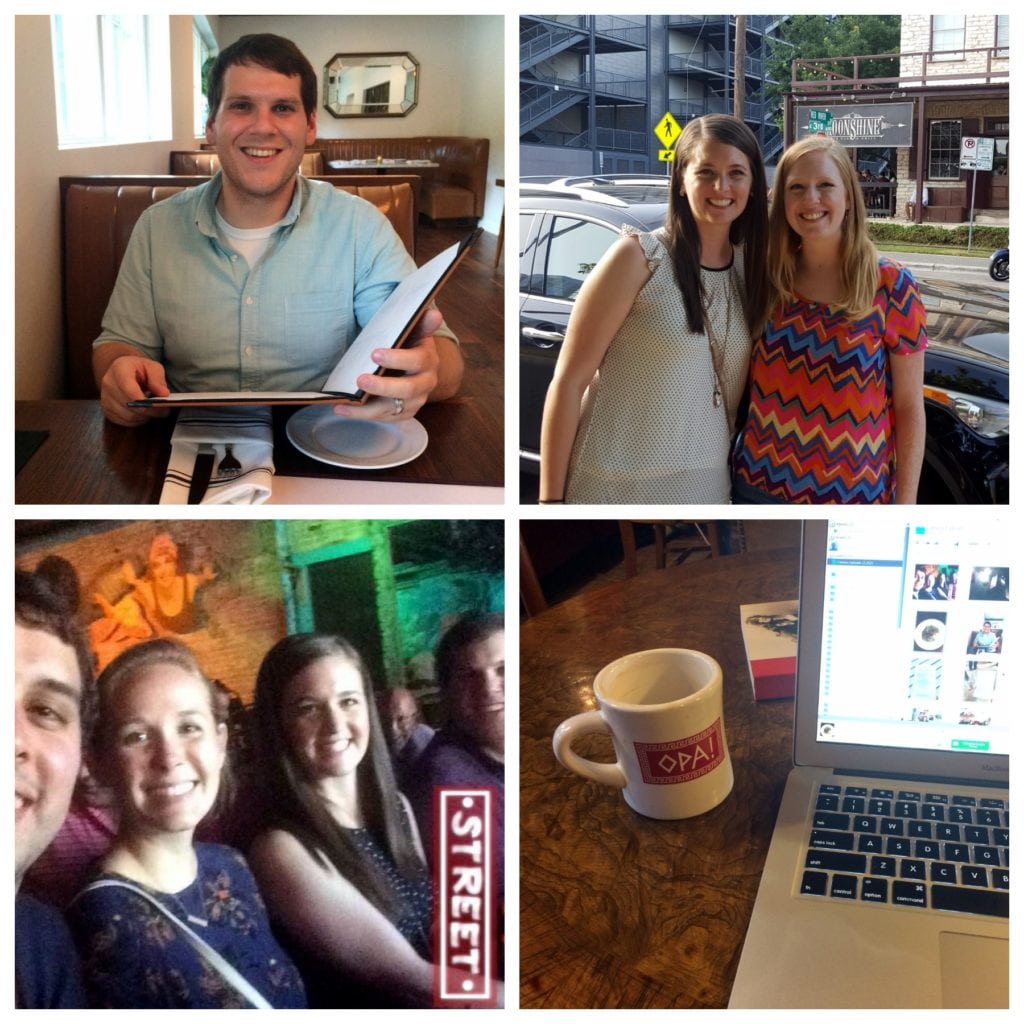 Photos from the week, top left to bottom right:
(1) We went to a fun wine tasting event at a nearby local restaurant. Since we were finished at the event much earlier than planned, we caved and ended up having dinner there, even though we were supposed to do something quick that night. What can I say? The delicious Italian food was calling us!
(2) We kicked off the weekend with dinner at Moonshine with our friends Allison and Ross. Allison and I were best friends in sixth grade, and ever since she moved away that year, we have only spoken occasionally. Now we are starting to hang out more, and it's like we never stopped! 
(3) I wish I had gotten another picture of our Saturday night, but this blurry screenshot from Snapchat will have to do! We enjoyed an evening of dinner and a comedy show with our friends. We love hanging out with Kaelin and Andres!
(4) On Sunday, I had lots of blogging to do, so we headed to a favorite coffee shop to hunker down and get things done.
Not Pictured:
Two spin classes and two barre classes – Let's see if I can make it to the gym five times next week!
A productive Saturday morning and afternoon spent cleaning and getting home projects done
Trying to catch up on reading – I was on a roll at the beginning of the year, but I've really slowed down!
On the Blog:
Have a great week!
Click here to see all of my Scenes From the Week posts. I'm linking up with Biana at B Loved Boston for the Weekending link-up!
{Thanks for reading! Want to know a little more about me? I'm a CPA learning how to balance a career with frequent travel while planting roots at home in Austin, TX. When I'm not exploring my home city with my husband Daniel or cuddling with our chubby orange cat Banana, I'm probably planning, packing, traveling to, or daydreaming about our next adventure. After all, my travel mug collection is never complete. If you have wanderlust too, be sure to follow me on Instagram, Pinterest, Snapchat (emilya89), or subscribe to my blog!}