Welcome to my Scenes From the Week series! In these posts, I share the highlights from my previous week ranging from the simple, everyday things to the more memorable events. One of the primary reasons that I blog is to keep a scrapbook that I can look back on in the future, and these posts help serve that purpose.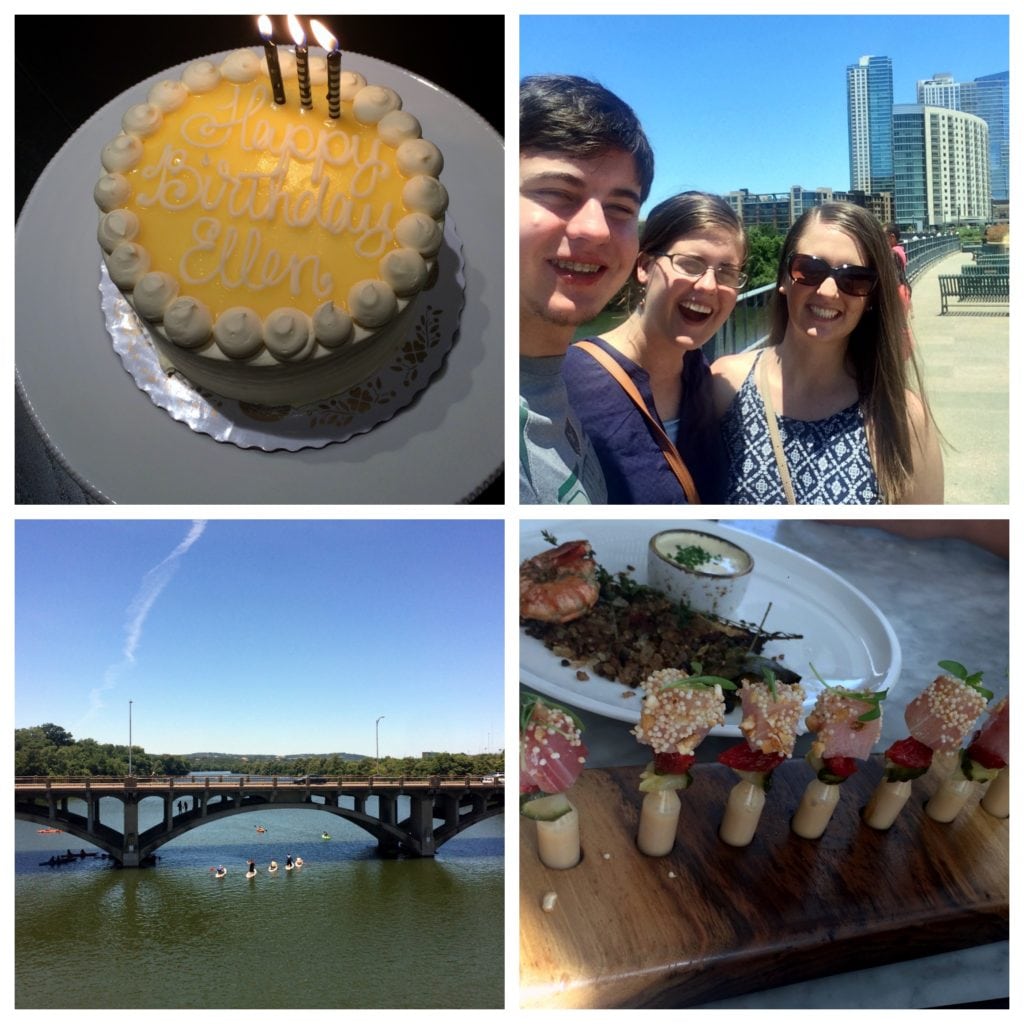 Photos from the week, top left to bottom right:
(1) Friday was my sister Ellen's birthday, so she took the train from Dallas to Austin to hang out for the weekend! We kicked off the weekend of celebrations with Shake Shack and a delicious lemon cake from a cute local bakery. My brother came to Austin for the weekend too, so it was a fun sibling gathering.
(2) Saturday we took a little walk around our area of Austin and stopped on the pedestrian bridge to watch all of the people on kayaks and paddle boards. The view from the bridge is always beautiful with a Hill Country view to one side and downtown to the other.
(3) This is the view from that same bridge. I love my city!
(4) We continued the celebration into Saturday night and had dinner at Vox Table, a restaurant that has very creative small plate dishes to share. We shared an assortment of plates, but one of the most unique were these smoked hamachi pipettes – fish with tomato raisins, pickled cucumber, thai chili, and coconut soy vinaigrette that you squeeze out of the tube after eating the rest. Yum!
Not Pictured:
Too many episodes of The Good Wife watched
Lunch with my father-in-law
Makeup shopping with my sister (her requested birthday gift)
Sunday lunch for our friend Jordan's birthday
Lots of weekend trip planning
On the Blog:
Have a great week!
Click here to see all of my Scenes From the Week posts. I'm linking up with Biana at B Loved Boston for the Weekending link-up!
{Thanks for reading! Want to know a little more about me? I'm a CPA learning how to balance a career with frequent travel while planting roots at home in Austin, TX. When I'm not exploring my home city with my husband Daniel or cuddling with our chubby orange cat Banana, I'm probably planning, packing, traveling to, or daydreaming about our next adventure. After all, my travel mug collection is never complete. If you have wanderlust too, be sure to follow me on Instagram, Pinterest, Snapchat (emilya89), or subscribe to my blog!}