Welcome to my Scenes From the Week series! In these posts, I share the highlights from my previous week ranging from the simple, everyday things to the more memorable events. One of the primary reasons that I blog is to keep a scrapbook that I can look back on in the future, and these posts help serve that purpose.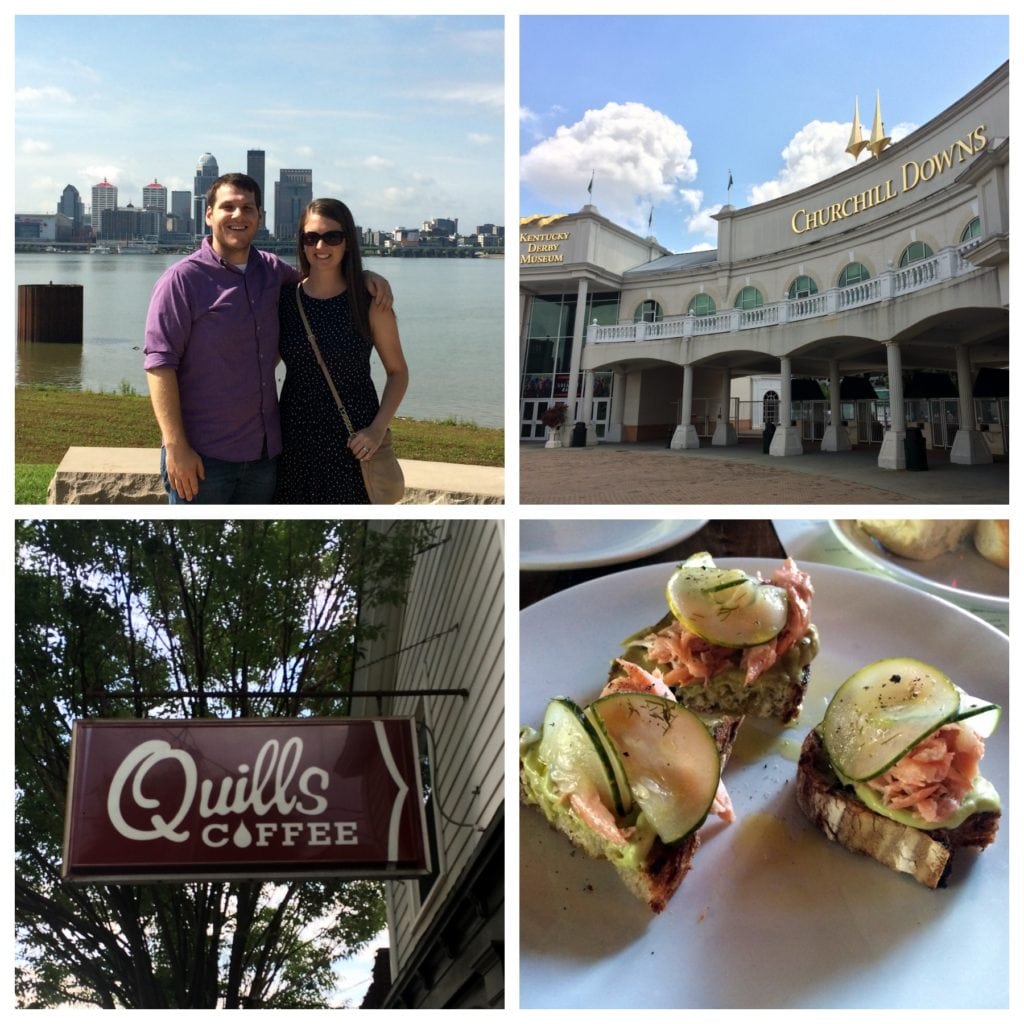 Photos from the week, top left to bottom right:
(1) On Friday I flew to Louisville, Kentucky! Daniel was already there for a conference, so we thought, why not make a weekend of it? We had heard such good things about Louisville, so we couldn't wait to explore (and eat!).
(2) One of the main events of the weekend was a city tour that involved history, food, and lots of fun stops including the famous Churchill Downs!
(3) Another new city, another new favorite coffee shop. We loved Quill's Coffee and actually went twice during our two days there!
(4) We went to several amazing restaurants in Louisville, but I will never forget this salmon toast, one of our shared plates at Rye on Saturday evening.
Not Pictured:
A full day of flight delays and craziness on the way to Louisville on Friday (flight delayed until late, rebooked, new flight delayed, no parking to be found at airport until circling airport four times, bag searched at security, rebooked to original flight, midnight arrival in Louisville)
Staying at an adorable Airbnb owned by one of my favorite bloggers!
Touring a beautiful historic home (Conrad-Caldwell House Museum)
Fantastic farm-to-table brunch at Harvest
Checking two states off my to-visit list – our Saturday city tour took us across the border to Indiana as well as to many sites in Kentucky!
Sunday night flight delays with an unexpected night spent in Atlanta (because of said flight delays)
On the Blog:
Yesterday I shared a one day travel guide for Nice, France – our first stop on our French Riviera adventure!
Have a great week!
Click here to see all of my Scenes From the Week posts.
{Thanks for reading! Want to know a little more about me? I'm a CPA learning how to balance a career with frequent travel while planting roots at home in Austin, TX. When I'm not exploring my home city with my husband Daniel or cuddling with our chubby orange cat Banana, I'm probably planning, packing, traveling to, or daydreaming about our next adventure. After all, my travel mug collection is never complete. If you have wanderlust too, be sure to follow me on Instagram, Pinterest, Snapchat (emilya89), or subscribe to my blog!}