Welcome to my Scenes From the Week series! In these posts, I share the highlights from my previous week ranging from the simple, everyday things to the more memorable events. One of the primary reasons that I blog is to keep a scrapbook that I can look back on in the future, and these posts help serve that purpose.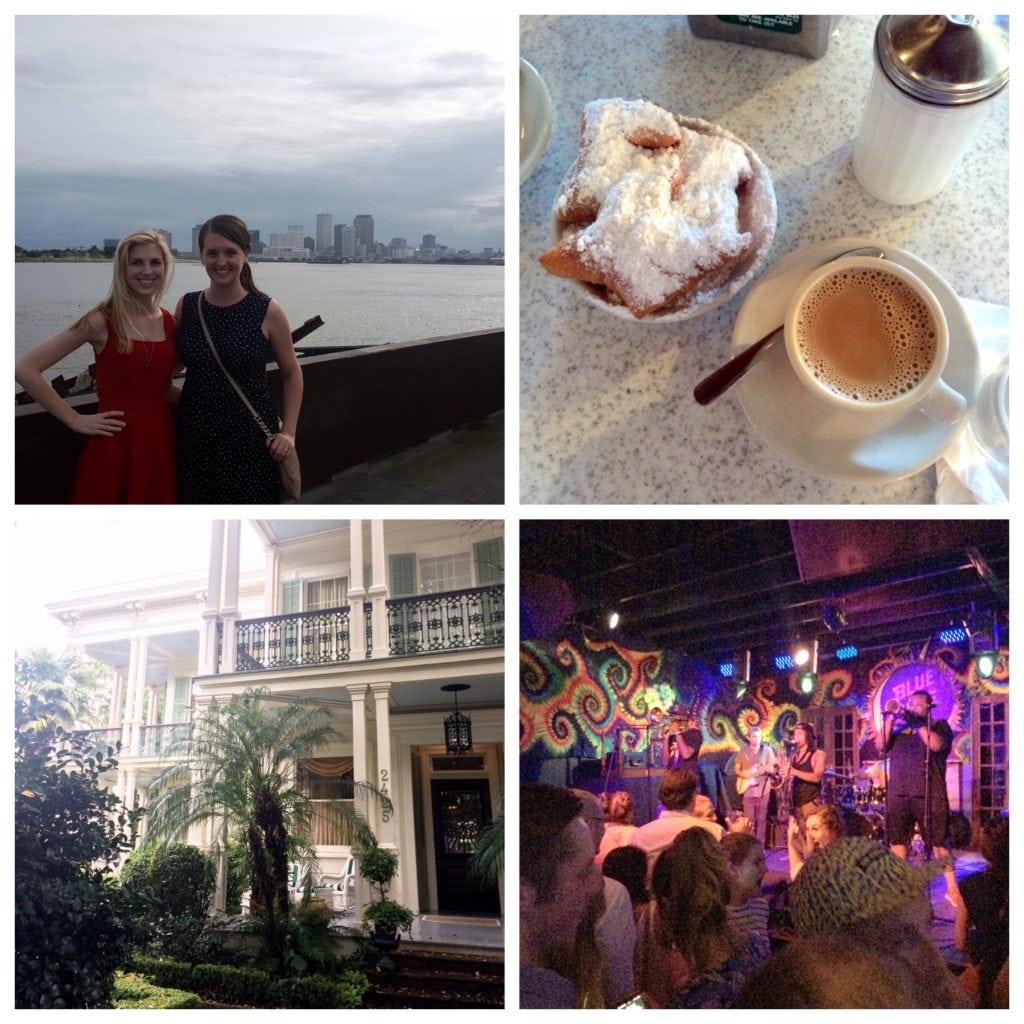 Photos from the week, top left to bottom right:
(1) This weekend we drove to New Orleans for the weekend! I have a good friend who lives in NOLA, and we had been wanting to get out there to visit her for a while. We had such a great weekend! We were very lucky with the weather; while rain was pounding and flooding most of the rest of Louisiana, New Orleans only got a little bit of that rain this weekend.
(2) Right when we arrived in New Orleans early Friday afternoon, we headed to a walking tour of the French Quarter. The tour was great and ended right by Cafe Du Monde, so we grabbed a table and enjoyed a basket of beignets and two cafe au laits. The beignets were just as good as I ever imagined!
(3) Saturday morning we did our second and favorite walking tour in the Garden District and Lafayette Cemetery. Our guide knew his NOLA history, so he told many very interesting stories about the cemetery and about the gorgeous homes we walked past. We even saw Sandra Bullock's home and the house that was the main set of movie The Curious Case of Benjamin Button. As soon as I saw the house in this picture, I knew it was my favorite and snapped a picture, but our guide told us soon after that this was John Goodman's home!
(4) Saturday night we went out to hear some live jazz music on Frenchman Street, and we were not disappointed! The band we listened to at Blue Nile was excellent and a lot of fun.
Not Pictured:
An amazing jazz brunch at Mr. B's Bistro with an excellent jazz band playing
An unofficial food tour of all the areas of NOLA. My friend Brittany took us to the Bywater, Uptown, Mid-City, and French Quarter areas of the city, and we stopped for food in each place. It was a really fun way to see NOLA! I'm going to have to write a whole post on the places we ate at some point because we were very happy with our selections.
Listening to a really interesting audiobook, Dan Brown's Inferno, on our drive to and from NOLA
Dodging lots of flooded roads on our trip home Sunday
On the Blog:
Have a great week!
Click here to see all of my Scenes From the Week posts. I'm linking up with Biana at B Loved Boston for the Weekending link-up!
{Thanks for reading! Want to know a little more about me? I'm a CPA learning how to balance a career with frequent travel while planting roots at home in Austin, TX. When I'm not exploring my home city with my husband Daniel or cuddling with our chubby orange cat Banana, I'm probably planning, packing, traveling to, or daydreaming about our next adventure. After all, my travel mug collection is never complete. If you have wanderlust too, be sure to follow me on Instagram, Pinterest, Snapchat (emilya89), or subscribe to my blog!}