Welcome to my Scenes From the Week series! In these posts, I share the highlights from my previous week ranging from the simple, everyday things to the more memorable events. One of the primary reasons that I blog is to keep a scrapbook that I can look back on in the future, and these posts help serve that purpose.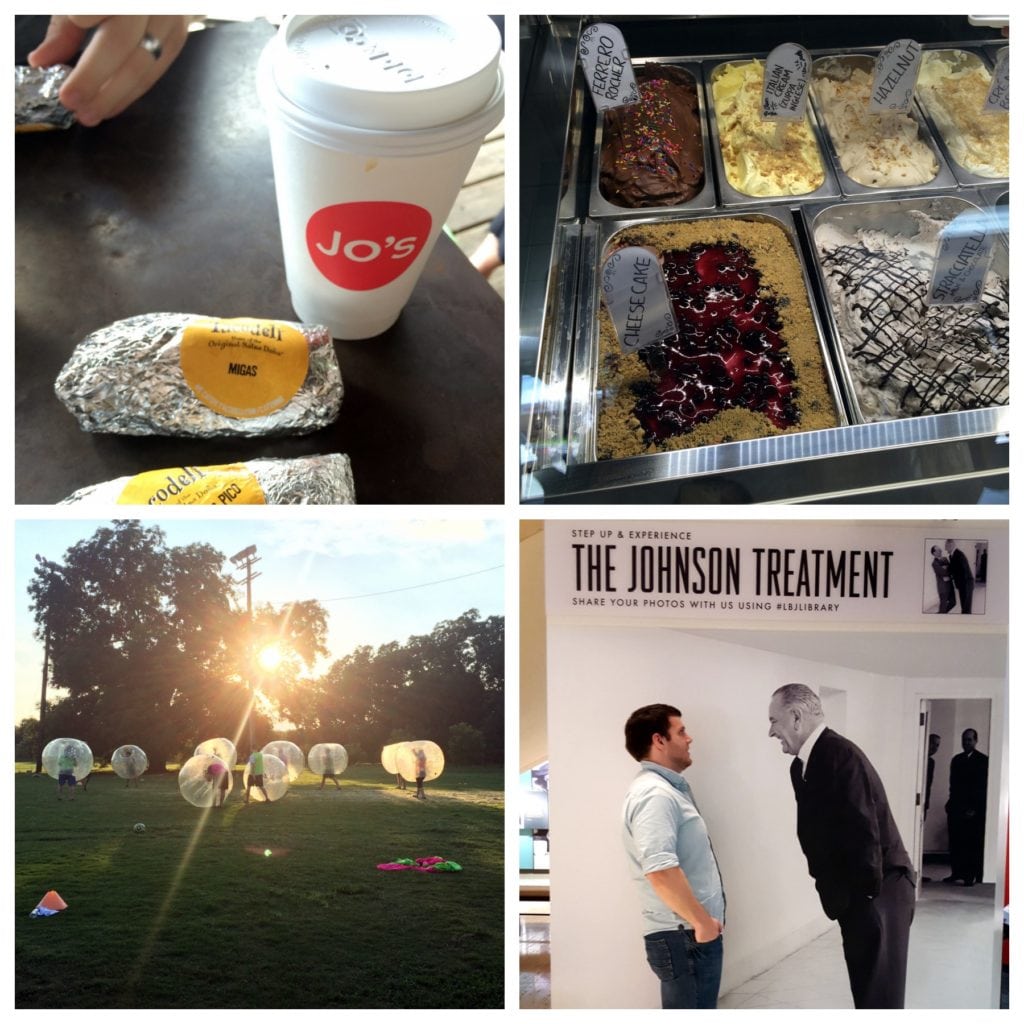 It was another wonderful weekend at home! Looking at the calendar, our fall weekends are very full, so we are soaking in the slower pace at home while we can.
Photos from the week, top left to bottom right:
(1) We visited an Austin institution for the first time on Friday morning,  Jo's Coffee on S Congress. We got breakfast tacos and coffees and enjoyed people watching for a few minutes. Apparently Jo's is a hot spot for Austin celebrity sighting, but we didn't see any. Next time!
(2) Saturday night we celebrated our friend Thom's birthday with bubble soccer in Zilker Park! We had a good time hanging out with people, eating pizza, and rolling around in plastic bubbles while kicking a ball (although it was incredibly hot inside those bubbles!).
(3) We went out for gelato at a new place down the street from us. We hadn't had gelato since our time in Italy earlier this year. When we walked in, we heard the owner and employees speaking Italian to each other, and the gelato was just as good as what we had in Italy! It gave us a fun walk down memory lane back to our three weeks exploring Italy earlier this year.
(4) Sunday after church and lunch, we set out to check off something from our Austin bucket list – a visit to the LBJ Library and Museum! The museum has several very well-done exhibits. My favorites were the LBJ Oval Office replica, Lady Bird Johnson's real office left how it was the day she left (with a stunning view of Austin!), and the phone booths where you could listen to actual phone calls between LBJ and many important people such as Martin Luther King and Jacqueline Kennedy. I highly recommend this museum to anyone visiting Austin!
Not Pictured:
Friday afternoon by the pool – I shared on my Instagram that while I'm a Fall girl at heart, I'm enjoying soaking up the sun right now because I've accepted the fact that Fall won't be showing up to Texas until November at the earliest.
Friday night date night with dinner at a new-to-us restaurant al fresco and a movie at home (I unfortunately cannot recommend the movie The Lobster, but apparently we are in the minority because it had incredible reviews….)
Trying out the Cuvee Coffee Bar on E 6th. It has a very cool atmosphere and great coffee!
Expanding my Rifle Paper Co. calendar wall print project from last week – I felt like it needed four more prints to complete the look I was going for in our living room, so we got that done this weekend.
On the Blog:
Have a great week!
Click here to see all of my Scenes From the Week posts. I'm linking up with Biana at B Loved Boston for the Weekending link-up!
{Thanks for reading! Want to know a little more about me? I'm a CPA learning how to balance a career with frequent travel while planting roots at home in Austin, TX. When I'm not exploring my home city with my husband Daniel or cuddling with our chubby orange cat Banana, I'm probably planning, packing, traveling to, or daydreaming about our next adventure. After all, my travel mug collection is never complete. If you have wanderlust too, be sure to follow me on Instagram, Pinterest, Snapchat (emilya89), or subscribe to my blog!}