Welcome to my Scenes From the Week series! In these posts, I share the highlights from my previous week ranging from the simple, everyday things to the more memorable events. One of the primary reasons that I blog is to keep a scrapbook that I can look back on in the future, and these posts help serve that purpose.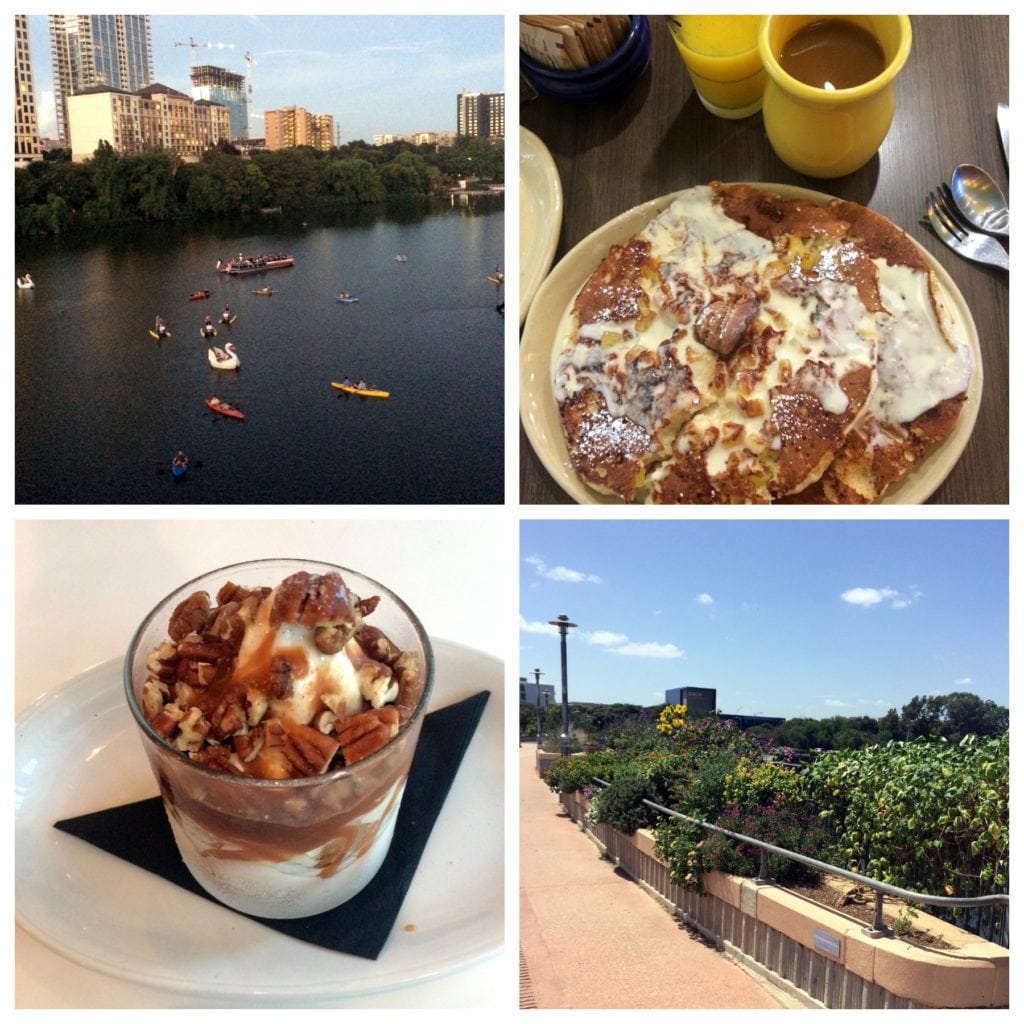 After a wonderful Labor Day weekend and week before, this week came crashing in with a lot of work and stress.  I have a huge deadline at work coming up, so we are working around the clock to get everything done in time. However, even the most stressful weeks have happy moments!
Photos from the week, top left to bottom right:
(1) Walking on the bridge over Lady Bird Lake one night at sunset, we saw lots of people kayaking, canoeing, and (swan) paddle-boarding! I fall in love with Austin all over again every time I walk by the lake.
(2) Saturday started bright and early with a pre-work brunch at Snooze. Look at these pineapple upside-down pancakes! They were delicious, but  I couldn't even eat half of them, so I enjoyed them for breakfast Sunday as well.
(3) My promotion at work was announced this week, so Daniel and I walked across the street to a local Italian place to celebrate. We ended dinner with a delicious caramel sundae.
(4) I got a haircut this week across the lake, and I saw these beautiful end-of-summer blooms while walking home across the pedestrian bridge.
Not Pictured:
We saw the movie The Light Between Oceans. I had read the book last year, and it was one of my favorites of the year, so I was very excited to see the movie! I thought the movie did a great job following the book. The scenery and music were beautiful, and the acting was very good.
My sister moved across town this weekend, so my parents came to help her on Sunday. While I was working most of the time they were here, I was able to escape for a quick lunch with them. It was great to catch up.
We met up for dinner at Hula Hut with a couple who just recently moved to Austin. We enjoyed meeting them!
On the Blog:
Have a great week!
Click here to see all of my Scenes From the Week posts. I'm linking up with Biana at B Loved Boston for the Weekending link-up!
{Thanks for reading! Want to know a little more about me? I'm a CPA learning how to balance a career with frequent travel while planting roots at home in Austin, TX. When I'm not exploring my home city with my husband Daniel or cuddling with our chubby orange cat Banana, I'm probably planning, packing, traveling to, or daydreaming about our next adventure. After all, my travel mug collection is never complete. If you have wanderlust too, be sure to follow me on Instagram, Pinterest, Snapchat (emilya89), or subscribe to my blog!}