Welcome to my Scenes From the Week series! In these posts, I share the highlights from my previous week ranging from the simple, everyday things to the more memorable events. One of the primary reasons that I blog is to keep a scrapbook that I can look back on in the future, and these posts help serve that purpose.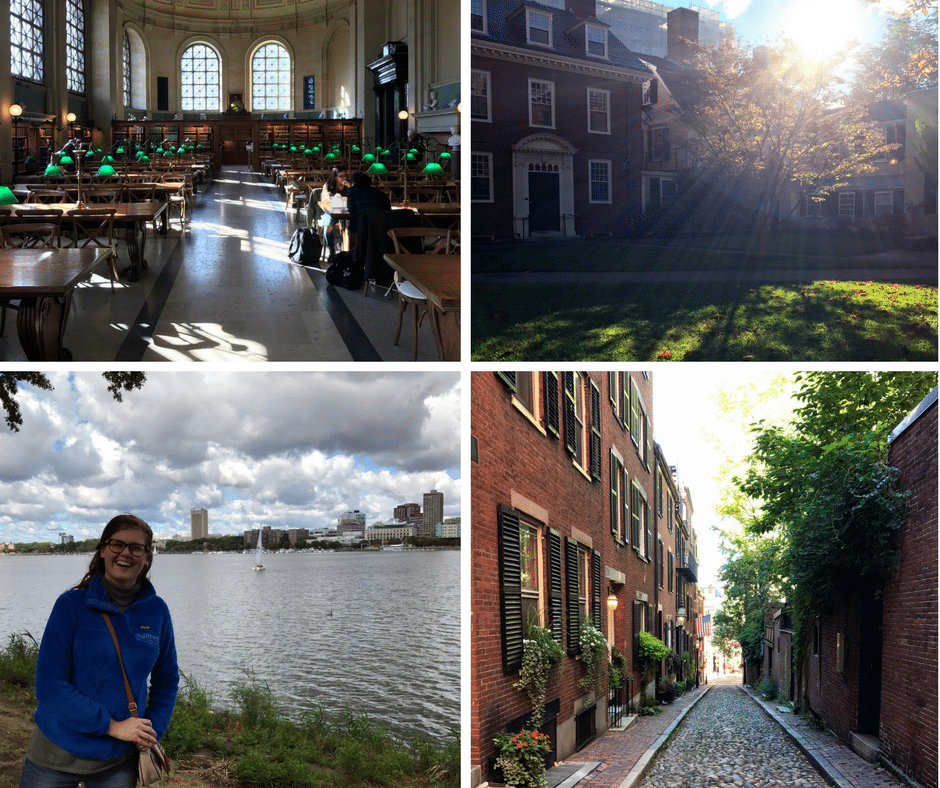 This past week, I took my little sister to Boston for a weekend trip of history, food, and fun! We had a great time together. I can't believe the trip is already over!
Photos from the week, top left to bottom right:
(1) One of our stops was the Boston Public Library. Daniel and I didn't make it there when we visited Boston a couple years ago, and I have no idea why! The library is beautiful, and I always try to visit major libraries and bookstores when traveling.
(2) We did a Harvard tour Saturday afternoon. As you can see in the photo, the sun was shining, and the weather was beautiful and crisp with the beginning of fall.
(3) Ellen looked so cute in her new glasses! We spent Saturday morning walking around the Back Bay area and along the Esplanade next to the Charles River.
(4) We took a walk around Beacon Hill, my dream neighborhood! Those row houses and the darling cobblestone streets dotted with fall leaves make me swoon.
Not Pictured:
An amazing food tour around Boston's South end
Clam chowder (twice!) and a yummy lobster roll
A tour around the Freedom Trail with a quirky tour guide dressed the part
A train trip out to Quincy to visit John Adam's birthplace and home. We saw the church and crypt where both  of the Adams presidents are buried along with their wives, we walked around the family home and gardens, and we even got to go inside the family library which is nothing short of cozy and dreamy.
I finished the book

I Let You Go

. I really enjoyed the beginning, but by the middle it started seeming exactly like another book I had just read last month, so I was a little underwhelmed.
Last Thursday, the night before my flight to Boston, we had dinner with my aunt at a Mexican restaurant across the street from my office. She was in town to speak at a conference. It is always so nice to see friends and family when they are in town!
On the Blog:
Have a great week!
Click here to see all of my Scenes From the Week posts. I'm linking up with Biana at B Loved Boston for the Weekending link-up!
{Thanks for reading! Want to know a little more about me? I'm a CPA learning how to balance a career with frequent travel while planting roots at home in Austin, TX. When I'm not exploring my home city with my husband Daniel or cuddling with our chubby orange cat Banana, I'm probably planning, packing, traveling to, or daydreaming about our next adventure. After all, my travel mug collection is never complete. If you have wanderlust too, be sure to follow me on Instagram, Pinterest, Snapchat (emilya89), or subscribe to my blog!}