Welcome to my Scenes From the Week series! In these posts, I share the highlights from my previous week ranging from the simple, everyday things to the more memorable events. One of the primary reasons that I blog is to keep a scrapbook that I can look back on in the future, and these posts help serve that purpose.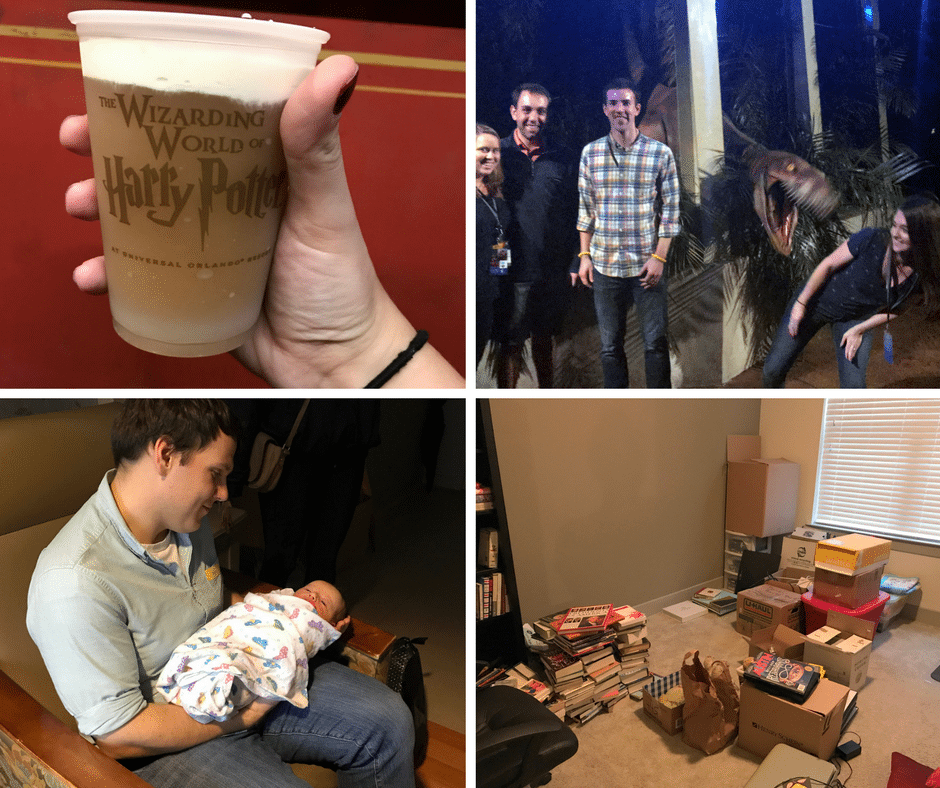 Another busy fall week down! I hate how quickly this time of year goes because October through December are my favorite months of the year, but I guess that's just what happens when you are busy, and it gets dark by 5pm everyday. I'm trying to soak in all the goodness and festiveness of this time of year while I can!
Photos from the week, top left to bottom right:
(1) I had a 5am flight to Orlando Monday morning for a work training conference. This was my favorite work conference that I've been to. The best part was Wednesday night when my company hosted an event at Universal Studios. After the park closed to the public, my company rented out the whole Islands of Adventure side for us. We could ride any rides, eat any food, and drink any drinks for free. They had a ton of extra food and drink booths set up along the walkways. All of the characters were there too! It was a lot of fun. My favorite parts were both in Harry Potter World (duh!): the free frozen butterbeer and the 15-minute-only wait for the Harry Potter castle ride! My co-workers and I were joking about how we aren't sure we can ever go to a theme park and pay for things again after this experience. It was so much fun!
(2) Apparently I made eye contact with the raptor, and it wouldn't leave me alone to take the picture!
(3) My little cousin's baby was born Friday night at a hospital here in Austin, so we got to go visit little Addison Olivia on Saturday. She is so precious and calm! I loved holding her myself, but my favorite picture is this one of my husband holding her. So cute! 🙂
(4) Another big event this week was our last-minute move. As I mentioned last week, Daniel had to move all of our stuff out of our old apartment while I was away at training this week (poor Daniel!). He did a great job, so by the time I got home late Thursday, I just had to do a little cleaning up of the old place early Friday, and then we handed over the keys! The rest of the weekend we have been slowly unpacking and settling into the new place, but I have a feeling it will be a little bit until we are fully settled because of how busy we have been and will be for the rest of December.
Not Pictured:
Going to see Fantastic Beasts and Where To Find Them. We definitely enjoyed it. While not quite as magical and amazing as Harry Potter, it was a fun story, and I loved the overlap and similarities to the Harry Potter movies. And Eddie Redmayne was amazing as always!
Drinking a delicious peppermint milkshake from a local fastfood place (P. Terry's)
Meeting a lovely woman on the plane back home Thursday who was going home after two months at her holiday home in Denmark where she spent her days reading by the fire, leisurely cooking, and enjoying the European slower pace of life. #goals
Doing a little bit of planning for NYC at Christmas. We leave Thursday morning! 🙂 🙂 🙂 Trying to figure out a restaurant or two to make reservations at. Any recommendations?
On the Blog:
The combination of work travel and moving did not allow for time to finish up my latest travel post. I'm sorry! I should be posting it this week.
Have a great week!
Click here to see all of my Scenes From the Week posts. I'm linking up with Biana at B Loved Boston for the Weekending link-up!
{Thanks for reading! Want to know a little more about me? I'm a CPA learning how to balance a career with frequent travel while planting roots at home in Austin, TX. When I'm not exploring my home city with my husband Daniel or cuddling with our chubby orange cat Banana, I'm probably planning, packing, traveling to, or daydreaming about our next adventure. After all, my travel mug collection is never complete. If you have wanderlust too, be sure to follow me on Instagram, Pinterest, Snapchat (emilya89), or subscribe to my blog!}