Welcome to my Scenes From the Week series! In these posts, I share the highlights from my previous week ranging from the simple, everyday things to the more memorable events. One of the primary reasons that I blog is to keep a scrapbook that I can look back on in the future, and these posts help serve that purpose.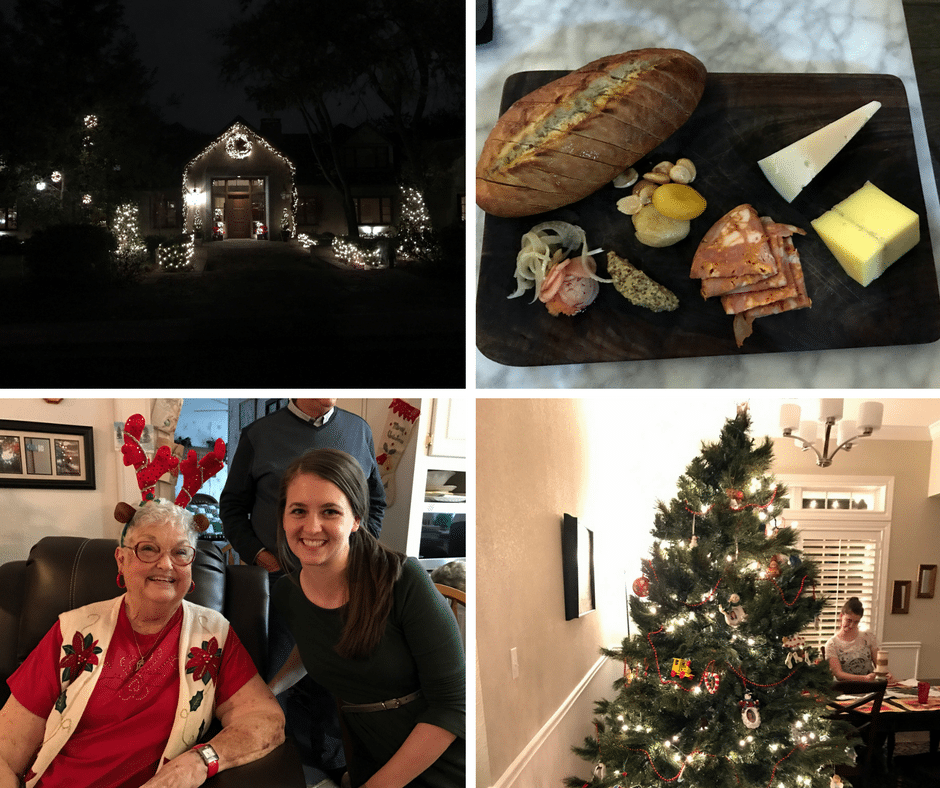 The Christmas festivities continue!
Photos from the week, top left to bottom right:
(1) Thursday we had a little Christmas date. We went out to dinner and then went to a fancy neighborhood to look at fancy Christmas lights. We found a good area that I think we will continue to go to for Christmas light viewing in future years!
(2) Of course we ordered a cheese board for dinner on Thursday at Vox Table, a favorite local date night spot.
(3) Saturday was Christmas with extended family on my dad's side at my grandparents' in east Texas. My grandma ("Mama Dee") loves Christmas more than anyone I know, and she had a great time having all her kids, grandkids, and great-grandkids over to celebrate and exchange a LOT of presents. We played some games, ate good food, and just enjoyed each other's company.
(4) Saturday night we did our family Christmas exchange at my parents' house in Waco. Their tree and all the home decorations are beautiful!
Not Pictured:
Tons of Christmas shopping and present wrapping
Preparations for a holiday Bahamas cruise with Daniel's family
A great women's networking happy hour event with my work
A Sunday flight to Miami with some luggage drama (but I'm happy to report that all bags and people have made it on the cruise ship)
On the Blog:
I didn't post anything else last week, and you likely won't be hearing from me again until next week's Scenes From the Week post since we will be at sea on a cruise having family time. I have big plans for more consistent posting in the new year!
I wish you and your family a very Merry Christmas! Have a great week!
Click here to see all of my Scenes From the Week posts. I'm linking up with Biana at B Loved Boston for the Weekending link-up!
{Thanks for reading! Want to know a little more about me? I'm a CPA learning how to balance a career with frequent travel while planting roots at home in Austin, TX. When I'm not exploring my home city with my husband Daniel or cuddling with our chubby orange cat Banana, I'm probably planning, packing, traveling to, or daydreaming about our next adventure. After all, my travel mug collection is never complete. If you have wanderlust too, be sure to follow me on Instagram, Pinterest, Snapchat (emilya89), or subscribe to my blog!}