Welcome to my Scenes From the Week series! In these posts, I share the highlights from my previous week ranging from the simple, everyday things to the more memorable events. One of the primary reasons that I blog is to keep a scrapbook that I can look back on in the future, and these posts help serve that purpose.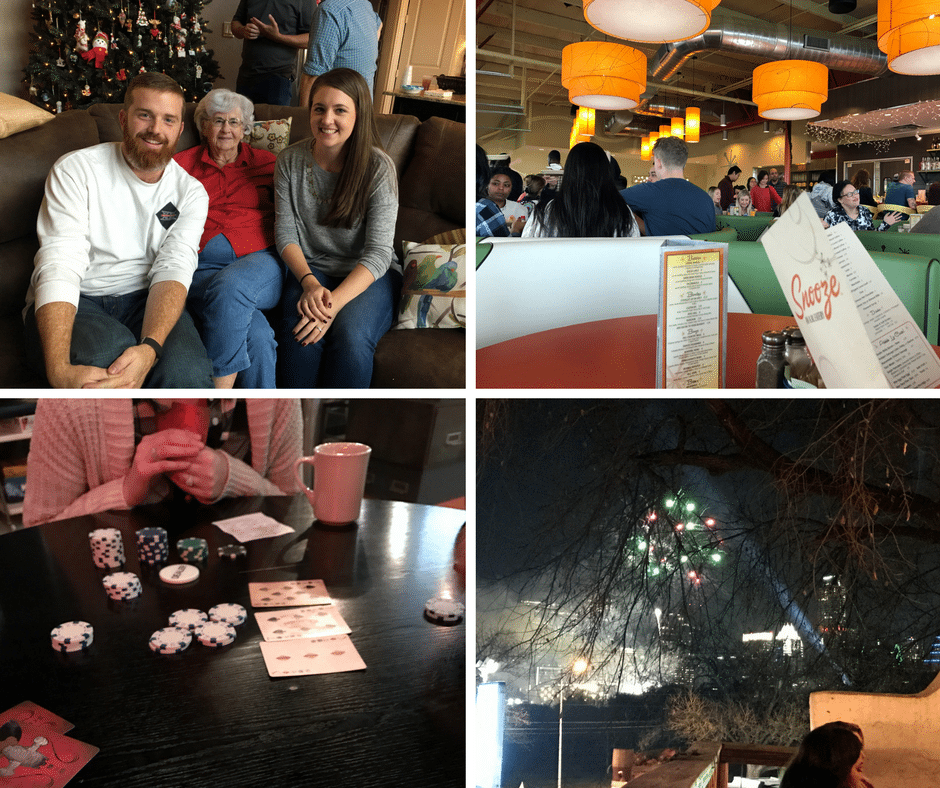 Happy New Year everyone! I can't believe the holiday season is over. I'm in denial and haven't taken my Christmas decorations down yet. I'm not quite ready to let go of the magic of the season. This past week, the week between Christmas and New Years, was a good one full of family, friends, and getting things done at home.
Photos from the week, top left to bottom right:
(1) After flying home from Florida on Monday, we made our way over to my aunt and uncle's new home in Waco to do our Christmas celebration with my mom's side of the family. It was great to have so many of our family members under one roof. We played games, opened gifts, ate lunch, and enjoyed the nice Texas weather outside. I love this picture of my cousin Josh, my grandmother, and me.
(2) We ate lots of delicious (bad-for-you) meals in preparation for starting Whole30 this week, including ramen, brunch food, a cheese board, and pizza. Daniel and I have decided to try out Whole30 for the month of January. If you aren't familiar, Whole30 is a clean eating plan that requires you to exclude sugar, grains, dairy, and legumes from your meals. We have friends who have done this and have seen positive results (primarily, a boost in energy which I desperately need), so we are curious to give it a shot. Day 1 went well, but I'm sure I'll start missing cheese, pasta, and my daily bowl of cereal before too long!
(3) Friday evening we met our friends for dinner at Via313 and then we all headed over to the Infinite Monkey Theorem for games and a glass of wine. It was a fun, low-key evening, and I finally learned how to play Texas Hold 'Em.
(4) For New Years Eve, we met those same friends again for a late dinner at El Alma. El Alma has a gorgeous rooftop patio with a view of the Austin skyline, and I had read that you can see the 10pm Austin fireworks show from there. Well, we were lucky enough to get patio seating with the perfect view of the show! We ate our dinner and then were able to enjoy the fireworks without even moving from our table. We are thinking this could become an annual tradition! After dinner we all went back to our apartment where my sister and her boyfriend joined, and we watched the NYE concerts on TV and counted down to 2017!
Not Pictured:
Saying hi to one of my favorite bloggers and her adorable pug Gertie who were visiting Austin this week (Check Christine's blog out at cestchristine!)
Getting more settled into our new apartment
Going to see two movies: La La Land and Arrival (both were very good!)
On the Blog:
Have a great first week of 2017!
Click here to see all of my Scenes From the Week posts. I'm linking up with Biana at B Loved Boston for the Weekending link-up!
{Thanks for reading! Want to know a little more about me? I'm a CPA learning how to balance a career with frequent travel while planting roots at home in Austin, TX. When I'm not exploring my home city with my husband Daniel or cuddling with our chubby orange cat Banana, I'm probably planning, packing, traveling to, or daydreaming about our next adventure. After all, my travel mug collection is never complete. If you have wanderlust too, be sure to follow me on Instagram, Pinterest, Snapchat (emilya89), or subscribe to my blog!}