Welcome to my Scenes From the Week series! In these posts, I share the highlights from my previous week ranging from the simple, everyday things to the more memorable events. One of the primary reasons that I blog is to keep a scrapbook that I can look back on in the future, and these posts help serve that purpose.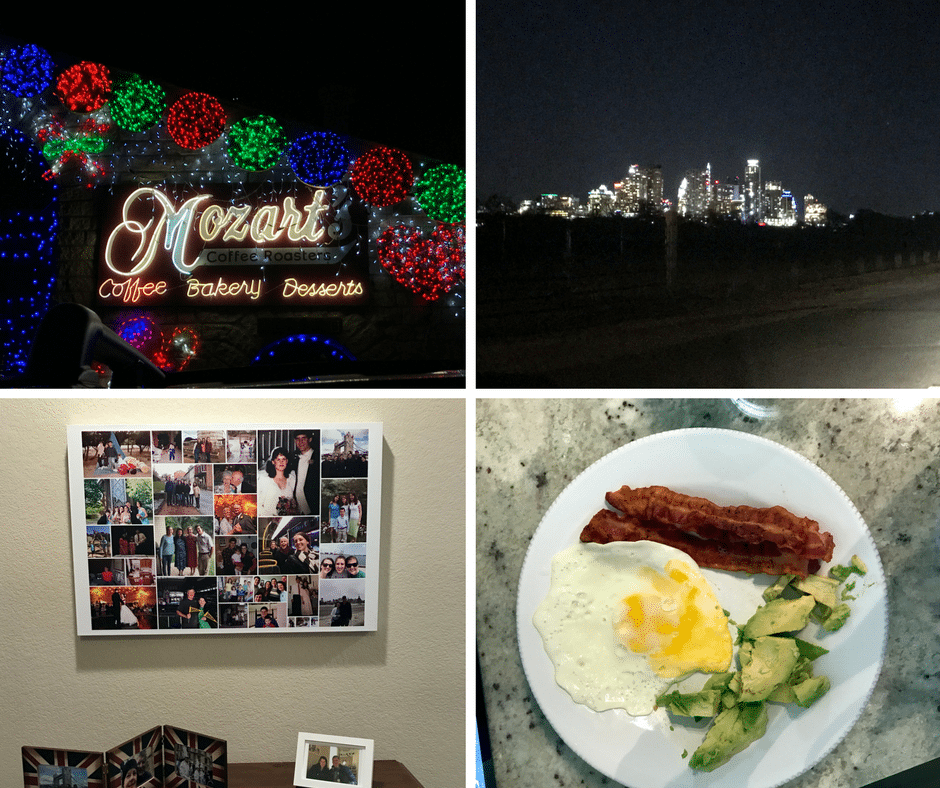 Like many people, I had the Monday after New Year's Day off, and I actually also took Tuesday off as a vacation day to wrap up a few things at home. It was a lovely, short week, and a great way to ease back into work and normal life.
Photos from the week, top left to bottom right:
(1) Even though the Christmas season is over, there are a few lingering festivities going on in Austin. One of them is the lights show at Mozart's, a coffee shop on the lake. We went to the coffee shop Tuesday night and did some calendar planning for the year and then watched one of the shows. It's a cute, 15-minute light show that moves around to the music. It's actually a really impressive thing for a local coffee shop to do! I recommend it if you are ever in town around the holidays.
(2) After Mozart's, we ended up driving around a neighborhood with some really nice homes, and some still had their Christmas lights up! On the way back, we took this picture of the beautiful downtown Austin skyline.
(3) For my parents' 30th anniversary, my sisters, brother, and I collected photos from over the years and created a collage canvas of 30 photos. Over the weekend, I gave it to them, and they immediately hung it up. I think it's so cute! I designed it on Collage.com, and I was very impressed with the service. I couldn't find another website where you could design any number of photos you wanted into a collage in basically any design you wanted. I'm not sponsored at all or anything, but if you want to do a project where you have a specific number of photos that don't fit in with one of the standard collage templates (like for 30 photos in our case), Collage.com is a great resource! They always seem to be having good sales too.
(4) As mentioned in my SFTW post last week, Daniel and I are doing Whole30 this month. It actually hasn't been that hard because we've been good about creating some delicious Whole30-approved meals at home. My entire life I've eaten a bowl of cereal for breakfast, so making time to cook breakfast in the morning has been the hardest part. I know my fried egg isn't beautiful, and neither are my avocado slices, but this picture shows what I've been eating for breakfast in the mornings. Some days I'll have an apple with almond butter instead of avocado and bacon.
Not Pictured:
A Saturday morning service project with our church small group where we assisted a Pregnancy Resource Center with some sorting, cleaning, and painting
A quick road trip to  Waco to see my parents, give them their collage (see above), and catch another Luke Pell/James Taylor concert. The concert was outdoors, so we were FREEZING because it was around 25 degrees the whole time, and that is not normal for Texas.
Stopping by IKEA for some guest bedroom furniture inspiration. I think my love of IKEA is slowly dying because we didn't find much, but we did find bed we might buy. It's basically a trundle, but it pulls up level to the main part of the bed. That style would be nice for us because the guest room is small, and Daniel also uses it as an office, so it would be nice to not fill up all the space with a traditional bed.
A nice dinner and breakfast conversation with my parents this weekend
With some Christmas money, I ordered a new coffee-making tool – the Kalita Wave. I've only tried it a couple of times, but it makes a great cup of coffee, and it's much easier to make a good manual brew than with the V60 or Chemex.
On the Blog:
Have a great week!
Click here to see all of my Scenes From the Week posts. I'm linking up with Biana at B Loved Boston for the Weekending link-up!
{Thanks for reading! Want to know a little more about me? I'm a CPA learning how to balance a career with frequent travel while planting roots at home in Austin, TX. When I'm not exploring my home city with my husband Daniel or cuddling with our chubby orange cat Banana, I'm probably planning, packing, traveling to, or daydreaming about our next adventure. After all, my travel mug collection is never complete. If you have wanderlust too, be sure to follow me on Instagram, Pinterest, Snapchat (emilya89), or subscribe to my blog!}