Welcome to my Scenes From the Week series! In these posts, I share the highlights from my previous week ranging from the simple, everyday things to the more memorable events. One of the primary reasons that I blog is to keep a scrapbook that I can look back on in the future, and these posts help serve that purpose.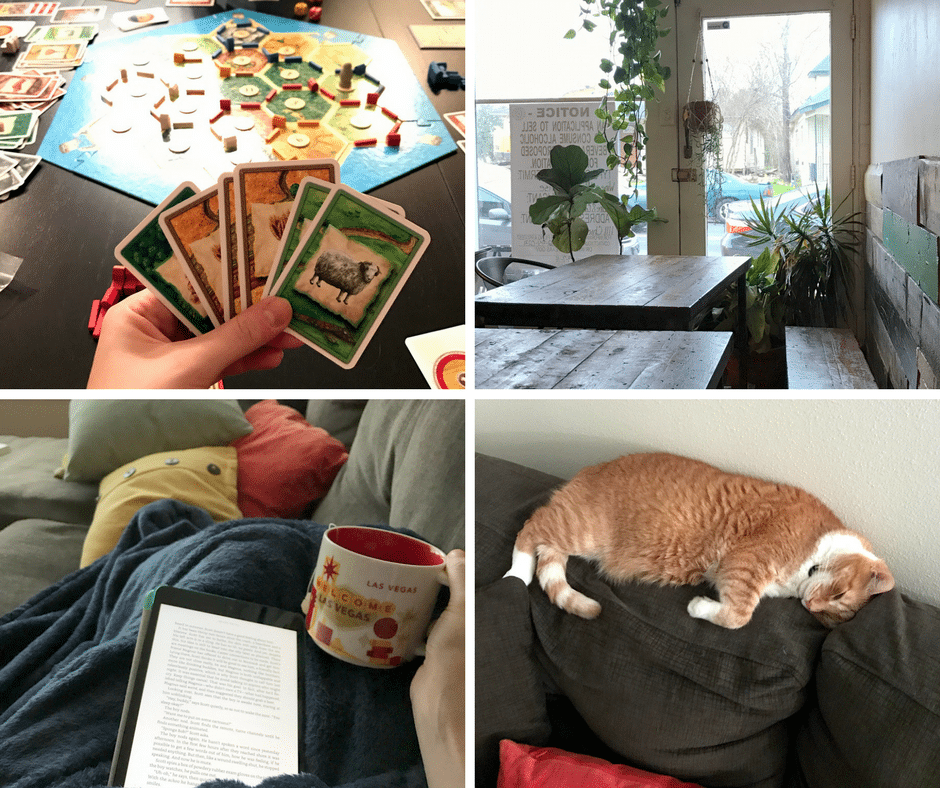 Photos from the week, top left to bottom right:
(1) Friday night our friends Sara and Thom came over for dinner and games. First, we played an interesting Wikipedia game (yes, it exists), and then we ended with the crowd favorite, Settlers of Catan. Unfortunately, it wasn't a great game of Settlers because no one had the resources to do much, and it kept dragging on, so we ended it early. But it was so great to see our friends and catch up!
(2) We were able to cross another "new-to-us" Austin coffee shop off of the list this weekend! Figure 8 Coffee Purveyors is an adorable coffee shop on the East Side, and they serve a delicious cup of coffee. I was able to get a lot of blog work done and read a little more of my book while we were there. I thought this plant corner near our table added a lot of character to the shop.
(3) We had a few spare hours at home on Sunday, and all I really wanted to do was drink tea and read my book. I'm currently reading Before the Fall. It's a really interesting book so far! Also, I picked up a new tea (Yogi's Peach Detox) at Whole Foods Sunday, and I found it to be really delicious and refreshing.
(4) I have to occasionally include my fur baby (Banana)  in these posts, so here you go. This is kind of what I was wishing I could do this whole rainy weekend!
Not Pictured:
Getting really into the Dragonfly in Amber audiobook (book #2 in the Outlander series). I listened to it while putting away Christmas decorations (finally!) on Wednesday and while riding the bus a couple times this week.
Starting the 31-Day Yoga Revolution with Yoga with Adriene. I haven't been to a yoga class in a while, and the studio across the street from me closed down, so I'm giving these YouTube videos a try. A 31-day challenge sounded fun to me. I'm not certain I'll be doing 31 days in a row since I also go to spin classes, but I'd like to make my way through the videos to get back into yoga!
Selling a bunch of books to Half Price Books on Saturday and making $62 – much more than I was expecting!
Discovering a delicious, Whole30-approved lemon chicken soup recipe…. I'll be making this long after we are done with Whole30!
On the Blog:
I shared my travel budget planning strategy and the behind-the-scenes of keeping the budget for our Europe trip. This was the second post in my Three Months in Europe series. I'm still trying to decide on other post topics for this series, so chime in below if you have anything in mind!
Have a great week!
Click here to see all of my Scenes From the Week posts. I'm linking up with Biana at B Loved Boston for the Weekending link-up!
{Thanks for reading! Want to know a little more about me? I'm a CPA learning how to balance a career with frequent travel while planting roots at home in Austin, TX. When I'm not exploring my home city with my husband Daniel or cuddling with our chubby orange cat Banana, I'm probably planning, packing, traveling to, or daydreaming about our next adventure. After all, my travel mug collection is never complete. If you have wanderlust too, be sure to follow me on Instagram, Pinterest, Snapchat (emilya89), or subscribe to my blog!}