Welcome to my Scenes From the Week series! In these posts, I share the highlights from my previous week ranging from the simple, everyday things to the more memorable events. One of the primary reasons that I blog is to keep a scrapbook that I can look back on in the future, and these posts help serve that purpose.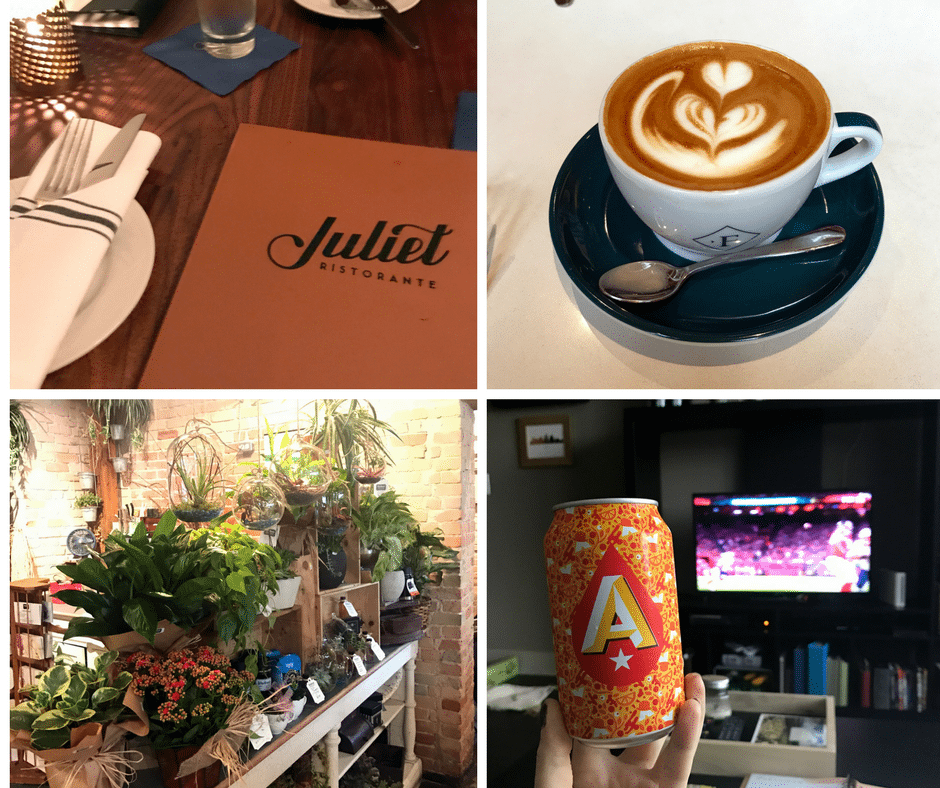 Photos from the week, top left to bottom right:
(1) Our last day of Whole30 was Monday! We made it! I feel good and healthy, and I'm so glad I did it. I would consider doing it again – maybe pre- or post-vacation. However, for now, I am excited to get back to eating some of my favorite foods, in moderation, of course! We took a few days to try and reintroduce foods slowly back into our diet (although definitely not as slowly as Whole30 suggests), but Friday night, we had a date night at our favorite local Italian restaurant, Juliet!
(2) Saturday lunch was at Forthright Cafe, a new local spot, and I had one of the best avocado toasts I've ever had.
(3) Sunday we went to brunch with friends after church at Walton's, Sandra Bullock's restaurant here in town. The restaurant is so cute, and the food was amazing! They have a beautiful florist shop in the back. I can't believe we had never been there before. I mean, just look at their garden section!
(4) We decided to keep the Super Bowl very low-key this year and stay home with some Kirbey queso and some local drinks. It was a really relaxing evening, and, my goodness, that game was exciting, even if my team pick didn't win….
Not Pictured:
Visiting Kaelin and Andres for breakfast in their new house on Saturday! They picked up Texas Honey Ham breakfast tacos for us, and dare I say they were better than Taco Deli? (Gasp!)
Going out to Arugs Cidery for local cider and Pieous for neopolitan pizza with John and Amber!
Trying out Vintage Heart Coffee for our Sunday working session
Getting through a really good work out streak this week – three spin classes and three Yoga With Adriene videos. I hope I can keep it up into this week!
Daniel healing up really nicely from his surgery last week. He is almost completely back to normal, except he can't exercise for another week. Thanks for all of your kind words last week!
On the Blog:
While in Switzerland, we visited a winter wonderland fairytale! I shared how to explore some mountaintop Swiss villages by cable car on the blog last week.
Have a great week!
Click here to see all of my Scenes From the Week posts. I'm linking up with Biana at B Loved Boston for the Weekending link-up!
{Thanks for reading! Want to know a little more about me? I'm a CPA learning how to balance a career with frequent travel while planting roots at home in Austin, TX. When I'm not exploring my home city with my husband Daniel or cuddling with our chubby orange cat Banana, I'm probably planning, packing, traveling to, or daydreaming about our next adventure. After all, my travel mug collection is never complete. If you have wanderlust too, be sure to follow me on Instagram, Pinterest, Snapchat (emilya89), or subscribe to my blog!}