Welcome to my Scenes From the Week series! In these posts, I share the highlights from my previous week ranging from the simple, everyday things to the more memorable events. One of the primary reasons that I blog is to keep a scrapbook that I can look back on in the future, and these posts help serve that purpose.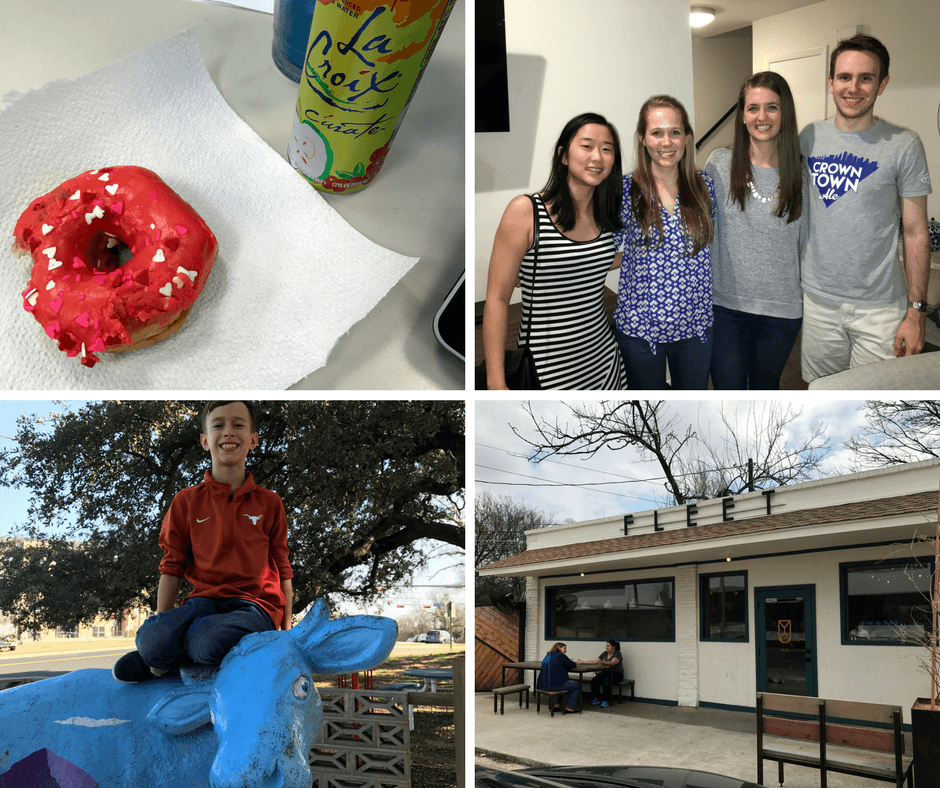 Photos from the week, top left to bottom right:
(1) It was my coworker's last day at my company last Friday, and she kindly brought in these adorable Valentine's donuts from Shipley's! I hadn't had a donut in a long time, so it was a fun treat during a busy work day. We all went out for lunch in honor of her last day as well. I'm going to miss her!
(2) Saturday night we went to Kaelin and Andres' housewarming party. It was a mix of all former EY and current EY people + my husband Daniel and Kaelin's husband. By the time we took this picture, one of us had left, but this is all of the other EY people at the party. It was a fun night!
(3) Saturday afternoon we had lunch at Phil's Ice House with my cousins Rebecca and Jennifer, and Jennifer's two boys. Phil's was the perfect spot because there is a play place for kids to run around, great burgers and sweet potato fries, and Amy's ice cream!
(4) As usual, we went to a new coffee shop. We loved Fleet on the East Side! They were very knowledgeable about coffee and the roasters that they order from all over the country. The barista even gave us some recommendations for an at-home coffee grinder, which is what we are giving each other for Valentine's Day this year. We will be back!
Not Pictured:
It was a long week at work. Daniel was in San Antonio for a couple nights, and it was the perfect week for that since I was at the office pretty late both nights.
Sprinkles Cupcakes is now in town! A coworker brought me a vanilla cupcake during the week, and it was my first time to try Sprinkles. I can't really explain why, but it really was one of the best cupcakes I've had. Yum!
We tried out the Soursop food truck at St. Elmo Brewing Co. for brunch on Sunday. I had the pork belly breakfast sandwich, and Daniel got the omelet rice, and both were fantastic. We did a flight from the brewery as well and were very impressed.
On the Blog:
I shared my guide to exploring Zurich on a backpacker's budget. Zurich is stunning and very expensive, but it is still possible to enjoy it on a lower budget!
Have a great week!
Click here to see all of my Scenes From the Week posts. I'm linking up with Biana at B Loved Boston for the Weekending link-up!
{Thanks for reading! Want to know a little more about me? I'm a CPA learning how to balance a career with frequent travel while planting roots at home in Austin, TX. When I'm not exploring my home city with my husband Daniel or cuddling with our chubby orange cat Banana, I'm probably planning, packing, traveling to, or daydreaming about our next adventure. After all, my travel mug collection is never complete. If you have wanderlust too, be sure to follow me on Instagram, Pinterest, Snapchat (emilya89), or subscribe to my blog!}