Welcome to my Scenes From the Week series! In these posts, I share the highlights from my previous week ranging from the simple, everyday things to the more memorable events. One of the primary reasons that I blog is to keep a scrapbook that I can look back on in the future, and these posts help serve that purpose.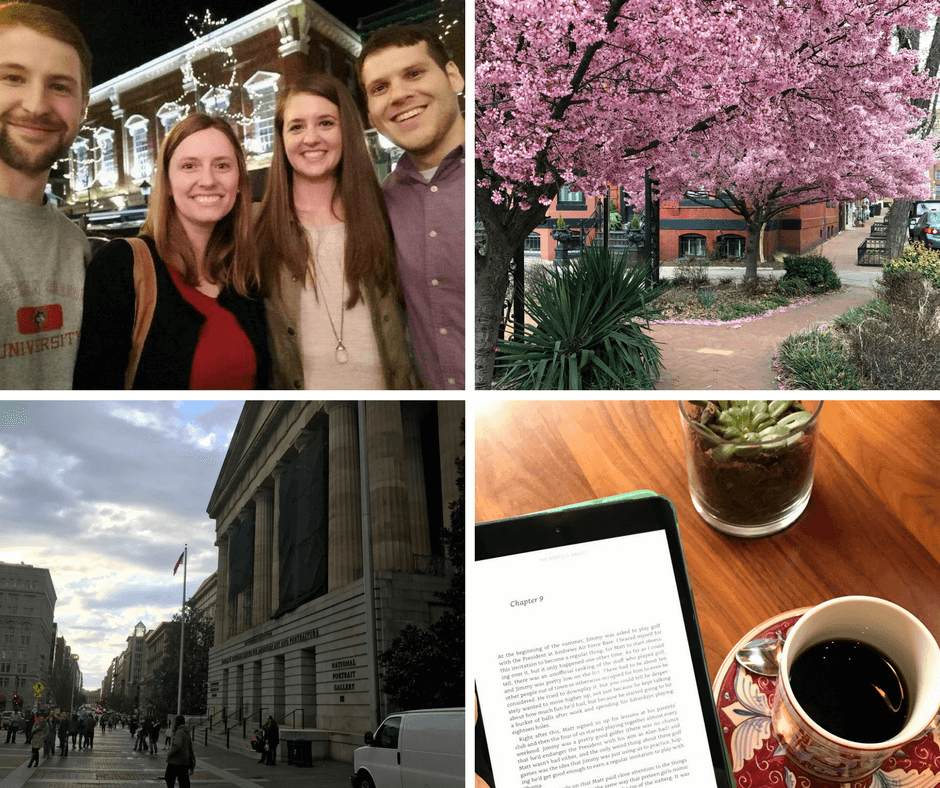 What a whirlwind week! We basically worked through Monday, Tuesday, and Wednesday so that we could hop onto a plane to DC Wednesday night. My brother-in-law Jacob, my husband's twin, now lives in DC, and since we lived there for three years, we have lots of friends in the area, so we got to see many of them and enjoy a weekend in a city that will always be special to us.
Photos from the week, top left to bottom right:
(1) Thursday night we met up with our friends Heather and Cody (who happened to be living in the area temporarily) in one of my favorites places, Old Town Alexandria! We love these dear friends from college and were so glad to get to enjoy a whole evening with them. The weather in DC was phenomenal this whole week, so it was the perfect evening to stroll outside in Old Town.
(2) We spent the whole day Saturday exploring DC! The trees were confused by the weather and already blooming and looking fabulous! We met our friend Joben in the city for breakfast at Busboys and Poets (a favorite from when we lived there), and on top of a walk through the new Shaw area, we enjoyed coffee from a new DC coffee chain and some cheese and beer tastings at a new brewery. We were so happy to spend time with Joben before he heads out to the UK.
(3) Before meeting our friends Kaitlin and Erik for dinner Saturday, we visited the National Portrait Gallery. It had some great exhibits and very interesting paintings, and we wished we had more time to see all of the exhibits.
(4) While in the DC, we visited yet another new local coffee chain to sip on some pour overs and read our books while waiting for the rain to pass.
Not Pictured:
Dinner with more friends at Farmers, Fishers, Bakers on Friday night
Many great conversations with my friend Kaitlin. Daniel and I stayed with her and her husband, and I worked from their apartment all day Thursday and on Friday morning. Kaitlin works from home, so we got to enjoy lunch and work breaks by catching up with each other. She and her husband are about to have a baby and move to Houston!
A lovely Sunday morning walk with Kaitlin to a new bakery near their apartment
A visit to my old office. I hadn't visited since I moved over two years ago, so it felt a little strange! I also happened to visit on the day they were having a mid-busy season happy hour, so I was able to catch up with some old coworkers a little while there.
Ending the weekend by watching the Oscars and snuggling with Banana
Also this week, I received my package for the Galentine's Blogger Exchange hosted by Olya from The Siberian American and Mattie from the Northwest Native Blog. I received my box from Lacey from The Perks of Being a JAP. It was a box full of some great Valentine's Day treats including Ghirardelli chocolates, a peony candle, an pink EOS lip balm, a beautiful red nail polish, and a sweet card. Thank you, Lacey!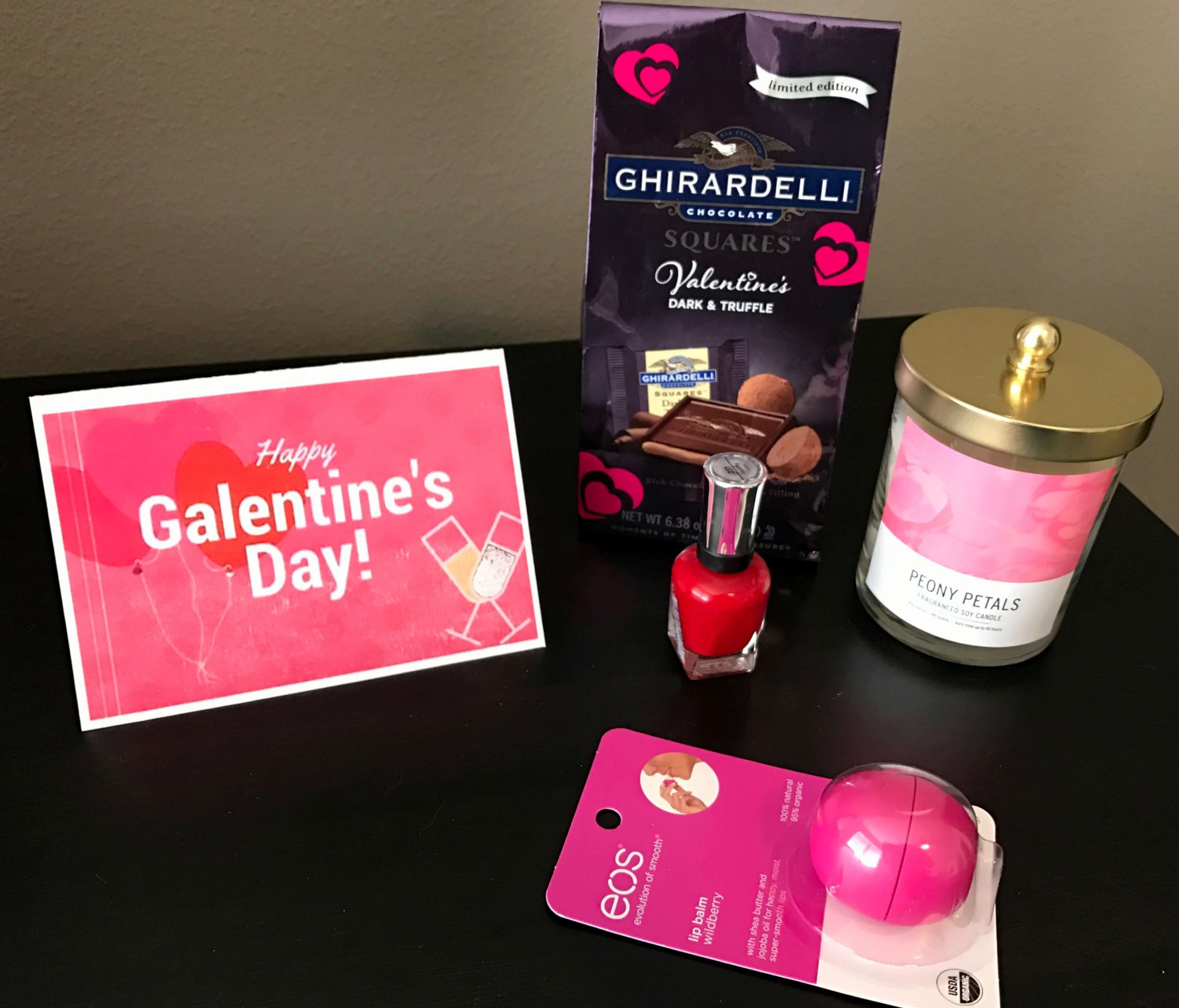 I sent a package to Ashley from Bits and Pieces of Me with a candle from Lindbergh Candle Co, coffee from my favorite local coffee roaster (Summermoon), and The Little Book of Hygge: Danish Secrets to Happy Living, a book she had requested and looks like something that I'd love to read myself! I hope you enjoyed your gifts, Ashley!
Have a great week!
Click here to see all of my Scenes From the Week posts. I'm linking up with Biana at B Loved Boston for the Weekending link-up!
{Thanks for reading! Want to know a little more about me? I'm a CPA learning how to balance a career with frequent travel while planting roots at home in Austin, TX. When I'm not exploring my home city with my husband Daniel or cuddling with our chubby orange cat Banana, I'm probably planning, packing, traveling to, or daydreaming about our next adventure. After all, my travel mug collection is never complete. If you have wanderlust too, be sure to follow me on Instagram, Pinterest, Snapchat (emilya89), or subscribe to my blog!}