Welcome to my Scenes From the Week series! In these posts, I share the highlights from my previous week ranging from the simple, everyday things to the more memorable events. One of the primary reasons that I blog is to keep a scrapbook that I can look back on in the future, and these posts help serve that purpose.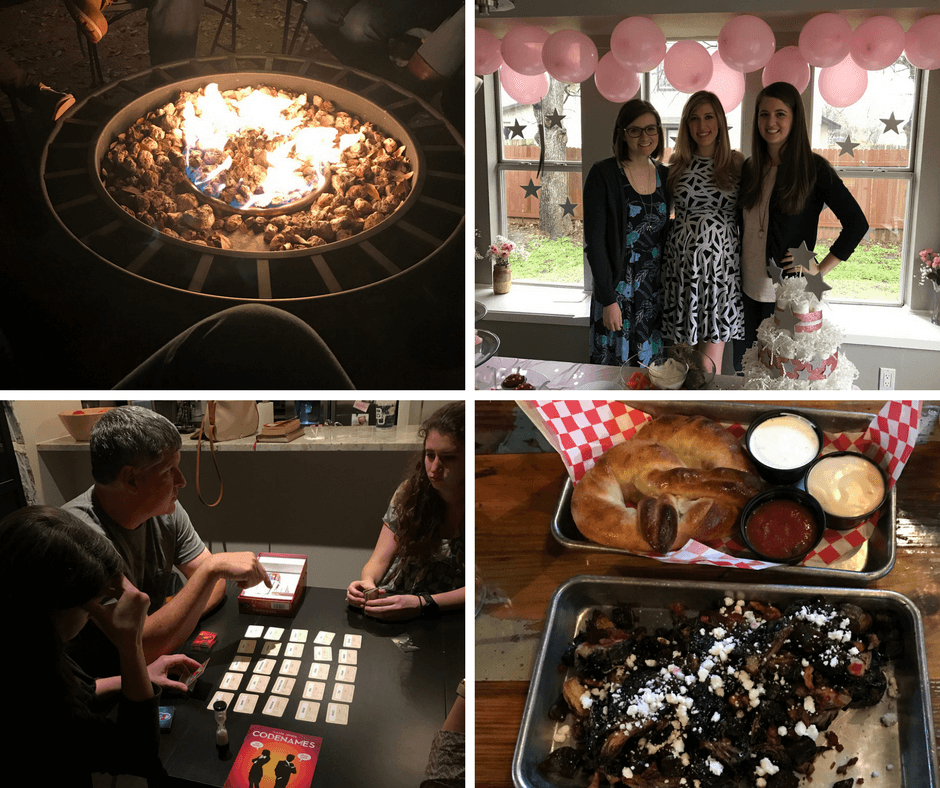 Photos from the week, top left to bottom right:
(1) Friday evening was wonderful. Ellen (my youngest sister) came in from Dallas, and we went out to get Mexican for dinner. Afterward we met up with Elizabeth, Jason, Kaelin, and Andres at Opa for a drink and some great conversation around this fire pit.
(2) Saturday I went to my friend Kim's baby shower. Baby Loretta is due next month, and we had the best time celebrating her upcoming birth. The shower had an adorable theme, and it was such a fun, girly afternoon. I got to see another friend from high school, Kelsey, who is also in this picture.
(3) Also on Saturday, my parents came into down to have a belated birthday celebration for my Dad. We went out for Mexican (again!) and then spent the evening playing games.
(4) Sunday evening Daniel and I went out to a pizza restaurant (Toss Pizzeria!). The highlight of the meal was this brussel sprout salad. It was amazing, and I will go back for it sometime…
Not Pictured:
A lovely free Friday running errands and getting the apartment ready for our first overnight guests in the guest bedroom
Sunday lunch at the food truck park with my family
Sunday afternoon gelato
On the Blog:
Nothing 🙁 I'm trying to figure out how to keep up with blogging during busy season at work, but I'm not doing a good job of it. I'm hoping to have another travel post up later this week!
Have a great week!
Click here to see all of my Scenes From the Week posts. I'm linking up with Biana at B Loved Boston for the Weekending link-up!
{Thanks for reading! Want to know a little more about me? I'm a CPA learning how to balance a career with frequent travel while planting roots at home in Austin, TX. When I'm not exploring my home city with my husband Daniel or cuddling with our chubby orange cat Banana, I'm probably planning, packing, traveling to, or daydreaming about our next adventure. After all, my travel mug collection is never complete. If you have wanderlust too, be sure to follow me on Instagram, Pinterest, Snapchat (emilya89), or subscribe to my blog!}