Welcome to my Scenes From the Week series! In these posts, I share the highlights from my previous week ranging from the simple, everyday things to the more memorable events. One of the primary reasons that I blog is to keep a scrapbook that I can look back on in the future, and these posts help serve that purpose.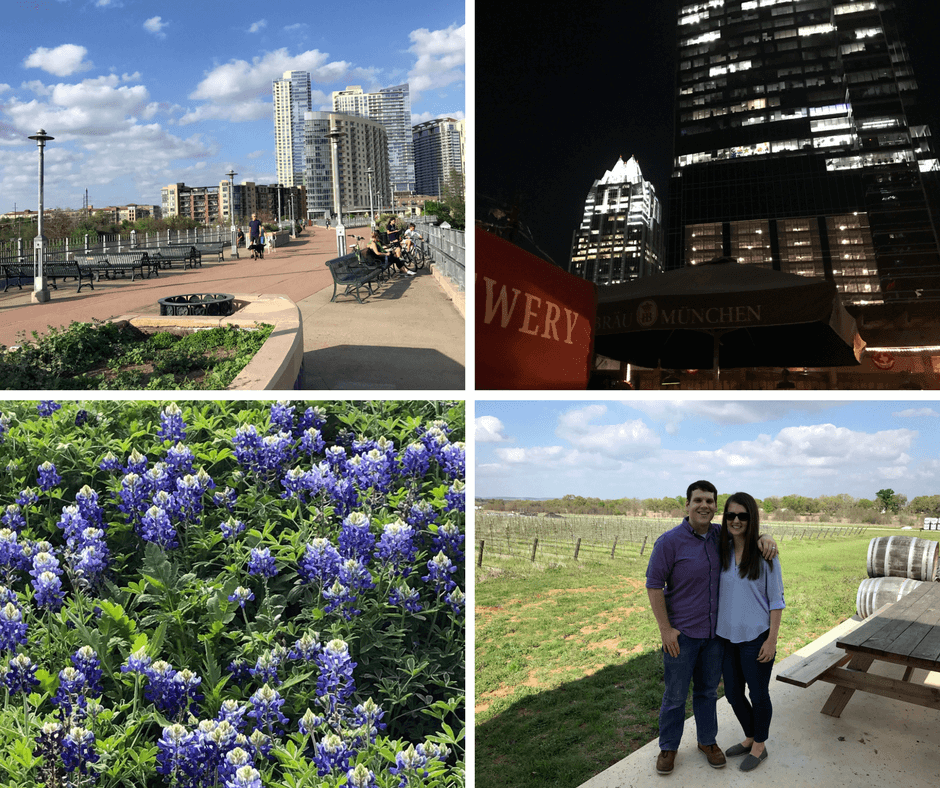 Photos from the week, top left to bottom right:
(1) It was SXSW week last week here in Austin which meant it was crazy downtown by my office! That mixed with St. Paddy's Day made for a crazy Friday night in the city, but we decided to walk to downtown, have dinner, and check it out. It was fun to people watch while walking around since there was such a mix of people – there were plenty of the "weird" Austin locals mixed with all kinds of tourists in town for the festival. We enjoyed dinner at Boiler Nine, got a Smithwicks and Guinness at the Ginger Man in honor of St. Patrick's Day, and grabbed a treat to bring home at Voodoo Doughnuts.
(2) I sometimes don't love that I can see my office wherever we go, but it's such an iconic and well-designed building that I can't help but take a photo sometimes when I see it! This was the view from the back of The Ginger Man.
(3) Saturday we went with friends out to Texas Wine Country! It was a beautiful day, and the wildflowers (especially the bluebonnets!) were in full bloom!
(4) We had the best day chatting with our friends, trying a couple new wineries, and visiting a couple old favorites. I will never get over how blessed we are to live so close to the Hill Country!
Not Pictured:
Starting Big Little Lies, the HBO show based on Liane Moriarty's book. I love Reese Witherspoon and Nicole Kidman, so them mixed with the stunning backdrop, mixed with a story from a favorite book makes for a good show. I cannot get over the amazing scenery of California's central cost! #mustvisitsoon
A healthy Sunday brunch with friends at Bouldin Creek Cafe after a great church service at Austin Stone
The birth of my cousin's second baby, Ellie, on Sunday! We can't wait to meet you, Ellie!
On a less positive note, I burnt my hand pretty badly trying to make Aeropress coffee – I won't get into how, but I seem to lack common sense in the kitchen!
On the Blog:
I shared how we spent two days in Lucerne, Switzerland. I have been recapping and sharing travel guides from our Euro backpacking trip for over a year now, but I still find it hard to believe that I'm about to start posting about our final country from the trip, Italy!
Have a great week!
Click here to see all of my Scenes From the Week posts. I'm linking up with Biana at B Loved Boston for the Weekending link-up!
{Thanks for reading! Want to know a little more about me? I'm a CPA learning how to balance a career with frequent travel while planting roots at home in Austin, TX. When I'm not exploring my home city with my husband Daniel or cuddling with our chubby orange cat Banana, I'm probably planning, packing, traveling to, or daydreaming about our next adventure. After all, my travel mug collection is never complete. If you have wanderlust too, be sure to follow me on Instagram, Pinterest, Snapchat (emilya89), or subscribe to my blog!}