Welcome to my Scenes From the Week series! In these posts, I share the highlights from my previous week ranging from the simple, everyday things to the more memorable events. One of the primary reasons that I blog is to keep a scrapbook that I can look back on in the future, and these posts help serve that purpose.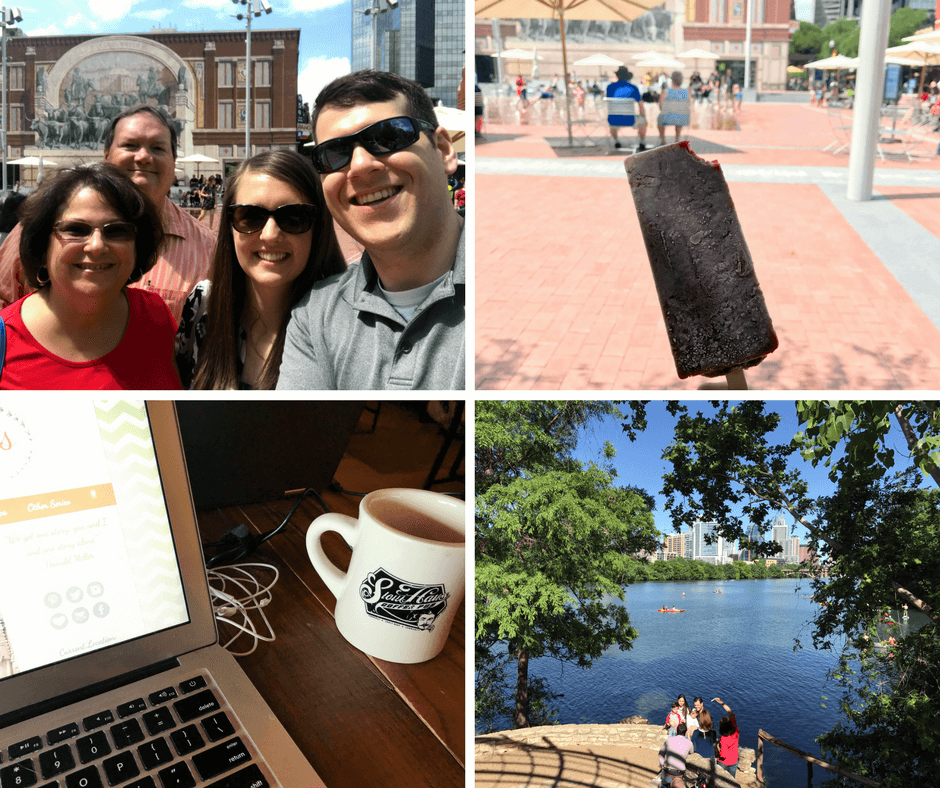 I've got another catch up Scenes From the Week post for you today. Last weekend was a fun Easter celebration weekend at my in-laws' house in Fort Worth. This weekend I laid low and did practically nothing while my husband was away at a conference in Dallas.
Photos from the week, top left to bottom right:
(1) While spending Easter weekend in Fort Worth with my in-laws, we had a nice outing downtown to try out a new-to-us restaurant.
(2) After lunch, we wandered around and picked up popsicles from a Steel City Pops stand in Sundance Square. It was a beautiful day!
(3) This past weekend, I took some of my free time to catch up on some blog posts. My sister Elizabeth and I had lunch Saturday and then headed to the next door coffee shop to get some work done.
(4) Sunday afternoon Daniel came home. After getting some lunch and resting, we went out to enjoy the beautiful weather on the Lady Bird Lake trails.
Not Pictured:
Watching the movie Lion with Daniel and my in-laws. It was a great movie and did a great job telling an amazing true story. Have tissues nearby!
Attending a wonderful Easter service and Easter lunch prepared by my mother-in-law
Stopping by Waco to see my family and meet my cousin's new baby on our way back home from Fort Worth
Enjoying a weeknight dinner with friends at Wu Chow, a delicious local Chinese restaurant
Seeing the end of busy season! Well, kind of….
Getting lots and lots of sleep over this past weekend. I don't think I realized I was capable of sleeping so well and so long that many nights in a row!
Finishing The Good Fight, the spinoff show of The Good Wife. It was really good – I highly recommend it! It has a lot of the same characters as The Good Wife and many new ones too.
Starting and finishing It Ends With Us by Colleen Hoover. I was hooked from the beginning and couldn't put it down this weekend.
Have a great week!
Click here to see all of my Scenes From the Week posts. I'm linking up with Biana at B Loved Boston for the Weekending link-up!
{Thanks for reading! Want to know a little more about me? I'm a CPA learning how to balance a career with frequent travel while planting roots at home in Austin, TX. When I'm not exploring my home city with my husband Daniel or cuddling with our chubby orange cat Banana, I'm probably planning, packing, traveling to, or daydreaming about our next adventure. After all, my travel mug collection is never complete. If you have wanderlust too, be sure to follow me on Instagram, Pinterest, Snapchat (emilya89), or subscribe to my blog!}