Welcome to my Scenes From the Week series! In these posts, I share the highlights from my previous week ranging from the simple, everyday things to the more memorable events. One of the primary reasons that I blog is to keep a scrapbook that I can look back on in the future, and these posts help serve that purpose.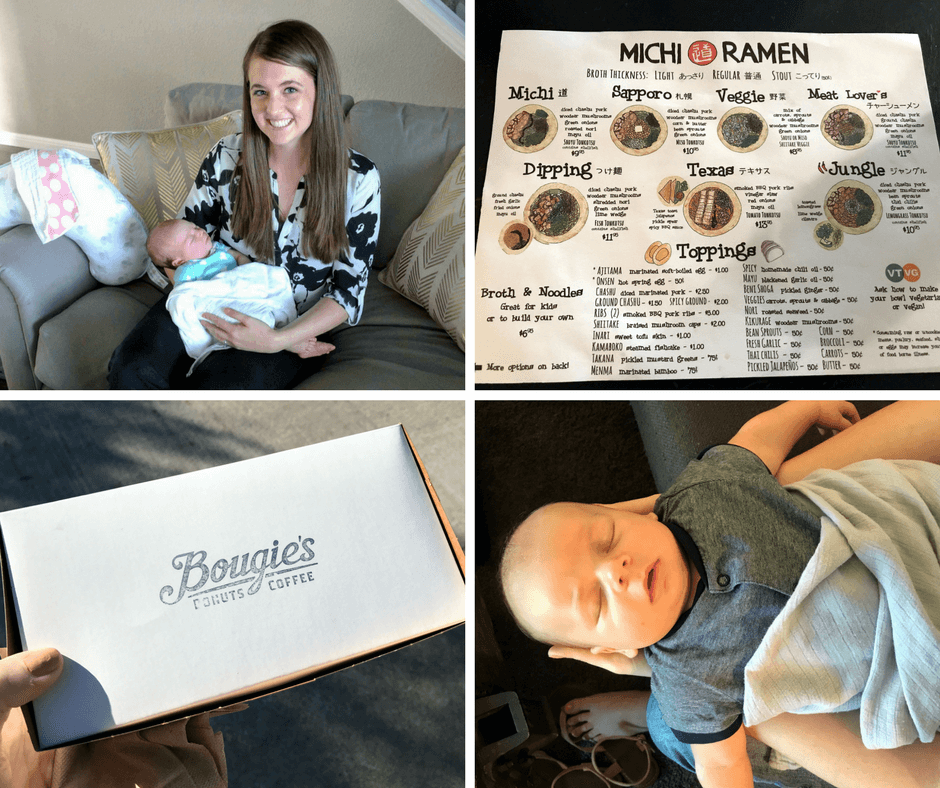 Photos from the week, top left to bottom right:
(1) We got to meet two new babies this week! The first was Miss Loretta Leigh, the daughter of two of our good friends from high school, Kim and Jordan. We met her Tuesday evening – we had a great time visiting with the new parents and snuggling their baby girl.
(2) While we were up north visiting Loretta, we decided to go the Michi Ramen location up there and try it out. The Michi location near our apartment only does take out and delivery, so we hadn't tried their ramen fresh at the restaurant before. I still think Ramen Tatsu-ya is way better, but Michi's ramen tastes really good fresh!
(3) We took a day trip on Saturday, and on the way out of town we stopped at the new donut place in town, Bougie's. It was yummy! Daniel and I shared a few donuts – blueberry, lemon lavendar, cinnamon, and plain glazed. My favorite was the cinnamon.
(4) Saturday we took a day trip to Houston to meet another sweet baby, Anders. This was a special trip because our friends Kaitlin and Erik just moved to Houston a couple weeks ago. They are great friends of ours from DC, so we are so happy to have them as Texas "neighbors"! Anders is such a cutie. We had a great day doing a little exploring around Houston, passing around Anders, and getting to see their new home and neighborhood! We also got to try a great Houston BBQ spot, The Brisket House.
Not pictured:
Reading Lauren Graham's book Talking as Fast as I Can. If you love the shows Parenthood and Gilmore Girls (especially Gilmore Girls), I really think you will enjoy this book. It's her autobiography of different parts of her life, but it has a big focus on the time of her life when she was filming these two shows. I just love her! It's a quick read too.
Picking up a delicious-smelling new candle at the Manready Mercantile store in Houston. Apparently, the number one item sold at this man store is their soy candles! Who would have thought?
Eating Sunday breakfast with Kaelin and Andres at Veracruz, our favorite breakfast taco spot in town!
Getting through season three of Downton Abbey. If you've watched the show, you know how I feel about that season finale…. Regardless, I'm really into this show, and surprisingly, so is Daniel!
Have a great week!
Click here to see all of my Scenes From the Week posts. I'm linking up with Biana at B Loved Boston for the Weekending link-up!
{Thanks for reading! Want to know a little more about me? I'm a CPA learning how to balance a career with frequent travel while planting roots at home in Austin, TX. When I'm not exploring my home city with my husband Daniel or cuddling with our chubby orange cat Banana, I'm probably planning, packing, traveling to, or daydreaming about our next adventure. After all, my travel mug collection is never complete. If you have wanderlust too, be sure to follow me on Instagram, Pinterest, Snapchat (emilya89), or subscribe to my blog!}