Welcome to my Scenes From the Week series! In these posts, I share the highlights from my previous week ranging from the simple, everyday things to the more memorable events. One of the primary reasons that I blog is to keep a scrapbook that I can look back on in the future, and these posts help serve that purpose.
Wow! This is my 100th Scenes From the Week post! I really can't believe it. It's been several weeks longer than 100 weeks ago that I started this series (I've taken a few blogging breaks since then). I've been doing weekly recap posts for a long time, but I created my SFTW series because I wanted to share highlights from my entire week rather than just the weekend, and I wanted to create my own recap format that suited what I wanted to share each week. I wish I had something special to do on the blog for reaching 100 posts in the series, but unfortunately I do not. I have thought about making this a link up for others to join in, but there are so many weekly/weekend recap link ups already, I wasn't sure that there would be interest. I also wouldn't want to step on any toes of those who already host these types of link ups. I imagine if I started one of my own that I'd still participate each week on the Weekending linkup hosted by Biana, but I'd also host my own link up here. Let me know in the comments below if you'd be interested in linking up here.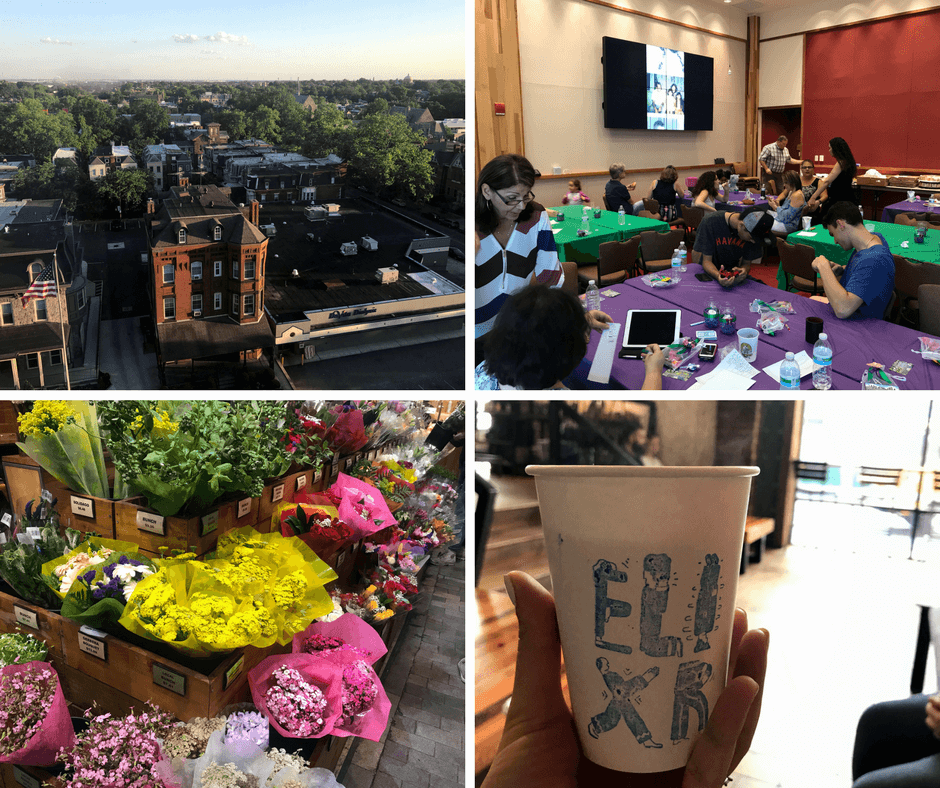 I'm one day late on this post this week because I had a four-day weekend this week! Daniel and I headed to the Northeast to attend a family reunion in Philadelphia for my mother-in-law's side of the family. We had a lot of fun hanging out with his Cuban family – there were plenty of family members there that I had already met before, but there were also many I had never met in our six years of marriage! We ate lots of Philly food and did some sightseeing in addition to spending time with family.
Photos from the week, top left to bottom right:
(1) The view from our hotel was a very pretty part of Philly. We stayed right near UPenn, and the whole area looked like a beautiful college campus.
(2) The official family reunion was Saturday afternoon and evening. We rented out the event room in the hotel. Daniel's Aunt Lydia went all out preparing decorations and goody bags. We ate all types of Philly foods (cheesesteaks, pretzels, wings, etc.) and there was a wonderful slideshow of family photos in the background. It was a great time!
(3) One of the touristy things we did was visit Reading Terminal Market on Sunday. Daniel and I visited Philly a few years ago, but we weren't able to make it to the market at that time. We are really glad we did this time! It was fun to wander around and sample some more Philly foods.
(4) I really can't visit a new city these days without scouting out a great Third Wave coffee shop…. We were able to sneak away with Daniel's brother and sister Saturday morning to grab some breakfast at Honey's (yum!) and take a nice walk to Elixr. I had their delicious Konga roast pour over, a wonderfully flavored Ethiopian. After grabbing coffee, we walked the couple of blocks to Rittenhouse Square, one of Philadelphia's beautifully manicured parks right in the middle of the city.
Not pictured:
Hanging out with most of the family at the hammock park at Penn's Landing on Saturday. I really want Austin to get a hammock park! The park at Penn's Landing is well-maintained with beautiful lights in the trees and cozy hammocks hanging everywhere. It's also right by a shaved ice stand which was so wonderful on a 95 degree summer afternoon!
Stuffing our faces at the family barbecue on Sunday night – Daniel's cousin did a fantastic job cooking all kinds of meats and sides for us.
Getting most of the way through The Likeness, Book 2 of The Dublin Murder Squad. I LOVE this book. I am totally intrigued and can't stop turning the pages. It kept my interest during our 5:45am flight Monday morning from Philly, and that's saying something! I haven't read Book 1 of the series, but I heard that these can be read out of order. I haven't felt like I've missed anything by skipping forward to Book 2.  If you read it, just know that the beginning is slow, but once you get into the main part of the story, it will draw you in!
Getting a very strong urge to start cooking interesting recipes again. Daniel and I go through major phases of cooking creative and fun recipes consistently and then switching into a hardly-ever-cook-but-when-we-do-it's-pasta-and-sauce phase. We have been in the latter since we did Whole 30 in January. That is so sad! I got an Amazon gift card for my birthday, so I've ordered a couple new cookbooks to motivate me. I'm excited! I ordered this, this, and this cookbook. Has anyone used any of these? I'll also take any recommendations for other cookbooks with easy yet creative and healthy recipes!
Have a great week!
Click here to see all of my Scenes From the Week posts. I'm linking up with Biana at B Loved Boston for the Weekending link-up!
{Thanks for reading! Want to know a little more about me? I'm a CPA learning how to balance a career with frequent travel while planting roots at home in Austin, TX. When I'm not exploring my home city with my husband Daniel or cuddling with our chubby orange cat Banana, I'm probably planning, packing, traveling to, or daydreaming about our next adventure. After all, my travel mug collection is never complete. If you have wanderlust too, be sure to follow me on Instagram, Pinterest, Snapchat (emilya89), or subscribe to my blog!}