Welcome to my Scenes From the Week series! In these posts, I share the highlights from my previous week ranging from the simple, everyday things to the more memorable events. One of the primary reasons that I blog is to keep a scrapbook that I can look back on in the future, and these posts help serve that purpose.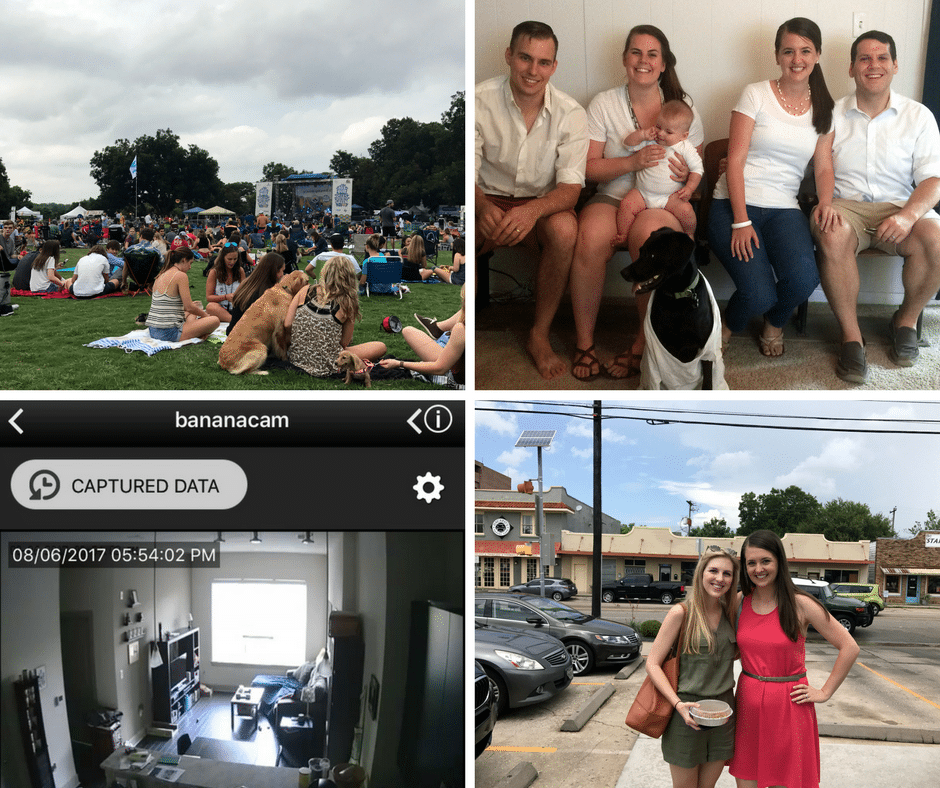 Photos from the week, top left to bottom right:
(1) We finally made it out to a Blues on the Green last week! Blues on the Green is a summer concert series at Zilker Park here in Austin, and last week was the last one of the year. We picked the perfect night to go – it was 82 degrees with a light breeze and cloud cover (perfect after the weekend of 107 degree days last week!). We got there an hour early, so we were able to snag a decent spot and grab some food at the vendors. Our friends John and Amber came to join us right when the show started. It was a great summer night!
(2) Saturday morning, we headed to Houston to visit our friends Kaitlin, Erik, and their four-month- old baby Anders. Saturday night we went to another Texas Monthly Top 50 BBQ Restaurant (The Pit Room) for dinner and then headed out to Houston's White Linen Night, an arts festival. Everyone wears white and walks through some of the artsy districts of the city, and the streets are filled with arts, crafts, and food vendors. It was fun to people watch and get a glimpse of the art featured and on sale.
(3) We used our BananaCam for the first time this weekend! It's more for fun than anything. Because we were only gone for one night, we didn't have anyone come by and visit Banana (our cat) while we were gone, so we set up the BananaCam so that we could see what he does while we are gone. The camera is connected to an app, so it was very easy to use. It wasn't very exciting. He just slept the whole time! But it was fun to check in occasionally and see what he was up to (in the above picture, he is in the top left corner asleep).
(4) Sunday, after church and before hitting the road back to Austin, we met my friend Brittany for lunch. Brittany was my first friend at my company when I started my job at the DC office over five years ago. She left the firm a couple years after that to go to law school (she's now a big-shot lawyer!), but we still keep in touch whenever we can! It was so great to see her and catch up.
Not pictured:
Starting a new show together, Mr. Robot. We aren't sure if we like it yet. TBD!
A great week of spin and barre workouts (trying to get back into a routine!)
Attending a fun happy hour with my office on Thursday
Meeting my sister, her boyfriend, and my brother for dinner Friday night. Ben (my brother) was in town for the weekend and stayed with my sister.
Going to see Dunkirk in theaters on Friday night. It was a great movie, but it was also pretty rough to watch.
Starting to plan our upcoming trip to Montreal at the end of the month – Any budget-friendly recs?
Have a great week!
Click here to see all of my Scenes From the Week posts. I'm linking up with Biana at B Loved Boston for the Weekending link-up!
{Thanks for reading! Want to know a little more about me? I'm a CPA learning how to balance a career with frequent travel while planting roots at home in Austin, TX. When I'm not exploring my home city with my husband Daniel or cuddling with our chubby orange cat Banana, I'm probably planning, packing, traveling to, or daydreaming about our next adventure. After all, my travel mug collection is never complete. If you have wanderlust too, be sure to follow me on Instagram (and InstaStories!), Pinterest, and Facebook, or subscribe to my blog!}