Welcome to my Scenes From the Week series! In these posts, I share the highlights from my previous week ranging from the simple, everyday things to the more memorable events. One of the primary reasons that I blog is to keep a scrapbook that I can look back on in the future, and these posts help serve that purpose.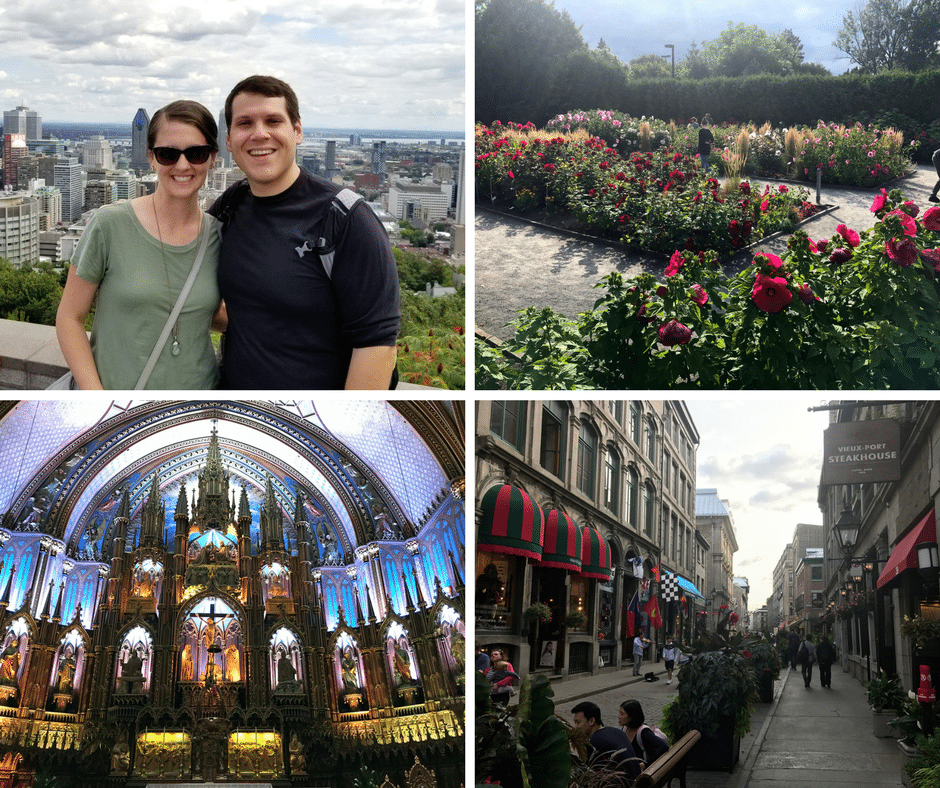 First of all, I hope everyone is safe and dry out there. Our friends in Houston have been flooded out of their house, but thankfully they have kind neighbors who are housing them through the week. It breaks my heart…. We are sending so many prayers to Houston.
Last week, we left Wednesday morning for Montreal. We had a wonderful time in this French city – the weather was amazing (60 to 70 degrees everyday!), the food was delicious, and the city was beautiful! Eventually I'll write a full travel guide on Montreal, but here is a sneak peek into our trip.
Photos from the week, top left to bottom right:
(1) We took a bus up to the Parc du Mont Royal and, after going to see the giant Mont Royal Cross, we walked to the chalet at the top, which has a fantastic view of Montreal.
(2) We spent an afternoon wandering the Montreal Botanical Gardens. These are the most beautiful and intricate gardens we've ever visited! It has 190 acres of themed garden space and greenhouses. The spaces seemed to grow more and more beautiful and colorful as we worked our way through them. We didn't have the time (or the energy) to see everything, but we definitely got a good taste of the gardens.
(3) This is a photo of the inside of the Notre-Dame Basilica of Montreal. The exterior of the church is magnificent, but my jaw nearly dropped when we walked inside and saw the interior! After seeing so many cathedrals and basilicas in Europe, I didn't think it was possible to be impressed by the interior of a church again, but, man, was I wrong! What made this church unique is the incredible lighting in every corner, but on top of that, it also has the intricate architectural and sculptural details and stained glass windows that I was so impressed with in the cathedrals in Europe. We toured the basilica during the morning, but then we went back in the afternoon for a wonderful organ concert where the very talented organist played movie music.
(4) Montreal's different neighborhoods feel like completely separate cities to me. I loved all of the neighborhoods we walked through, but in my opinion, the best place to wander the streets is Old Montreal which makes you feel like you've been transported to Vienna or Paris!
Not pictured:
We took a food tour of Montreal's Mile End, a very trendy part of town and a food lover's paradise!
We ate poutine twice and really enjoyed it! If you don't know what it is, poutine is a Canadian dish of french fries, cheese curds, and gravy. It looks disgusting but tastes delicious.
I really enjoyed hearing all the French being spoken by the locals in Montreal. If only I could understand it, or even better, have a whole conversation in French…. Maybe I'll learn the language one day!
Somehow, our Sunday morning flight into Austin wasn't canceled despite the tropical storm, even though many flights to Austin were canceled. But we made it back to find that Austin was completely fine, and the flooding and damage here was nothing compared to Houston.
Air Canada lost my bag on the way to Montreal, and I still haven't seen it. And, of course, I picked this trip to overpack and stuff my suitcase full of my favorite clothes and shoes. There are people out there dealing with much worse right now, so I'm not going to keep complaining. Hopefully, I'll get my suitcase back, but if not, it's just stuff.
Have a great week!
Click here to see all of my Scenes From the Week posts. I'm linking up with Biana at B Loved Boston for the Weekending link-up!
{Thanks for reading! Want to know a little more about me? I'm a CPA learning how to balance a career with frequent travel while planting roots at home in Austin, TX. When I'm not exploring my home city with my husband Daniel or cuddling with our chubby orange cat Banana, I'm probably planning, packing, traveling to, or daydreaming about our next adventure. After all, my travel mug collection is never complete. If you have wanderlust too, be sure to follow me on Instagram (and InstaStories!), Pinterest, and Facebook, or subscribe to my blog!}