Welcome to my Scenes From the Week series! In these posts, I share the highlights from my previous week ranging from the simple, everyday things to the more memorable events. One of the primary reasons that I blog is to keep a scrapbook that I can look back on in the future, and these posts help serve that purpose.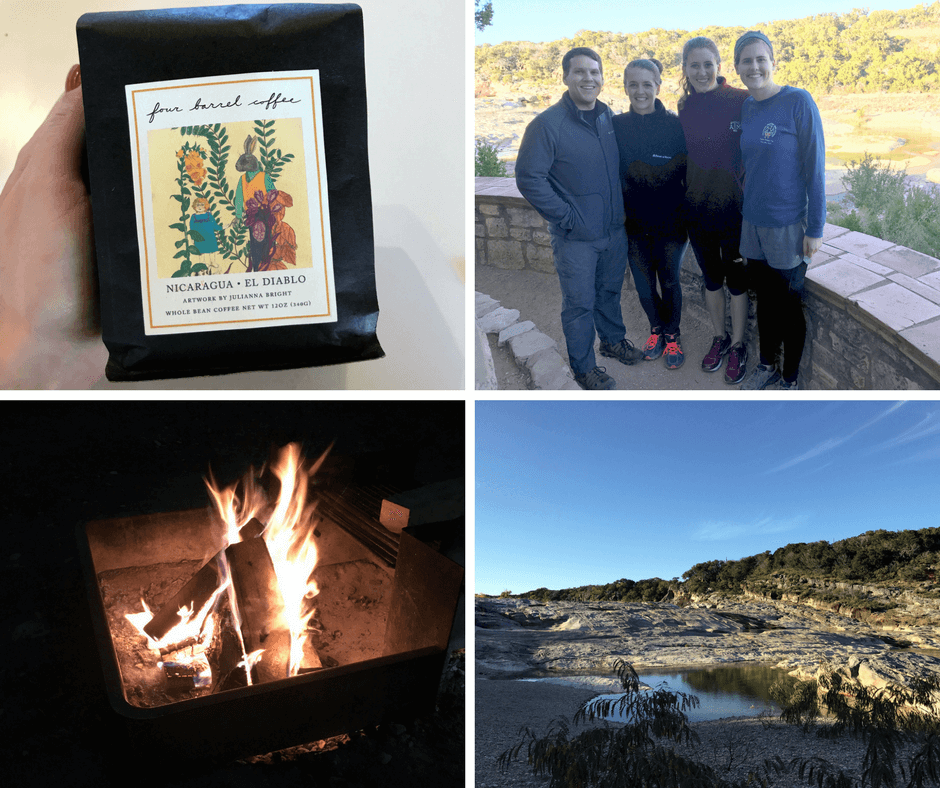 Photos from the week, top left to bottom right:
(1) We finished up the last of this amazing bag of coffee beans that we brought back from our Cali trip. This Nicaraguan roast by Four Barrel Coffee was one of the best we have had in a while. Four Barrel Coffee is a roaster out of San Francisco. I'm looking forward to trying more coffee by them. We are still subscribed to and loving Mistobox, and it looks like you can request to have Four Barrel sent to you. Woohoo!
(2) The highlight of the week was our sibling (+ Daniel) camping trip to Pedernales Falls State Park on Saturday. I'm not a big camper, but I do really enjoy hiking and campfires and sleeping in a tent for one night, especially when it's not hot. So, that exactly what we did! My brother hadn't joined us yet at the time we took this picture, so it's just me, Daniel, and my sisters Ellen and Elizabeth in this photo.
(3) My favorite time of the camping trip was sitting around this campfire for several hours, roasting s'mores, and catching up with the siblings! This weekend was the unusually chilly for a Texas October night, so the fire was more than welcomed!
(4) Pedernales Falls State Park is so beautiful! I look forward to going back for more hiking in the future.
Not Pictured:
Starting the second season of Stranger Things. We are only two episodes in, but it's interesting and spooky (but not scary, which is good for me) so far. It's definitely good fall TV!
Drinking lots of Trader Joe's Harvest Blend Herbal tea. It's warm, cinnamon apple spice in a mug. Delicious!
Eating lots of soup. We haven't had time to make many homemade soups this fall yet, but I've been ordering it any time we eat out, and I am just find with soup from a can at home (the Chickarina by Progresso is my favorite canned soup).
Have a great week!
Click here to see all of my Scenes From the Week posts. I'm linking up with Biana at B Loved Boston for the Weekending link-up!
{Thanks for reading! Want to know a little more about me? I'm a CPA learning how to balance a career with frequent travel while planting roots at home in Austin, TX. When I'm not exploring my home city with my husband Daniel or cuddling with our chubby orange cat Banana, I'm probably planning, packing, traveling to, or daydreaming about our next adventure. After all, my travel mug collection is never complete. If you have wanderlust too, be sure to follow me on Instagram (and InstaStories!), Pinterest, and Facebook, or subscribe to my blog!}