Welcome to my Scenes From the Week series! In these posts, I share the highlights from my previous week ranging from the simple, everyday things to the more memorable events. One of the primary reasons that I blog is to keep a scrapbook that I can look back on in the future, and these posts help serve that purpose.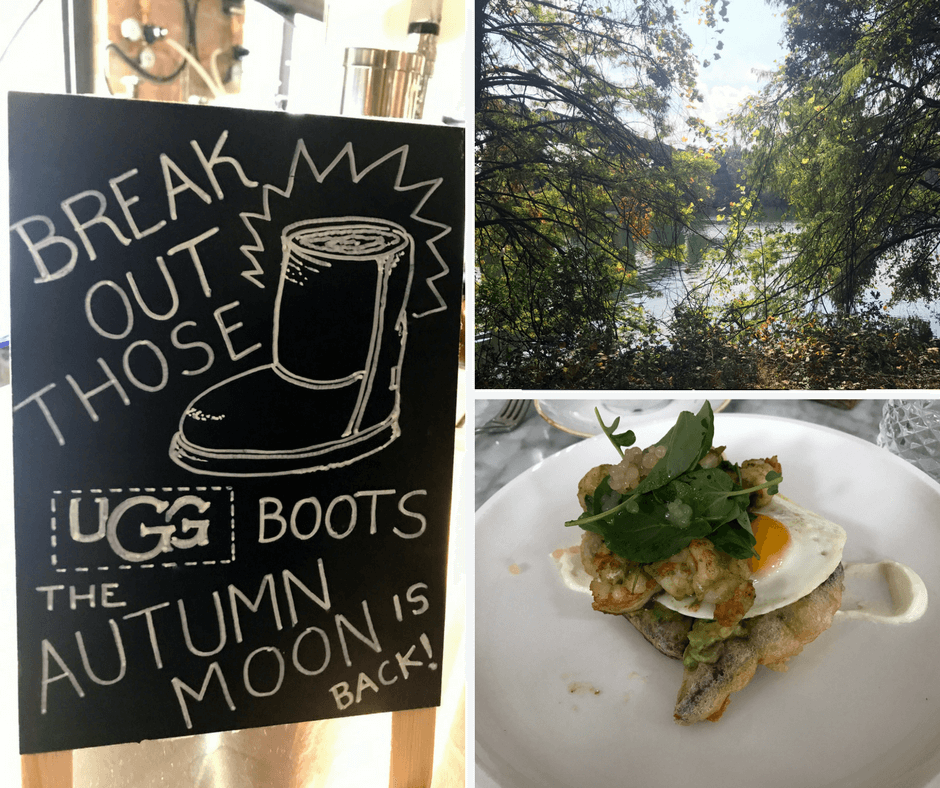 Photos from the week, top left to bottom right:
(1) I love little glimpses of fall in Texas. This week, I saw this cute sign in Summermoon Coffee Bar while picking up my quarter-sweet Autumn Moon Latte (the best latte ever) and….
(2) I spotted a patch of changing leaves on my walk home from the hair salon on Friday. We may not get much fall weather here, but we sure try to experience the season in little ways!
(3) Saturday we went to brunch with our friends John and Amber at a local favorite, Vox Table. This was one of the best avocado toasts I have ever had! It had the usual avocado and sea salt, but there were also grapefruit pearls, shrimp, quail eggs, and smoked yogurt. The whole thing was deep fried or something which only added to the deliciousness of it….
Not Pictured:
Spending Halloween at our friends' Kaelin & Andres house! They made yummy zoodles, and we snacked on candy apples. It was the best way to spend a Halloween Tuesday!
Starting my Christmas shopping early! The Sephora VIB sale kicked it off but that got me so excited that I kept going. Maybe I can be one of those people that finishes by the end of November so that I have time to really soak in the joy of the season in December.
Picking up a few Christmas-y things for ourselves too! We went ahead and picked up our Christmas candles from Bath & Body Works (Winter Candy Apple, Tis the Season, Frosted Cranberry, and Fresh Balsam) and a cute Christmas print for the wall. I can't wait to decorate!
Finishing Stranger Things 2 and watching the Halloween episode of This is Us. While I could do without episode 7 (too weird for me), the rest of the Stranger Things 2 was amazing, especially the very ending scenes at the Yule Ball! And can we talk about how amazing This is Us is? The Halloween episode was so well-done and heart-warming. I cannot wait to see the Thanksgiving and Christmas episodes this year.
Planning for and sharing an exciting announcement on social media…. You may have seen it on Instagram already, but I'll be sharing it in this space tomorrow!
Have a great week!
Click here to see all of my Scenes From the Week posts. I'm linking up with Biana at B Loved Boston for the Weekending link-up!
{Thanks for reading! Want to know a little more about me? I'm a CPA learning how to balance a career with frequent travel while planting roots at home in Austin, TX. When I'm not exploring my home city with my husband Daniel or cuddling with our chubby orange cat Banana, I'm probably planning, packing, traveling to, or daydreaming about our next adventure. After all, my travel mug collection is never complete. If you have wanderlust too, be sure to follow me on Instagram (and InstaStories!), Pinterest, and Facebook, or subscribe to my blog!}