Welcome to my Scenes From the Week series! In these posts, I share the highlights from my previous week ranging from the simple, everyday things to the more memorable events. One of the primary reasons that I blog is to keep a scrapbook that I can look back on in the future, and these posts help serve that purpose.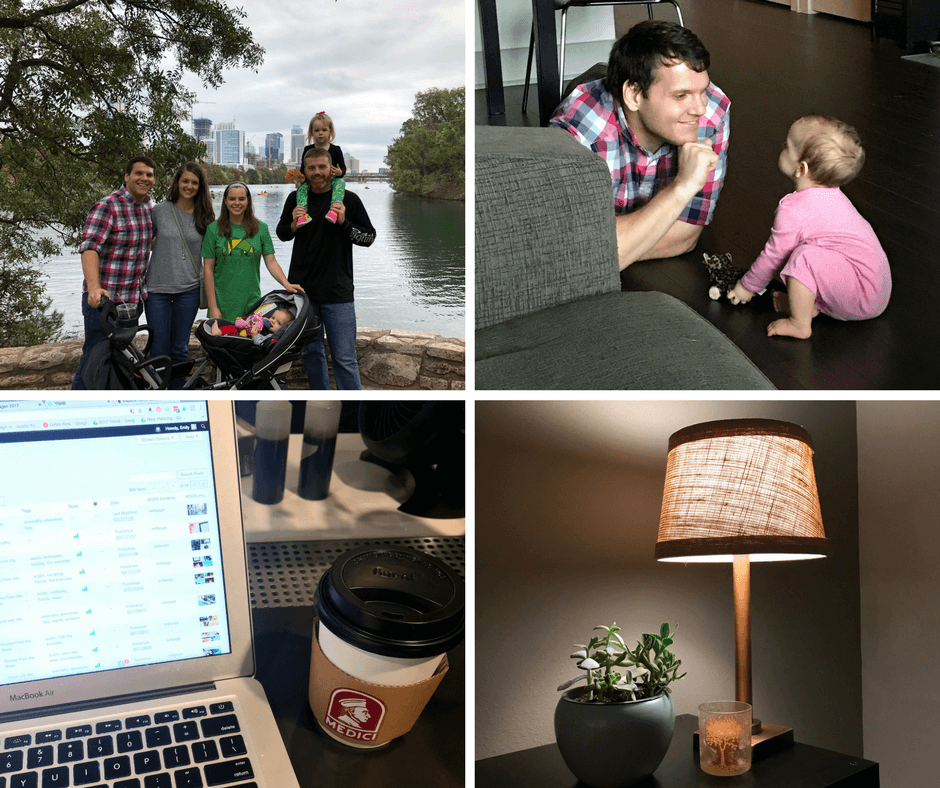 Photos from the week, top left to bottom right:
(1) The highlight of our weekend was a visit from my cousins Josh and Meredith and their two little girls! We had such a fun time getting out to show them a little bit of Austin (eating at Phil's and Amy's Ice Cream and walking the trail by Lady Bird Lake) and then spending time at our place watching Beauty and the Beast while playing with Christmas toys. We loved our afternoon with them and wish we could see them more often!
(2) Daniel and Josh and Meredith's youngest daughter seem to have formed a special bond. She could not stop looking up at him and grinning from ear to ear! I am really looking forward to next spring when I get to start watching Daniel be an amazing father to our son.
(3) We spent Sunday afternoon at Cafe Medici across the street from our apartment. It has become a new favorite coffee shop, even though it has been right near me for a couple years. They offer an excellent coffee selection (Spyhouse, Olympia, and Austin's Wild Gift roasts), and the working environment has grown on me. I'm finally working on some more travel posts, and I'm hoping I'll be able to post one this week!
(4) I had intended for this bottom right corner to be a photo of some of my fall decor, but those photos didn't turn out that well. Instead I'm sharing this corner of our living room with my favorite new copper-colored lamp from Target, a mini candle, and a semi-alive succulent. I've enjoyed adding things to our home decor recently, and I really think the living space is turning out well.
Not Pictured:
Announcing our big news on social media! We are so excited and so nervous all at the same time for 2018.
Exploring the idea of doing the December Daily Project Life project created by Ali Edwards this December. I am not usually a very crafty person, but I love the idea of having a memory keeping project going all the time, especially with Baby Boy coming next spring. I think this project could help me get into the habit (or at least have the experience to see if it is something I truly do want to dive into for the long-term). I've dabbled in Project Life before (as in, I have a mostly complete album from 2014), and I love creating photo books of our trips online at Artifact Uprising. I've just never been consistent about keeping up with photo projects.
Watching Bridget Jones's Diary for the first time on Saturday night. I can't believe I hadn't seen it before! We both loved it.
Trying out a new Italian place down the street (It's Italian Cucina). I had low expectations, but I really enjoyed my pesto tagliatelle!
Booking our very last-minute babymoon (thank you airline miles)! We are headed on a short trip to Copenhagen in early December to soak in all things cozy and Christmas-y! This will probably be our last big trip for at least a year, so we cannot wait to go explore a piece of Scandinavia and experience all of the Danish hygge and relaxation we can. If you have any recommendations, please leave them in the comments below! 🙂
Have a great week!
Click here to see all of my Scenes From the Week posts. I'm linking up with Biana at B Loved Boston for the Weekending link-up!
{Thanks for reading! Want to know a little more about me? I'm a CPA learning how to balance a career with frequent travel while planting roots at home in Austin, TX. When I'm not exploring my home city with my husband Daniel or cuddling with our chubby orange cat Banana, I'm probably planning, packing, traveling to, or daydreaming about our next adventure. After all, my travel mug collection is never complete. If you have wanderlust too, be sure to follow me on Instagram (and InstaStories!), Pinterest, and Facebook, or subscribe to my blog!}