Welcome to my Scenes From the Week series! In these posts, I share the highlights from my previous week ranging from the simple, everyday things to the more memorable events. One of the primary reasons that I blog is to keep a scrapbook that I can look back on in the future, and these posts help serve that purpose.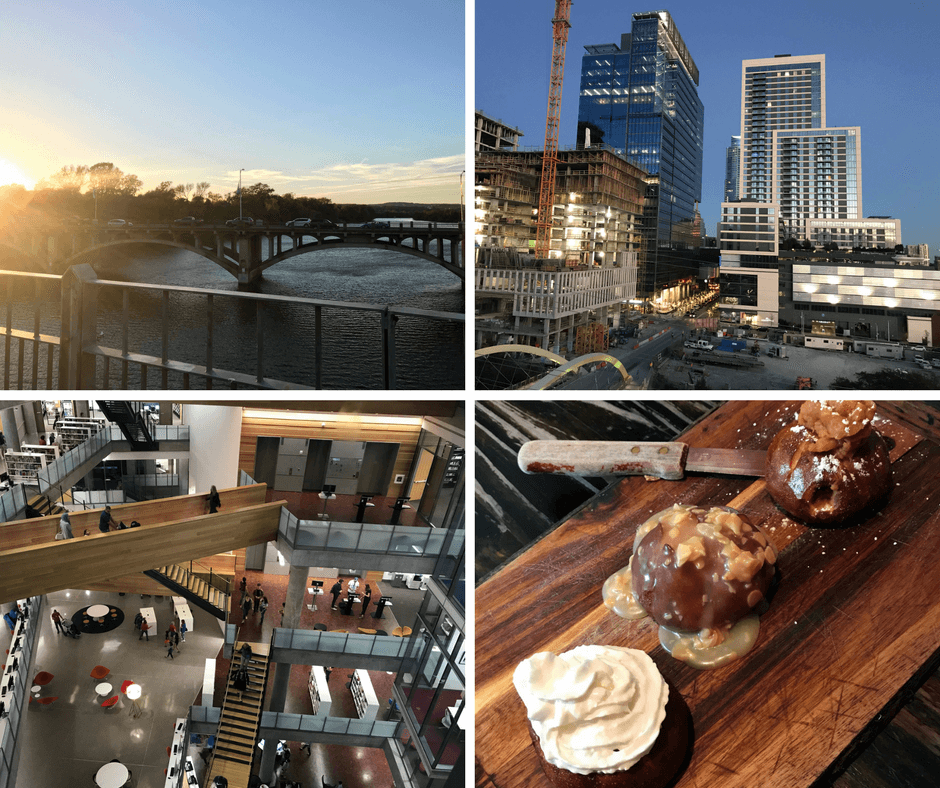 Well, this past week was just wonderful. We saw lots of friends and family, but I somehow managed to not take any photos of people! Bummer. But I'm excited to share the week with you!
Photos from the week, top left to bottom right:
(1) Daniel's twin brother Jacob came to visit us over the weekend, so we tried to take him around town and eat at a few delicious restaurants. Saturday night we took a walk down to the pedestrian bridge, and then we ended up walking all the way to the new downtown library location! See #2 and 3 below.
(2) The new Central Public Library in downtown Austin is fabulous.  It was a $125 million project that was approved over seven years ago. It has mostly been well-received by Austinites. It is a truly gorgeous space with plenty of outlet-equipped window seats to work on your laptop with a city or river view, a rooftop garden to sit and enjoy a book with a view (view from the downtown-facing side shown here), and a wonderful children's section that I can't wait to take Baby Boy to in the future! The design of the interior and exterior spaces is tasteful and impressive too.
(3) This is the view from the rooftop garden into the library down the various floors. The view from the bottom floor up is very cool – the series of staircases look straight out of Harry Potter. It's gorgeous!
(4) Sunday morning we tried out brunch at Frank downtown. This pictures is our "donetzel" board which had a selection of seasonal pretzel donuts. The rest of the meal was wonderful too!
Not Pictured:
Going to our anatomy scan for Baby Boy. The technician looked at all of baby's vital organs and confirmed he's a boy! At 17 weeks, he is quite the wiggle worm, and he could not sit still during his scan. We loved learning the details about his development and are thrilled that everything is developing as expected!
Dinner with our friends Sara and Thom at Boiler Nine. We hadn't seen them since January, so it was great to catch up on life and hear about their recent trip to China.
Dinner with our friends Kaelin and Andres at a new place in Austin, Krua Urban Thai. This place was awesome! The food and service were fantastic, and it felt like a nice restaurant without the price tag of one. I highly recommend it!
Going to my sister's boyfriend Jason's birthday party Friday night. The theme was Goodwill, so we all wore tacky Goodwill outfits, some more tacky than others! 🙂
Eating a homemade breakfast of pumpkin waffles and eggs Saturday morning with Daniel and Jacob (and Banana begging at our feet)
Introducing Jacob to the wonderful world of ramen at Ramen Tatsu-ya 🙂
Planning details for our upcoming Christmas party! Thank you Pinterest….
Enjoying a wonderful Thanksgiving meal with our small group on Sunday night
Have a great week!
Click here to see all of my Scenes From the Week posts. I'm linking up with Biana at B Loved Boston for the Weekending link-up!
{Thanks for reading! Want to know a little more about me? I'm a CPA learning how to balance a career with frequent travel while planting roots at home in Austin, TX. When I'm not exploring my home city with my husband Daniel or cuddling with our chubby orange cat Banana, I'm probably planning, packing, traveling to, or daydreaming about our next adventure. After all, my travel mug collection is never complete. If you have wanderlust too, be sure to follow me on Instagram (and InstaStories!), Pinterest, and Facebook, or subscribe to my blog!}