Welcome to my Scenes From the Week series! In these posts, I share the highlights from my previous week ranging from the simple, everyday things to the more memorable events. One of the primary reasons that I blog is to keep a scrapbook that I can look back on in the future, and these posts help serve that purpose.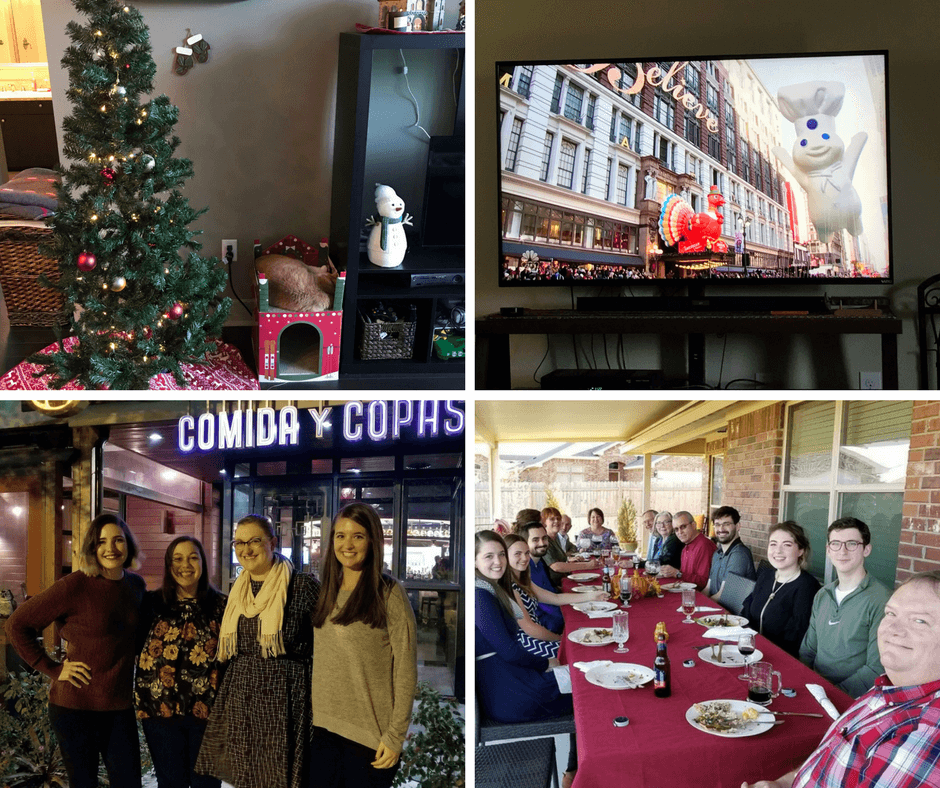 I hope that everyone had a great Thanksgiving week, or just a great week in general if you aren't American! I know I did. We did Thanksgiving with Daniel's parents in Fort Worth this year, and we also got to spend time with several friends while we were there.
Photos from the week, top left to bottom right:
(1) Before the end of the short work week, Daniel and I decided to start decorating our apartment for Christmas! I found an adorable little ski chalet house for Banana at Target which he is slowly learning to love. I'll share more of our decorations in a future post, but I couldn't resist giving you a peek of our (incomplete) tree and Banana's new Christmas house.
(2) We had originally planned to head to Fort Worth right after work on Wednesday, but we ended up waiting until Thursday morning to avoid traffic. I was still determined to watch the Macy's Thanksgiving Day parade Thanksgiving morning, so we woke up at 4:30am to get ready, load the car, and head out. We made good time and arrived at my in-laws' in time to watch the parade and help get the house ready for their big Thanksgiving party that afternoon.
(3) Friday night we met high school friends for dinner and then most of us headed back to Daniel's parents' house for a game night. The girls in this photo are some of my very best friends in life, and I have known them for nearly half my life!
(4) My in-laws had a bunch of their friends over for a Thanksgiving Day meal. The weather was beautiful outside (much to my dismay – I think Thanksgiving should be cold!), so we enjoyed our feast on their back porch. Despite the confusing Texas weather, it was a lovely meal.
Not Pictured:
Enjoying my first couple of Caramel Apple Spice drinks from Starbucks on our trip to Fort Worth and back. It's definitely a seasonal favorite of mine!
Watching the smoke from a house fire nearby the Abernathys'. Someone had a Thanksgiving prep accident and their house caught on fire. A man was critically injured and had to be flown by Careflight to get emergency care. I can't find any other information on it, but I hope he is okay.
Going to see Thor on Friday afternoon. I was afraid I'd find the humor too cheesy and hard to get into, but I ended up really enjoying the movie and the humor. I think it was well-done. My favorite part was probably the Matt Damon and Liam Hemsworth cameo.
Lots and lots of party prep! We are pretty excited to have a big group coming over for a Christmas party this coming Friday night, and we have been prepping away! I've gone to Target way too many times throughout the week. Good thing Target is so fun to go to, especially this time of year!
Watching The Grinch (live action). This was our first Christmas movie of the year together. Can't wait for the many more to come!
Going to the first Advent service of the season at our church. I'm going to really love this sermon series, and of course, the Christmas music!
On the Blog:
I recently shared part 1 of our time in Rome! We packed it in on day one, so there was a lot to share. Rome was the final stop on our big European adventure of 2016, so I only have one more city guide to post before I've made it all the way through!
Have a great week!
Click here to see all of my Scenes From the Week posts. I'm linking up with Biana at B Loved Boston for the Weekending link-up!
{Thanks for reading! Want to know a little more about me? I'm a CPA learning how to balance a career with frequent travel while planting roots at home in Austin, TX. When I'm not exploring my home city with my husband Daniel or cuddling with our chubby orange cat Banana, I'm probably planning, packing, traveling to, or daydreaming about our next adventure. After all, my travel mug collection is never complete. If you have wanderlust too, be sure to follow me on Instagram (and InstaStories!), Pinterest, and Facebook, or subscribe to my blog!}