Welcome to my Scenes From the Week series! In these posts, I share the highlights from my previous week ranging from the simple, everyday things to the more memorable events. One of the primary reasons that I blog is to keep a scrapbook that I can look back on in the future, and these posts help serve that purpose.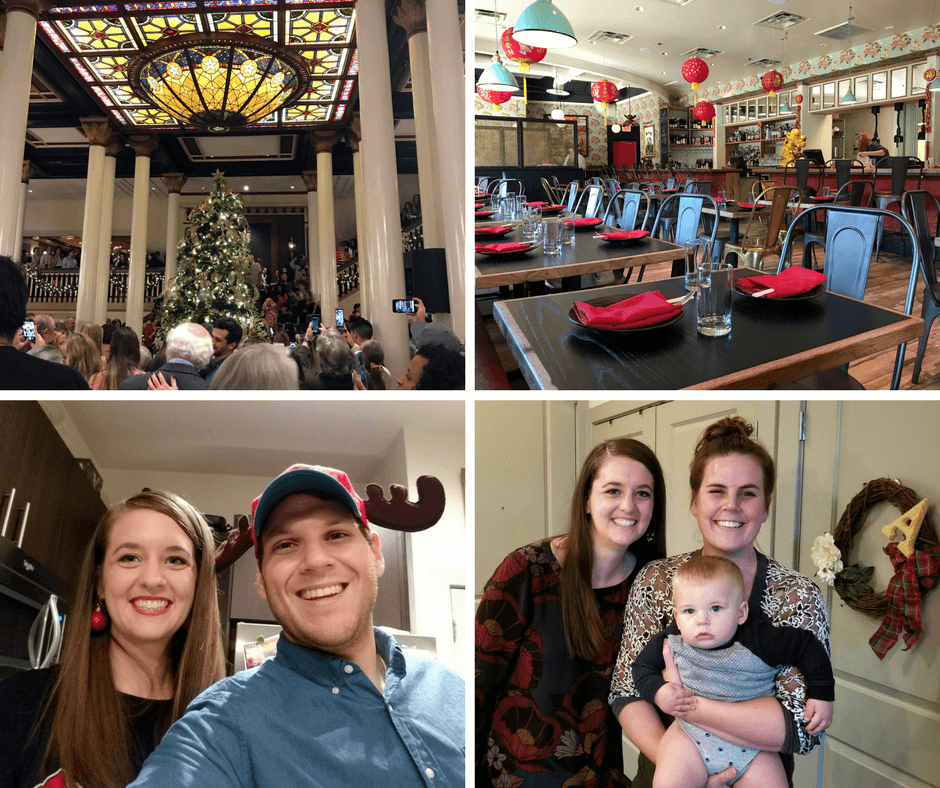 We are feeling so festive around here! It was a wonderful last week in November and first few days of December. I was telling Daniel the other day that it hasn't felt very Christmasy to me the last couple of years, but this year, I feel very ready for this season. I think it may have something to do with the excitement of Baby Boy's arrival next year and knowing that this is our last Christmas as a family of two. I'm so thankful for this time of year: celebrating the birth of Jesus, spending time with friends and family, sending out Christmas cards, enjoying out Christmas tree and Christmas village, and watching Christmas movies.
Photos from the week, top left to bottom right:
(1) Even though we were only there for about ten minutes, we enjoyed seeing the Christmas Tree Lighting at The Driskill on Wednesday night. It's a beautiful hotel, and the lobby was packed for this event! There are so many fun Christmasy things going on in Austin right now, and we hope to check several off our list.
(2) Occasionally Daniel and I are able to take a longer lunch break with each other during the work week. This week, we went over to Old Thousand, a delicious Chinese restaurant we had never tried before. We shared hot and sour soup, brisket friend rice, and tomatillo steamed buns. Yum!
(3) Friday night we hosted a Christmas party at our apartment. We have hosted a pumpkin carving party most years  since we have been married, but we didn't have enough time this October, so we did a Christmas one instead this year. It was so much fun! We had a blast planning for it and making our place really festive. Twelve of our closest Austin friends came in festive attire, and we ate lots of delicious snacks (including a fun cheese board!), served a variety of hot and cold drinks, and decorated Christmas cookies!
(4) Saturday my friend Kaitlin drove over from Houston with her cute baby boy. She spent most of Saturday and Sunday morning with us. We caught up, took a walk around the the river, had dinner at Kerbey Lane, went to church, and went to Sunday brunch at Walton's Fancy & Staple. We also made a quick stop at BookPeople to browse the children's section, which was so much fun! The kids' book selection these days is incredible – there will be many future trips with Baby Boy to this bookstore!
Not Pictured:
Putting together my December Daily album to kick off December! I can tell I'm going to love this project. I hope it turns me into someone who can keep up with these memory keeping projects regularly!
Watching many Vlogmases already. If you aren't familiar with Vlogmas, it's an annual December series that many YouTubers participate in by vlogging their lives every day in December leading up to Christmas. I've been watching them for years now. I still don't completely understand why I love watching other people's daily lives so much, but it is one of my favorite ways to relax and shut off my brain. I guess I'm just nosy and love to see others' routines! So far, my favorite Vlogmases are Kristina Braly's, Kate La Vie's, and Blair Fowler's. Any suggestions for other good Vlogmases?
Organizing and participating in my work team's Service Day on Thursday. We helped serve food at a mobile food pantry put together by the Central Texas Food Bank. It was wonderful to be able to serve people as a team, and then enjoy lunch at Pappasito's afterward.
Have a great week!
Click here to see all of my Scenes From the Week posts. I'm linking up with Biana at B Loved Boston for the Weekending link-up!
{Thanks for reading! Want to know a little more about me? I'm a CPA learning how to balance a career with frequent travel while planting roots at home in Austin, TX. When I'm not exploring my home city with my husband Daniel or cuddling with our chubby orange cat Banana, I'm probably planning, packing, traveling to, or daydreaming about our next adventure. After all, my travel mug collection is never complete. If you have wanderlust too, be sure to follow me on Instagram (and InstaStories!), Pinterest, and Facebook, or subscribe to my blog!}